DEARBORN - The Ford Performance Racing School has hosted thousands of promising drivers wanting to push their limits, learn the basics of racing, or simply wanting to start their motorsports career. This is the case for James Pesek, a Harrisonville, Missouri resident who, in 2013, was a Ford Performance Racing School student alongside his father, JR Pesek.
Ford has always been a key player in the history, as they have always owned Ford production vehicles, from F-150s and Raptors to Mustangs.
"My dad and I wanted to do the Ford Performance Racing School, but at the time we didn't know that a few years later we would be competing in the highest levels of motorsports in America," explained James. "In 2014, we decided to do the Ford Performance Racing School a second time. For us, it was a father-son bonding experience and we had a lot of fun there.
"Once we started our second Ford Performance Racing School program, the instructors were shocked at how fast we were. They didn't know that it was only our second time around. The instructors, who are experienced race car drivers, told us that we should get our racing licenses, which we did."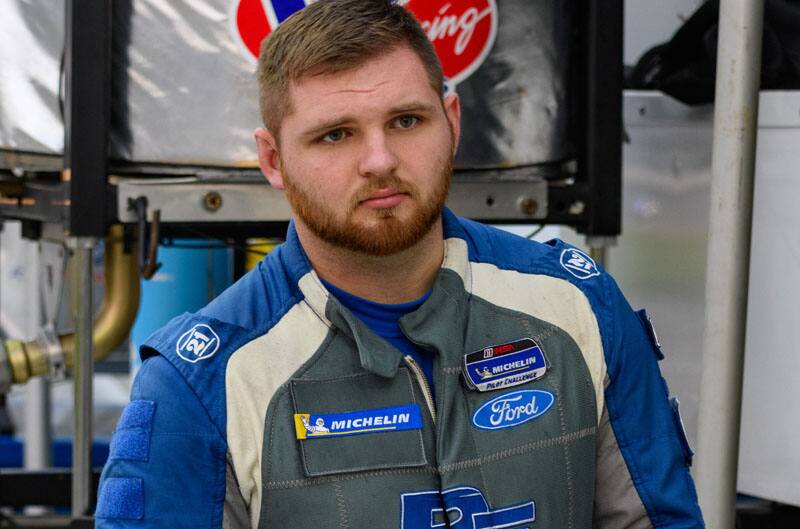 In 2015 and 2016, James competed in the National Auto Sport Association's (NASA) AI and AIX classes, as well as the World Racing League (WRL) with a Ford Mustang Boss 302R and Ford Mustang FR500s.
"In 2017, I ran in my first pro race," said Pesek. "It was a Trans-Am event at Road Atlanta. At that race, a recruiter for World Challenge came by our team and suggested we go to the Canadian Tire Motorsport Park race that following weekend in Canada. In only two weekends, I raced in my first two pro events, and my teammate Ernie Francis Jr., and I won the SprintX race at Mosport!"
The year ended with two more races in Trans-Am and two races in World Challenge and one WRL event. After that, Pesek had to return to Coe College in Iowa, where he was finishing his Business degree.
In 2018, it became clear that he had only one goal in mind.
"I wanted to be a professional race car driver!"
With patience and determination, he and his father surrounded themselves with the best coaches, mechanics, engineers and the best cars, to ensure that the team would succeed.
The balance of 2018 marked James' first full professional racing season as he participated in the GTS World Challenge series. Half of the races were endurance events, co-droving with the likes of Shelby Blackstock and Patrick Gallagher.
At the end of 2018, PF Racing decided to get a taste of the top level of competition by entering the IMSA Michelin Pilot Challenge season finale at Road Atlanta with Jade Buford. The Harrisonville outfit was impressed by the level of the field and decided to sign-up for a full season the following year.
Last year, 2019, was a turning point for the team – PF Racing established itself as one of the premier Ford Performance customer racing teams across the United States. PF Racing's 2019 campaign was busier than ever running full time in the Michelin Pilot Challenge and entering two World Challenge events. Pesek, Chad McCumbee and Buford also participated in the 8 Hours of Laguna Seca in the Intercontinental GT Challenge, during which they clinched the win with an 8-lap lead.
This year, the team has additional major projects.
"We're running a full-time season in IMSA in our No. 40 Mustang GT4, as well as five races in the SRO World Challenge championship," said Pesek.
PF Racing has already competed in the first IMSA event at Daytona in January, in the SRO Winter Invitational Series at Thermal in February and in the Trans-Am season opener in the TA4 class at Sebring in March. The team looks forward to continuing their partnership with Ford throughout the season.