ADELAIDE, South Australia - Youngster Zak Best stunned the Supercars world as veteran James Courtney was back on the podium on a frigid weekend at The Bend in South Australia.
Best starred as a wildcard entry, the 20-year-old taking a landmark pole position for the first of three sprints and backing up with fifth in the race for his Tickford team.
Courtney did what he does best, racing hard for third in the second heat.
The final race of the weekend, in wet and bitterly cold conditions, worked out best for Cam Waters as he took second place to move to second in the Supercars standings after a pair of pole positions with his Monster Mustang.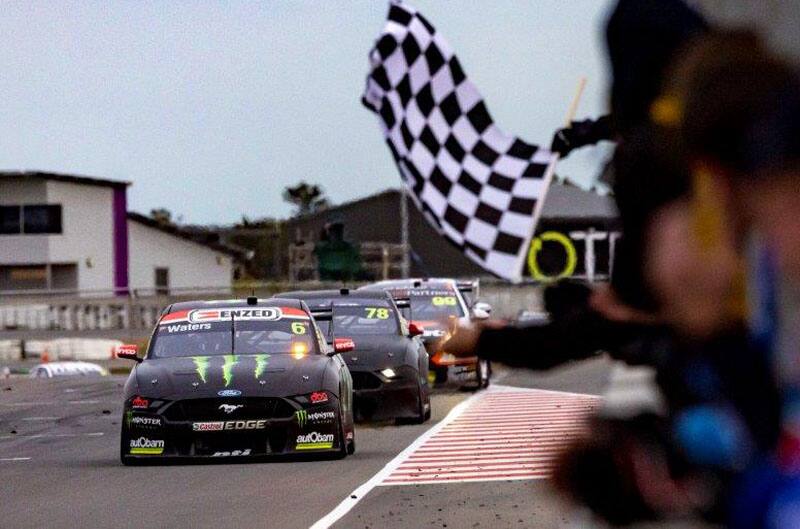 There were mixed results for the other Ford teams with David Reynolds racing hard, Will Davison and Anton De Pasquale struggling where they were expected to dominate, and Thomas Randle taking a massive hit.
Randle had qualified on the front row for the second of the three sprints but stalled at the start and was rammed by Andre Heimgartner in a crash that sent both drivers to hospital and left their teams with giant repair bills.
"It was certainly an entertaining weekend of racing at The Bend," said Andrew Birkic, President and CEO of Ford Australia. "I was so relieved to see Thomas Randle, Andre Heimgartner and Nick Percat walk away from that massive crash today. It was a testament to the safety of these cars, and the incredible work of safety crews."
"On the results side, Cameron Waters continued his consistency, taking a pair of pole positions and a podium. Zak Best was a revelation on Saturday, and I hope we see a lot more of him in the future," said Birkic.
The 2022 Supercars championship continues at Sandown Park in Melbourne on 19-21 August.
Tim Edwards, Tickford Racing
"It was easily the best qualifying weekend we've had with the Mustang and to have three cars in the top four at one stage was a great result.
"So it was a positive weekend, but still a good result and not a great result. And we still got beaten by Gizzy (Shane van Gisbergen).
"Now we've got to dig deep and figure out how to beat this bloke, because Cam (Waters) is up to second in the championship and we've got Bathurst coming up.
"It was a bittersweet result overall, with one car on the podium with Cam and then Thomas Randle's car all munched up. That was probably a $100,000 hit but we'll take the car home and put some shiny new stuff on it.
"Sandown is next and it should be fine. But that's three weeks away and we've got a lot of work before then."
David Cauchi, Grove Racing
"Unfortunately, there were just too many mistakes through the weekend. We showed some glimpses of reasonable speed but didn't execute very well.
"So that's fairly disappointing and we just need to tidy up a few things.
"Looking to Sandown, we're hoping to be more competitive there. It's a very different circuit to The Bend and I think it should suit our car a lot better."
Tim Blanchard, Team CoolDrive
"It was another tough weekend. You know things are not great when you say that finishing 11th with Tim Slade is considered good.
"We seem to be having a lot of tough times at the moment so we have some homework to do before we get to Sandown.
"We're struggling to generate the front-end grip to help the car turn, which was a real problem in Adelaide, but things should be better at Sandown - which is our home track in Melbourne - so it's going to be interesting there."
Ben Croke, Dick Johnson Racing
"Not a great weekend for us, given the big expectations we had coming to The Bend. Sometimes things just don't work out the way you planned and hoped.
"The freezing cold weather was our battle, just getting new tyres to work. We couldn't get the grip we needed for speed in the races, although qualifying wasn't too bad.
"We're always looking forward to the next event and we've got out sponsor summit on the Sandown weekend, so we'll have a lot going on when we get down there."
Championship standings:
Cam Waters, 2nd
Anton De Pasquale, 3rd
Will Davison, 4th
David Reynolds, 7th
Tim Slade, 10th
James Courtney, 11th
Lee Holdsworth, 20th
Jake Kostecki, 22nd
Thomas Randle, 23rd
Zak Best, 28th