CHICAGO – When the producers of the Velocity Cable TV series "AmeriCarna" came to Ford Performance looking for stories about Mustang owners to feature on their show, one of the dozen or so suggestions we made off the top of our head was Gail (Brown) Wise. We've known Gail and her husband Tom since before we began prepping for the official reveal of the 2015 Mustang back on December 5, 2013. There, Gail was brought onstage with Ford CEO Mark Fields at the big unveiling event on the Ford Campus in Dearborn, and instantly became somewhat of a Mustang celebrity.

With interest building in all things Mustang as the world approached the Ford Mustang's yearling 50th Birthday Celebration during in 2014, we had tipped off Ford Public Affairs about the story of how Gail came to own the first-known production Ford Mustang sold at retail. The then-22-year-old Gail Wise was a Chicago elementary school teacher who had somehow bought her convertible on April 15, 1964 – two days before the car officially went on sale. Now, more than early 50 years later, Gail and Tom still own that same Mustang, and drive it on a regular basis
In 1964, young Gail was just starting out in the world, and began her teaching career while living with her parents, getting to work with her mother's '57 Ford Fairlane 500 convertible. But she had yearned for a car of her very own. It was the mid-1960s and car culture was in full swing: Whatever car Gail ended up with, it had to be cool, and it had to be a convertible.

The first-time buyer went with her parents to Johnson Ford in Chicago, the dealer that the Browns had been doing business with for years. After touring the showroom floor, Gail confessed to the salesman that nothing he had there was speaking to her. With a sly grin, he said, "I've got something in the back that's really new."

In a back storeroom – still under a cover – sat a brand-new 1965 Ford Mustang Convertible in Skylight Blue, loaded with a 260-cubic-inch V8 engine and Rally Pac instrumentation.

"That's me," said Gail. "That's what I want!"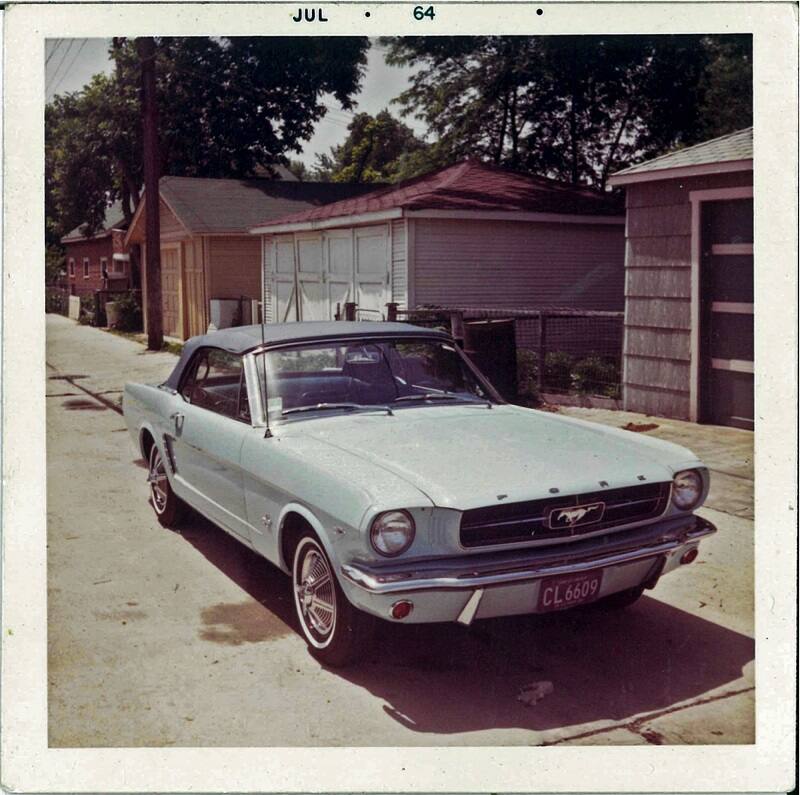 She traded in a friend's rough '58 Chevy for $400 and borrowed some money from her parents to cover the rest. All in, the total was $3,419. This kind of story played out hundreds of thousands of times after the start of Ford Mustang sales on April 17, 1964. What makes Gail Brown unique is that she bought her Mustang on April 15, two days before the car was set to go on sale, by chance becoming the first known retail buyer of what would go on to become an American icon.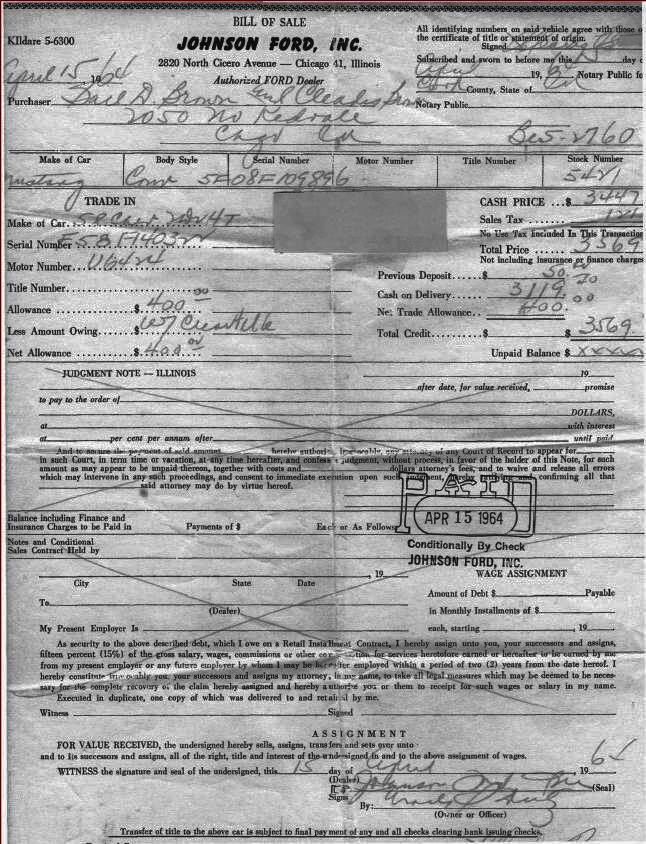 Today, Gail recalls with a great deal of fondness those early days of Mustang ownership: "There was a middle school attached to our elementary, and the boys fawned over the Mustang.

"I was the coolest teacher in the school that year," she said. "Our custodian told me if he had a nickel for every time those boys stared at my Mustang, he could retire."

The fact is, from the first days it went on sale in 1964, Mustang has appealed to a broad range of customers, including both women and men of all ages, thanks to its blend of style, performance and affordability. Those attributes remain a part of the Mustang formula to this day.

Back then, Gail had to adjust to this new reality of everyone staring at her and the car.

"I felt like a movie star everywhere I went for the first few months," said Gail. "I remember everyone waving and flagging me down and giving me high-fives."

In 1966, Gail married longtime sweetheart Tom Wise while he was home on leave from the Navy – and no, she didn't snag him with the Mustang. The following year, the two settled down in a Chicago suburb and started a family. The Mustang endured dutifully, and by '74 it became Tom's daily driver. But it was starting to show its age.

Fifteen years of Chicago winters and everything four kids could throw at it eventually started to catch up with the car, and by '79 the fenders were rusting, the floors were giving way, small mechanical gremlins were popping up. During a particularly vicious winter storm the Mustang had been parked in the street, and when Tom went to head out for work he found the battery had been stolen, no doubt because the thief's had died.

The car was pushed into the drive, then into the garage. A corroded throttle linkage led to difficulty starting; as these small things started to add up, the Mustang got pushed to the side. Life can get in the way, and raising four kids takes up a lot of time. The car spent the next 27 years in the garage.

At times, Gail actually wanted to be rid of the car – it was taking up valuable space, after all. But Tom always dreamed of restoring the Mustang to its former glory, so it was allowed to slumber under piles of junk. It waited through the 1980s and '90s, and when the last of the children had flown the coup and Tom retired, he began scheming on restoration again. In 2007, he set the plan into motion.

Three years later, with the body excised of cancerous rust and repainted, a new top and all of the mechanicals repaired, the Wise family Mustang was back on the road.
"I'm a car guy, but not one of those restomod types," Tom said. "This car is bone-stock, exactly as it came from the factory."

The funny thing is that even though Gail bought it, she doesn't really drive the Mustang much anymore: "Tom put so much work into it that I'd be scared to scratch it," she explained. "I'm happy to sit in the passenger's seat these days."

And they do drive it, often to car shows and Mustang events and sometimes even treating the historic Mustang just like a regular car. Since completing the restoration and becoming a Mustang "rock star" to Mustang fans and clubs alike, the Wises have been asked to bring the car to a long list of car shows, and each time they tour a new city with it, they amaze everyone with the story and all the documents they have to back it up.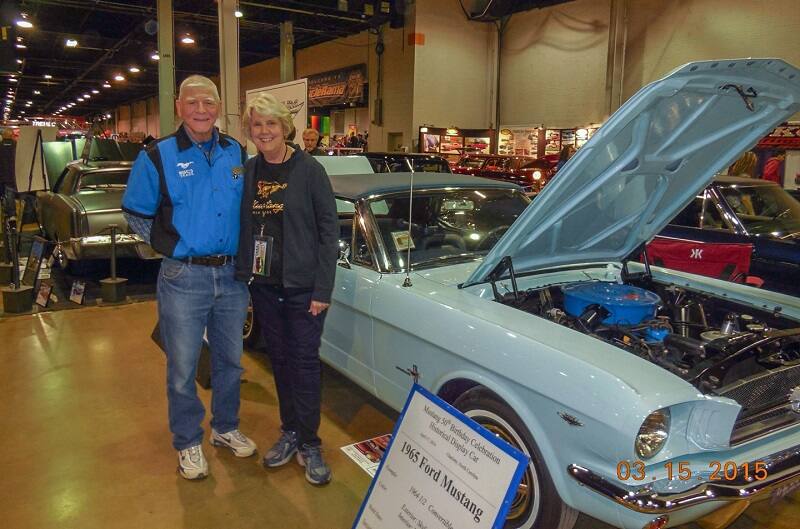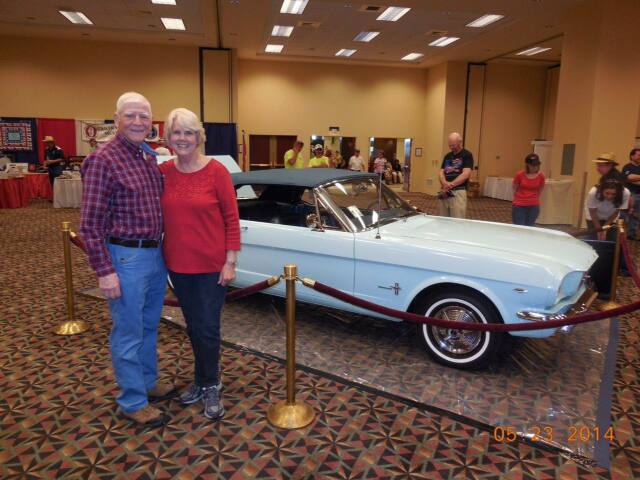 Now, their children have children, and as one would imagine the car is very popular in the family.

"The grandkids love it – everybody loves it," said Gail. "We all go for rides around town, but of course we don't go too far with them in town since it doesn't have seat belts; but it's great fun."

Tom mentions in passing that one of his youngest granddaughters is already enamored with the Mustang, asking, "Grandpa, can I have this car when I'm 16?"

But how many other Mustang fans out there would also love to own the only Mustang that wound up in a customer's hands on April 15, 1964 — two days before then-Ford President Lee Iacocca would officially unveil the car to a crowd at the World's Fair in New York?

After 52 years of ownership and around just 70,000 miles, Gail and Tom Wise have no immediate plans to part with it . . . at least not for now.

"We'll have to sit down one day and get input from the kids and get an up-to-date appraisal before we decide on that," Tom Wise said. "If I was really concerned about turning the car into a museum piece, I'd never take it out of the garage."
Instead, as Mustang approaches its 52nd birthday on April 17, 2016, the Wises know that their Mustang – just like the millions that have been sold after it – is meant for one thing: to be enjoyed and driven. And that's a Wise decision in any Mustang fan's book!

PHOTOS COURTESY FORD MOTOR COMPANY & THE WISE FAMILY