Mustang
1984 Ford Mustang SVO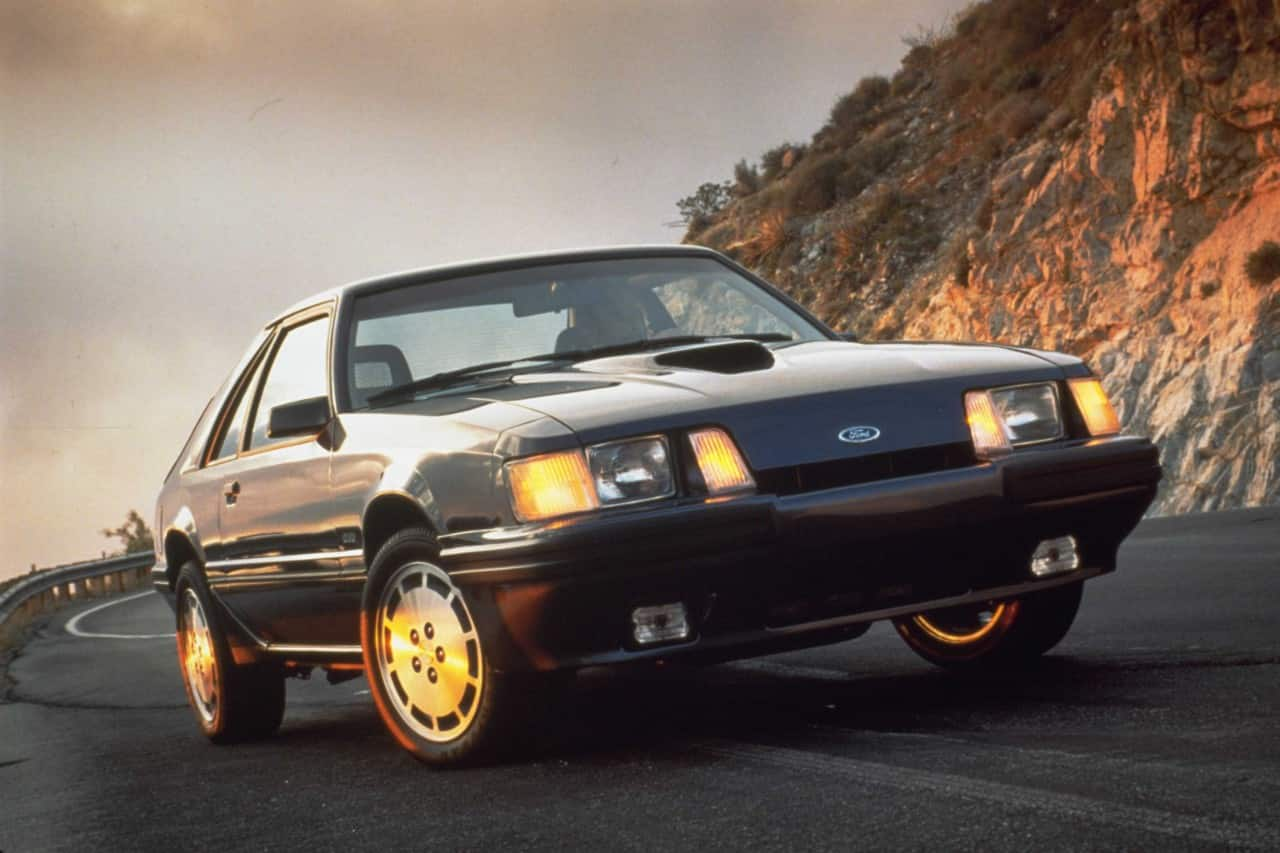 1984 Mustang SVO
The SVO holds a very special place in Mustang history, and for good reason. Developed at a time of furious automotive evolution born from changes in government-mandated emissions and fuel economy standards, the SVO dominated the wave of small-displacement, turbocharged engines that were popular in cars through the first half of the 1980s. With manufacturers struggling to find a proper balance of efficiency and power, the 1984 SVO was a performance champion that equaled its Mustang GT stablemate in horsepower while offering superior balance and fuel economy, not to mention a bevy of other unique enhancements that had created a Mustang unlike any other before it.
The heart of the 1984 Mustang SVO was, of course, the turbocharged and intercooled 2.3 liter Lima four-cylinder engine. Utilizing fuel injection and EEC-IV engine computer management, this venerable mill utilized 14 pounds of boost to reach 175 peak horsepower at 4400 rpm – which made it equal to the 1984 5.0-liter V-8 Mustang GT and one of the most powerful American-made performance machines of the day. The SVO magic didn't stop there, however; in showcasing Ford's road racing efforts, the SVO received a completely different suspension arrangement, including aggressive front and rear anti-roll bars, a beefier steering rack, revised bushings, Koni adjustable shocks and struts, four-wheel disc brakes, and 16-inch wheels wrapped in big 225/50-series rubber. The result was a true corner-carving machine that many people still consider to be one of the best-handling Mustangs of all time.
The interior appointments also reflected the SVO's sporting nature. SVO-exclusive seats with aggressive side bolstering kept front occupants firmly in position. Gas- and brake-pedal positions were optimized for better heel-and-toe shifting. A Hurst shifter operated the T-5 five-speed manual – no automatic was offered – and full instrumentation kept the driver informed of the SVO's powertrain status. Luxury items also abounded for occupants, including suede trim, power windows, power locks, premium sound systems, and available leather seats. The unique SVO treatment was more prevalent on the outside, with a unique front clip, SVO-specific sail panels, unique tail lights (that would later appear on the 1993 SVT Cobra), and the two most iconic SVO items: the biplane rear spoiler and functional hood scoop. Exterior color options for 1984 were limited to four choices: Black, Silver Metallic, Medium Canyon Red, and Dark Charcoal Metallic.
At the time, plans were being made to wind down production of the Fox-Body Mustang. It was thought that the SVO could represent both the end of the Mustang heritage, and the launch of a new performance era featuring smaller, turbocharged engines. Planners would ultimately prove to be wrong on both counts – but for a few years at least, this boosted pony served with distinction as one of the best performance machines of the day.
Engine
Type: Turbocharged & intercooled SOHC I-4
Displacement: 2.3L / 140 CID
Horsepower: 175 hp @ 4,400 RPM
Torque: 210 lbs.-ft. @ 3,000 RPM
Bore x Stroke: 96mm x 79.4mm
Compression: 8.0:1
Suspension
Front: Indpendent, Koni adjustable struts, coil springs, 30.5-mm anti-roll bar
Rear: Solid axle, four trailing links, two leading leading hydraulic links, Koni adjustable shocks, coil springs, 17-mm anti-roll bar
Brakes
Front: 10.9 in. vented disc
Rear: 11.25 in. vented disc
ABS: N/A
Wheels
Wheels: 16 x 7 in 5-lug aluminum
Tires: 225/50VR16 Goodyear
Performance
0 to 60 mph: 7.7 seconds (Road & Track)
60 to 0 braking: 158 feet (Road & Track)
1/4-mile @ MPH: 15.8 seconds @ 89 mph (Road & Track)
Production
Total Produced: 4,508
Total U.S. Market Cars: 4,263
- Black: 1,389
- Dark Charcoal Metallic: 1,023
- Medium Canyon Red Metallic: 984
- Silver Metallic: 865
- Oxford White: 1
- No Paint Code: 1
Total Canada Market Cars: 222
- Silver Metallic: 100
- Black: 57
- Dark Charcoal Metallic: 35
- Medium Canyon Red Metallic: 30
Total Export-DSO Cars: 23
- Silver Metallic: 10
- Medium Canyon Red Metallic: 7
- Dark Charcoal Metallic: 5
- Black: 1