Mustang
2004 Ford Mustang Mach 1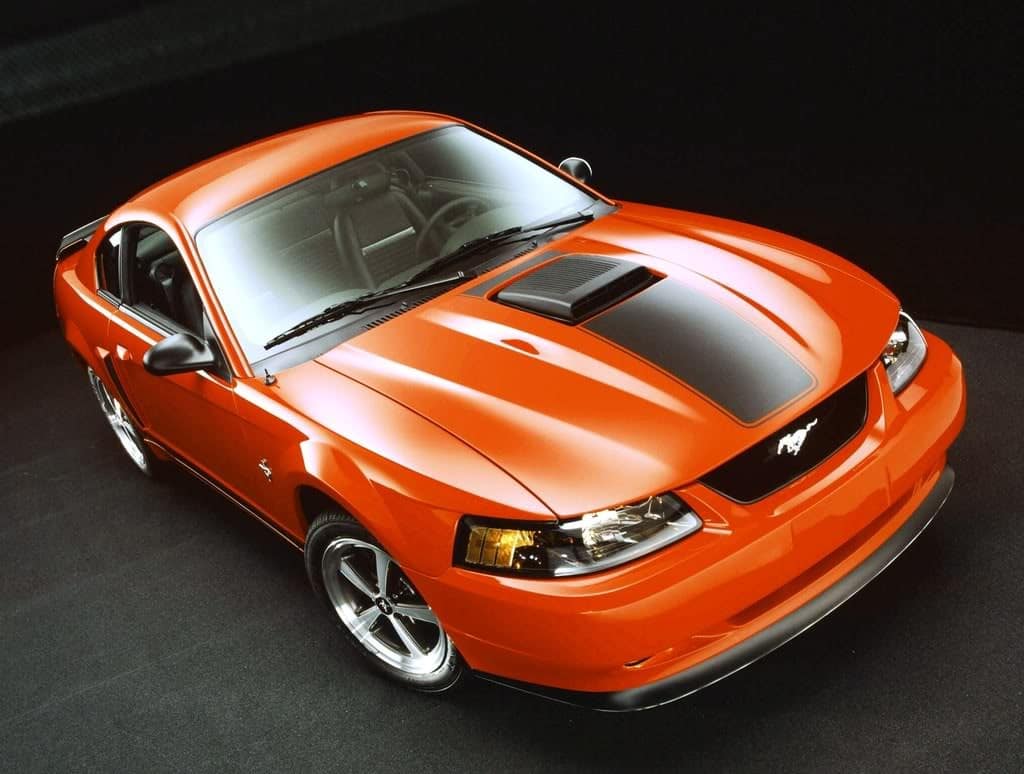 2004 Mustang Mach 1
Because of a strong enthusiast response to the introduction of the 2003 Mustang Mach 1, Ford committed to another sales year of Mach 1 production to slot between the Mustang GT and the SVT Mustang Cobra. The 2004 model run was the Mustang's final year on the SN-95 platform so collectors and fans of the Fox-based cars were given one last chance to buy a new Mach 1.
Exterior paint colors offered in '04 included Oxford White, Black, Torch Red, Azure Blue, Dark Shadow Gray, Screaming Yellow and Competition Orange. With the original Mustang being launched in 1964, the 2004s including Mach 1s wore 40th Anniversary badges on the front fenders and rear decklid.

Again for 2004, the Mach 1 was powered by the 4.6L DOHC "mod" V-8 cranking out 305 horsepower at 5,800 rpm. An appearance upgrade gave the engine bare aluminum valve covers to replace the black-painted valve covers that were on the 2003 versions.
Engine
Type: 90-degree DOHC 32-valve V-8
Displacement: 4.6L / 281 CID
Horsepower: 305 hp @ 5,800 RPM
Torque: 320 lbs.-ft. @ 4,200 RPM
Bore x Stroke: 90.2mm x 90mm
Compression: 10.1:1
Suspension
Front: Independent, modified MacPherson strut with separate spring on lower arm and 26.5-mm stabilizer bar.
Rear: Four-bar link with coil springs on lower arm, unique horizontal axle damper and 23-mm solid stabilizer bar
Brakes
Front: 13.0 in. Brembo disc, Aluminum dual-piston custom anondized caliper
Rear: 11.6 in. vented disc, single-piston caliper
ABS: Four-channel ABS system, linked to all-speed traction control
Wheels
Wheels: 17 x 8 in 5-spoke "Heritage" wheels
Tires: 245/45ZR17 Goodyear Eagle ZR45
Performance
0 to 60 mph: 5.6 seconds (Motor Trend)
60 to 0 braking: 120 feet (Motor Trend)
1/4-mile @ MPH: 13.88 seconds @ 101.9 mph (Motor Trend)
Production
Total Produced (Coupe Only): 7,182
- Azure Blue: 1,316
- Torch Red: 1,259
- Black: 1,064
- Dark Shadow Grey: 1,039
- Competition Orange: 1,039
- Screaming Yellow: 768
- Oxford White: 697