Mustang
2007 Ford Mustang GT / California Special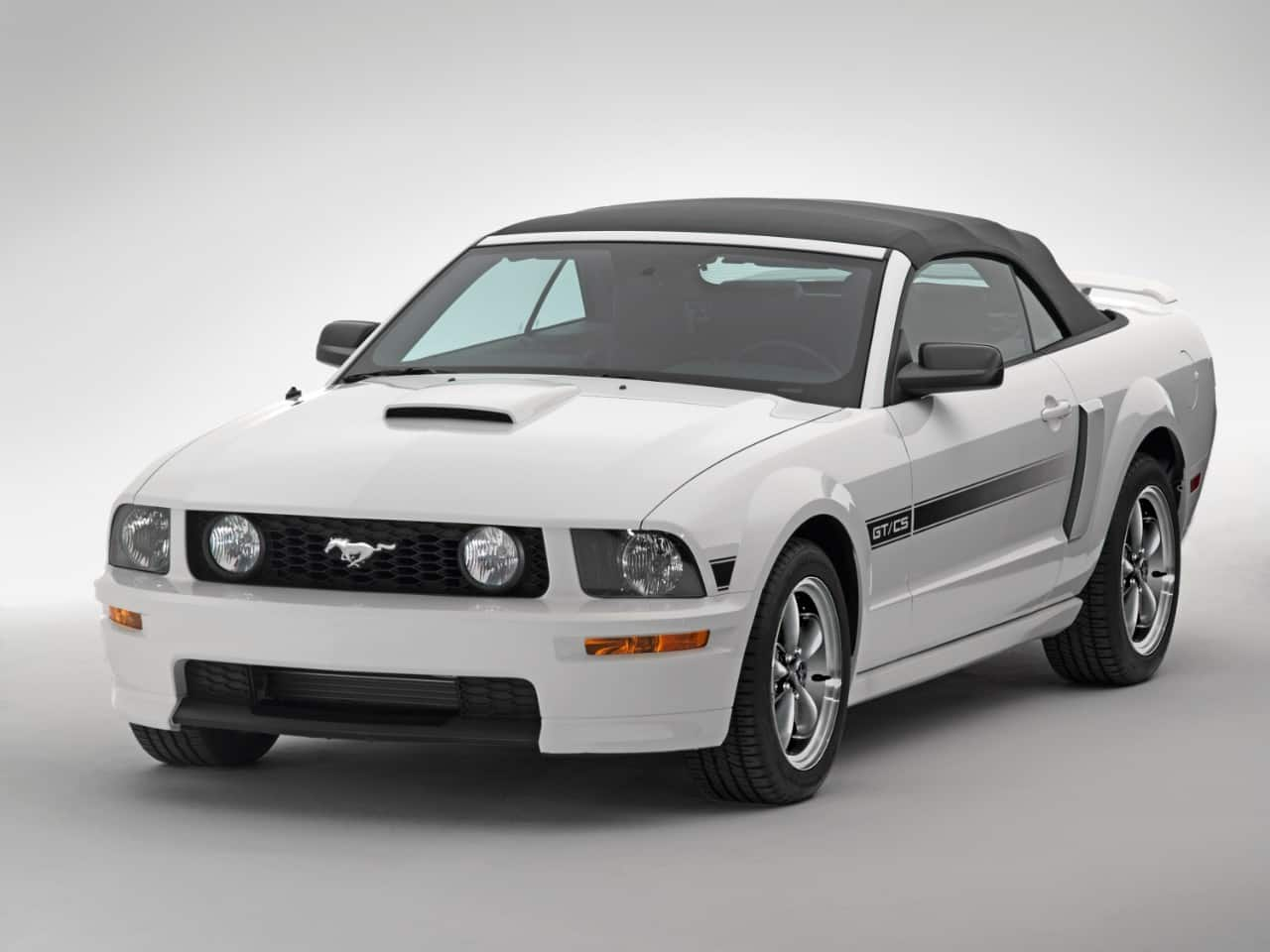 2007 Mustang GT California Special
Back in 1968, an influential group of West Coast dealers convinced Ford to produce a limited-production Mustang with unique styling cues borrowed from Shelby Mustangs. Called the California Special, it was built with help from Shelby and sold exclusively in the western United States, to the tune of approximately 4,100 units.
Flash forward 39 years to a new Mustang platform with design ties to that original '68 version, throw in a revived relationship with Shelby, and you have the 2007 Mustang GT / California Special. Eagle-eyed spotters will notice a resemblance between the Cal Special and the 2007-2008 Shelby GT, as both cars actually began life as a Mustang GT Premium outfitted with the California Special Package 54C. Shelby nabbed the Cal Special's unique front and rear fascia, leaving the side scoops, rolled exhaust tips, black GT/CS exterior striping and two-tone interior accents exclusive to the California Special. Ford's premium 18-inch polished wheels officially rounded out the GT/CS package.
Since the California Special Package was only available on the Mustang GT premium coupe or convertible, standard equipment included leather seats, a Shaker 500 audio system, power everything, and of course the GT's 300-horsepower 4.6 liter V-8, bolted to a five-speed manual transmission. Common options included a five-speed automatic transmission, Shaker 1000 audio system, satellite radio and heated seats. Another very common addition to the GT/CS was the Mustang GT Appearance Package, which added a hood scoop and an engine cover. Only five colors were available: Redfire Metallic, Performance White, Vista Blue Metallic, Ebony (Black), and Grabber Orange. And though the Cal Special's interior was two-tone, at least one of those tones was black.
The modern California Special offered enthusiasts a unique Mustang edition slotted perfectly between the Mustang GT Premium and the Shelby GT. With great looks and an unmistakable design presence, the 2007 Mustang GT/CS is already considered a collectible in the motoring community. - See more at: http://racingedu.ford.com/enthusiasts/collector-vehicles/mustang/gtcs-2007/#sthash.iQ4OOvm0.dpuf
Engine
Type: 90-degree SOHC 24-valve V-8
Displacement: 4.6L / 281 CID
Horsepower: 300 hp @ 5,750 RPM
Torque: 320 lbs.-ft. @ 4,500 RPM
Bore x Stroke: 90.2mm x 90mm
Compression: 9.8:1
Suspension
Front: Reverse-L Independent MacPherson Strut, 34-mm Stabilizer bar
Rear: 3-link solid axle with coil springs, panard rod, 20-mm stabilizer bar
Brakes
Front: 12.4 in. vented disc, dual-piston caliper
Rear: 11.8 in. vented disc, single-piston caliper
ABS: Four-channel ABS system, linked to all-speed traction control
Wheels
Wheels: 18 x 8 in., 5-spoke, polished aluminum
Tires: 235/50ZR18 BSW High-Performance
Performance
0 to 60 mph: 5.1 seconds (Car and Driver)
60 to 0 braking: 130 feet (Est.)
1/4-mile @ MPH: 13.8 seconds @ 103 mph (Car & Driver)
Production
Total Produced: 8,519
Total Coupe Produced: 5,918
- Black: 2,232
- Performance White: 1,306
- Redfire: 1,253
- Vista Blue: 1,061
- Grabber Orange: 66
Total Convertible Produced: 2,601
- Black: 906
- Performance White: 764
- Redfire: 510
- Vista Blue: 375
- Grabber Orange: 46