(This is the latest in an occasional series on iconic Ford Performance drivers through the years.)
By Team Ford Performance Correspondent
TORRANCE, California -- Parnelli Jones' motorsports career had no barriers.
He raced -- and won -- in Indycars, stock cars, sprint cars, midgets, off-road vehicles and sports cars. If they had backstreets drag races in his neighborhood in his teen years, he probably won those, too.
Jones has been defined by his friends and his competitors over the years as a racer's racer, a driver who could do everything well and one who seldom settled for anything less than the best.
Now 82, Jones will be celebrated in May as the oldest surviving winner of the Indianapolis 500, a race he set out to win even in his very early years of competition. Jones and other Indy stars will be honored as the speedway hosts the Indy 500 for the 100th time.
"Winning Indy (in 1963) was an unbelievable thrill, especially when that was your goal in the first place," Jones said.
Jones debuted in the 500 in 1961, a year after his friend and competitor, Jim Hurtubise, had told folks in the Brickyard garage, "You ain't seen nothing yet. Wait 'til P.J. gets here."
Jones had built a solid resume in sprints, midgets and stock cars in the 1950s and was on course to run in the 500. He could have raced there earlier than 1961 but waited for the stars to align so that he would have good rides when he challenged the Indy veterans.
After becoming the first driver to cross the 150-mph barrier in 1962, Jones returned to Indy for his third shot in 1963. He won despite a late-race oil leak.
"You run open-wheel, sprints, midgets, and you work your way to the top," Jones said. "Indy was my goal. I was real fortunate to have a decent ride when I got there. I was Rookie of the Year my first year after leading 27 laps, then was the first to run 150 in 1962. Led the race that year and lost the brakes. Came back in '63 and won."
Jones' cowboy hat flew from his head during his Indy victory lap, and he considered it gone forever. However, 50 years later, the man who had the hat saw Jones in a television interview and made arrangements to return it to the driver. It now has a spot of honor in a trophy case in Jones' Torrance office.
Nearby in the trophy case is the "Baby Borg" trophy designating Jones' Indy 500 win. He received it many years after the Indy win as a special prize presented by driver Dario Franchitti. Jones' original award for the 1963 win is a plaque with a copy of the Borg-Warner trophy.
"They started giving out the 'Baby Borgs' later," Jones said. "Rick Mears and Dario Franchitti (both 500 winners) were at my house, talking about getting their Baby Borgs. I said, 'I didn't get one. I'll buy it. Don't care what it costs.'
"I didn't think much about it after that. Later, I got a call to come to Detroit to present Dario his trophy. After I did that, he turned around and presented me with a Baby Borg. It was great."
Jones gets a bit sentimental telling that story. He is surrounded in his office by trophies, photographs and other memorabilia documenting one of auto racing's grandest careers.
Much of Jones' stellar motorsports history was written in Ford Motor Company products.
One of the sport's most versatile drivers, he won four NASCAR Cup races in Fords -- at Bremerton, Washington; Sacramento, California; Los Angeles, and Riverside, California. He won in cars owned by Oscar Maples and Val Miletich. Jones also drove in the Cup series for legendary Ford racers the Wood Brothers.
Jones ran in the Southern 500 at Darlington Raceway in South Carolina in 1956, 1957 and 1958. The 500 was NASCAR's biggest event in the 1950s, and it attracted racers from across the country and from other forms of motorsports.
Jones and his team towed their Fords across country from California to drive in the marathon.
"It took several days of all of us driving to get there," Jones said. "There weren't freeways like there are now, and some of the underpasses on those old roads were too low for us to go underneath. It was quite a trip."
In IndyCar racing, Jones scored wins in Lotus-Fords at Milwaukee (one of his favorite tracks, where he took the checkered flag twice) and at Trenton, New Jersey, in the mid-1960s.
He won the stock car class of the Pikes Peak Hill Climb in 1963 in a Mercury Marauder and notched the United States Auto Club stock car championship in 1964, also in Mercurys.
In 1964, Ford paired Jones and the legendary Carroll Shelby for the Los Angeles Times Grand Prix sports car race at Riverside, California. Although Jones had very limited road-course experience, he zoomed to victory in the Shelby Cobra, winning by 35 seconds.
One of Jones' biggest Ford connections arrived in the late 1960s and early 1970s when he and driver George Follmer teamed to carry the Blue Oval banner in the Trans-Am Series, along with team owner Bud Moore.
The team began with Mercury Cougars then switched to the Ford Mustang. Jones and Follmer gunned the Mustang to the series' manufacturers title in 1970.
"When he (Jones) sat down at the wheel in that car, he got the job done," said Moore, who spent most of his career in NASCAR Cup racing and is a member of the NASCAR Hall of Fame.
Driving the No. 15, Jones scored T-A wins at Laguna Seca, Lime Rock, Mid-Ohio, Seattle and Riverside.
"Bud and I got along well," Jones said. "He was my kind of guy, and the Ford people always treated me well."
As another illustration of his versatility in race cars, Jones also won the demanding Baja 1,000 endurance race across Mexico in 1968 and 1973. Driving a Ford Bronco, Jones and fellow pilot Bill Stroppe conquered the desert -- and the competition.
Racing was such a part of Jones' life that it gave him a new name. He was born Rufus Parnell Jones. He started racing at the age of 17 at Carrell Speedway in California with the assistance of a boyhood pal, Billy Calder.
Because the rules didn't allow 17-year-olds to race, Calder decided to give Jones a "new" name -- Parnellie -- so that their classmates wouldn't recognize that he was driving fast cars at the track. Calder picked the name because of a female schoolmate named Nellie. Calder had teased Jones about Nellie being his girlfriend. Over time, Parnellie was shortened to Parnelli, and the name stuck as Jones accelerated through motorsports.
As a teenager, Jones had a job mixing cement and later learned how to finish concrete. It was his only "real" job.
"I had one, but not very long," he said. "I had to do some cement work to keep my jalopy running. But working like that gave me an uncanny desire to drive my race car a little harder."
He excelled on those California short tracks, winning races on nights when 200 drivers would show up to fight for 16 positions in the main event. Soon, important people began to notice, and Jones was on his way.
"The ball got rolling, and it just kept rolling," he said.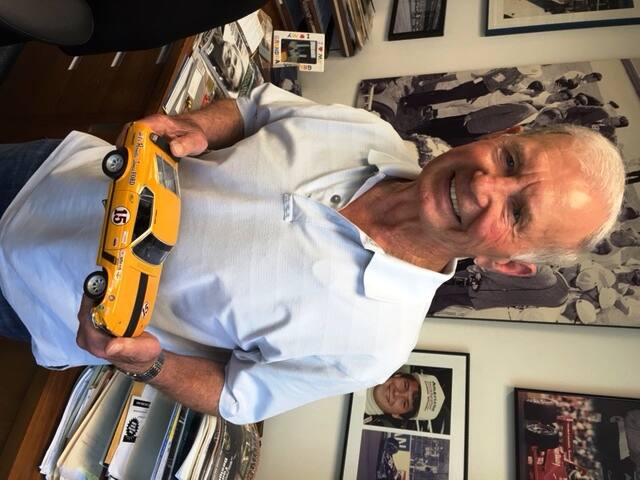 Read about other Icons of Ford Performance