BRAINERD, Minn. – Bob Tasca III and the Motorcraft/Quick Lane Team extended their winning ways by claiming first place at the NHRA Brainerd Nationals this evening (Aug. 21). It marked Tasca's second consecutive win and the third victory in the last four races in the Nitro Funny Car class.
"Everyone wants to know how we're doing it," said Tasca. "You go replay the starting line and watch those guys jumping up and down. They're the reason why we're doing it. These drivers out here, we're fivepercent of the equation. It's a team. This Motorcraft/Quick Lane team executed flawlessly - crew chiefs Mike Neff and Jon Schaffer - I'm blown away. I'm so excited for Ford, that blue oval, Henry Ford, Bill Ford, Edsel Ford, the whole Ford team, Jim Farley. They're so excited about what we're doing out here. What a weekend!"
Tasca took down a pair of top-flight competitors over the final two rounds of the afternoon. In the semifinals he knocked off Robert Hight, who is the current points leader in Funny Car. Tasca followed that up in the final round with a win over Ron Capps, who was the 2021 Funny Car champion. After narrowly trailing the first few hundred feet, Tasca and his Ford Mustang cranked it up to 329.42 mph and clocked a 3.945 run to take home the trophy by 11 feet.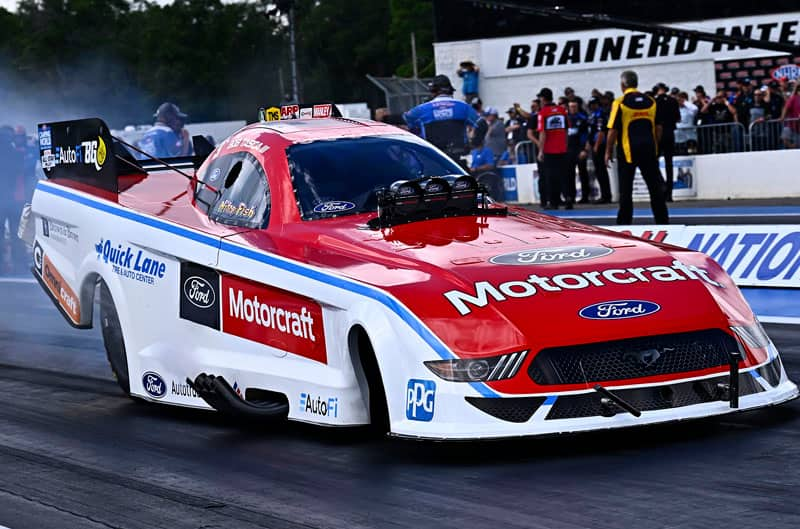 Additional race coverage, including video highlights, on the NHRA website.
"The Motorcraft team is thrilled to see Bob enjoying such great success, and not just today, but for the past month," said Gina Scappaticci, Dealer and Distributor Engagement Manager for Ford CustomerService Division (FCSD). "Every week, Bob and his team make all of us at Ford and Motorcraft so proud for how they represent us."
Through his role as team owner and driver, Tasca works alongside Ford to attract and retain automotive technicians. During the school year, he speaks to students who take part in the NHRA's YES (Youth and Education Services) programs. He also participates in race-day hospitality programs for current Ford technicians.
The NHRA's regular season comes to a close in two weeks (Sept. 5) at the U.S. Nationals. Tasca, who is fourth in the season standings, has already clinched a berth in the NHRA Countdown to the Championship. The six-race playoff commences on Sept. 15 in Mohnton, Pa.