ATLANTA, Ga. – Bob Tasca III and the Motorcraft/Quick Lane Funny Car team won the 40th and final NHRA Southern Nationals today (May 2) at Atlanta Dragway. Tasca also won two weeks ago at the NHRA Four-Wide Nationals in Las Vegas, giving him back-to-back victories for the first time since 2019.
Through three races, Tasca is atop the NHRA Nitro Funny Car standings.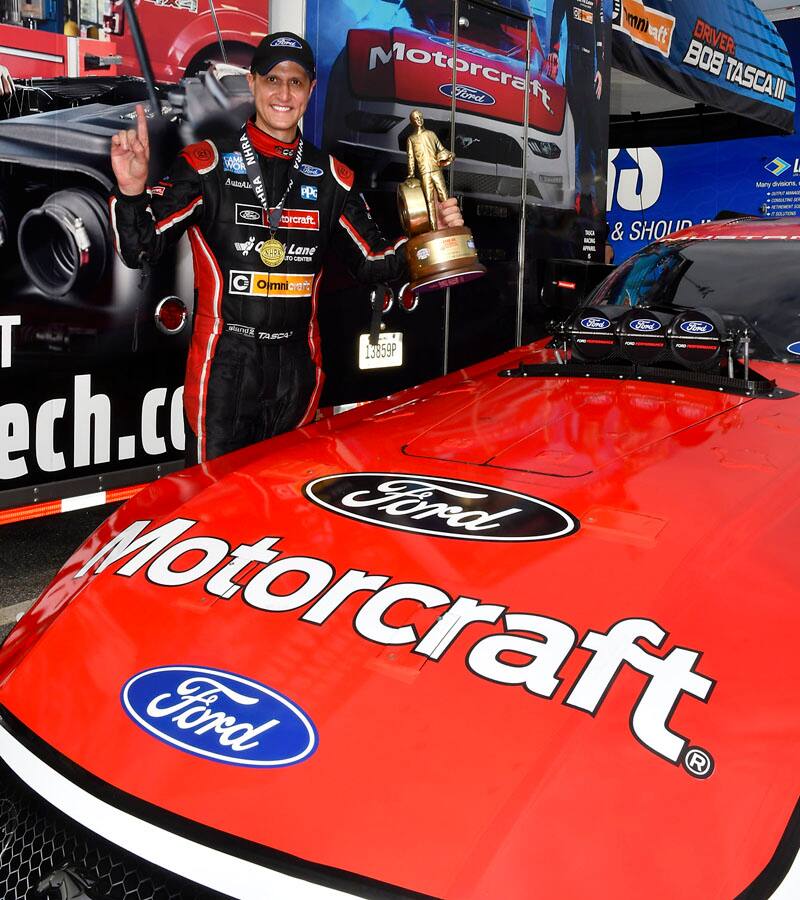 "It was a hard-fought day," said Tasca. "Every round was a tough win. I'm very proud of my team. Mike Neff and Jon Schaffer made the right calls and put me in a position to win! It's exciting just to be a part of it. I want to thank all the Atlanta fans. It's so special to be here and see this place sold out. There's so many great memories and it's so great to leave with the trophy. It's a long season and the competition is unreal, but we have a team that can run with the best of them. Now it's on to Charlotte."
After qualifying second, Tasca reached the final by collecting wins over Paul Lee, Blake Alexander and Matt Hagan.
Head-to-head with John Force for the championship, Tasca topped out at 326.48 mph and clocked a 4.004 ET, while Force had a 4.015 ET.
Watch Tasca's win and his post-race reaction on the NHRA website.
Tasca's consecutive wins in 2019 occurred at Bristol, Tenn., and Norwalk, Ohio. All-time, Tasca has 10 triumphs in NHRA Funny Car competition.
"All of us at Motorcraft are so excited to see Bob continue his winning ways at the NHRA Southern Nats," said Jonathan Orth, Ford Customer Service Division Aftersales C&I Manager. "Ford and Motorcraft are so appreciative of the outstanding work Bob and his team have put in to be leaders in all facets of our businesses."
Through his role as team owner and driver, Tasca works to help Ford attract and retain automotive technicians by talking to students who participate in NHRA's YES (Youth and Education Services) programs.
In two weeks, the Tasca Racing team heads to Charlotte, N.C., for the NHRA Four-Wide Nationals (May 14-16).