LAS VEGAS, Nev. – Bob Tasca III and the Motorcraft/Quick Lane Funny Car team were victorious today (Sunday, April 18) at the NHRA Four-Wide Nationals at The Strip at Las Vegas Motor Speedway. The seventh career NHRA Nitro Funny Car win puts an exclamation point on the end of Mustang Week for Tasca, who also owns and operates multiple Ford dealerships from his home in Cranston, R.I.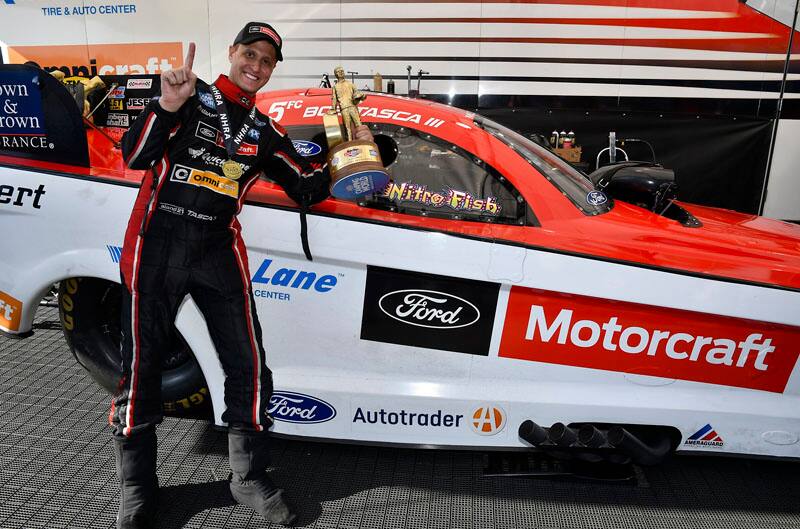 "You win on Mustang's birthday weekend and it doesn't get a whole lot better than that," said Tasca. "I'm so privileged to drive the fastest Mustang on the planet. Plus, we're leaving here No. 1 in the points race. The car ran lights out. I give all the credit to my guys and my crew chiefs, Mike Neff and Jon Schaffer.
They gave me a car that could go out there and win. I had to do some driving, the guys had to do some work and we put it together. It just shows you the competitiveness of this Motorcraft/Quick Lane team."
After qualifying fifth, Tasca won his opening round race, then earned a spot in the final by finishing second in the semifinals to Ron Capps.
In the decisive race, Tasca's superior reaction time, paired with a top speed of 328.46 mph led to a 3.938-second pass and a trip to victory lane. He beat out Matt Hagan (3.955), Tim Wilkerson and Capps. Watch the final on NHRA.com.
The win marks the first for Tasca since capturing back-to-back victories in 2019 at Bristol, Tenn., and Norwalk, Ohio. All-time, Tasca has nine triumphs in NHRA Funny Car competition.
"Everyone at Motorcraft is thrilled to see Bob win the NHRA Las Vegas Four-Wide Nats," said Jonathan Orth, Ford Customer Service Division Aftersales C&I Manager. "Bob is a terrific ambassador for Ford and Motorcraft on and off the track. We know how dedicated he and his team are and we greatly look forward to seeing how the rest of this season unfolds for them."
Through his role as team owner and driver, Tasca works to help Ford attract and retain automotive technicians by talking to students who participate in NHRA's YES (Youth and Education Services) programs.
In two weeks, the Tasca Racing team will return to the track at the NHRA Southern Nationals (April 30-May 2).