INDIANAPOLIS - When it comes to historical motorsports events, few can top the NHRA U.S. Nationals. First contested in 1955, "The Big Go" as it has been dubbed, is the crown jewel of the NHRA and widely known as the longest and most prestigious drag racing event in the world. Held every Labor Day weekend, the U.S. Nationals is contested at Lucas Oil Raceway located just outside Indianapolis.
The famed quarter-mile has seen its share of fantastic Ford moments, along with heartbreak and drama. In fact, Bob Glidden, the namesake behind Ford Performance's annual 85/10 award, scored nine U.S. Nationals wins.
For 2020, due to the Covid-19 pandemic, the event was shortened from its typical six-day format to four, but that didn't dampen the spirit. Ford drivers participated in a wide range of classes, from Stock Eliminator up to Nitro Funny Car.
Ford Performance even publicly debuted its all-electric Mustang Cobra Jet 1400 prototype this year, which made several exhibition runs down the strip alongside a gas-powered Cobra Jet. The CJ 1400 put on an amazing show, lifting its wheels high upon launching and rocketing to mid-8-second times at 160+ mph! The standard CJ was driven by FOX-broadcaster and two-time Funny Car champion Tony Pedregon, while the electric demonstrator was driven by Ford NHRA Funny Car driver Bob Tasca III.
Tasca lasted two rounds in Funny Car competition over the weekend and sits sixth in the championship standings. Tim Wilkerson, who made it to the semifinals at Indy, sits just behind Tasca in seventh.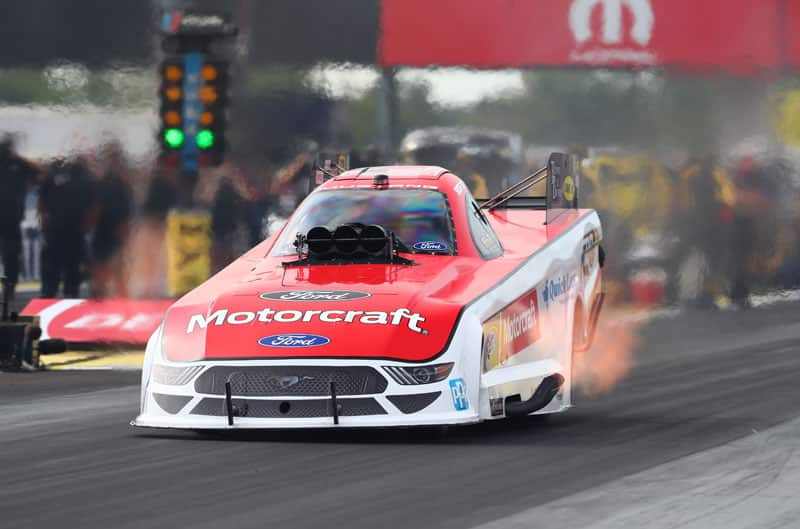 Marty Buth of Freeport, Illinois created one of the first Ford competition highlights of the weekend when he qualified his 1984 Mustang on the Stock Eliminator pole. Buth ran an insane 11.63 elapsed time that was just 1.517-seconds under the O/SA index, and then went on to win the class title over Justin Soldatt who drove a '98 Mustang GT. Other Ford Stock Class winners included Jeff Lane driving a 2019 Cobra Jet in FS/AA and Jimmy Ronzello in his 2012 FS/B Cobra Jet. Cody Herron took the FS/C title in a 2014 CJ, while Gary Summers won the stick-shift combo with his 1977 Mustang II and Patrick Downing was victorious in the Factory Stock combo in a 2010 CJ.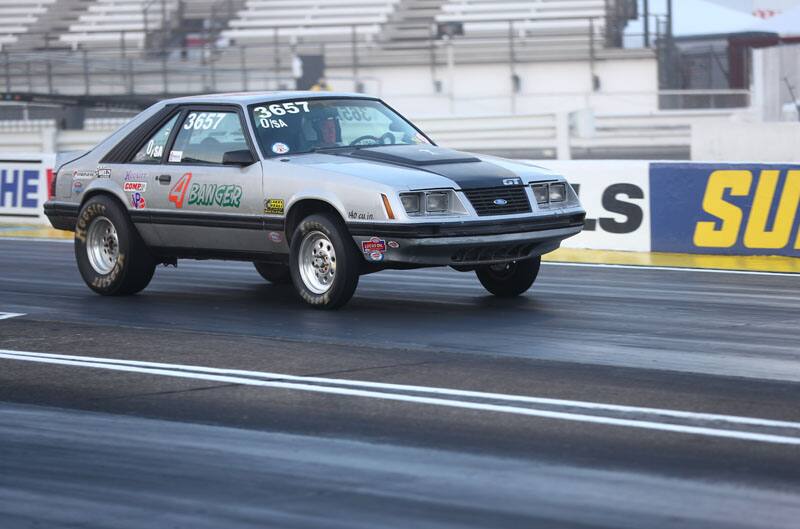 Moving up a category, the Ford Super Stock class winners were David Barton driving the beautiful Cook Brothers FSS/E 2014 Cobra Jet, Darrin Christen for the FSS/F title in a 2012 CJ and Paul Candies won the FS combo race in his wickedly fast FGT/B CJ that has run sevens at 170 mph.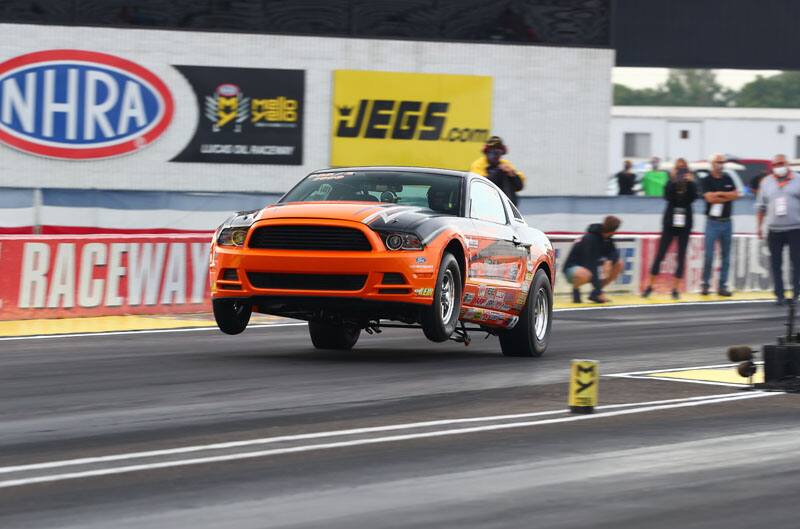 Yet another shining Ford moment came when Willard Daugherty of Shepherdsville, Kentucky received the NHRA Best Appearing Car award. Daugherty entered the event with his stunning 2019 Cobra Jet Super Stocker that was meticulously prepared by Watson Racing. The CJ features a tubbed rear to fit the Super Stock specifications along with custom candy paint and a supercharged Coyote engine.