MARTIN, Mich. - For the ninth consecutive year, Mustang Cobra Jet enthusiasts made the pilgrimage to the Ford Performance Cobra Jet Showdown, a specialty event held twice a year in conjunction with the NMRA Spring Break Shootout in March and the NMCA All-American Nationals in August. After nearly a decade at Summit Motorsports Park, the event was moved to U.S. 131 Motorsports Park in Martin, Michigan. The change in venue didn't stop the flood of horsepower, as 50 years of Cobra Jets tore up the quarter-mile and filled the show field.
The Ford Performance Cobra Jet Showdown, presented by Watson Racing, is typically one of the largest gatherings of classic and modern Cobra Jets in the country. The event allows owners and fans to celebrate everything Cobra Jet with a special drag race class, luncheons, happy hours, a free parts raffle and bench racing galore.
Fans revel in the vast array of machines from the early big-block FE models to the most sophisticated seven-second supercharged modern Mustangs. It's truly a chance for Ford lovers to experience the cars and stars of the drag racing world. In addition to the Cobra Jet Showdown category, CJ-powered machines could be found racing in a variety of NMRA and NMCA classes. This included Coan Engineering Stock/Super Stock, Nostalgia Super Stock and Holley EFI Factory Super Cars, to name a few.
Qualifying for the CJ Showdown was based on reaction time, and Patrick Downing put up a .004 light to claim the top spot. He needed the near-perfect reaction to best Rick Rodgers' .005 light and brother Charley Downing's .015 efforts. The 24-car field was filled with hard-hitters, including multi-time champion and Bob Glidden 85/10 award-winner John Calvert, NHRA national event champion Anthony Bongiovanni, three-time NHRA national event winner "Yo" Ken Miele, CJ stand out Jimmy Ronzello and former CJ Showdown winners Steve Trombley and Evan Smith.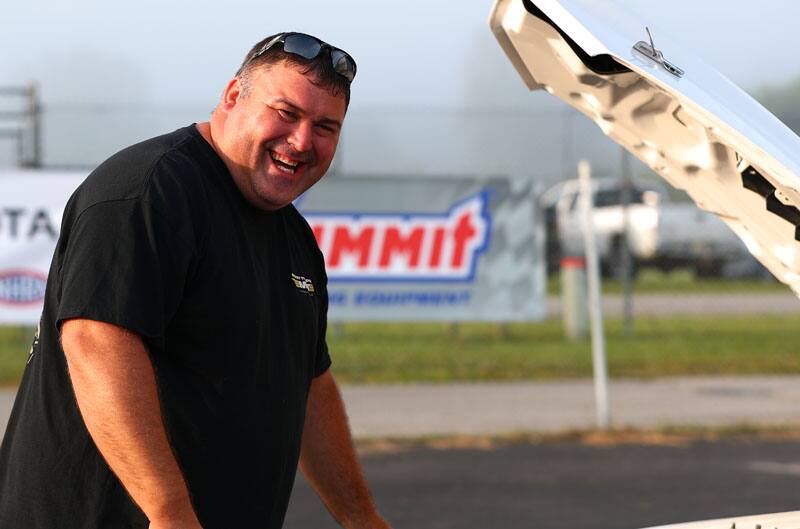 After two days of burnouts, wheelies and tight racing, Steve Trombley and Charley Downing met in the final. Looking to defend his Bradenton Cobra Jet Showdown win earlier this year, Trombley gave it all he had, but he unfortunately left too soon, handing the win to the Michigan-based Downing in his clean 2014 CJ.
Cobra Jet fans had more to cheer about, as the Ray Skillman Ford racing family of Bill and Drew Skillman put on a clinic in Holley EFI Factory Super Car. Defending NHRA SAMTech Factory Stock Showdown champion, Drew Skillman qualified his 2019 CJ on the pole with a 7.62 at 183 mph. Skillman was chased by Chris Holbrook who ran 7.64/182 mph and Tripp Carter (7.68/180 mph) in his Watson Racing CJ.
The competition was filled with epic battles and record elapsed times, and ultimately, the father-and-son team of Bill and Drew Skillman were the last men standing. In the anti-climatic finish, Bill took a single for the win, allowing him to inch up in the points (with 1330 markers) to close within striking distance of number-two man Chuck Watson Sr. (1360). Tripp Carter holds a strong lead with 1700 points.