INDIANAPOLIS - For 65 years the US Nationals, held each Labor Day weekend in Indianapolis, has been the crown jewel of the NHRA Mello Yello Drag Racing Series. Drivers say that winning Indy rivals a championship – that it's drag racing's version of the Indy 500. Indiana Ford dealer and racer Bill Skillman fully understands the gravity of bringing home Indy gold, as his family's Ray Skillman Ford dealership is located just 19 miles away from Lucas Oil Raceway in Greenwood, Indiana. Therefore, it was extra special when he was awarded the NHRA "Wally" trophy after winning the Factory Stock Showdown late Monday night.
"This is awesome. This is our home race, and it was a marathon," said a tired, but elated Skillman after six days of racing. "We had delays with rain and fog and mist, it was very unusual. We had to wait and then run five rounds on Monday, but my crew gave me a heck of a car this weekend."
Factory Stock is the ultimate heads-up class for production-based American hot rods. It's open to Ford Mustang Cobra Jets, Dodge Challenger Drag Paks and Chevrolet COPO Camaros. The three brands go head-to-head in Factory Stock, and the racing is fierce. Each package is capable of 7-second quarter-mile times at 170-plus mph, so winning comes down to finding the limit of traction and cutting good lights. The cars closely represent what each make sells on the dealership floor by maintaining a factory-like appearance and relying on stock-type suspensions and 9-inch drag slicks for traction. The goods are under the hoods, where the supercharged engines can produce well in excess of 1,000 horsepower.
For the first time ever, NHRA opened the US Nationals field to 32 cars (normally a 16-car field), which added an extra round of racing and gave the fans a better show. Skillman qualified his CJ 20th with an 8.03 at 168 mph, but masterfully worked his way through the field. It should be noted that Bill's son Drew also competes in the FSS in another Cobra Jet, and currently leads the points.
"My car was okay in qualifying," said Skillman. "We tried to play the [ladder] game to be where we thought we needed to be at the end. We had a run that was thrown out because we were five-pounds light. We changed ECUs, computer system and harness, and we probably had ten pounds difference in that, and we weren't smart enough to drag it to the scales. That made things tough on us. I had to run COPO driver and engine builder David Barton in the first round. He was good on the tree, but we outran him. I got lucky. I won several races where I got tree'd."
Skillman defeated COPO driver Leonard Libersher in the second round (7.95 to 8.10) and he beat Dave Janac's Camaro (7.95 to 8.01) in the third frame. In the semifinals, he faced Doug Hamp (also driving a Camaro), who fouled. "I was .008 in the semis and I was pretty pitiful the rest of the time," added Skillman.
That win set up the classic Ford vs. Chevy final round as the Cobra Jet driver was set to face the tough Arthur Kohn of Richmond, Texas. Both Skillman and Kohn have previously won Factory Stock titles and had run very close in the semis. Kohn produced a 7.936/172.34 mph, Skillman ran 7.947/170.99 mph, giving Kohn lane choice.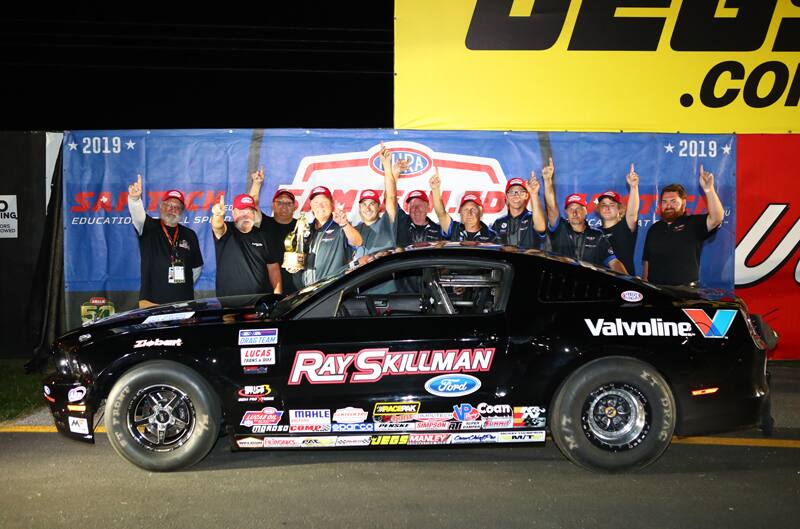 "You get in the zone and in a rhythm when you run so many rounds in a row, so I had zero nerves as the day went on," said Skillman. "It's okay to run the cars like that as long as you get the engine cooled down and prepared. I knew that we were pretty much on par [with Kohn] and I figured [the win] would come down to whoever launched fastest."
Skillman's Ford had been carrying the wheels 200-plus feet or more every launch so the team was careful not to upset the balance going into the final.
"The crew gave me all the power it would take without blowing off the tires or flipping over backwards," said Skillman. "He had a slightly better light [.041 to .062], but I was up in the air so long that I was just concentrating in on hitting the shift point. The [shift] light came on in the air so I was focused on hitting the shift, but I finally peeked over near the finish line and out of the corner of my eye I could see him. He had a good hot rod and made a good run. He's a great race car driver and we consider him a friend, but it was awesome to get there first and win. "After the 'chutes bloomed I was shaking both fists. This is our Super Bowl," he exclaimed. "Everybody wants to win Indy. I dreamed of this happening, but I didn't think it would happen to me. When your car is good it gives you a ton of confidence and we carried that all day."
By the numbers, Skillman's supercharged Cobra Jet Mustang ran 7.888 at 172.39 mph to Kohn's 7.918 effort at 172.98 mph.
"The team really deserves it,' added Skillman. "Crew chief Tomi Laine, along with Dave Yediny, Anthony Bivens, Joey Gwin, Wayne "Turbo" Hasenmayer, and Barry Moyer made it all possible. And of course Ford Performance and our engine builder Chris Holbrook. I also have to thank Coan Transmissions, Indy Gear, Valvoline Race Oils, Axalta, Indianapolis Car Exchange, AAGI, Zeibart and most of all my dad Ray Skillman. They worked really, really hard, and it was so exciting to see them enjoy the moment."
With two events to go, Drew Skillman leads the Factory Stock Showdown chase with 482 points, followed by Bill Skillman (466), Bo Butner (404), Stephen Bell (371) and Arthur Kohn (356) to round out the top 5.