DEARBORN – Ford Performance today revealed the quickest drag racing Mustang ever, capable of covering a quarter-mile in the mid-eight-second range.
The 2018 Mustang Cobra Jet is a limited-edition turnkey race car that honors the 50th anniversary of the original that dominated drag strips in 1968. The new Cobra Jet makes its public debut this weekend at the 2018 Woodward Dream Cruise.
The Ford Performance Parts team developed the 50th Anniversary car to be the most powerful and quickest Mustang Cobra Jet from the factory ever – capable of topping 150 mph while turning in a mid-eight-second quarter-mile run. The project epitomizes the close teamwork between traditional and motorsports engineering groups to maximize the design, performance and durability of production Mustangs.
"From the very first Mustang Cobra Jets dominating the 1968 NHRA Winternationals to our modern-day racers, the Ford Performance Parts team continues to build on Cobra Jet's success at the track over five decades," said Eric Cin, global director, Ford Performance Parts. "This has inspired generations of Mustang fans to create their own performance machines for the street."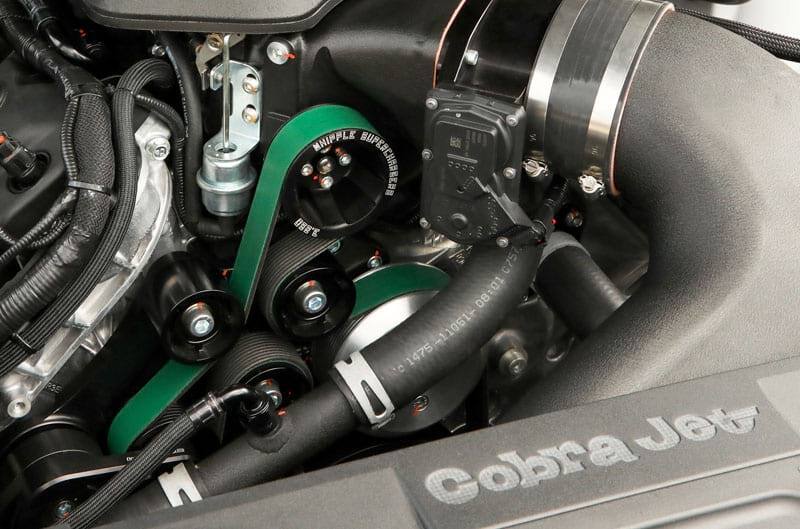 The car is powered by a special 5.2-liter version of Ford's famed 5.0-liter Coyote V8, strengthened and outfitted with a 3.0-liter Whipple supercharger. The engine sends power to the ground through a 9-inch solid rear axle, two-way coil-over shocks with adjustable ride height and a low-drag disc brake system from Strange Engineering as well as a four-link rear suspension with antiroll and panhard bars.
Additional factory-provided racing performance upgrades include an NHRA-certified safety roll cage, FIA-certified seats and anniversary-badged racing wheels.
The new Mustang Cobra Jet is available in either Race Red or Oxford White and can be outfitted with exclusive 50th Anniversary graphics and badging. Customers can order now at an MSRP of $130,000. Production is limited to 68 cars, in honor of Cobra Jet's 1968 debut.
Making history again
The car's long history of winning and setting records dates to its debut race weekend, where it commanded NHRA Super Stock at the 1968 Winternationals in Pomona, Calif. Since then, its winning engine formula has served to power Ford Mustang, Mercury Cougar, Ford Fairlane, Ford Torino and other vehicles. Credit for this formula goes to legendary East Coast Ford dealer Bob Tasca, grandfather of current Motorcraft/Quick Lane Mustang NHRA Funny Car driver Bob Tasca III and the man who coined the phrase "Win on Sunday, sell on Monday."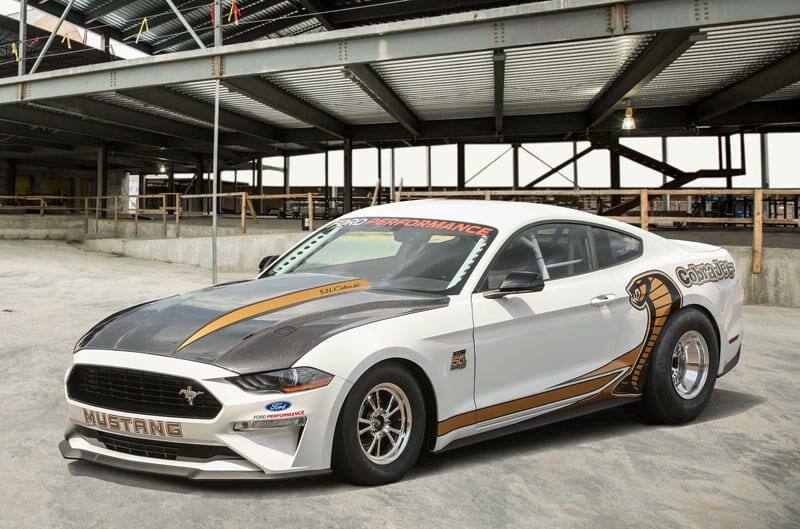 After its display at Mustang Alley as part of the Woodward Dream Cruise, the 50th Anniversary Mustang Cobra Jet will travel the following weekend to Norwalk, Ohio, for the 50th Anniversary Ford Performance Cobra Jet Reunion at Summit Motorsports Park – the largest gathering of Cobra Jets in history. More than 150 vehicles dating back to 1968 are expected to attend.
Mustang Cobra Jet timeline
1968 – Original FE 428-cubic-inch V8-powered Cobra Jet is created:
Ford produces 50 lightweight Mustangs to hold the 335-horsepower engine; six are shipped to Holman Moody and Bill Stroppe to be prepared for NHRA competition
Al Joniec pilots one of the six to Cobra Jet's first victory
2008 – Rebirth of factory Mustang Cobra Jet, M-FR500-CJ, 40 years later:
Powered by a supercharged 5.4-liter dual-overhead-cam V8, this drag racing renaissance was the first Stock Eliminator car to dip into the eight-second zone at an NHRA National Event
Unlike the original, the 50 produced this time around do not feature VINs, so they are not street legal
John Calvert drives a Cobra Jet featuring Joniec tribute paint scheme to victory at NHRA Winternationals on 41st anniversary of its original win
2009-16 – M-FR500-CJ:
250 additional cars are produced with dozens of domestic drag racing records, victories and championships achieved across NHRA, IHRA, NMCA and NMRA
Drivers range from experienced veterans to young drag racing stars in the making
Through half a century, Mustang Cobra Jet orders are still being placed at local Ford dealerships