CONCORD, N.C. - One of the most anticipated stops on the NHRA Mello Yello tour is the NGK Spark-Plugs Four-Wide Nationals held at zMAX Dragway in Concord, North Carolina. Considered the Bellagio of drag strips, zMAX is one of the newest quarter-mile tracks and it's built with fan, racers and the media in mind. The facility sports a huge hospitality tower, comfortable grandstands, it's easy to navigate and there are great food options plus modern bathrooms and even showers for campers. Most importantly, the main "stage" features four smooth lanes for side-by-side-by-side-by-side drag racing.
NHRA hit a home run with this facility and fans enjoyed amazing action this past weekend with cool temperatures and blue skies. And speaking of blue, there was a huge participation from Blue Oval racers competing in a variety of categories, from Stock Eliminator to Funny Car.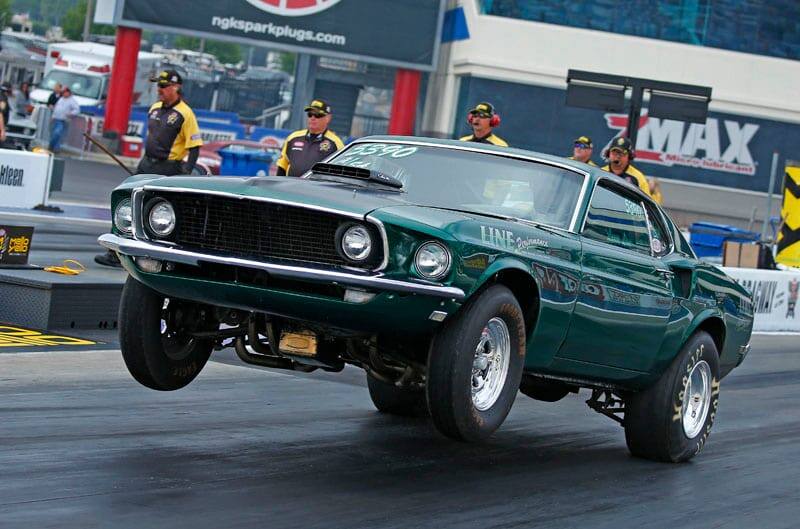 Lance Line took command in Stock, qualifying his beautiful 1969 Cobra Jet Mustang on the pole with a strong 10.01 in A/SA. He was followed by Matt Bell, Jeff Harrington and Gary Richard who qualified in the top 10 with modern Cobra Jets.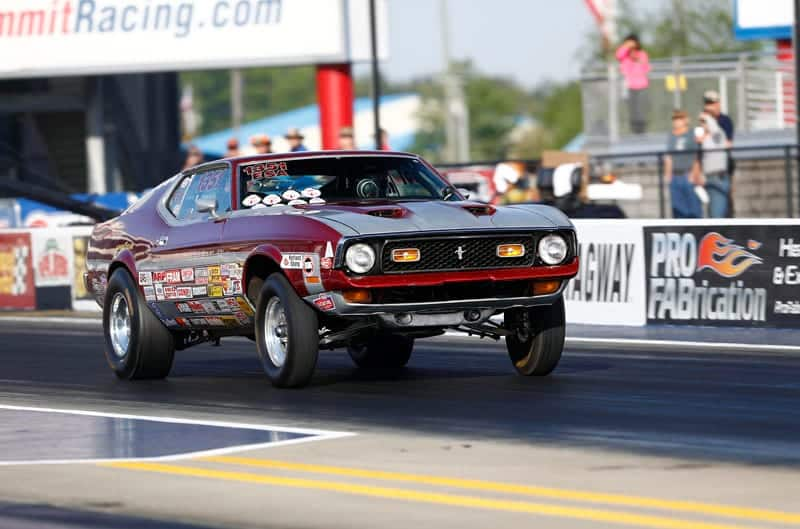 Stock Eliminator offers a multitude of classes and we found a wide variety of Ford combinations in the category. In addition to Line's classic CJ, Tex Miller brought out his 351-powered F/SA 1972 Mustang, and Ken Miele produced mid-8-second runs from his Micro Strategies-backed 2008 Cobra Jet. In 2018 Miele, a three-time national event winner, has been to two finals this season and he's looking good in NHRA points. Line, Ken Miele and Jeff Harrington lasted until the 3rd round, which left Eddie Brooks as the lone Ford Stocker pilot. Brooks, driving his P.C. Richard and Sons entry, lost a tight race in the 4th frame, breaking out by just .005 second.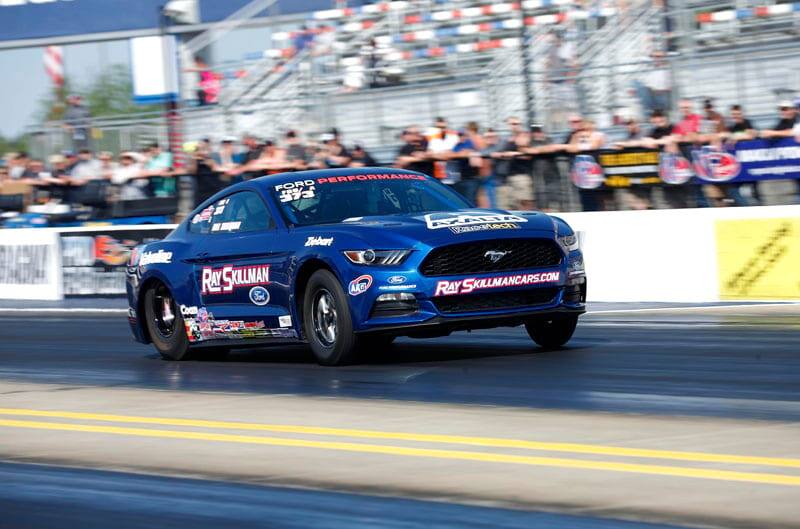 Super Stock qualifying was also an all-Ford show, as Ray Skillman, Bo Butner and David Barton secured the top three spots with modern Cobra Jet Mustangs. Skillman's 2010 supercharged model ran 8.61 in FSS/C, while Butner ran 9.04 with his 429 "Ninja-powered '14 Stang and Barton was a tick behind with his 429 Ninja. Dave Janac was also a top-10 qualifier, running 8.73 to lock in 6th with his 2016 Cobra Jet. In Super Stock eliminations, Bill Hawk (driving his 1967 Shelby GT500) and Gary Richard in a new CJ went the furthest, lasting until the third round of competition.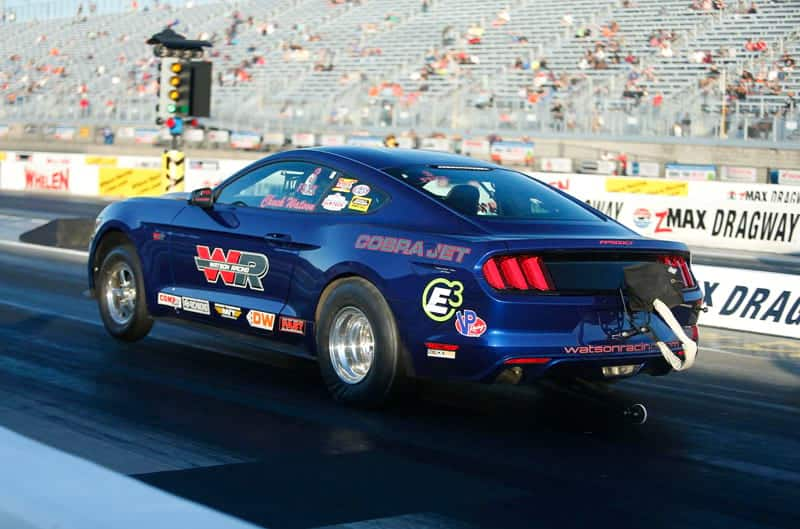 The hottest class on the NHRA tour is SAM Tech Factory Stock Showdown. This is the home to the modern factory super cars including the Chevrolet COPO Camaro, Dodge Drag Pak Challenger and the Ford Mustang Cobra Jet. Factory Stock Showdown hot rods feature supercharged engines and generally produce over 1,000 horsepower. They compete on small 9-inch tires and this makes for some wild action. Fans enjoy the relevance to production vehicles, the door-to-door racing and the fact that they can pull for the brand they love. A strong field of 28 racers competed for 16 spots and a chance to race for the FSS crown.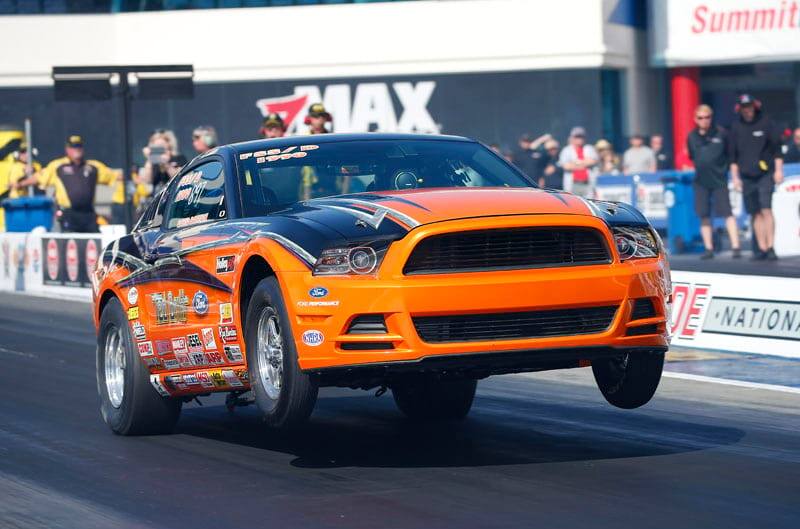 After three rounds of qualifying, the field was set with three Fords making the show. Chuck Watson Sr. ran the 6th quickest elapsed time at 8.070, but he scored top speed of the meet with a pass of 174.46 mph. Amazingly, that was nearly four full mph faster than the next closest car. Watson was joined by fellow Ford drivers Carl Tasca and Kevin Skinner who qualified 14th and 15th respectively. Unfortunately, Ford drivers Bill Skillman, Chris Holbrook Randy Eakins, and Jesse Alexandra missed the field.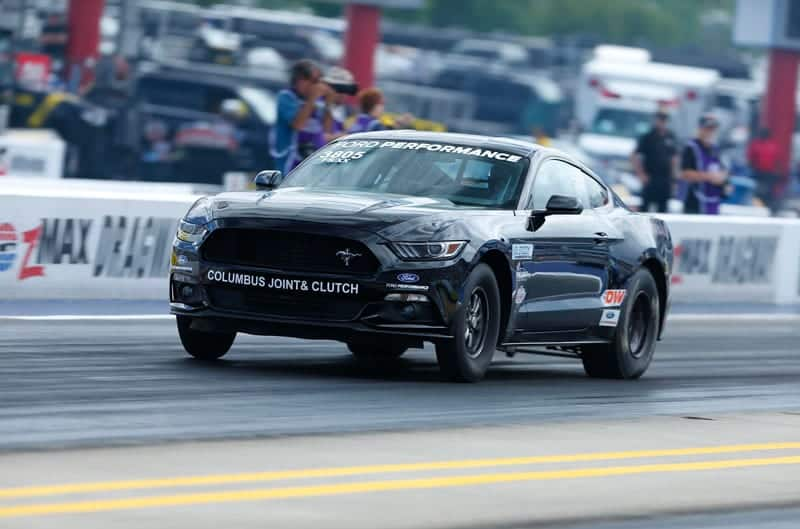 Skinner defeated Leonard Libersher in Round one, while Watson Sr. faced Tasca in a Cobra Jet match up. Tasca had a quicker light but both drivers spun immediately after launching. Watson Sr. recovered quickly and ran 8.67 at 165 mph for the win. Watson Sr. faced number one qualifier David Barton and again Watson Sr.'s CJ spun handing the win to Barton. Skinner nailed a .011 light and ran 8.12 at 166 mph to score a holeshot win over Stephen Bell, who was .054 and ran 8.08 at 169 mph. Unfortunately, Skinner's run came to an end in the semi-finals, when he got loose and was forced to lift off the gas.