DEARBORN - The storied Ford Mustang Cobra Jet dates back to 1968—to a time when the muscle car era was in full swing and production-car drag racing was all the rage. Horsepower was king and enthusiasts wanted the most powerful engine in the lightest cars. Manufacturers fed the beast with special packages designed to out-match the competition. They recognized early on that weekend wins at the strip translated to weekday sales in the showroom.
With the Muscle Car horsepower race escalating for the 1968 season, Ford Motor Company introduced its all-new 428-cubic inch Cobra Jet engine. With 335 hp, the potent 428 CJ offered a huge leap in power over the smaller 390-cube V8, which was the top Mustang engine for 1967.
Bob Tasca of Tasca Ford in Rhode Island is credited with creating the engine recipe by mixing high-flowing 427 cylinder heads with the stout bottom-end of a FE 428 to create "Cobra Jet". Ford immediately saw the performance potential and built 50 lightweight 428 CJ Mustangs for drag racing to showcase its new powerhouse.
Prior to the '68 NHRA Winternationals, Ford delivered six of these special Mustangs to Holman Moody and Bill Stroppe in California for preparation that included a wide-ratio four-speed transmission, a 4.89:1 rear gear, roll bar, and Goodyear Blue Streak slicks. The Pomona-bound Mustangs also got improved induction, headers and the battery moved to the trunk for better traction.
"It was late 1967 and I was happily racing my 427 SOHC, fuel injected, altered wheel base, funny car when I got a call from the then-new drag race coordinator Chuck Folger," said Ford racer Al Joniec. "Since I was a member of the Ford factory team, he asked if I would run a new car that Ford was going to introduce at the 1968 NHRA Winternationals. I was curious and said it sounds good, but could you tell me more? He said it's going to be a real Mustang, one anyone can drive on the street, but it will go like hell. He said Ford is going to put together a combination of hybrid performance parts of the 428 engine and it's going to be called a Cobra Jet. I told him that was a great name and sign me up, and that's how I became one of the drivers of the 6-car Ford team."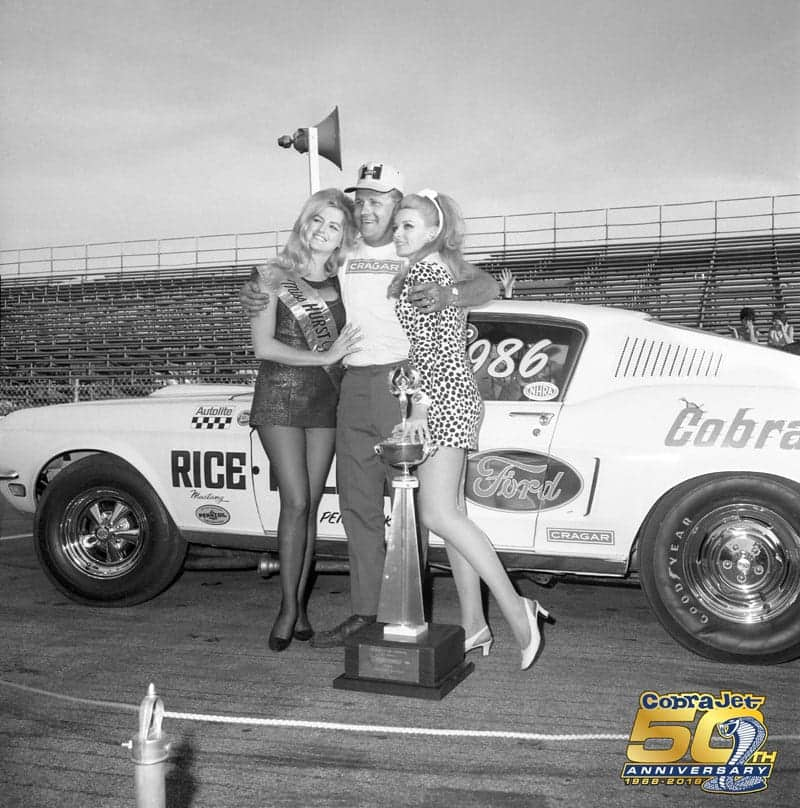 Joniec and his team drove from the east coast, picked up the Cobra Jet Mustang, lettered it and were off to the races. But before heading to Pomona, Joniec made a camshaft swap that gave his Cobra Jet a horsepower advantage. At the Winternationals, Joniec's Rice Holman Ford-sponsored entry won the SS/E class and then went on to claim the very first Super Stock national victory for a Cobra Jet Mustang with a run of 11.49 at 120 mph.
Fast forward nearly 40 years from the Winternationals victory and the competitive spirit and burning passion for drag racing was still burning inside Ford Performance. With the history of the 1968 Cobra Jet etched in their memories, it was time to write the latest Cobra Jet chapter.
Much like the original recipe, Ford Performance took its most powerful engine and dropped in a lightweight, race-ready Mustang devoid of unnecessary street gear such as air conditioning, sound deadening, stereo and other creature comforts. The result was the M-FR500-CJ, or more simply, the 2008 Cobra Jet. This modern CJ was powered by a supercharged and intercooled 5.4L dual over-head-cam (DOHC) engine. Though originally rated at 425 hp, a "prepped" CJ will make upwards of 1,000 ground-pounding horsepower. Built for Drag Racing only, it had drag race specific shocks, springs, suspension links, gauges, roll bar and racing tires and wheels.
While the return of the 2008 CJ was nostalgic for many, most importantly, it offered Ford enthusiasts and racers the chance to compete in NHRA Stock and Super Stock in a current-model factory-built Ford Mustang race car.
Long time collector and racer Brent Hajek of Hajek Motorsports purchased the first 10 of these modern Cobra Jets. Hajek understood the significance of the 40-year Pomona Cobra Jet win anniversary and vowed to have four cars ready to race at the quickly approaching NHRA Winternationals.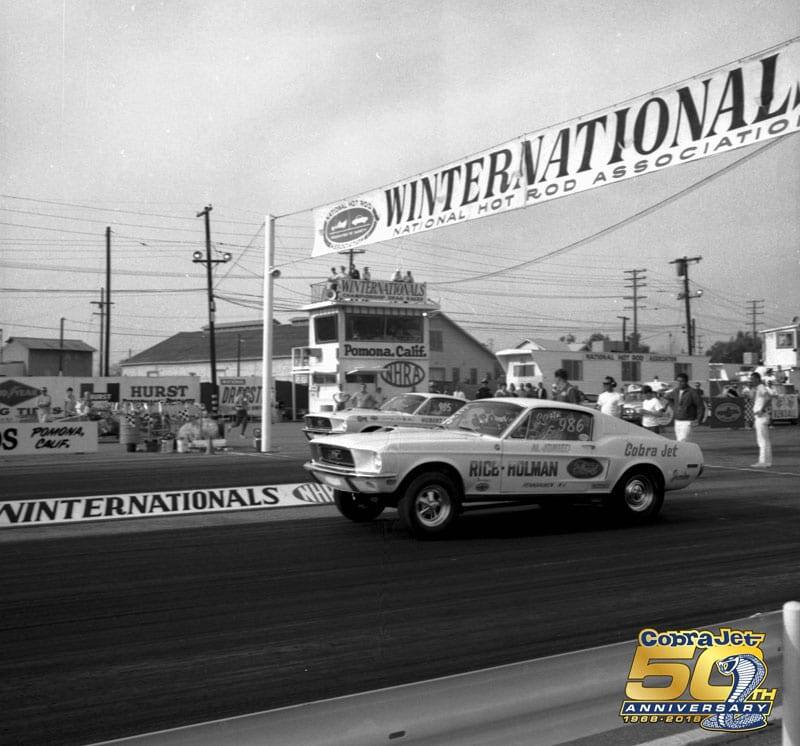 With only a few months to prepare, he assembled a team who fine-tuned the first four of his serialized CJs for competition. As a tribute, Hajek honored the original Cobra Jet drivers from the '68 Winternationals by replicating the lettering and sponsor design of Al Joniec, Hubert Platt, Randy Ritchey and Gas Ronda's Mustangs. This time, however, the wheelmen were Jim Waldo, Gary Stinnett, Jimmy Ronzello and John Calvert.
Miraculously, John Calvert, driving the Al Joniec-cloned Rice Holman A/Stock Mustang, defeated Tom Gaynor in the final round, solidifying the remarkable victory for Ford on the 41st Anniversary of the original win. The Winternationals triumph was glorious for Calvert, Hajek Motorsports, Ford Performance and Blue Oval fans worldwide. It was a monumental achievement in the history of Ford Motor Company and the Cobra Jet Mustang.
Following Calvert's win, Ford Performance refined the Cobra Jet and between 2008 and 2016 delivered 300 new Cobra Jets to racers and collectors worldwide. And since 2008, there have been dozens of NHRA, IHRA, NMCA and NMRA national records, event wins, and championships, too. Cobra Jet winners come from all walks of life, from veteran drivers like Calvert, to 20 year old Michelle Bongiovanni, who won a Cobra Jet shootout in 2017. Furthermore, Don Fezell, driving his 2008 CJ, became the first driver in NHRA Stock Eliminator history to run an 8-second time, Roy Hill and the Candies Family CJ racing team have run 7.70s in Super Stock. Cobra Jets championships have been produced by Kevin Skinner in NMCA (National Muscle Car Association) and the team of Jimmy LaRocca and Tommy Annunziata in NMRA (National Mustang Racing Association) competition.
Looking forward to the 2018 racing season, the Ford Mustang Cobra Jet is in the hunt to become the first 7-second Stock Eliminator car in NHRA history. The Factory Muscle Cars wars are as hot as ever as Cobra Jets compete heads-up with the Chevrolet COPO Camaro and the Dodge Drag Pak Challenger in NHRA SAM Tech Factory Stock Showdown and the NMCA Holley EFI Factory Super Cars class.
Remembering and celebrating the Cobra Jet 1968 Winternationals win is just the start to a number of other 50th Anniversary celebrations that will take place all across the country during 2018. It is going to be a great Cobra Jet year.