As one of Ford's most iconic nameplates, the Thunderbird has consistently enjoyed a strong enthusiast following – even though it's been nearly 20 years since T-Birds were last produced. That's because owners, collectors and fans alike are drawn to the car's brand promise of style, power and prestige -- no matter what year Thunderbird happens to be your favorite. Now's the time for ALL T-Bird followers to make plans to come to Dearborn. Michigan, August 22nd through the 27th and attend the 2023 Thunderbird Reunion, hosted by the International Thunderbird Club (ITC) at none other than Ford World Headquarters.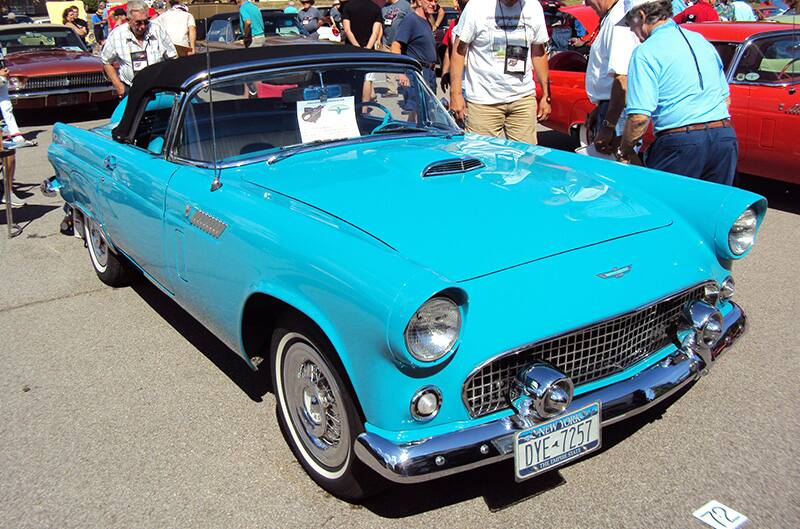 From the welcome breakfast and dinner on Wednesday, August 23rd to the big show at WHQ and the evening awards banquet on Saturday, August 27th, hundreds of Thunderbirds of every vintage will be seen all across The Motor City. It's because Thursday will be Detroit Destinations Day where participants can plan their own automotive venue visits, including tours of The Henry Ford Museum and Greenfield Village, the Ford Rouge Plant, the Automotive Hall of Fame, Ford's Garage Restaurant, Gateway Classic Cars, the Ford Piquette Avenue Model T Plant, the Detroit Historical Museum and Institute of Art plus Detroit's Museum of Contemporary Art, the Edsel and Eleanor Ford House, the Gilmore Car Museum and the Roush Automotive Collection, as well as the Ypsilanti Automotive Heritage Museum & National Hudson Motor Car Company. And on Friday, the ITC has a group tour of the nearby Yankee Air Museum, where attendees can see and even arrange a ride in a famed 1929 Ford Tri-Motor plane!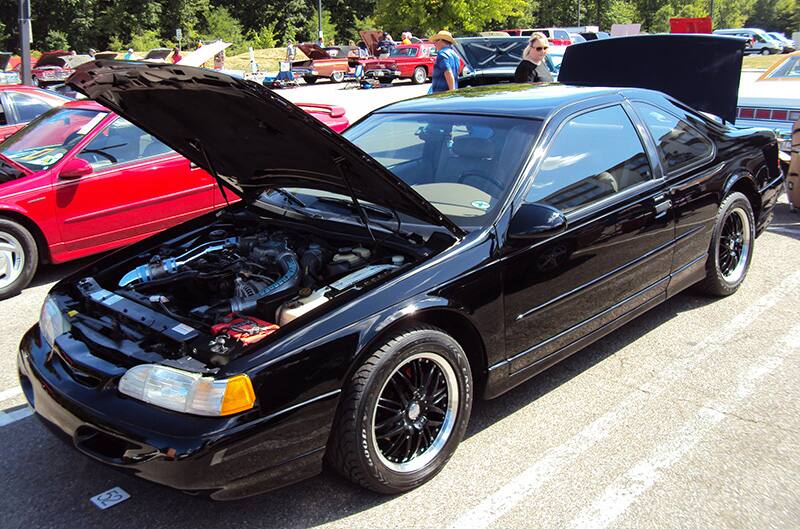 Ford Performance Enthusiast Communications Manager John Clor will kick things off with a presentation at Wednesday's Welcome Dinner and follow up by hosting a Club Connect Meet & Greet display at the WHQ show on Saturday. Ted Ryan, Ford's Archives and Heritage Brand Manager, will be the keynote speaker at Saturday night's Awards Banquet to wrap up the Reunion. Get all the details on the ITC's website, https://intl-thunderbirdclub.com. Like the storied Ford Thunderbird itself, this event will prove to be "Unique In All The World," so we'll see you there!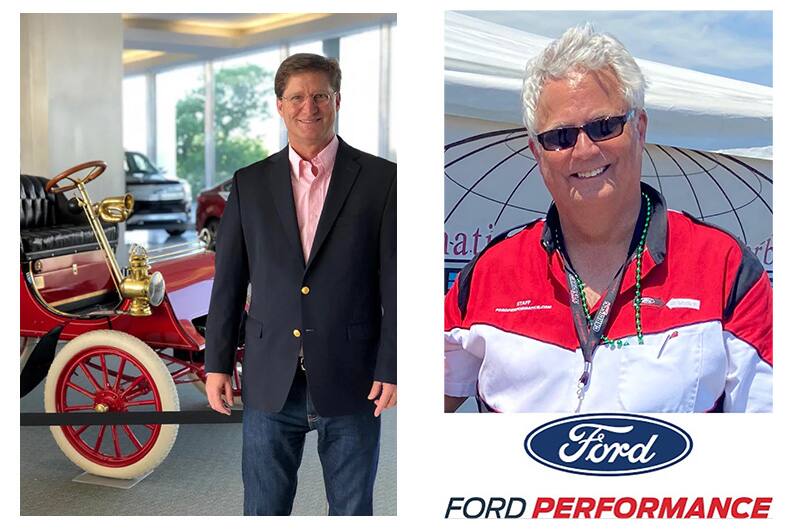 Can't Wait Until the End of August? Mustang Memories Show Hosts SVT 30th Reunion & Bullitt Nationals Aug. 20 at Ford WHQ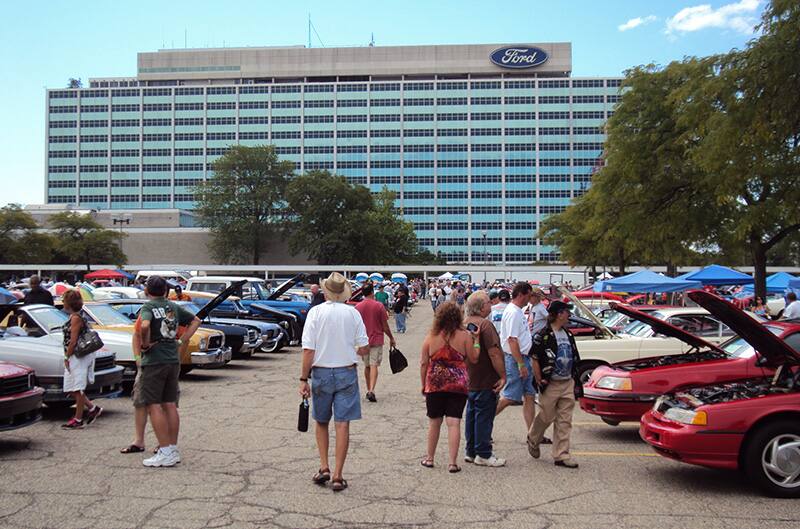 If you've been waiting for that one, extra-special enthusiast event to attend this summer, this is it: The annual "Mustang Memories All-Ford Show & Swap" held on Sunday, August 20, 2023. It's one of the largest Mustang & Ford shows in the country (500-800 vehicles are expected this year with the show's return to Ford World Headquarters), and it's hosted by MOCSEM, one of the biggest Mustang clubs in the USA – all in Ford's own backyard. For 2023 Mustang Memories is hosting the 30th Anniversary of the Ford Special Vehicle Team (SVT).
Yes, it's been 30 years since Ford SVT rocked the enthusiast world, so to commemorate all the SVT-badged high-performance Fords this group brought to market, the Mustang Club of SouthEastern Michigan (MOCSEM), in conjunction with the Ford Performance Club Connect program, is bringing together dozens of original SVT staffers to make up a massive SVT Meet-&-Greet Reception at the show where SVT owners from all over the country will come to display their SVT Cobra, Lightning, Contour, Focus, Ford GT, Raptor or Shelby GT500. There, attendees will get to meet some of the actual SVT people who made these cars a reality. After signing autographs and visiting with owners, the former SVT managers, marketers and engineers will the pick their favorite SVT vehicle on display in the show field with a signed award cling – and every SVT owner or fan is invited!

What's more, MOCSEM is also organizing an "SVT Homecoming" at the Automotive Hall of Fame in Dearborn on Thursday, August 17. After a parking lot cruise-in, you'll get to go inside to the Hall of Fame's theater (for a small fee) where you'll view rare SVT videos and photos and hear five former SVT staffers tell team stories and answer your questions during a special SVT Panel Discussion. There'll be a few cool SVT surprises – and admission to the Hall will be included with your entry fee. Later that Thursday, MOCSEM and Club Connect are hosting the SVT 30th Reunion Dinner at Angelo Brothers Ristorante in nearby Westland, Michigan, for an evening of sharing good food, drink and SVT memories with dozens of former SVT staffers. Details and a sign-up for the Thursday Hall of Fame and SVT dinner events are posted on the MOCSEM website so sign up before the SVT event are sold out. But you can register your Ford or Mustang for the Mustang Memories show right up until August 15th.
And in addition to all the SVT vehicles coming for the 30th Anniversary Reunion, the Mustang Memories show is ALSO hosting the 2023 Bullitt Nationals, in conjunction with the Hoondog Performance Group. Now are you to starting to see why you simply MUST attend Mustang Memories this year? Check out the MOCSEM and Hoondog club sites for all the info – and make some special Mustang memories of your own on August 20th at Ford World Headquarters!


Oh Yeah, and Did We Mention You Should Visit Ford's Famed 'Mustang Alley' at the Woodward Dream Cruise on Saturday, August 19th?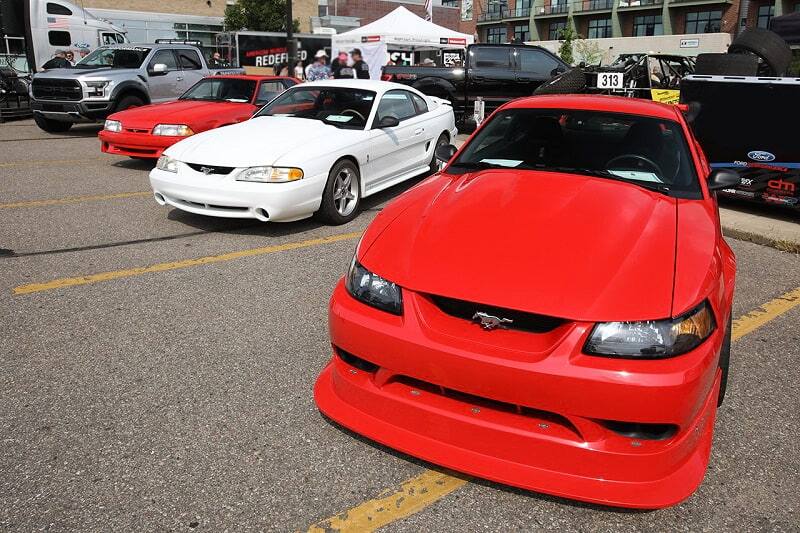 Any enthusiast who loves Detroit Iron knows about the annual Woodward Dream Cruise in suburban Detroit -- the biggest one-day classic car event on the planet. With some 1.5 million people and nearly 40,000 collectible cars, the Woodward Dream Cruise is truly a Bucket List event that you simply must experience to appreciate. Ford is a major player in America's largest automotive gathering, and the biggest Blue Oval footprint here is easily Mustang Alley, where nearly 1,000 Mustangs line both sides of East 9 Mile Road, perpendicular to Woodward at the beginning of the Cruise in Detroit's northern suburb of Ferndale, Michigan. (You can get Mustang Alley info online at www.ferndaledreamcrusie.com/mustang-alley.) Ford is also hosting a Ford Bronco Show from 10 a.m. until 6 p.m. at Woodward and Oakland Park Blvd, and there's a wide variety of Ford-based enthusiast clubs who also have activities as well as reserved space up and down Woodward along the entire eight-mile cruise route. Make sure you put the Woodward Dream Cruise on your "must attend" list from 9 a.m. to 9 p.m. on Saturday, August 19 – and we'll see you there! (Check out the Woodward Dream Cruise website for all the details.)

Here's Why You Need to Register your Club or Facebook Group with Ford Performance Club Connect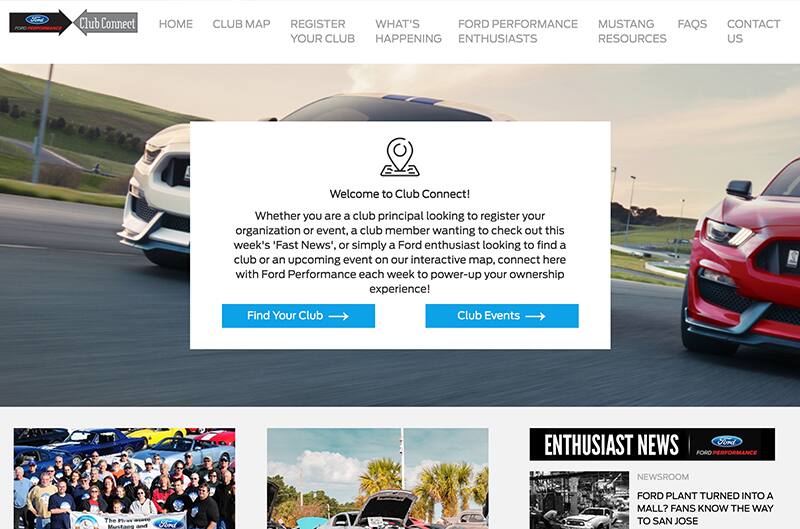 By now you must have heard about a Ford Performance program called "Club Connect" that can help all Ford and Mustang enthusiasts get connected with both Ford Motor Company and each other. Only those clubs who register with the program are eligible for no-cost promotion and support from Ford Performance, so you owe it to members of your Mustang or Ford vehicle club or online forum to register and appear on our Ford enthusiast club map. All it takes is a visit to www.FordPerformanceClubConnect.com and a single click on the "Register Your Club" link. Once you fill out the form and hit "Submit," you'll be notified within just a few days of your acceptance in Ford Performance Club Connect -- it's that simple, and it's FREE!
The primary goal of our Ford Performance Club Connect program is to get everyone to register their club – at no cost – and get themselves on our Ford enthusiast group map so that we can all connect with each other. Once there, you'll be able to see all of the other clubs and groups who have registered in your region – not just Mustang clubs, but ALL Ford vehicle organizations. And we want to include all of you who are part of any Ford vehicle Facebook Group to register with Club Connect, too. Why? Because connecting your Facebook Group with more owners and fans makes your group more worthwhile – and registering with Club Connect will link your online group with participants who may never have known that your group exists.

The value in all of this is that whenever you plan a club or group activity, you can see what other clubs and groups are in your area that you may wish to contact and ask to join you at a show or event. It also allows Ford Performance to see all the clubs and groups in a certain area, so that when we are coming to town or planning a special Ford event in your city or state, you and your club members can be contacted to participate.

It takes only a few minutes for a club principal or board member to register your club and establish a direct link for your members to Ford Performance. And now, you can also register your group and logo with Ford Brand Licensing all in the same process. Have a product or parts question that you want answered? Wish you could get some free club event promotion in our weekly "Fast News" e-blast that goes out to some quarter-million Ford fans each Thursday? Looking for event coverage for your show in the Enthusiasts section of FordPerformance.com? Hoping you could find a cool Ford goodie-bag or door-prize item, or a banquet guest speaker? Individual requests are reviewed on a case-by-case basis, but they can ONLY be awarded to clubs who are registered.

So go to www.FordPerformanceClubConnect.com right now and click on the "Find Your Club" link to see if you are on the map. If not, then register your Ford-based club or Facebook Group today so that you can join this special program -- all backed and supported by a real enthusiasts at Ford Performance. If you have questions or want more info, you and your members can always email us at ClubHub@Ford.com, or can simply call our Ford Performance Info Center, toll-free during regular business hours, at 1-800-FORD-788 (800-367-3788).

So what are you waiting for? Get online and make sure you're connected. Then plan to enjoy your performance Ford later this year so that you can discover the fun and all of the friendly people involved in the world of Ford Performance. We're sure that being connected with each other and with Ford will make your ownership experience even more enjoyable!


Want to Be Noticed on Ford Performance.com? Get You and Your Car(s) in Our 'Ford Fan Spotlight'
For more than a decade now, one of the most popular features on FordPerformance.com and in our Fast News e-newsletter continues to be "Ford Fan Spotlight," where readers can send in their own reasons why they're fans of Ford Motor Company. You know who they are: Ford "superfans;" grassroots Ford racers; unique Ford vehicle owners; loyal Ford enthusiasts; notable Ford club people; special Ford families; and/or any avid supporter of Ford, Ford vehicles, Ford motorsports or Ford Performance who deserves a little bit of special recognition.

All you need to do to get you, your car or candidate considered is to send in a brief description (200-500 words or less) and a few photos (in .jpeg format, preferably 1 mb) of a person (full name and hometown, please) and vehicle that you think Ford Performance should feature (and why) in the "Ford Fan Spotlight" for an upcoming installment of Fast News and posting on FordPerformance.com. Then email it to: ClubHub@Ford.com. (Your submission grants us your permission for us to use your copy and photos on our website and other Ford media outlets, edited as necessary.) We'll choose one submission to be featured online every three weeks. We hope to see YOU and your collectible Ford in our Fan Spotlight soon!
Miss 'Fast News' in Your Inbox? Get Weekly Enthusiast News on Ford Performance Club Connect.com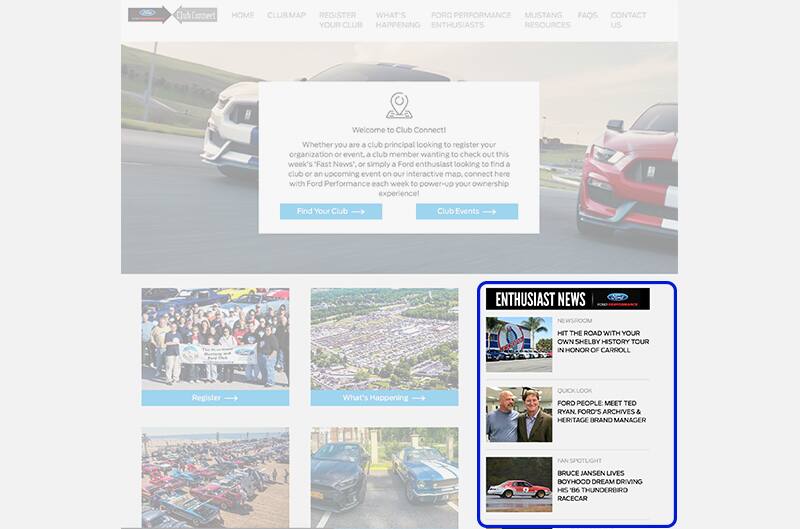 One race – one win – was all it took for Henry Ford to generate enough buzz and belief in his engineering among investors to secure funding and launch the Ford Motor Company now 120 years ago. At Ford Performance, we have never forgotten where it all began. So we've been honoring our heritage, our products and our relentless competitive spirit by shining a light on motorsports and the Ford enthusiast world each week with our "Fast News" e-newsletter.
From news on our hottest cars and trucks or performance parts to the latest scoop on all the must-see Ford enthusiast events and shows, our weekly Fast News email has been your ticket to stay connected to the company that put the world on wheels. But trying to keep up with emails has left some of you in the dust. So that's why Ford Performance is now posting our weekly Enthusiast News directly on www.FordPerformanceClubConnect.com -- so you can check it out the next time you're online -- without sorting through your email inbox. Read it and share it with your club or group or even include it in your newsletters. So put our FordPerformanceClubConnect.com website on your Favorites list, and then hop-in, buckle-up and hang-on each and every week for our Enthusiast News, because like you and all of us in the Ford enthusiast world, we'll be driving Ford passion!