DETROIT, Mich. – If you'll be in the Motor City anytime from now until January 9, 2022, you might want to set aside some time to visit the Detroit Institute of Arts, where "Detroit Style: Car Design in the Motor City, 1950–2020," an exhibit highlighting Detroit's history as the hub of American automotive design, has been extended through the new year. It features 12 cars, four each from the Big Three American automakers (including the 2017 Ford GT), plus paintings, design drawings (many of them rarely seen by the public), archival photographs from 1950–2020 and even a playlist made available on the DIA's YouTube page and website "featuring in-depth video interviews with Detroit designers in the automotive industry." One of those includes a former Ford designer named Emeline King, who designed the interior on the new-for-1994 SN95 Ford Mustang.
Unless you're a well-read Mustang historian, you likely have never heard about Emeline; even looking her up on the Ford system landed a single post on the "@Ford" internal website dated March 2020, that read: "We recently looked back on the career of Ford's first African American designer, McKinley "Mac" Thompson, Jr. Today, we introduce you to the woman who is believed to be the company's first African American female designer. The daughter of a Ford plastic model specialist, Emeline King fell in love with the Ford Mustang as a child. She later studied transportation design at the Art Center College of Design in California before joining Ford Motor Company in 1983. "Some of King's best-known work from her nearly 25-year career at Ford was seen on the interior design of 1994 Ford Mustang. She also contributed to the design of the 1990 Ford Probe and 2000 Ford Thunderbird, among other vehicles. Also, she patented a 15-inch wheel cover the 1989 Thunderbird. King, a Detroit resident and Wayne State University graduate, retired from Ford in 2008. She now works as a freelance artist and author." Truth be told, most enthusiasts haven't heard that Emeline was Ford's first black female designer. About all you'll find on an online search will be a story published in the Chicago Tribune back in 1994 about women auto designers, many of whom are from the Detroit area and have family members in the auto industry. The story noted that auto design is a tiny sector of a big industry, estimating there about 1,100 designers worldwide, with perhaps 300 in the United States, with less than 10 percent of them women. The newspaper had this to say about Emeline:
"At 9, an age when other little girls were playing with dolls, Emeline King's father took her to an auto show, where she fell in love with the 1968 Ford Mustang. "I loved to play with toy cars when I was a child. It was like an insult to give me a doll," said King, whose father is a fiberglass-and-clay modeler for Ford.
"The young King was fascinated with the Mustang's shapes and forms. … the 1994 Ford Mustang, with its striking two-tone, twin-arched dashboard-console and the doors that grow gracefully out of it like boughs from a tree, is largely the product of Emeline King's designing eye."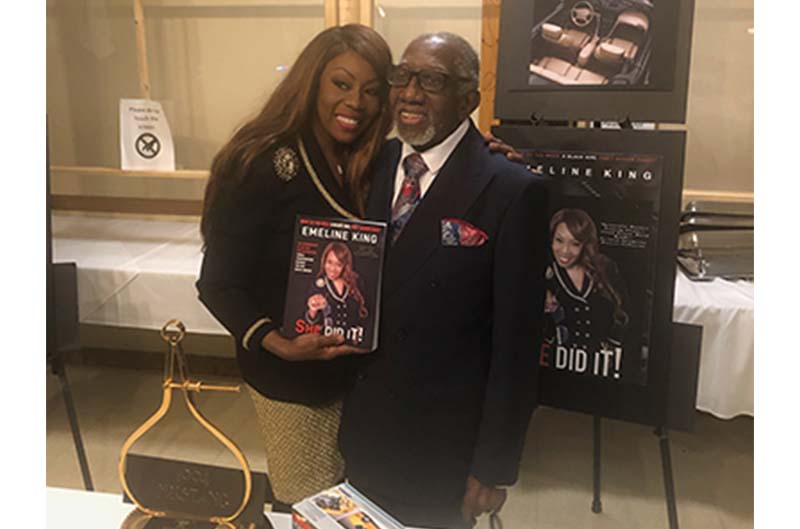 Today, nearly 28 years after that article was published, Emeline King is back in the spotlight, and Ford Performance is proud to play a role in it. Back during Woodward Dream Cruise week, we heard that a group from the Mustang Owners Museum who'd made the drive up from Charlotte for Ford's Mustang Alley had planned a dinner at Dearborn's Ford Garage Restaurant. The guest speaker that night was none other than Bud Magaldi, the design chief for the 1994 Mustang – so we thought, "Wouldn't it be cool if we could get Emeline to attend, where she could see Bud after all these years, get to meet with the Mustangers that made the drive to Detroit, plus give us the chance to interview her in person?"
So were able to get her phone number for a call, and we had a wonderful conversation and even agreed to attend the dinner. So we needed to do is to call museum director Steve Hall and invite ourselves to his dinner – albeit with Emeline, as well as her sister, Eugenia King Hardaway (who drove there in her 1966 K-Code and also happens to be a Ford engineer.) Of course Hall said yes, and as you might expect, Magaldi was delighted to see Emeline again, even asking her to say a few words after his dinner presentation and stick around for photos.
It was then when Emeline announced that she wrote an autobiography about being Ford's first female African American transportation designer entitled, "What Do You Mean A Black Girl Can't Design Cars? She Did It!" (Yes, you need to buy it. Check out her website www.emelineking.com and order yourself a copy right now. Or contact her and have her come to your club event for a book signing – she's a real Mustang hero!)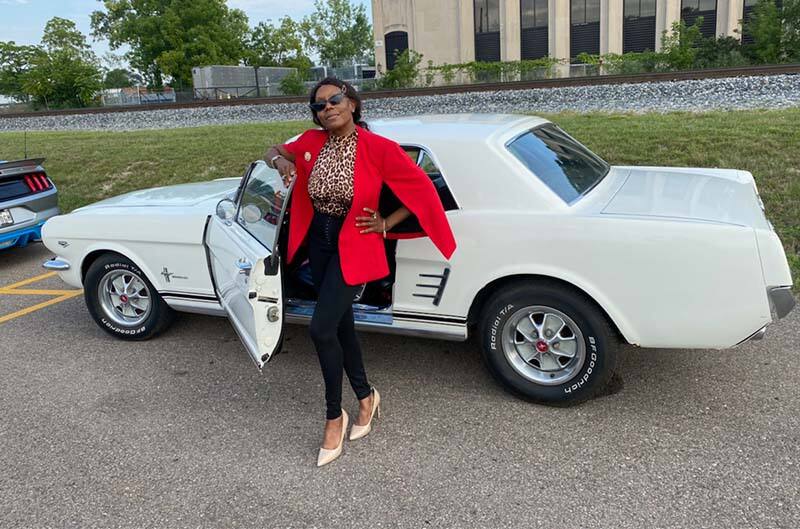 Our interview questions for Emeline revealed a much deeper story than we had expected, and just give you a taste of what you can expect reading her book. She was raised in Detroit and attended Detroit Public Schools. After graduation from Cass Technical High School in Detroit, she earned a BFA in Industrial Design from Wayne State University in Detroit and a BS in Transportation Design at the Art Center College of Design in Pasadena, California. "I'm thankful that both my parents, Pastor Rev. Earnest and Emogene King, made sure I had a solid, diverse educational background by enrolling me in only the best schools of learning for design, such as Cass Tech High, the Center for Creative Studies, Wayne State University and the Art Center College of Design in Pasadena," Emeline said. "Ford products were always represented in my family. We owned Mustangs, Mavericks, a Capri, Thunderbirds and Lincolns."
"My father. Earnest O. King, Sr., who worked for Ford as a Fabrication Specialist in the Design Center's Fabrication Studio, wanted to instill an appreciation for design in his little girl Emeline, and expose her to the world of transportation design at the age of 11. We had our Father-and-Daughter trips to the auto shows, and spent Saturday mornings with the famous black sculptor, Oscar Graves, who my father assisted in some of his commissioned art works. Mr. Graves would mentor me in clay relief sculptures. I was always fascinated by the smell of clay that existed in his studio.
"But it was my first visit to my father's work at the Ford Design Center that became the catalyst for me to want a career in transportation design. Dad would often take me and my family to his annual company employee Christmas parties. There, I got the chance to meet his co-workers and learned about the roles they played in the auto industry – and to see some great cars, too. I recall on one occasion my father took me in the 'special area' where the new cars were being designed. Out of curiosity, I wanted to see what was 'behind the blue doors' because I smelled the aroma of clay coming from behind them and it sparked my interest even more. Seeing how anxious I was, my father told me, 'Emeline, you have to be a Ford employee and a transportation designer to have access into that studio.'
"He surprised me and told me all about the men who were called 'transportation designers' and worked behind those blue doors. They sat at their cubicles creating and drawing the beautiful cars that you see people driving on the streets. Once the cars leave the design studio, they come down to his department to be made into fiberglass models. "Dad explained the entire design process, from 2D sketches to full-size clay models to the role he played in making the fabrication mules, then going from engineering, to manufacturing and all the way to full production showroom models. It all started with an idea or concept. Every vehicle on the road is the brainchild of a designer that turns an idea or a concept into reality. "After learning about the role of the transportation designer, I decided to make a three-fold promise to myself that, #1, one day I was going to become a transportation designer; #2 I was going to work at Ford Motor Company, and #3, I was going to design cars with my No.1 mentor being my father.
"I received discouragement from some of my male instructors during my earlier childhood years in school, who often told me, 'Emeline, girls can't draw cars! It's best that you use your little hands to become a nurse, librarian or choose a domestic career that is more female oriented.' But I didn't let their comments obstruct my view. Little did they know I had my father directing my path. I was focused even more on my dreams. Having my father guide me, influence me and expertly mentoring me was my bridge, my connection to my dreams. I was very fortunate because my father also introduced me to a group of talented African American male transportation designers, modelers and engineers who worked at Ford. They took the time to serve as mentors to me throughout my career at the Ford Design Center.
"In 1983 I landed a job at Ford as a Transportation Designer! I worked in the Ford Design Center and was employed with Ford Motor Company in Dearborn for 24.9 years – from October 24, 1983 through July 31, 2008. During my time there I also served three foreign assignments: Turin Italy; Koln, Germany; and Brentwood, Essex, England -- designing Ford cars for Europe.
"I've also had the opportunity to represent Ford, not only in designing their products but presenting during several speaking engagements on Mustang Design. I've been active in career day events, mentoring youth in the Detroit Public Schools on my role as transportation design for Ford and its products. I was even fortunate enough to have been asked to be the commencement speaker for the graduating class at my alumni Art Center College of Design after was I hired in at Ford. It was also an honor to be featured in the DIA's 'Detroit Style: Car Design in the Motor City 1950-2020,' and to have the opportunity to be interviewed along with other successful Detroit transportation designers in the auto industry. From a designer's perspective, we gave our inspiring design experiences on our favorite art material and what makes a car classic on some of Detroit's most iconic vehicles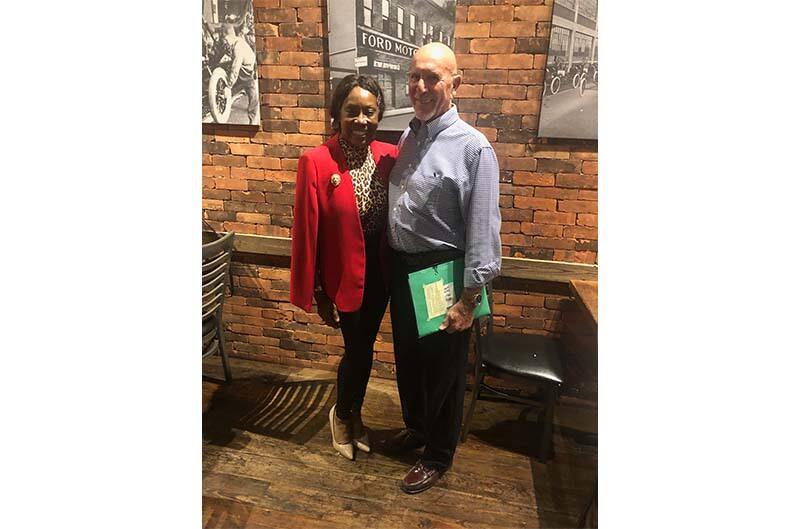 "I did other work at Ford Design beyond the SN-95's interior. I made several design contributions on other vehicles, ranging from 1989 Thunderbird interior components, the 1989 Corporate Steering Wheel, the 1989 Thunderbird Wheel/Wheel cover design program, the 1990 Thunderbird Super Coupe, the 1993 Mach III, the 1994 Mustang, the 1994 Mustang Official Pace Car Roll Bar/Graphics, the 2000 Two-Seater Thunderbird, and the 2004 Lincoln Aviator Interior Door Scuff Panel and Interior components, just to name a few."
Finally, we asked Emeline specifically what experiences at Ford and afterward had inspired her to write her book? Her answer was emotionally moving:
"After an involuntary company separation from Ford -- something I never saw coming or expected – it was a total devastating shock to me. Being the only African American female transportation designer, it took me by surprise and it took some time to get over it. However, I took my lemons and turned them into lemonade. I took my sorrows and blended it into sunshine. From the first day I hired in at Ford up until the very last day that I was let go, my dad told me, 'Emeline document everything that you accomplished, achieved and experienced at Ford, because one day it just might come handy. It was a sad day when had to muster up enough courage to tell dad that Ford let me go. But being a spiritual man of the cloak, dad was led by the Holy Spirit who told him, 'Now it's time for Emeline to tell her story -- write it and let the world know!'
"One of the most rewarding things about sharing my story is my new interaction with Ford and Mustang enthusiasts. There's satisfaction knowing that I helped design vehicles that were able to give them an experience of a lifetime. It's wonderful to see their excitement about owning an American icon: The Ford Mustang. I enjoy listening to their stories about what led them to purchase their first Mustang. Their faces always light up with joy telling me about their cars.
"It doesn't matter what year Mustang they owned -- whether it was your classic, iconic 1965 or a new 5.0 GT, or a Shelby. No matter if it's a convertible, hardtop, or a performance version, whether it's custom or a classic Muscle Car or modern-day 2021 Mustang Mach I or even the electric Mach-E. They all exemplify being that loyal, committed, enthusiastic and satisfied Mustang customer. "At one Mustang club event, I remember hearing about one lady and her husband retiring from Ford and immediately driving cross-country in their 1966 Mustang. Another owner of a '94 Mustang shared her experience of how much she loved her Mustang's interior, saying it was well thought-out and seemed more female-oriented. I had the opportunity to inform her that I was the designer and that it was my intention to design a smooth flowing interior with user-friendly components so that she wouldn't break a finger nail or snag her stockings upon entering and exiting the vehicle.
"I'm now so proud to have written a book that I hope will inspire young girls and boys to never give up. To influence them so that they can stay focused and alert, and so they never look back. There are mentors who are placed in our lives to serve as our 'Bridges to Destinations' and allow us to cross over them to reach our dreams. Hoping they gain inspiration from my book, my motto for them is simple: 'OPPORTUNITY IS NOW, SO GRAB IT! IF I DID IT, SO CAN YOU!" Last month, the Mustang Owners Club of SouthEastern Michigan (MOCSEM) invited Emeline (and her father) to attend the club's meeting to speak and do a book signing – and she packed the house. Not only were Emeline's words inspiring in person, but they are equally as moving in her book. Like us, you may know young people out there who have always wanted to design cars and maybe even started drawing them as little kids. But some of them may not think that their dream can come true because they doubt themselves or don't believe people of their gender, ethnicity or economic background can succeed. To that we can say two words: Emeline King. After reading her book you'll come to understand that she's a real auto industry pioneer worthy of celebrating.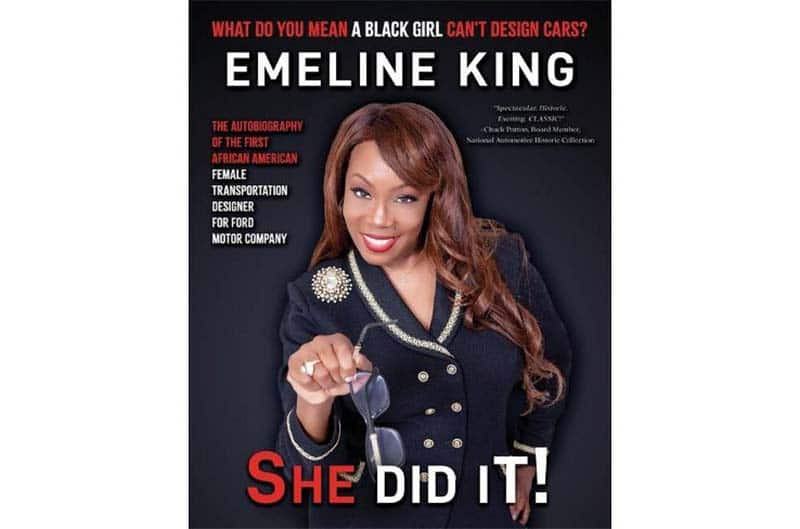 FORD PERFORMANCE PHOTOS / JOHN M. CLOR