FERNDALE, Mich. -- As you approached Woodward Avenue on a sunny and hot Saturday, August 21, 2021, you began to notice that things were much different today than any other weekend on the Detroit area's most famous roadway. Traffic in the area was much heavier and was filled with cars that you typically only see while passing a classic car lot. There were crowds of people out and about, all walking toward the historic road that cuts its way through Metro Detroit -- and that's when it hits you: The burning rubber, the rumble of nostalgia coming from the old Mustang next to you. No, you didn't take a wrong turn and end up at a dragstrip – you simply found your way to the largest single-day car event in the world: The Woodward Dream Cruise.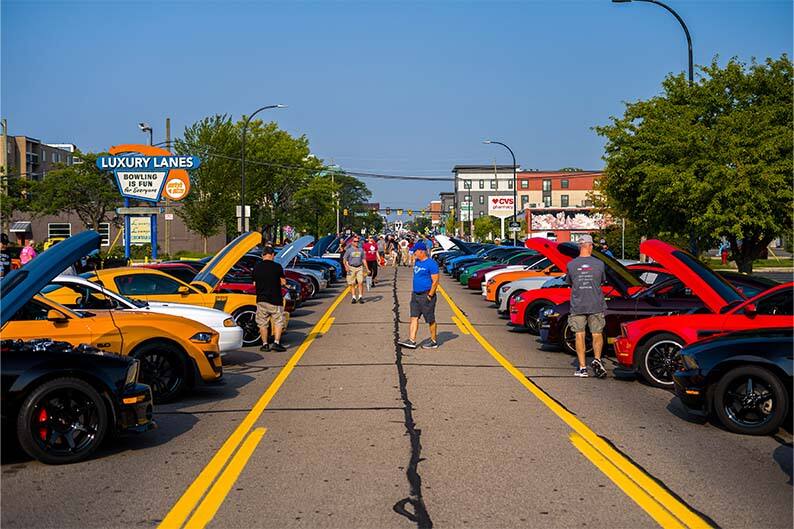 The annual Woodward Dream Cruise is an event like none other, with over 1.5 million spectators and participates alike. The Cruise has been officially happening for 26 years, although its origins date back much further. What makes this cruise special is that cars of any make and model are welcome. Throughout the day here, you'll lose count of the interesting one-off creations and time-capsule cars that have passed the test of time. If you have the chance to talk with their proud owners, the stories behind them will keep you engaged for hours. If you have ever are considered attending this massive event, put the 2022 Woodward Dream Cruise on your calendar right now.
Since becoming the presenting sponsor in 2017, Ford Motor Company returned again for its fourth "consecutive" year and put on quite a show for all to appreciate. Even though an official cruise did not occur in 2020 due to the virus that shall not be named, Ford came back strong this year as sponsor and definitely didn't skip a beat!
Starting in the city of Ferndale and working north, Ford had no less than five displays lining up and down the Woodward corridor. The largest of the five was Mustang Alley, which lined up cars on both sides of the street on the West and mostly the East side of Woodward along 9 Mile Road. In addition to a display of Ford's lineup of new production vehicles, and the always popular Ford Performance Display, Mustang Alley is anchored by the members from the Mustang Owners Club of SouthEastern Michigan (MOCSEM). With nearly 1,000 owner Mustangs parked in the alley and individual displays from Ford Performance, Classic Design Concepts, Shelby American, Gateway Classic Mustangs and Roush Performance, Ford's Mustang Alley is THE place to show off your Mustang. You could spend all day at the Alley and still not see everything. There was definitely no shortage of rare and beautiful Mustangs here this year and awesome owners to match!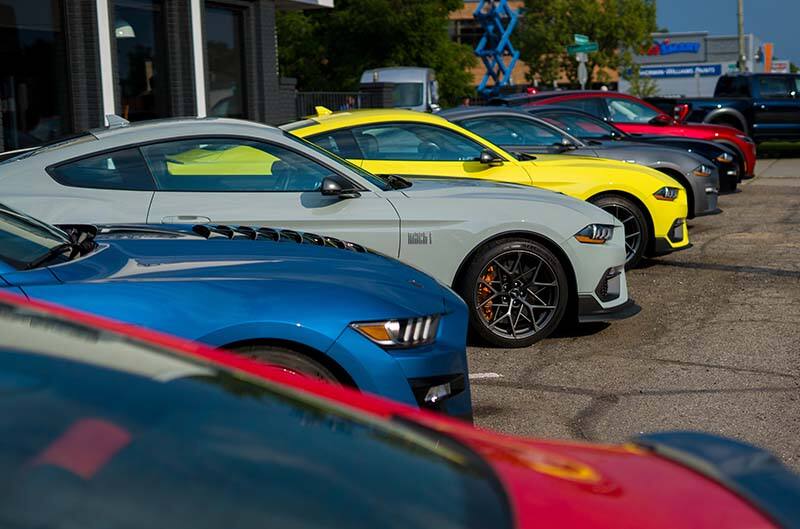 But wait, there's still four more Ford Displays to encounter: Cruising North from 9 Mile Road to Royal Oak's Kruse & Muer Restaurant, we stumbled upon a herd of Ford Bronco's, new and old. The 2021 Ford Bronco made a huge splash in the car market this year, coming back this year as the sixth generation in the Bronco heritage. Headlined by Ford Performance's Bronco 'R' this display gave consumers a great opportunity to stop and check out the new flagship SUV that has been so eagerly awaited in the marketplace.
Located conveniently across the street at Westborn Market, Ford also had a new Racing Heritage display by Ford Performance. Immediately eye-catching was the lineup of Ford GT's including some fan-favorite Gulf livery cars, a full carbon-body GT, as well as a nod to the SVT days with the always popular Lightning pickup and SVT Cobra R Mustangs. With over a dozen high-performance cars to look at and read about here, if you thought there couldn't possibly be more to see here . . . well, you'd be wrong!
Just a couple miles north, still in Royal Oak, was a little change of pace for those who have lived and breathed horsepower. Horsepower (and more importantly torque), is something that this display in the parking lot of the famed but shuttered Pasquale's Italian Restaurant had plenty of – it was Ford's new Electric Vehicle (EV) Display. The EV's here gave us a glimpse into the future of automakers around the world. For Ford, that meant the Mach E which was introduced to the Ford lineup in 2020 and has created waves since its announcement. The Mach-E GT Performance Edition brings the thrills Mustang is famous for to the EV world, targeting 0-60 mph in 3.5-seconds and an estimated 358 kW (480 horsepower) and 860 Nm (634 lb.-ft.) of torque.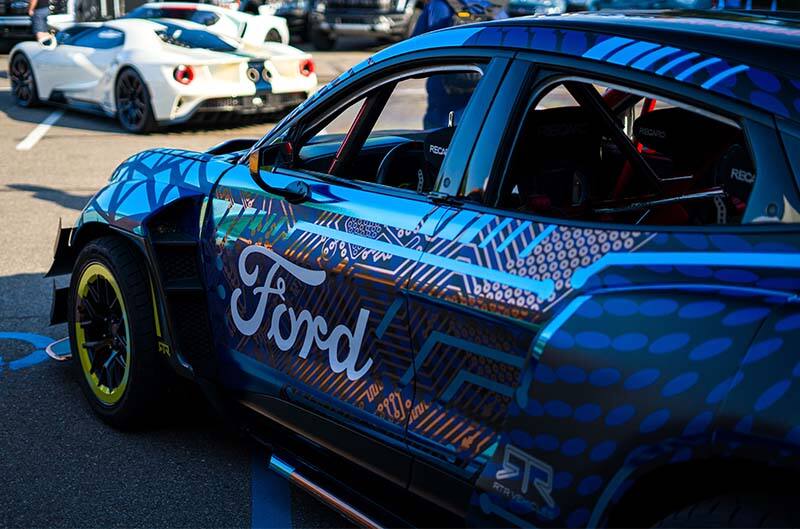 Next to the Mach E sat the two EVs that had everyone talking -- the world's first all-electric Mustang Cobra Jet and the Mach E 1400. The Electric Cobra Jet features a turned-up electric powertrain using the Mach E's architecture, shoved into the 2018 Mustang Cobra Jet chassis that has dominated the NHRA circuits. To date, this Cobra Jet 1400 owns the record for a full-bodied electric car in the quarter-mile after a pass of 8.128 seconds at 171.97 mph at the NHRA Summit Racing Nationals in Norwalk, Ohio.
Next to the CJ 1400 sat the Mach E 1400, outfitted with four racing seats, a body kit that seems like it should be appropriate for only a video game, and some very bold graphics. This stripped-down and cranked-up Mach E has been most famously piloted by Vaughn Gitten Jr. to show where the EV modified world could be heading!
After seeing the final Ford displays, hopping back onto Woodward to cruise further north up into "The Loop" did not disappoint. Across the 16 miles and nine cities that come together to make the cruise happen, Woodward offers a unique automotive experience from one end of the cruise to the other. Only once have I tried to make the whole loop on Cruise Day, and it was that day I realized that I shouldn't be in a rush to make it all happen. With so much to take in over one single day, it's more important to savor moments with your fellow car people than to simply cover every mile of the event.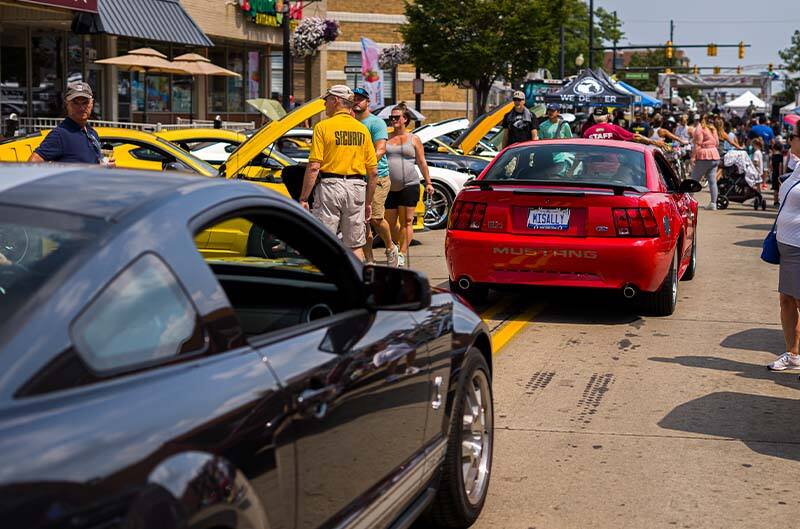 Officially the Woodward Dream Cruise is set for the third Saturday of August, but unofficially the die-hard cruise-goers start their event up to a week before that. Even after the Blue and Red lights brigade begin to shut down the road at 10 p.m. Saturday night, the memories and stories from the cruise stick with you for a lifetime. That's precisely why this is an event that you must check off your bucket list!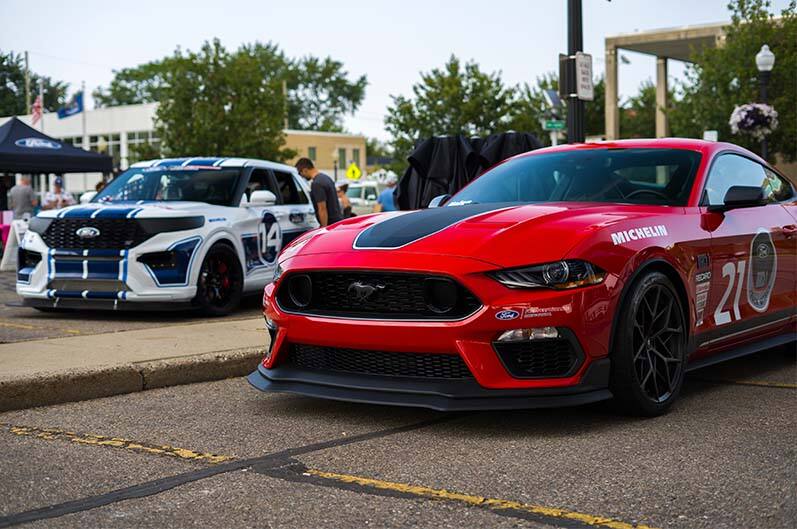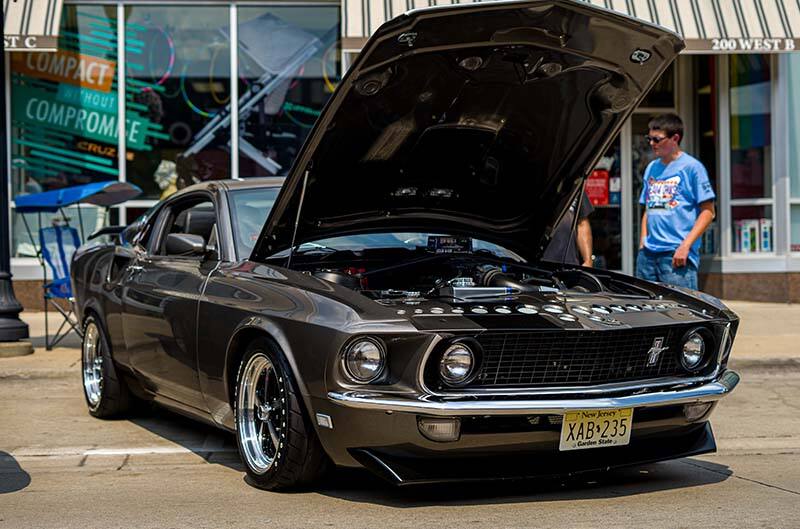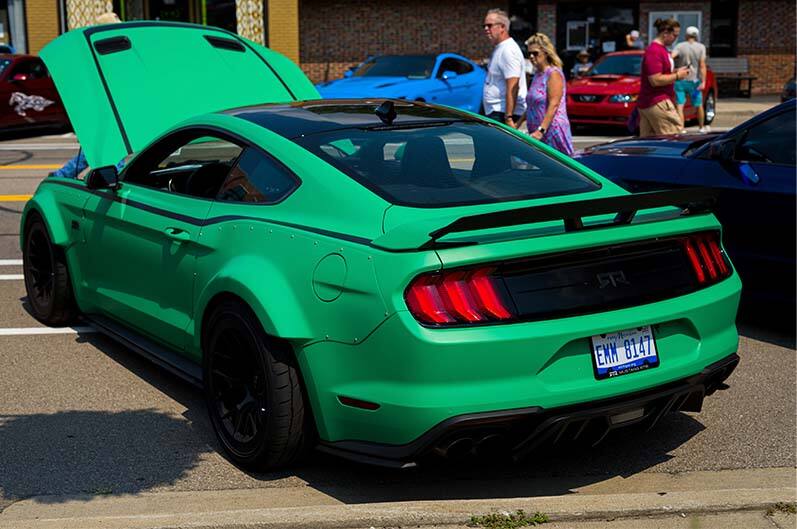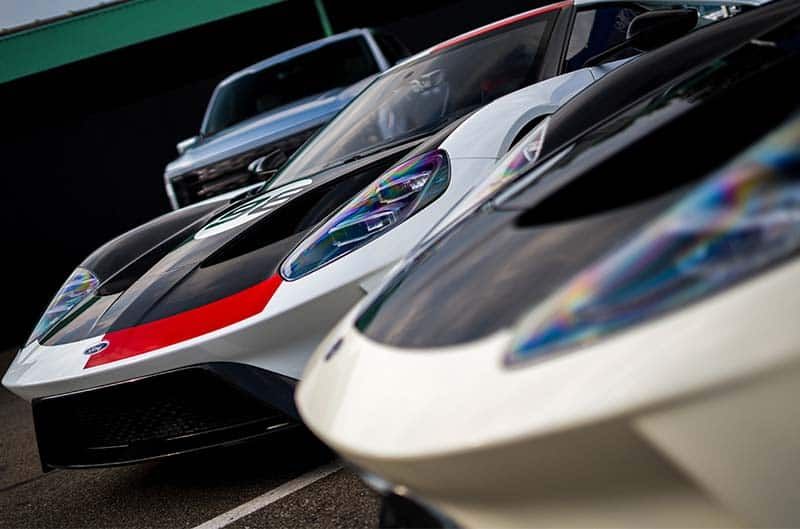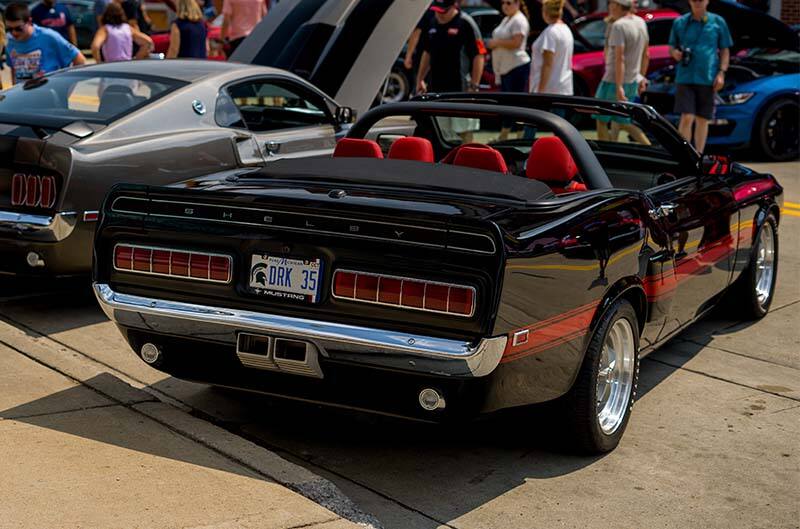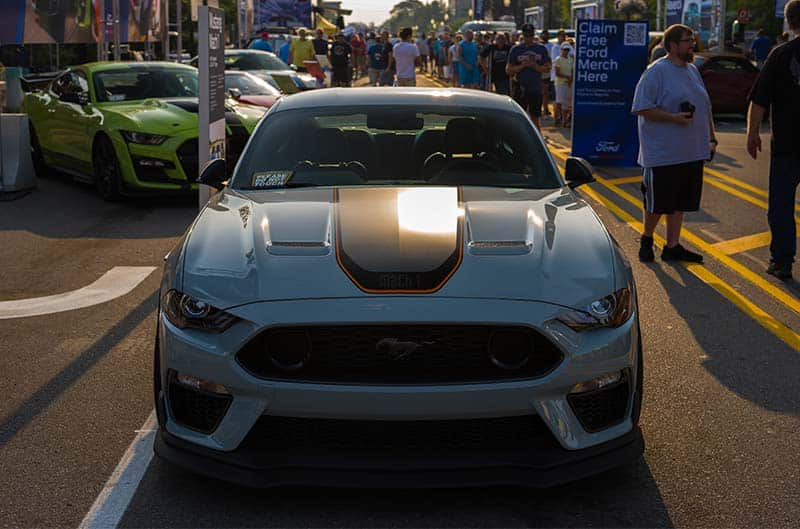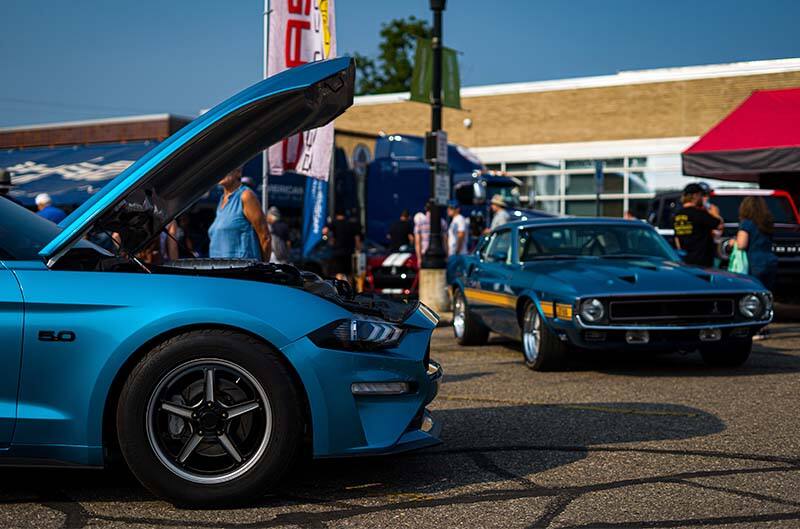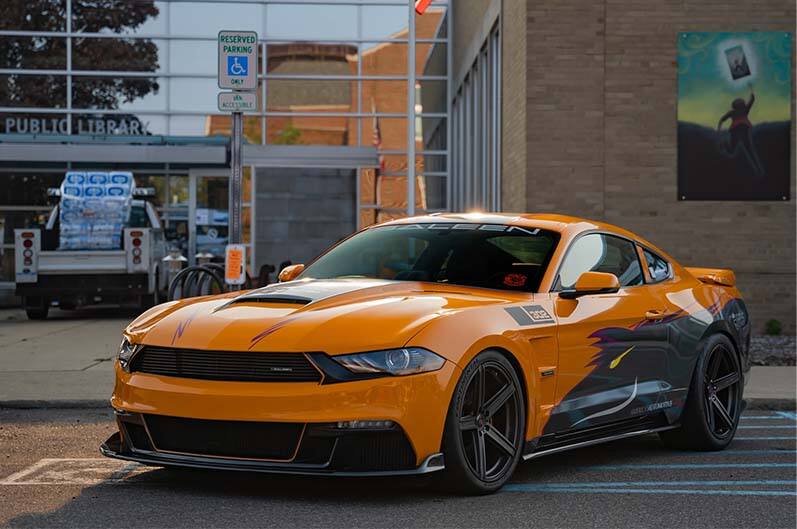 FORD PEFORMANCE PHOTOS / COURTESY JOE DELADVITCH