BAKERSFIELD, CA – The legendary automotive designer primarily responsible for the 1967 Shelby GT350 and GT500 and the reimagined Cobra logo passed away on Sunday, January 31st, 2021. Charlie McHose, an understated man, was a young Ford designer in 1966 when he was given the assignment to travel west to Shelby America's Los Angeles International Airport (LAX) facility. He brought with him sketches from the Ford Design team in Detroit. Tasked with designing the new, longer and larger 1967 Shelby Mustang, it needed a longer front end, hood and fenders in order to accommodate the massive 428 V-8 engine that Ford wanted to install as the car's standard powertrain. McHose worked well into the night to modify a body whose frame had been previously used to test seat-belt crash rigidity. Its bodywork twisted from constant tests, this imperfect car would be his canvas.
A former student of the ArtCenter College of Design in Pasadena, California, McHose conscripted his former clay instructor, Joe Ferrar, to help with the car. The two men often worked late. "He came out from school at 4 o'clock [in the afternoon] every day, and worked with me," said McHose when I interviewed him in late 2019, "and I stayed there till about 10 o'clock at night, and he stayed till 4 a.m. in the morning."
They worked for four months on the car in the summer of 1966. Their workshop was on the second floor of the Shelby facility, with the car having been lifted up through a window with a crane. Every day, they walked past GT40's that sat in the race shop below being prepared for their battles in Europe to end Ferrari's dominance in France. Inspired, McHose took influences from them, adding scoops to the Mustang model that mimicked the scoops on the side of the Ford GTs. He also added brake ducts and rear quarter-panel window scoops to his creation.

"I did the design, and put some parts in clay," recounted McHose. "We had a new hood, a whole new front end, scoops on the side, and a spoiler on the trunk lid. We used T-Bird taillights all the way across on the rear end to make it look different from a regular Mustang."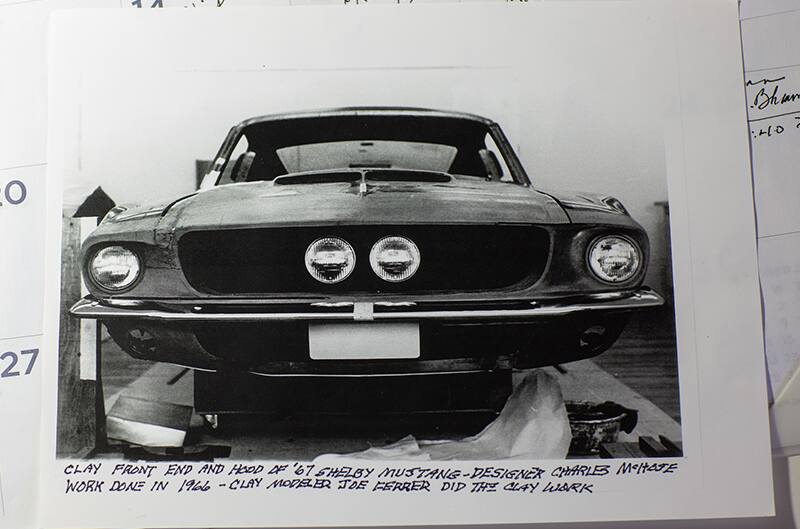 They were given an essentially broken frame, but what emerged four months later is pure art. The 1967 Shelby GT500 is considered one of the most beautiful cars in all of automotive history.
Originally designated the "428 GT350" inside Shelby, it was renamed the GT500 when the car was unveiled to the public. An instant hit, it looked like a race car but was as comfortable as its contemporaries from other automakers. The GT500's race-inspired design with its beautiful lines and styling influences of race cars, was now powered by a large big-block motor. The Shelby GT500 cemented the Mustang in the car culture -- not just in America, but worldwide as one of the automotive world's greatest creations. In its most beautiful form, the one-of-one Shelby Super Snake powered by a 427 race-motor had tested Goodyear tires in the desert of Texas. It sold for $2.2 million in 2019.

Emblazoned on the back of the new Mustang was a new Cobra logo: A coiled snake. McHose had been tasked to redesign the originally yet equally iconic Peter Brock-designed Shelby logo. The coiled snake emblem that would adorn the new '67 Shelby Mustang's fenders and trunk was designed by McHose and finished by "an outside design firm located in Santa Monica," says Chuck Cantwell, Project Engineer of both the 1965 GT350 and the 1967 GT350/GT500 programs. That basic logo design is still worn on every modern-day Shelby American vehicle, including the new 2020-21 Ford Mustang Shelby GT500.
The Charlie McHose story was lost to history for almost five decades. McHose was a relatively unknown figure to the automotive world. However, he was remembered by the men who worked with him and who well knew of his contribution.
Cantwell credits McHose for the 1967's archetypal design. He honored his late colleague by saying, "Charlie and his helpers worked very long days (and nights) to design the '67 GT350 and 500. They had a monumental task to design a car in a very short period of time in the summer of 1966, complete with some mid-project directional changes. Charlie took inspiration from the GT40 MK-IIs and incorporated design themes into his GT350 design elements to come up with a beautiful GT design that is everyone's favorite GT350/500. And some of his lighting treatment, being advanced, challenged some state's progress in new ideas. The car was a great success, if I do say so."
Former Ford designer and famed Hot Wheels designer (and also a fellow ArtCenter College of Design alumnus) Larry Wood, who worked with McHose at both Ford Motor Company and Mattel, remembers his former colleague as a quiet but extremely talented designer. He also remembers McHose being given the assignment by Ford to design the new 1967 model Shelby Mustangs in that memorable summer of '66.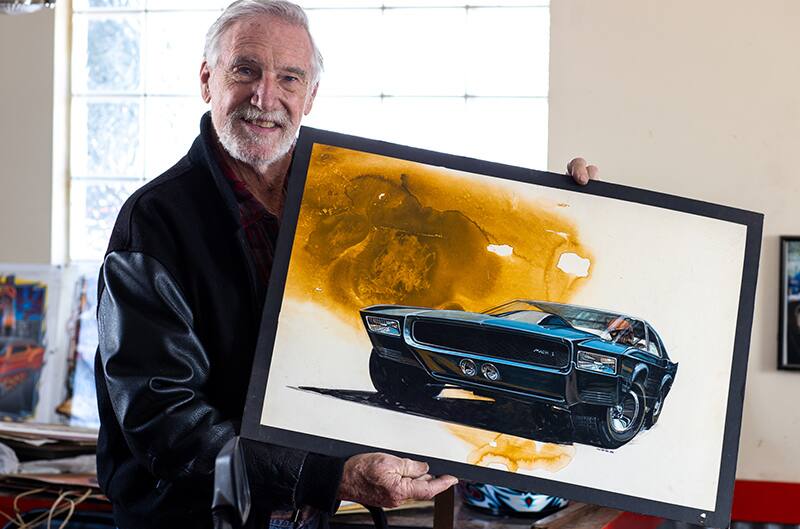 Wood also recalls a conversation in 2010 with Carroll Shelby in which he tried to clarify the story of the legendary car to the automotive great. While Wood was working on designing the 2010 Shelby American version of the GT350 at Shelby American in Las Vegas, he said, "I told Shelby about Charlie when I was working at Carroll's. They never really knew the history of that car and I said I knew the designer; I gave them the information to get in touch with him at the time." Wood said that he didn't know if they followed up by reaching out to McHose, but he thinks, "that might have been when people really started to realize that it was Charlie who did it."
"He certainly played a significant role in the development of the 1967 Shelbys . . . and the Cobra logo Chuck designed," said Austin Craig, resident historian at Shelby American's Las Vegas facility. "[It] is still very popular today and has become a symbol for Shelby American performance since it first appeared on the 1967 models."
Peter Brock, the renowned automotive designer, also paid his respects to McHose while claiming that there is no doubt who was behind the design on the generation-defining 1967 Shelby GT350/GT500s: "Chuck McHose and Joe Farrar modeled those '67 and '68 Shelby Mustangs."
Initially thought lost to history, McHose's actual sketches have finally now come to light. Drawn in late April of 1966, they show illustrations of that original GT500 that run through different iterations of the car's design features.
Shelby American Automobile Club historian, Greg Kolasa, provided the copies of the sketches that were found in an auction and also provided the detailed 1966 work logs that discuss the 1967 Shelby Mustang's creation and the redesigned "coiled snake" Cobra logo.
Once considered the lost diamonds of Shelby sketches, Kolasa said that "Charlie was very surprised -- as he didn't ever recall ever saving them. Fortunately, he was able to see them before he died."

These are the sketches that were made on April 25, 26, 28, and 29 of 1966: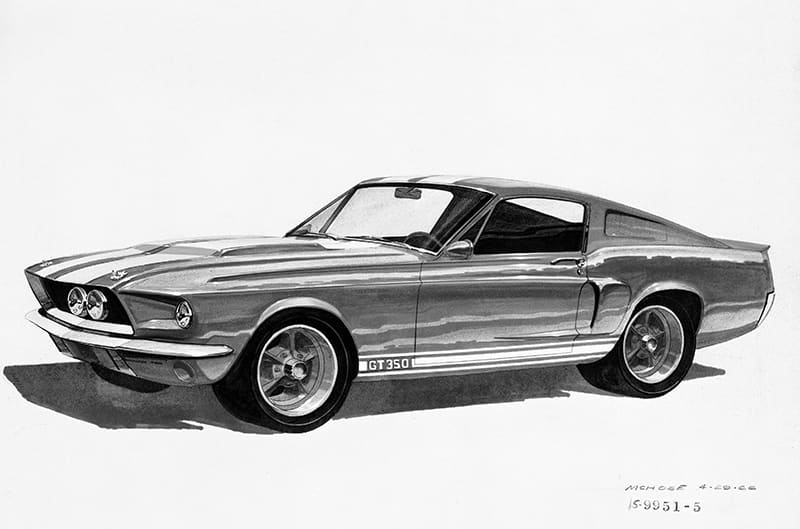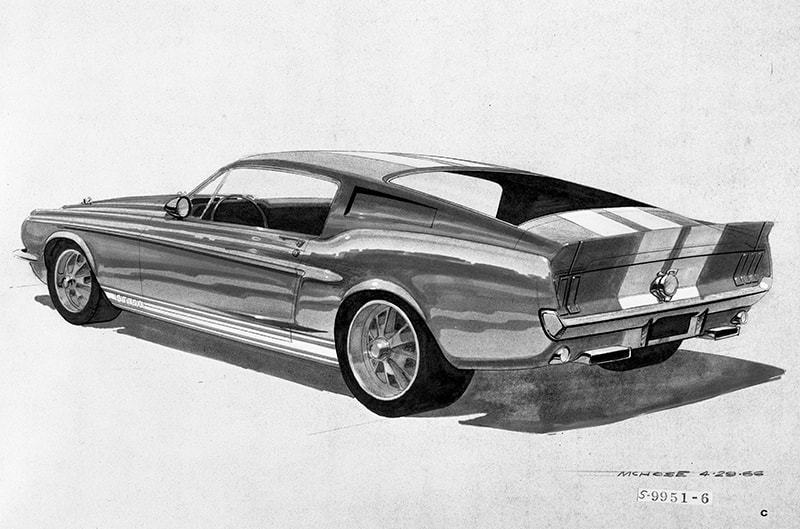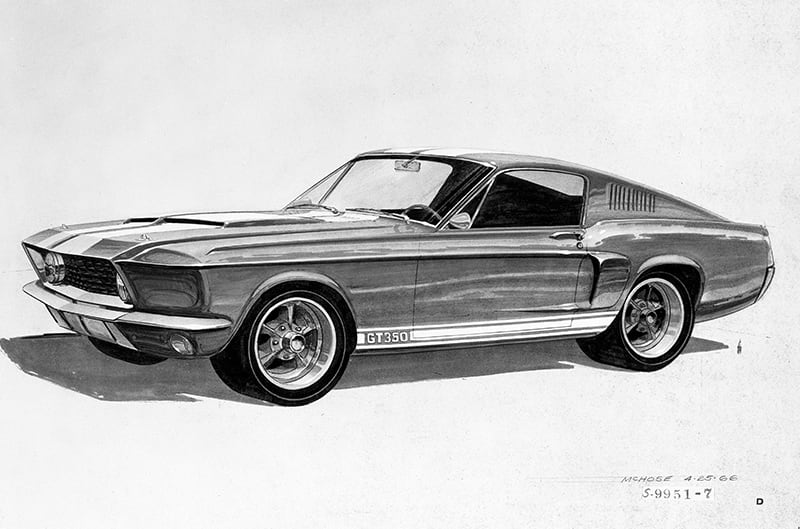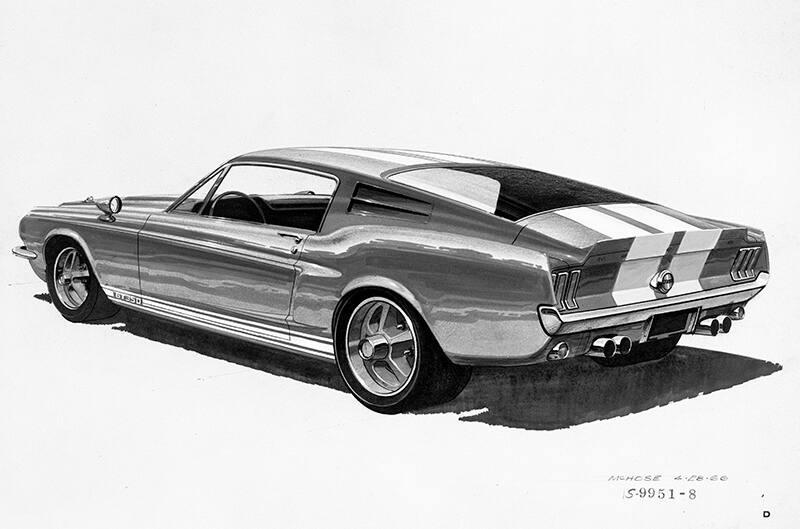 Go ahead and marvel at these sketches, for these had been sought for more than 50 years. They are now added to the historical record.
The Ford GTs began arriving at Shelby American in May, one month prior to the 1966 24 Hours of Le Mans that occurred in June. The race shop at Shelby's facility was quickly being filled with 1966 Ford GT40 Mark IIs that were primed and ready for battle in Europe. McHose had a scenery of cars to look at – two of which would have their date with destiny (the third-place Ford GT in the 1966 24 Hours of Le Mans was a Holman and Moody entrant). McHose used all of that from which to draw his inspiration. He looked at their scoops and decided to infuse some of that Ford GT40 race craft into the Shelby Mustang that was in the clay model stage, up on the second floor.

He came up with a heat-extractor type scoop that replaced the rear quarter-panel window. It sucked the air out of the cabin, removing it, and discarding it outside of the vehicle as it drove.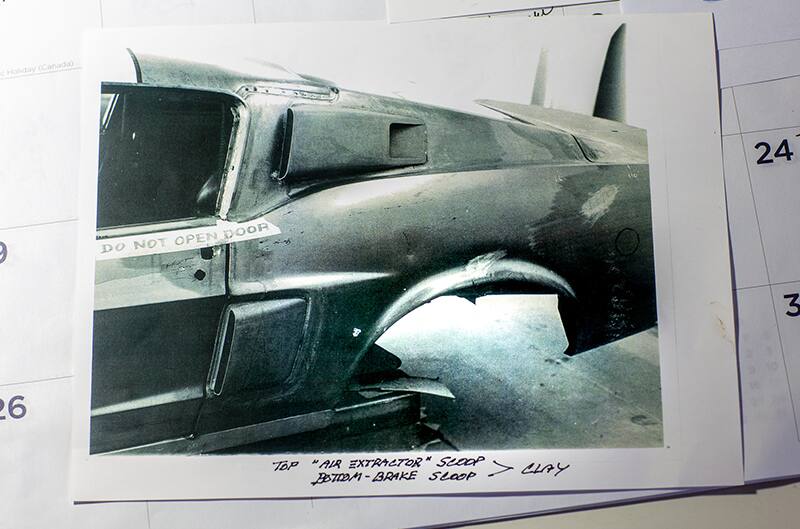 Kolasa provided us with the actual work logs between McHose and Don DeLaRossa, Ford Motor Company's Chief Stylist in 1966, to further explain the process that McHose and Ferrar embarked on.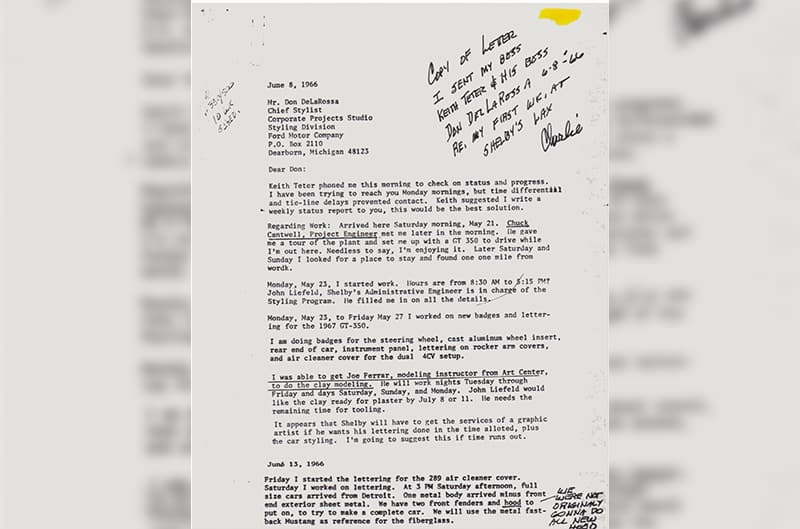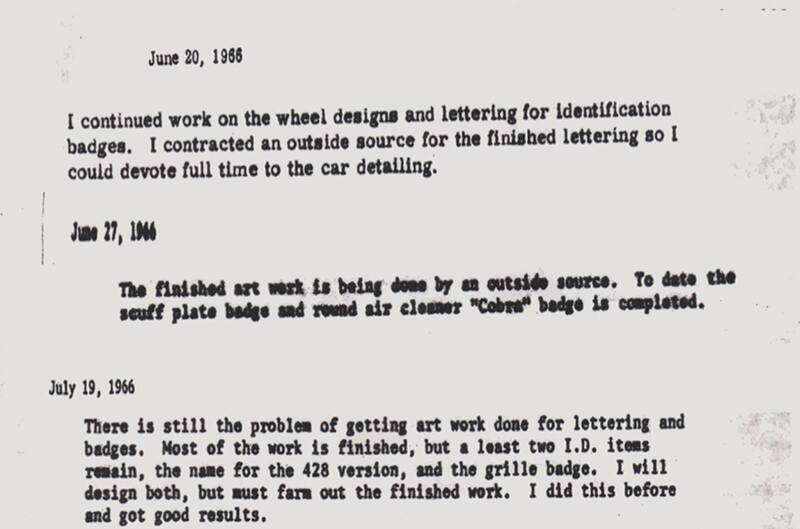 Combined in one list, this correspondence allows us to connect the dots in the creation of the 1967 Shelby GT350/GT500.
Typed out below, this is how it all went down:
May 21, 1966: "Arrived here Saturday morning, May 21. Chuck Cantwell, Project Engineer met me later in the morning. He gave me a tour of ­the plant and set me up with a GT350 to drive while I'm out here. Needless to say, I'm enjoying it. Later Saturday and Sunday I looked for a place to stay and found one[,] one mile from work.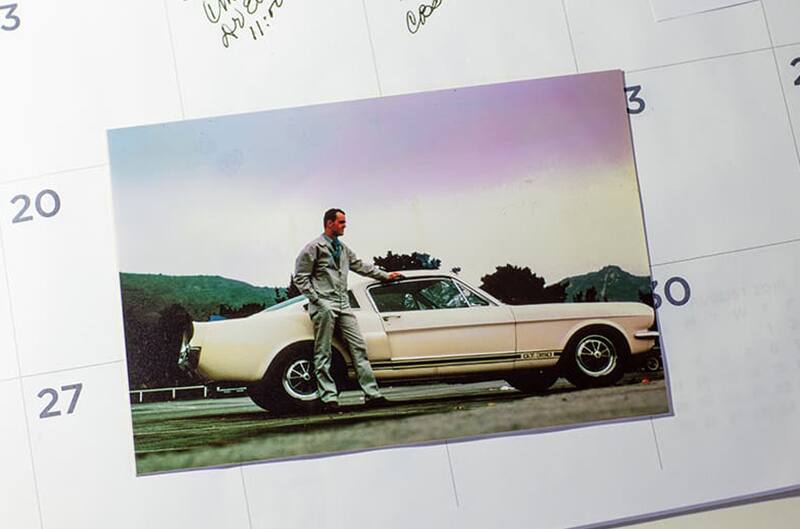 May 23, 1966: "I started work. Hours are from 8:30 a.m. to 5:15 p.m.? John Liefed, Shelby's Administrative Engineer is in charge of the Styling Program. He filled me in on the details."
May 23 to May 27, 1966: "I worked on new badges and lettering for the 1967 GT-350."
"I am doing badges for the steering wheel, cast aluminum wheel insert, rear end of car, instrument panel, lettering on the rocker arm covers, and air cleaner covers for the dual 4CV setup."
"I was able to get Joe Ferrar, modeling instructor for Art Center, to do the clay modeling. He will work nights Tuesday through Friday and days Saturday, Sunday and Monday. John Liefeld would like the clay ready for plaster by July 8 or 11. He needs the remaining time for tooling."
"It appears that Shelby will have to get the services of a graphic artist if he wants his lettering done in the time allotted, plus the car styling. I'm going to suggest this if time runs out."
June 13, 1966: "Friday I started the lettering for the 289 air cleaner cover. Saturday I worked on lettering. At 3 p.m. Saturday afternoon, full size cars arrived from Detroit. One metal body arrived minus front end exterior sheet metal. We have two front fenders and hood to put on, to try to make a complete car. We will use the metal fast-back Mustang as reference for the fiberglass.
June 20, 1966: "I continued work on the wheel designs and lettering for identification badges. I contracted an outside source for the finished lettering so I could devote full time to the car detailing."
June 27, 1966: The finished art work is being done by an outside source. To date the scuff plate badge and round air cleaner "Cobra" badge is completed.
July 19, 1966: There is still the problem of getting art work done for lettering and badges. Most of the work is finished, but at least two I.D. items remain, the name for the 428 version, and the grille badge. I will design both, but must farm out the finished work. I did this before and got good results.
In these work logs/correspondences, you have the entire 1967 GT350/GT500 progress reports from McHose to his boss, Don DeLaRossa. You have him showing up to LAX and being loaned a Shelby GT350 which was a prototype GT350 driver.
You have him discussing the new badges and lettering, and he points out where these identification markers were located: "steering wheel, cast aluminum wheel insert, rear end of car, instrument panel, lettering on the rocker arm covers, and air cleaner covers for the dual 4CV setup." The coiled snake logo is located on the steering wheel and rear of the car. At no point in these documents is it mentioned that Shelby or Chun supplied documents to McHose, but that the initial work was done by him and then sent out to be finished by outside design firms. You have him discussing how the GT500 had not even been named yet, as it was referred to as the "428 GT350."
Combined with the sketches, we now have a clear view of the history of these Shelby Mustangs. They allow us to see the inception of this great American car. We also learn the origin of the coiled snake logo that debuted on the 1967 Shelby -- an emblem that has persisted to this day and the logo that is still the brand mark of Shelby American today.
Although slightly refined over the years, the initial designs created by McHose and then finished by an outside firm can be tied directly to the logo in use some 53 years later. Finally, and with clarity, these statements and documents are corroborated with evidence and supported both by Cantwell and Shelby historians.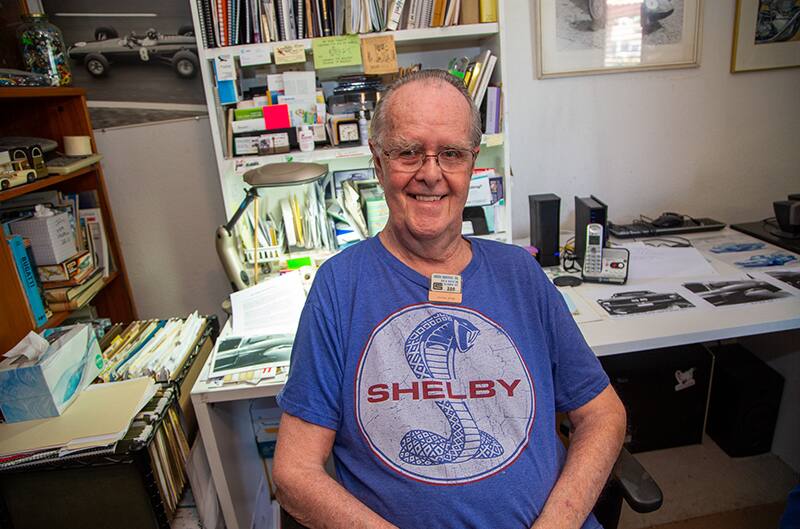 A modest man, McHose lived a quiet life, never seeking fame or fortune for his contributions to the automotive world. Yet his work stood as tall as industry giants. He inspired generations of Mustang and Shelby fans who grew up dreaming of the car that he designed. That design was further immortalized in the 2000 movie Gone in 60 Seconds whose hero car, Eleanor, was a modified GT500 with body enhancements that elegantly played off of McHose's carefully crafted lines. That car became one of the silver screen's most iconic and desirable movie cars. McHose created that unicorn -- "A fabled creature … impossible to capture," as it was so eloquently put by that movie's main character, Memphis Raines, played by actor Nicholas Cage.

Yes, McHose left behind beauty -- sculpted in metal. The 1967 Shelby GT500 is often discussed as among the most gorgeous cars ever made, with a list that includes the likes of the Ferrari 250 GTO, Ford GT40, Jaguar E-Type, and the Shelby Daytona. The 1967 Shelby GT500 takes its rightful place beside them.
McHose is survived by his wife, Jean, and his two stepchildren, Lyn and Randy. He was 86 years old.
FORD PERFORMANCE PHOTOS / COURTESY BRETT TURNAGE and STEPHEN RUSSO