DEARBORN, Mich. – Because Ford Performance serves as the home for Blue Oval enthusiasts both inside and outside of Ford Motor Company, our vehicle interests range from everything preserved in the Ford Archives to everything in Ford dealer showrooms, both now and in the future. And because we connect with enthusiast owners from across the globe, there's little we haven't seen or heard about – especially for those of us who've logged 20 years or more at Ford. But every once and a while, we come across something that stumps our inner circle.
That's when it comes time to ask the real experts – you. Yes, the real history of Ford isn't housed in some corporate museum – it's stored in your garages. Fact is, many owners of classic Fords know more about their cars than even many so-called historians, and sometimes we tap into that knowledge base to help us uncover mysteries that we can't solve on our own.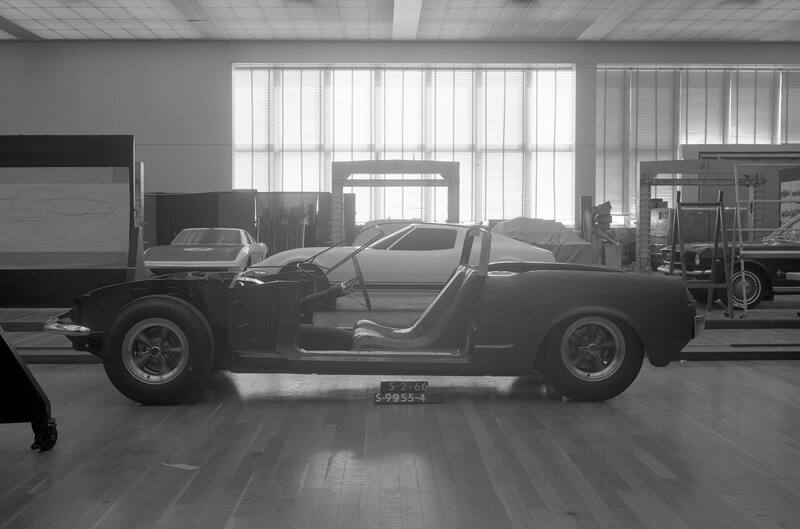 That's why we're asking you to help us identify the project car seen in the four Ford Design Studio photos shown here, taken on May 2, 1966. We first got a look at these photos some five years ago, when Dean Weber, then head of Ford Archives but now retired, had sent them to Mustang author and columnist John Clor at Ford Performance and longtime Mustang marketing and PR guru John Clinard of Ford's West Coast Public Affairs office. Weber's email had read:
"Gentlemen: As you know, I am a big Ford Motor Company fan, but not really a motor-head. I was going through some scans and these jumped out at me -- Did we know that in '66 Ford was working on a 2-seater, mid-engine Mustang? It might have been re-skinned as the Mach 2 Concept, but at this point it was definitely a Mustang . . . Maybe this is well-known among the cognoscenti, I just didn't know about it. Did either of you?"
It was quite unusual to get a note like that from Weber, longtime manager of The Ford Archives who had also shepherded its moves from the basement of Ford World Headquarters to temporary quarters in Ford's Schaefer Court Complex and finally to its permanent home in Henry Ford's historic and recently restored Ford Engineering Laboratory building in Dearborn. That's because for so many years Weber had helped countless authors, writers and marketers sift through all of the Ford historical images associated with Mustang. He has an encyclopedic memory and has either seen or at least knows of most everything in Ford's vast files.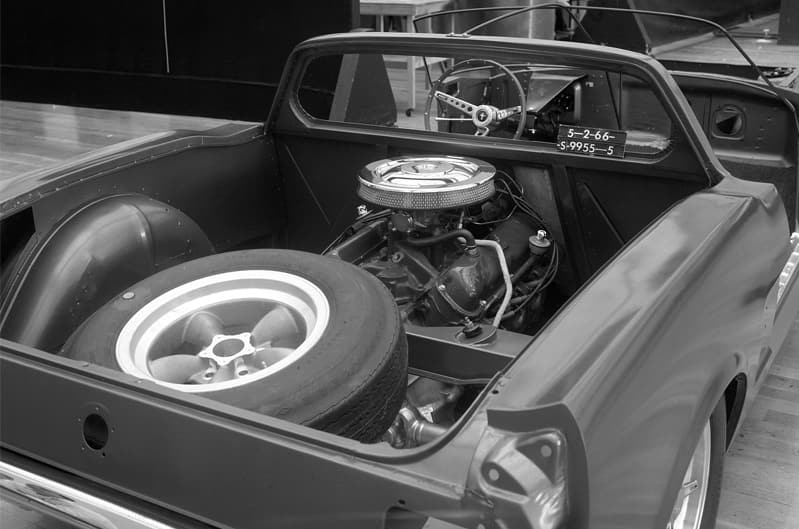 Clor, who had himself spent hours at Archives looking for historic photos when researching his own two hardbound Mustang books, responded with this email:

"Wow! Unreal! I have NEVER seen these shots or anything even REMOTELY like them before … almost look like they were part of [Eugene] Bordinat's previous Allegro project? I bet either Hal Sperlich or Gale Halderman would know; mind if I show these photos to them and see if they can remember? After all, they were both down there in the Design Studio at the time."

Clinard, whose decades of exposure to the Mustang hobby in California gives him an unparalleled depth of historical acumen, concurred with Clor's response, emailing back with:

"My thoughts exactly. I've never seen or heard of this car. So cool! I showed it to Greg Hutting, veteran designer here in the Irvine studio. He identified the location as the 'International Studio' in Dearborn but said he had never seen this property before!"
Clor contacted Sperlich, Halderman and former Ford Design VP Jack Telnack. Telnack admitted he didn't know of any mid-engine 1966 Mustang project, and Sperlich, the product planner who spearheaded the original Mustang program, also drew a blank while offering a guess:
"Hi John!" Sperlich wrote. "The only thing I can think is that this might have something to do with the drivable version of the Ford Research mid-ship car that was used as a Mustang tease."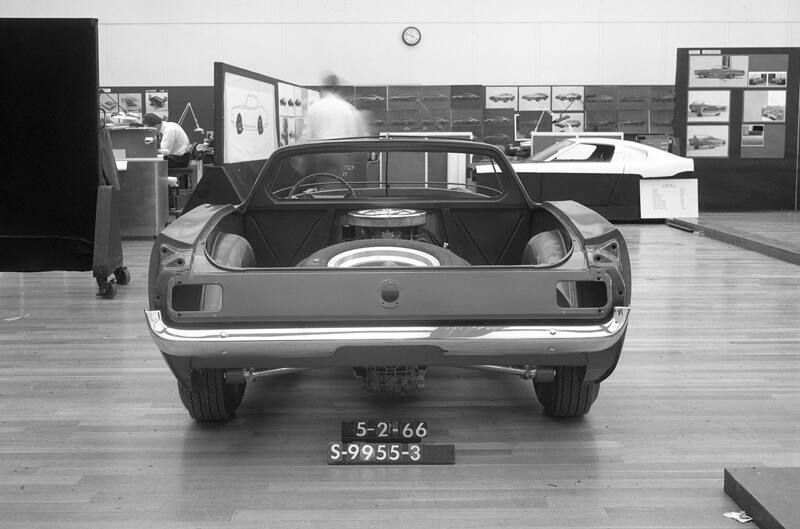 But Halderman, the principal stylist of the original Mustang, didn't agree in his response:
"That midship 'Mustang I Concept' was a few years before this and was a one-off not based on a production Mustang. While those photos were certainly taken in the rarely toured International Studio, I don't recall seeing this. Perhaps you could ask Roy Lunn?"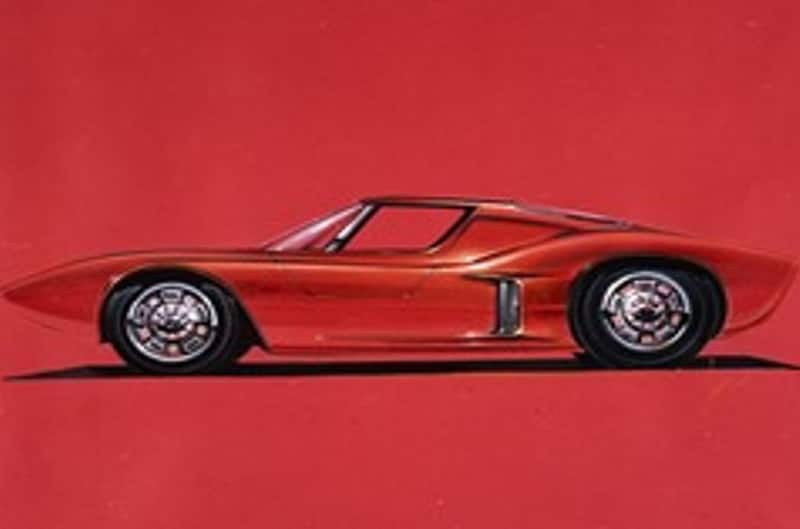 Asking Lunn was a good suggestion, as he was known as "Godfather of the GT40," and was involved with every mid-engine vehicle program at Ford during his career. Clor just so happened to have been in touch with author Marty Schorr, who at the time was putting together a special Ford luncheon in Lunn's honor at the Lakewood Ranch Country Club in Sarasota, Florida. So Clor asked if Schorr could show the photos to Lunn at that event.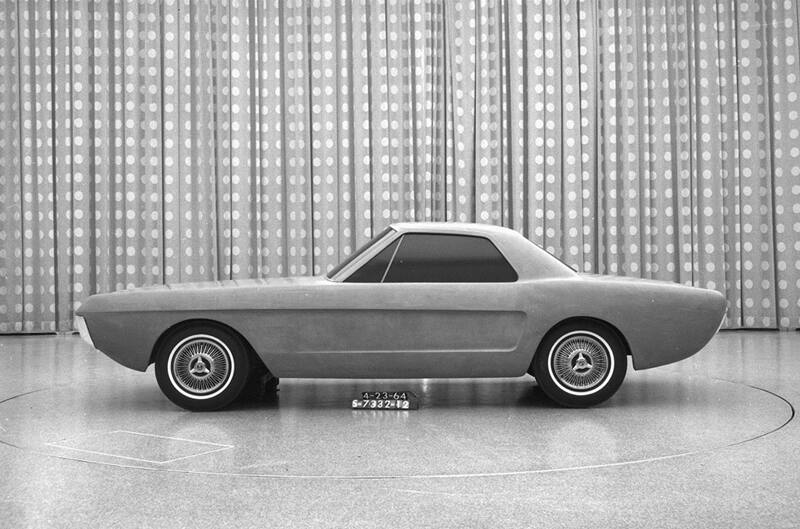 Unfortunately, Lunn (who had passed away a short time later) could not provide Schorr with any details after looking at printouts of the photos, saying only, "Sorry, I'm not sure what that is . . ."
Clor spent the next year asking select Ford retirees if they knew anything about the photos but to no avail. The guess floated by Weber in his initial email -- that it could have been the origins of the 1967 Mach 2 Concept car -- was ruled out after Clor had spotted a MotorCities.org blog post in December of 2016. In it, a story by auto industry veteran and historian Wayne Ferens about the Mach 2 had contained information that would indicate the 1966 Mustang in these photos was NOT the basis for the Mach 2.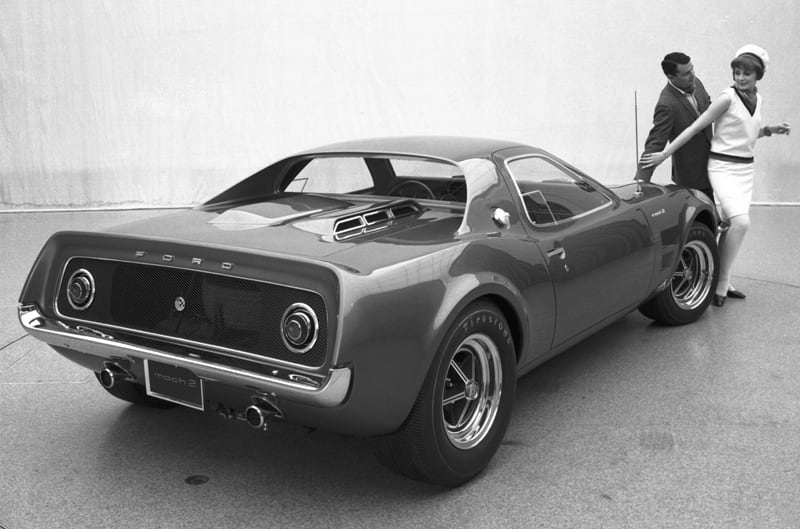 In Ferens' story, entitled, "Ford's Experimental Mach 2 For 1967...The One (Mustang?) That Got Away," he stated that "The initial concept was completed in Ford's Dearborn design studio under the watchful eye of Eugene Bordinat Jr., then V.P. of Styling and the Ford Engineering Center, but the final construction and assembly was done at the Kar Kraft facility under the direction of Ed Hull. Kar Kraft was an independent company located in Dearborn, but owned by Ford and used for special projects and race car preparation. The Mach 2 is a highly modified two-seater on a shortened version of a 1967 Mustang convertible floor pan."

The Mustang in these photos is clearly made from a 1966 body, and when Ferens went on to say in his story that the Mach 2's front end consisted of "a square steel-tubed frame," it became clear that this 1966 mid-engine two-seater was not the same as the '67 Mustang convertible-based Mach 2 that Ford introduced at the Chicago Auto Show in spring of 1967. (Afterward, Ferens contends, the Mach 2 was placed in storage until 1970 and then disappeared.)

So the mystery surrounding these lone four photos from the Ford Archives continues. Unless, that is, YOU or someone you know can shed some light on this 1966 mid-engine two-seater Mustang project car. Email us any info you may have to ClubHub@Ford.com and we'll see if we can get the real story behind this cool prototype out to the Mustang world. So the next time someone tells you they know everything about the Ford Mustang, just show them these photos. If you can validate what they say and become the one to unlock this mystery for us, we'll give you and your source full credit -- and will even send you a special prize. Good luck!

FORD PERFORMANCE PHOTOS / COURTESY JOHN CLOR