Editor's Note: For much of this week, the SHO Club of America has been celebrating its 30th National SHO Convention -- dubbed "Music City Mayhem" -- in Nashville, Tennessee. Beginning on Sunday July 17 with a Track Day at NCM Motorsports Park, then a golf outing on Monday, a drag racing day on Tuesday at Beech Bend Raceway, a "Car SHOw" on Wednesday and a scenic drive with local tours and an awards banquet on Thursday, the SHO Club has reached a milestone after more than three decades of fandom. To take you inside the SHO enthusiast world, we sent author John Katz to last year's SHO Convention in Pittsburg to trace the colorful history of these fast Ford sedan fans. Follow them at: https://www.shoclubofamerica.com

PITTSBURGH, Pa. – The SHO Club of America had met for its 29th national convention last Labor Day weekend at the Pittsburgh International Race Complex (a.k.a. PittRace) in Wampum, Pennsylvania. Thirty-four members brought 23 SHOs, from as far away as Port Lavaca, Texas; Monticello, Minnesota; and Grand Island, Nebraska. But the convention's stars were three rapscallion reptiles: Michelangelo, Raphael, and Donatello – three of the four Ninja Turtle Racing Team Tauruses, which had competed in IMSA's Firestone Firehawk endurance series back in 1991.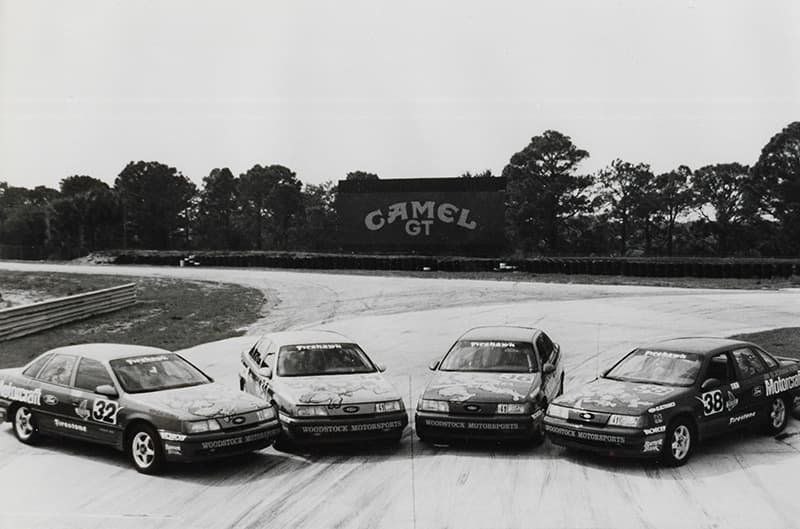 In fact, all four Ninja Turtle team cars survived, despite the perilous and precarious road they have traveled — much like the journey of the Ford Taurus SHO itself, and of the club that it inspired. It's difficult to remember today, when ovoid aerodynamics shape nearly every new vehicle, just how revolutionary the Ford Taurus appeared at its sales debut on December 26, 1985. It wasn't just the slippery shape, with its minimal seams and flush bumpers, lights and glass. Ford had created a smooth-riding, solid-feeling mainstream family car that equaled the best of the imports not only in space efficiency, but in dynamic, responsive handling as well. And the buying public responded, scooping up just short of 1 million copies by the end of 1988.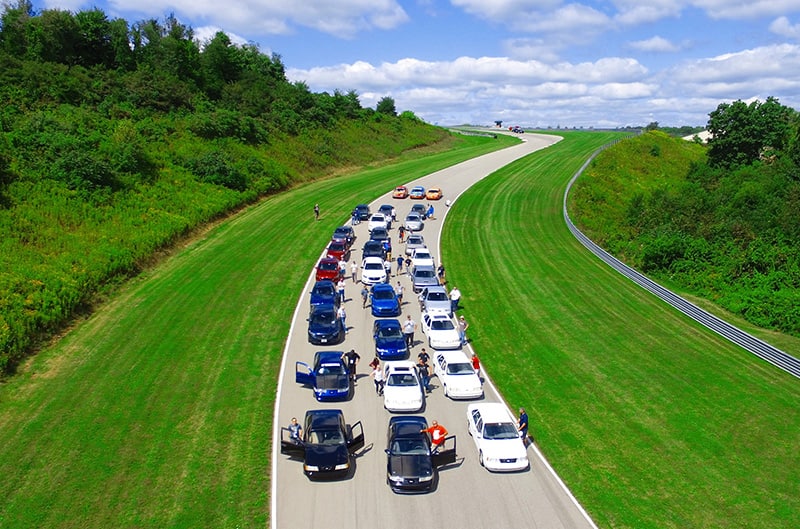 All that was missing was an equally exciting engine. Although a four-cylinder, manual-shift "MT-5" model was offered in those early years, the vast majority of Taurus buyers opted for the 3.0-liter "Vulcan" V6, a cast-iron, 60-degree unit with pushrod-operated overhead valves, coupled to a four-speed automatic transmission. Smooth and willing within its limits (140 hp at 4800 rpm), the V6 delivered a pleasing, if not exciting, driving experience.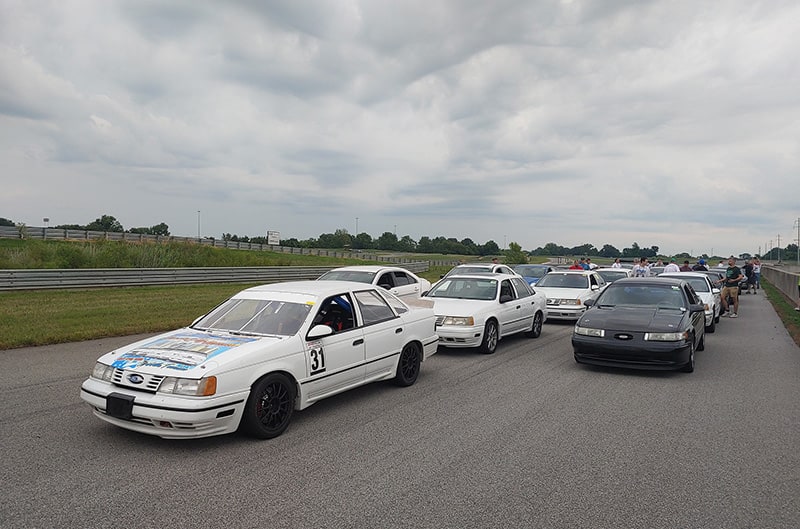 So it is not surprising that Ford's Special Vehicle Operations (SVO) lobbied for a hotter, racier Taurus. As early as 1986, engineering contractor Carron and Company was hired to assemble a prototype, while maintaining some semblance of secrecy. Ford had previously arranged with high-performance specialist Yamaha to develop a "Super High Output" Vulcan variant, with twin overhead camshafts in four-valve aluminum heads, and a trick intake manifold with dual-length runners – all pretty ordinary today, but cutting-edge exotic in the late 1980's. Modern readers may find 220 hp and 200 foot-pounds of torque equally unimpressive, but the '89 Mustang GT, with its 5.0-liter V8, produced just five ponies more. And when the Taurus SHO debuted in 1989, it weighed just 3348 pounds. Multiple sources cite 0-60mph sprints of less than seven seconds, and a top speed of 143 mph, comparable to a contemporary BMW 535i.
The only transmission offered was a five-speed manual, emphasizing the SHO's role as a serious driver's machine. Wheels, tires, springs, shocks, bushings and anti-roll bars were upgraded beyond the already outstanding level of the standard model. Front hubs and brakes were made more sturdy and effective. Inside, new sport seats provided improved cornering support. Intentionally, however, exterior clues were kept to a minimum – just a set of fog lamps up front, and subtle adjustments to the plastic fascia all around. And Ford sold 15,519 in 1989 alone.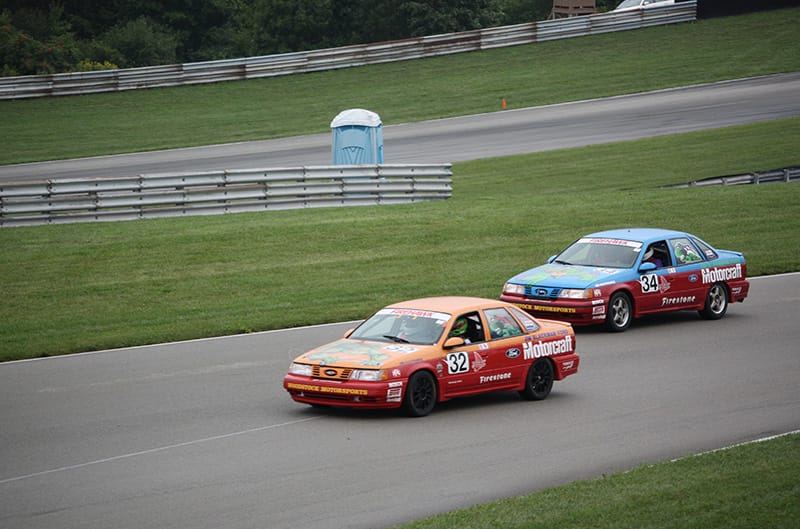 Kevin Eastman, who with Peter Laird created the Teenage Mutant Ninja Turtles, befriended racer and driving instructor Willy Lewis at the Skip Barber Racing School. As Lewis recalled for a 1991 Watkins Glen race program, it was at a Firehawk race at the Glen in June of 1990 that an excited Eastman asked Lewis if they could "put some Turtles on some cars next year."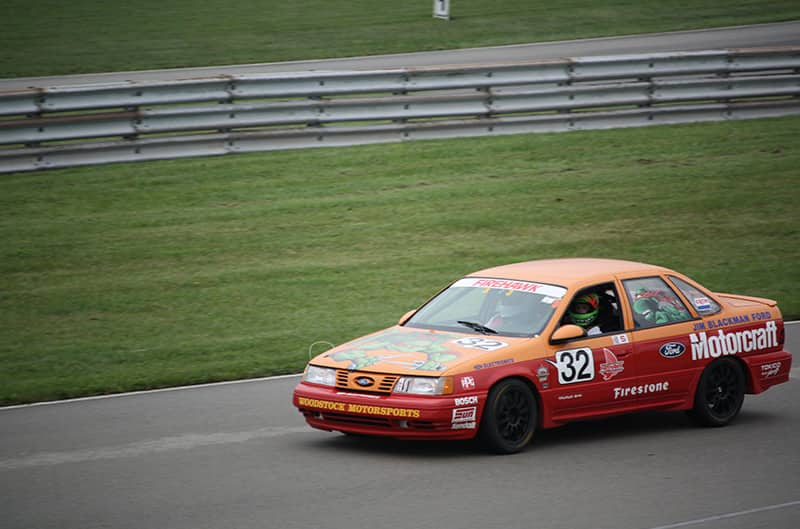 Ford had previously campaigned Mustangs in the Firehawk series, and in 1990 privateer Gary Blackman ran an SHO with some success. Lewis knew that Dearborn was contemplating a comeback with a four-car SHO team – and, conveniently, there were four Ninja Turtles. So the friends floated their idea to Motorcraft, Ford's replacement-parts division, which agreed to co-sponsor an SHO team with Eastman's Mirage Studios.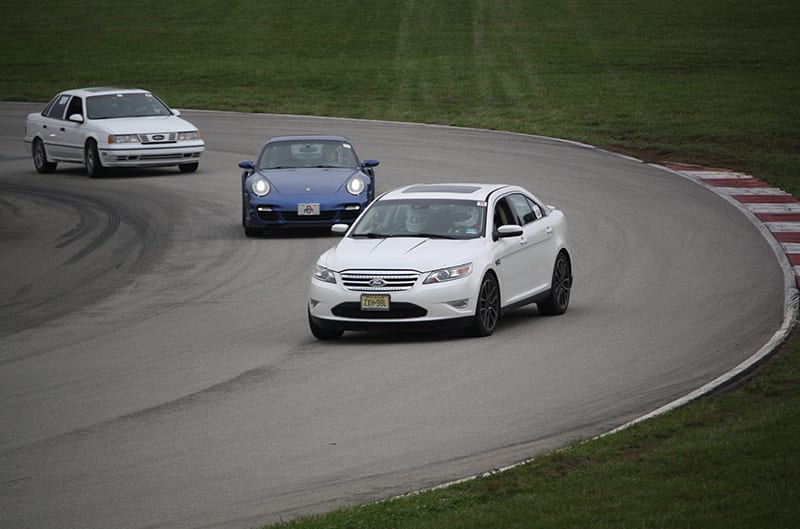 Each of the four cars featured an action image of one of the Turtles on its engine hood; the same Turtle appeared in the rear door glass, as if sitting in the back seat, urging the driver on. Maine artist C. Michael Lewis (no relation to Willy) was hired to create the figures, which were converted into decals by an entirely new digital process (which, according to at least one source, advanced the state-of-the-art in race car graphics). In the Ninja Turtle cartoons, each of the Turtle characters wore a distinctively colored, bandanna-style mask, with matching arm and leg bands; and the upper body surfaces of each team car were painted to highlight (but not necessarily match) the color worn by the Turtle on the hood. All four lower bodies were finished in a team-unifying red.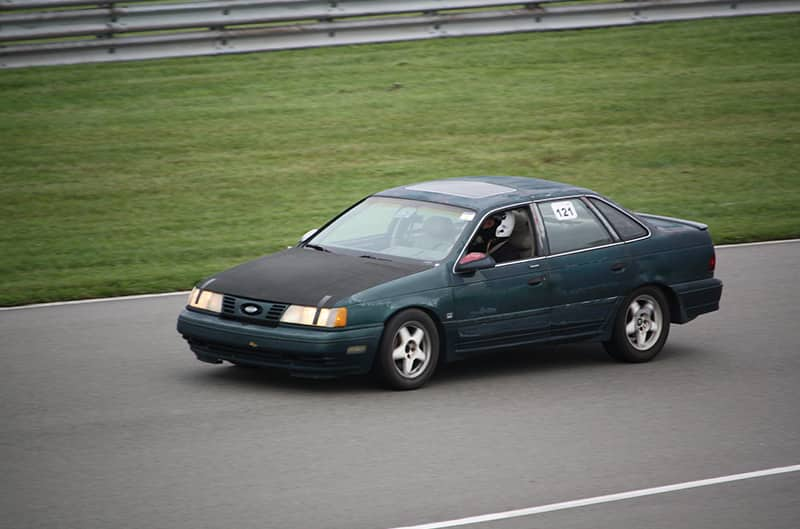 Woodstock Motorsports, a Vermont shop owned by Sam Shanaman and David Laughlin, was prominently advertised on the front bumpers, and has often been credited with building the cars. But according to Adam Hartlmeier, who with wife Michelle currently owns Raphael and Leonardo, the cars were built by Blackman's GT Motorsports in Florida. "Woodstock did the maintenance, repairs, and transportation throughout the season," Adam added. Blackman also told Adam that his shop received "some" of the cars as "bare chassis . . . and did the SHO transplant," although Adam is quite certain that Raphael, at least, is a "true '89 SHO."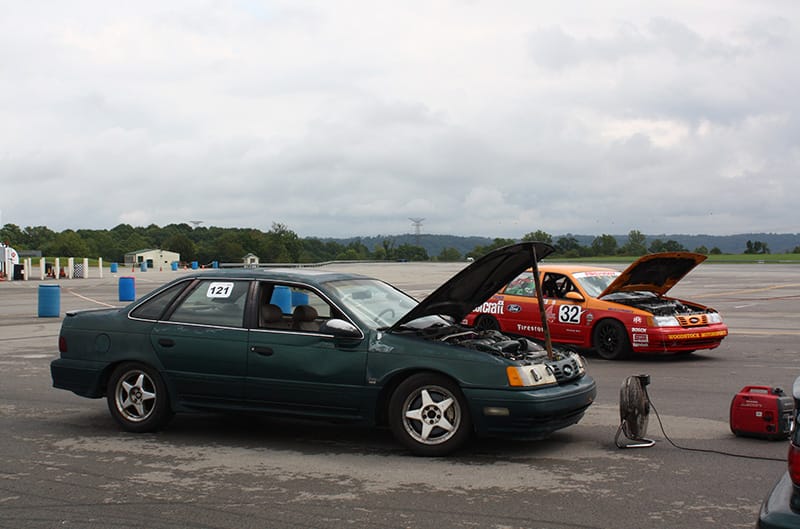 Matt Delbaugh, who now owns Michelangelo and Donatello, recalled an incident that supports this version of events. Will Pace, who drove in the team's Sebring debut in 1991, told Matt that "they were testing three of the cars, and a stock green SHO showed up. And the next day it was gutted and painted red, and that was Michelangelo." The quick turnaround certainly suggests that the work was done locally. Also according to Delbaugh, Michelangelo's roll cage construction and rear anti-roll bar mounting differ from the other three cars, which could be because it was the last one built.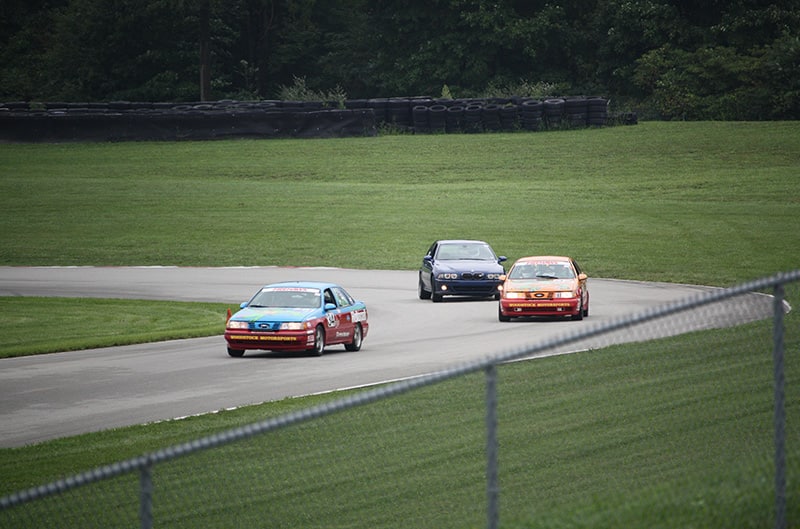 Modifications from stock were fairly modest, as dictated by the Firehawk rule book. Engine programming was altered, but within strictly monitored parameters, and the factory exhaust replaced by wide-open three-inch pipe. Police-package cooling slots just inboard of the headlights fed extra air to the radiator. Chassis mods were limited to cooling ducts for the brakes, quick-release brake lines, stiffer anti-roll bars and larger-than-stock wheels and tires. Tires could be shaved, too, but of course only Firestone Firehawks were allowed. Interiors were partially stripped, but factory SHO instrument panels were retained.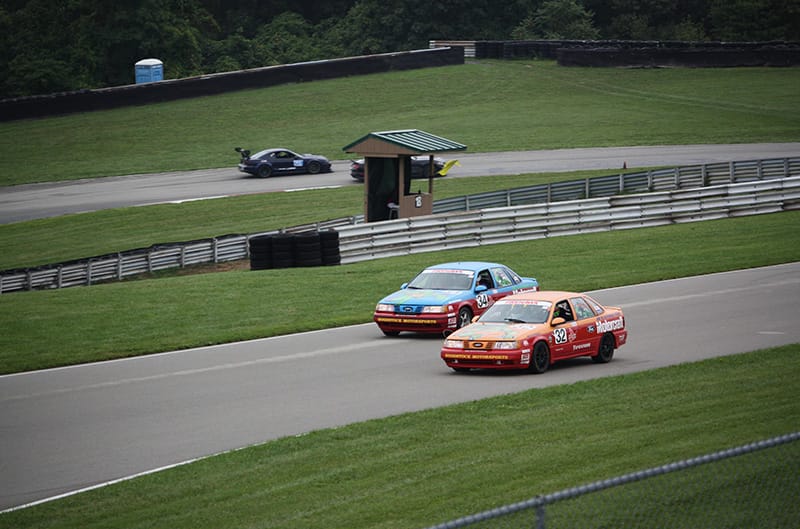 Shanaman, Laughlin, Lewis, Pace and Blackman were joined by Jim Bryant, Bob Lape and Ken Parschauer to complete a team of eight drivers. They wore green helmets that resembled the cartoon Turtles' heads, complete with gritted teeth, and visors tinted in the colors of the Turtle's masks.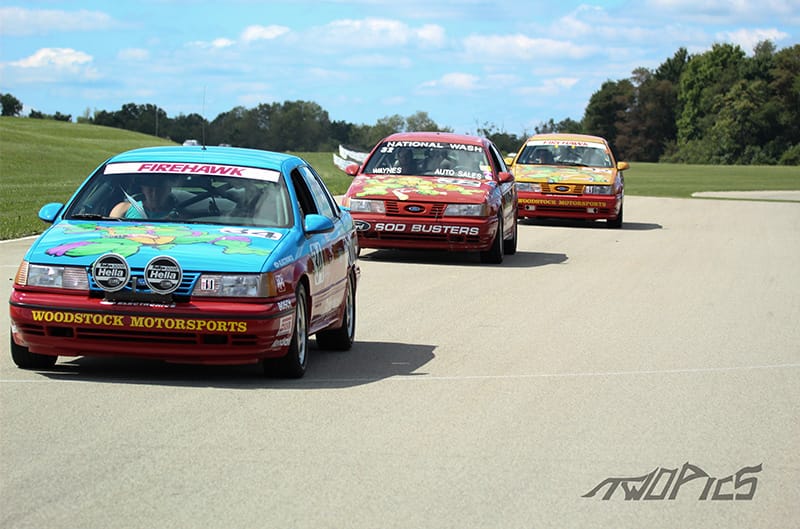 Matt described the Ninja Turtle effort as "very competitive," although the team failed to post a single win. Their best-ever finish appears to be a third, fourth, fifth (and 17th) in the four-hour season-opener at Sebring on March 14. In May, Lape and Parschauer managed a fourth overall, and third-in-class, in another four-hour race at Heartland Park in Topeka.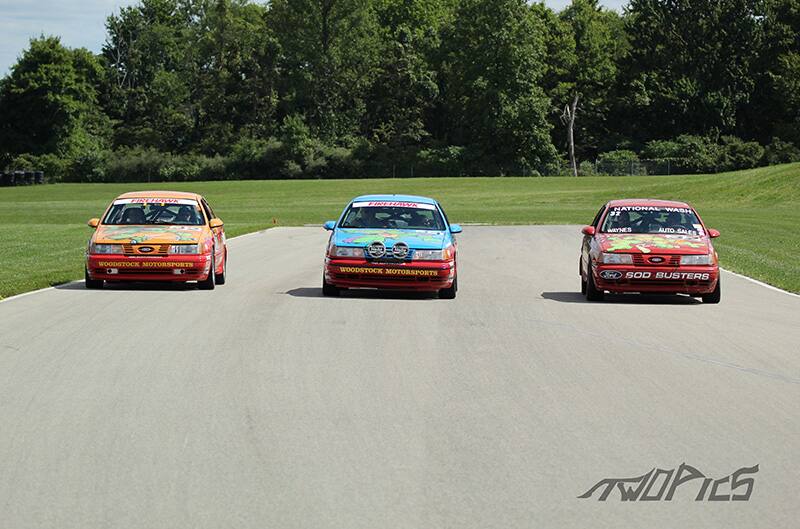 Both Motorcraft and Woodstock withdrew after the 1991 season, and the Ninja Turtle team was sold to Paul Armstrong of CanCom Motorsport. Ford of Canada and McDonald's joined Mirage Studios as sponsors, and CanCom campaigned the cars in the separate Canadian edition of the Firehawk series through 1992. But the Canadian effort proved no more successful than its U.S. predecessor, and CanCom was bankrupt by the end of the season. All four cars were sold at a Markham, Ontario, auction in 1995.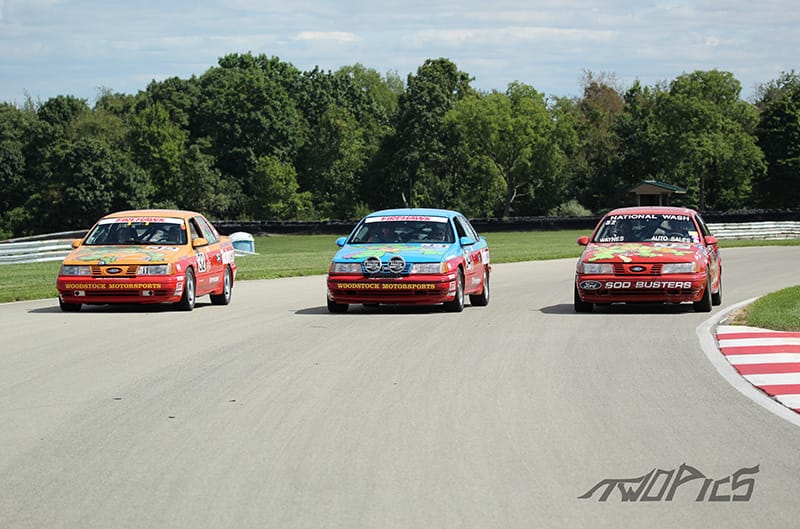 Meanwhile, of course, development of Ford's Taurus continued. For 1992, all models were subtly re-skinned, and unique front-end styling now distinguished the SHO. For '93 the SHO offered an automatic transmission, which came with a larger, 3.2-liter V6, producing the same 220 hp but now with 215 foot-pounds of torque. Sales peaked at 21,550.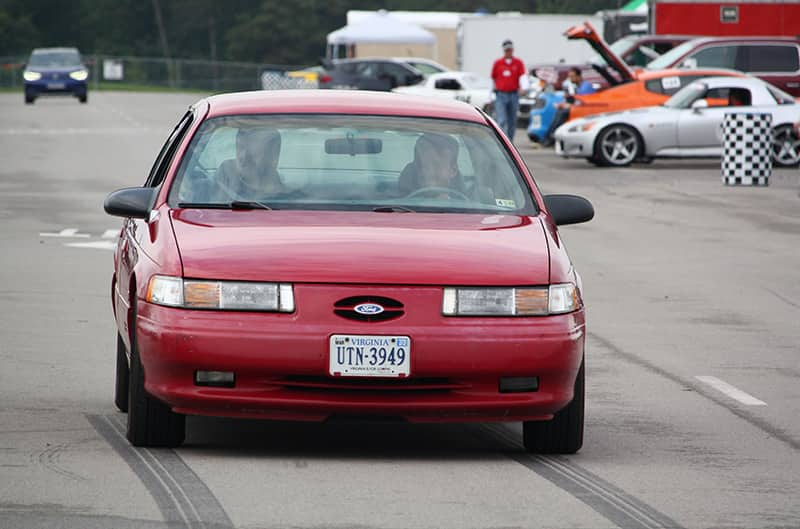 Then 1996 brought a longer, heavier Taurus that pushed the oval-aero theme even further – too far, unfortunately, for a lot of people's tastes. The SHO traded its V6 for a 3.4-liter V8, still engineered by Yamaha, producing 234 hp and 230 foot-pounds of torque; and all SHOs were now automatics. Sophisticated engineering included a semi-active suspension, but by 1999 sales had faded to just 3300, and Ford admitted that the SHO was over . . .
. . . temporarily. When another all-new Taurus appeared for 2010, the SHO reappeared, now powered by a 3.5-liter twin-turbo "EcoBoost" V6 producing 365 hp and 350 foot-pounds, mated to a six-speed automatic driving all four wheels. Some of that extra grunt was absorbed by the new car's 4346 pounds, but with a 0-60 time of 5.2 seconds, this SHO could out-run an Audi S6 V10. An optional Performance Package further fortified the running gear while adding engine and transmission oil coolers. Alas, this most powerful and sophisticated Taurus ever was discontinued after 2019, as Ford de-emphasized sedans in favor of SUVs.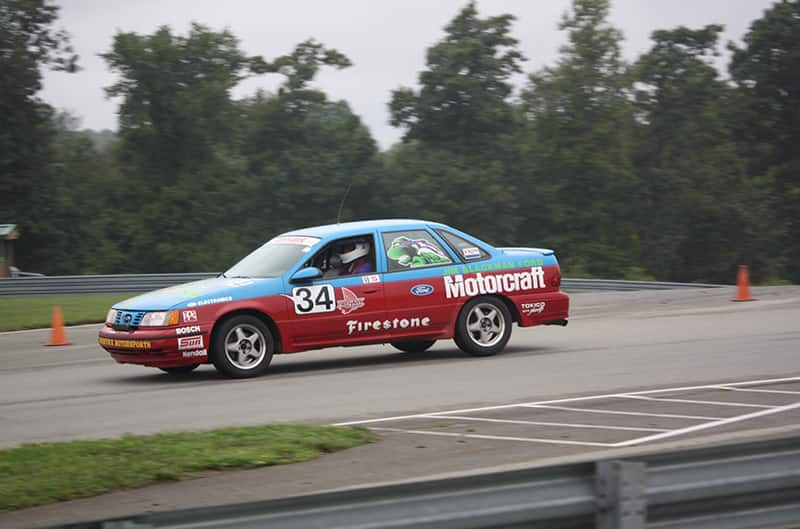 From the beginning, the SHO inspired a loyal fan base. The hot Taurus had barely hit the pavement when enthusiast Ron Mallinson launched SHO Fast Sedan News on an early online bulletin board – which in 1991 carried ads for an SHO Registry maintained by fellow devotee Bill Staib. More a club than a true registry (it never actually tracked serial numbers), Staib's organization held the first SHO convention in Peoria in 1992, with Benson Ford and other execs attending. Regional chapters sprang up around the country. Membership peaked around 5,500 in the mid-1990s, but interest waned after Ford discontinued the SHO for model-year 2000. Staib shut down the Registry, but shared its member list with Mallinson – who renamed it the SHO Club, and led it for 10 years before turning it over to his son, Ken.
Leadership changed again in 2014, but by that time rising costs and reduced resources combined to limit track days – which the Club considers integral to its conventions – and the conventions themselves became hit-and-miss. Current president Ron Porter accepted the gavel in July 2019, at "an impromptu Plan B convention" hosted by the Hartlemeiers at their home in Wisconsin. That same meeting, said Ron, saw the creation of an advisory council, "a return to a dues structure for funding," and a re-christening of the organization as the SHO Club of America.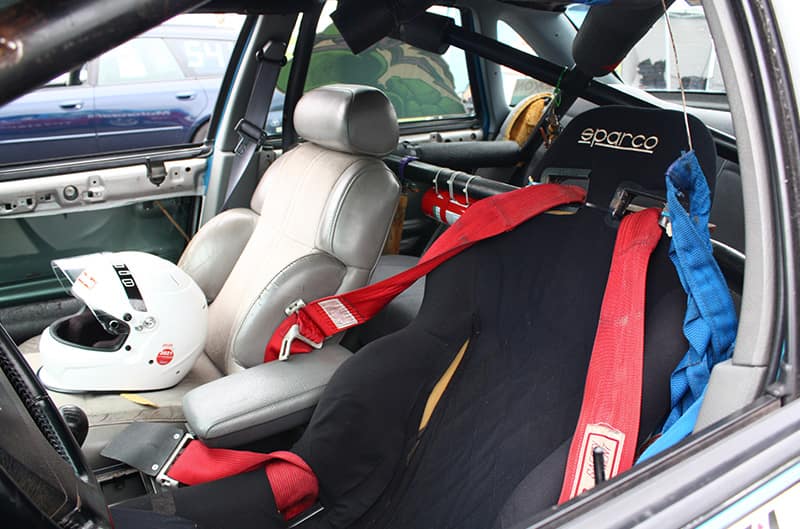 By leveraging a group/club program offered by the AutoInterests high-performance driving school, Porter arranged for the 2020 and 2021 conventions to synch-up with AutoInterests' Labor-Day-weekend event at PittRace. This past September, Ron reported, "We put 17 cars on the track." And while that's way down from the 30-60 cars that would have run 25 years ago, he sees it as a good start.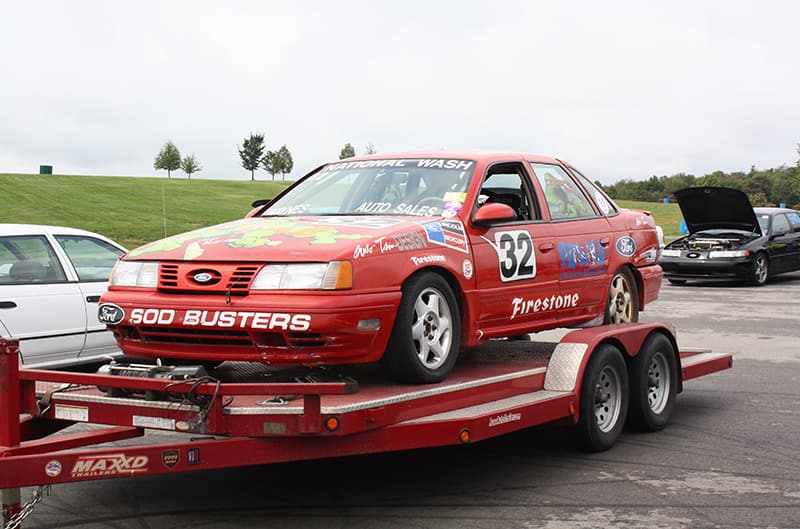 The 2021 convention kicked off on Thursday, September 2, with dyno testing at Six Star Service and Performance Fabrication in McKees Rocks. Friday's agenda at PittRace included a car show, go-karting, and a car control contest – a slalom followed by precision braking. Tim MacBrien, driving a modified '89, earned top score for car control. Delbaugh (in Donatello) collected awards for the best three-run average, and for fastest time through the slalom.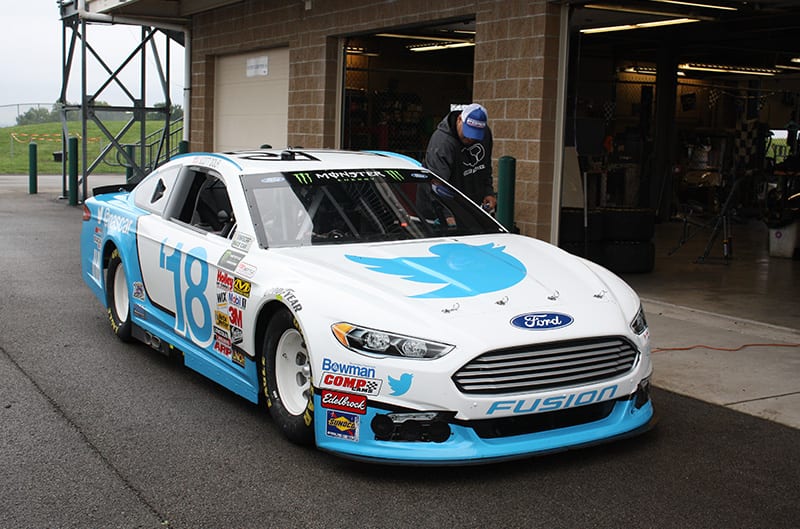 In the judged segment of the car show, entrants competed against a 400-point standard, in both stock and modified categories. Among the modifieds, Jim Friedel ('16), Tim Tyner ('94), and Chuck Curtis ('95) collected Gold; Curtis also took home Best in Show, Judged. Chad Corcoran ('95), Aaron Nelson ('95), Tim Ochal ('93), Felicia Varndell (Delbaugh's girlfriend, showing Donatello), and the Hartlmeiers (Raphael) scored Silver; while Delbaugh (with Michelangelo), Jack Cade ('91), Alan Fitzgerald ('13), Bill Theile ('11), Kevin Zeimer ('89), Mac Snyder ('95), and Tim MacBrien ('89) shared the bronze. The only stock cars to medal were Frank Costa's '89 (gold), Jason Benfer's '95 (silver), and Benjamin Kadic's '89 (bronze).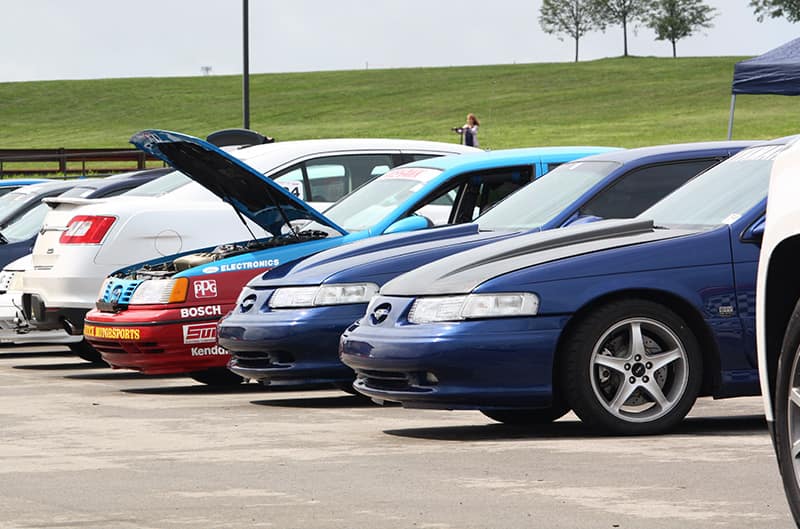 People's Choice voting for Best in Show produced a three-way tie among the Hartlmeiers' Raphael, the Friedel '16, and the Costa '89. Votes for Best Engine and Best Paint went to Corcoran and Nelson, respectively. Participants also voted for a Road Warrior Award, based in part on the best story behind a hard-driven car, which Brian Witkop secured for his well-worn '91. Glen Murdock received the Long Distance Award for his 1480-mile drive from Port Lavaca, Texas. There was even an award for the best non-SHO, won this year by Steve Bates for his 2009 Nissan GT-R. Members are encouraged to bring other track cars from their collection if their SHO isn't ready in time for the convention.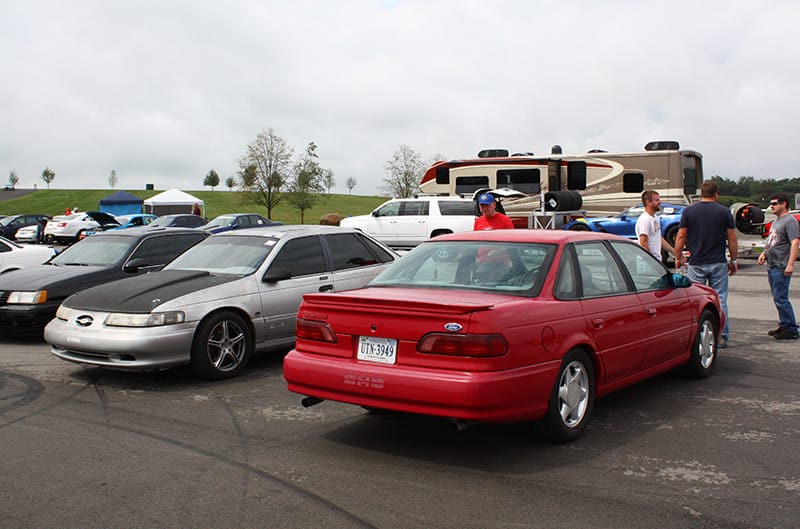 Saturday's scenic tour took the group to the Air Heritage Museum in Beaver Falls, and the National Packard Museum just over the border in Warren, Ohio. In the evening members gathered for an informal party in the hotel parking lot.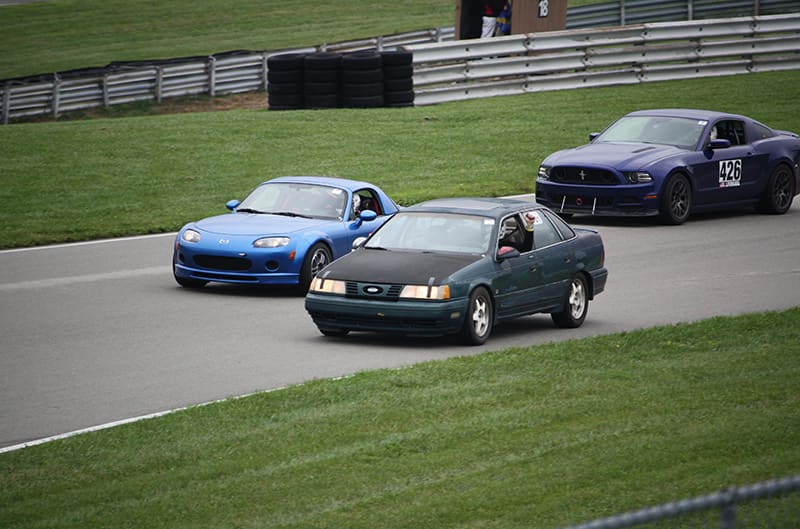 Sunday was track day on the 2.78-mile PittRace road course, where the SHOs shared the pavement with a few alternate cars brought by club members, and a wide range of machinery affiliated with the simultaneous AutoInterests event. Among the latter we spotted some interesting Fords, including a few older Mustangs, a couple of Panther-era Police Interceptors, and even an ex-Jamie McMurray NASCAR Fusion driven by collector Scott Dolfi. Festivities concluded with an awards banquet that evening.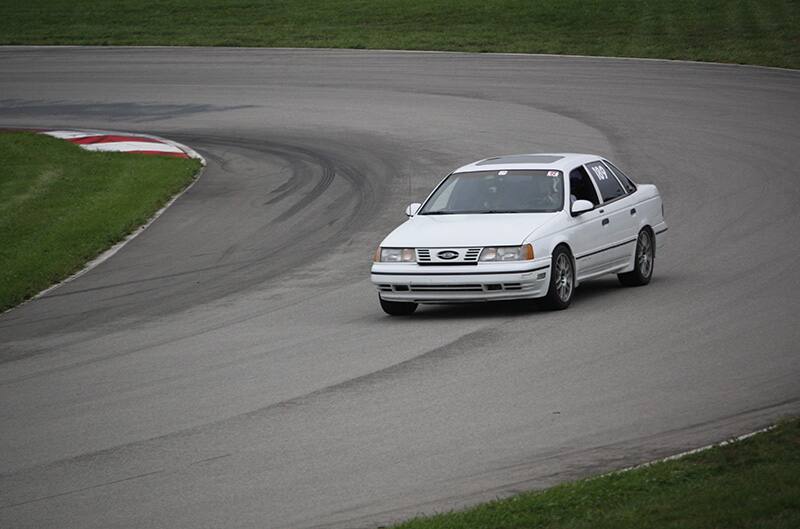 Porter plans to coordinate future conventions with AutoInterests, albeit at the school's mid-week rather than holiday-weekend events; he believes that weekdays will work better for most club members. At last count membership had rebounded to 125. "We have more members, and more young people," said Porter, which he finds encouraging. "Actually, we have a very wide age range. We have members in their early 20s, although they don't have money for a convention. And the guy in the white 2011 is turning 80 this year."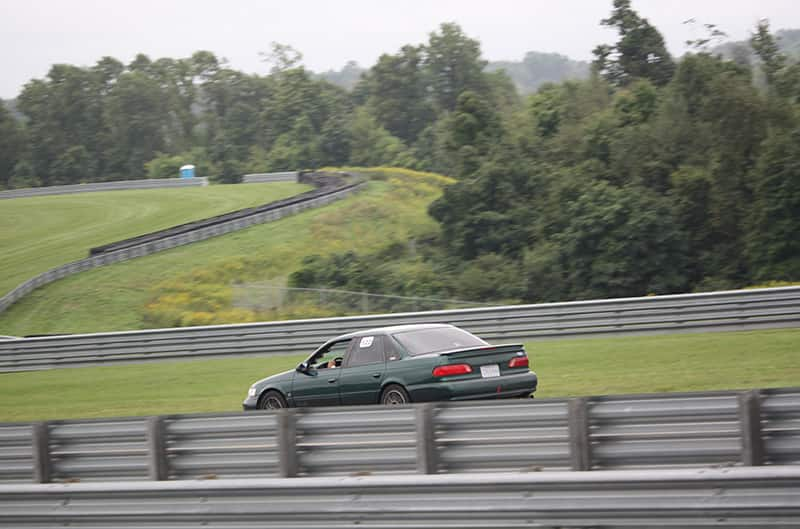 Matt Delbaugh first became aware of the Ninja Turtle team cars in 2004. He met Donatello's owner at the 2014 SHO Convention in Texas, and offered to buy the car, sight-unseen. An initial no became a yes the following January. Matt has since restored Donatello to its 1991 configuration, with some modification to make it street-legal. Most of Donatello's paintwork is original, but the unique Turtle image was missing from the engine hood. "So I found Michael Lewis, who was still living in Maine, and he graciously recreated the Turtle he had drawn over a quarter-century before." The work was done in time for Carlisle in 2017.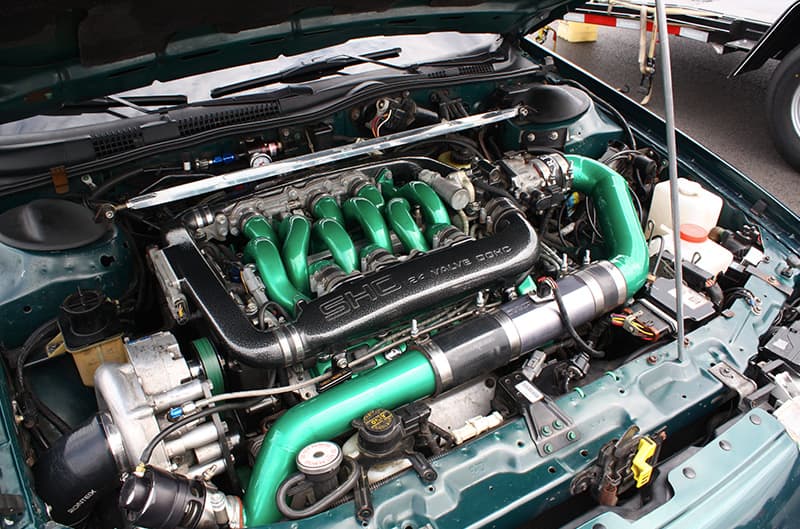 Matt spent years hunting for Michelangelo, which had been sold at least twice after the 1995 auction, and eventually stored in a barn near Toronto. Matt found it and bought it literally a week before the 2020 convention. He described its current condition as "track-worthy" but "rougher mechanically" than Donatello. Amazingly, most of its 1992 Canadian livery has survived intact. "The really interesting thing," Matt noted, "is that somebody repainted it, but they meticulously taped off the original Turtle and other graphics." So in this case the Michelangelo on the hood is the one Michael Lewis drew in 1991.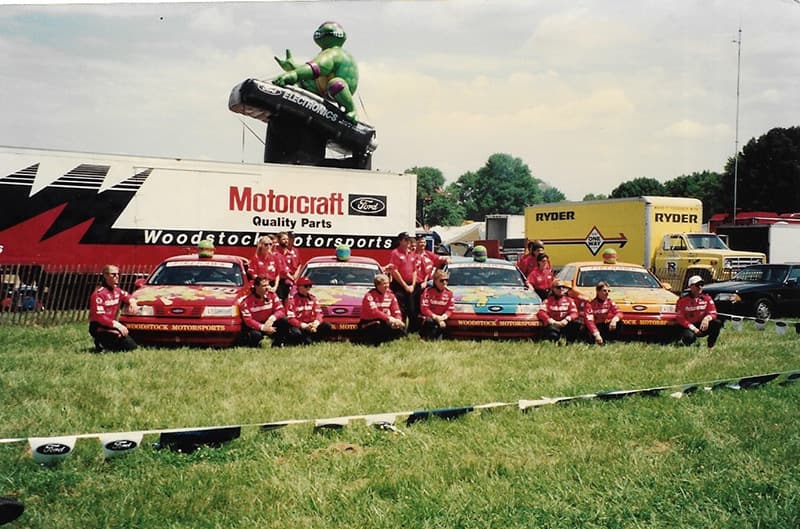 It is believed that both Donatello and Michelangelo were used as track-day cars after their 1992 retirement from racing. But Raphael's new owner stripped out what remained of its interior and further modified it for the Canadian Automobile Sport Clubs (CASC) GT3 Division, where it raced as recently as 2001. Subsequently, SHO Club member Ryan Pasch purchased Raphael, repatriated it to the U.S, and fixed it up it cosmetically with new paint and decals. He showed it at Carlisle in 2009 and at the SHO convention the following year. Then Pasch disassembled the car for a mechanical restoration that was never quite completed. He sold it to the Hartlmeiers around 2017, who completed the restoration – keeping many of the GT3 modifications. "And we've used it as a track-day car since," Adam reported. "It has a lot of bolt-on performance that would not have been allowed in the Firehawk series," including bigger brakes and a limited-slip differential. "That makes the car a little bit more enjoyable on the track."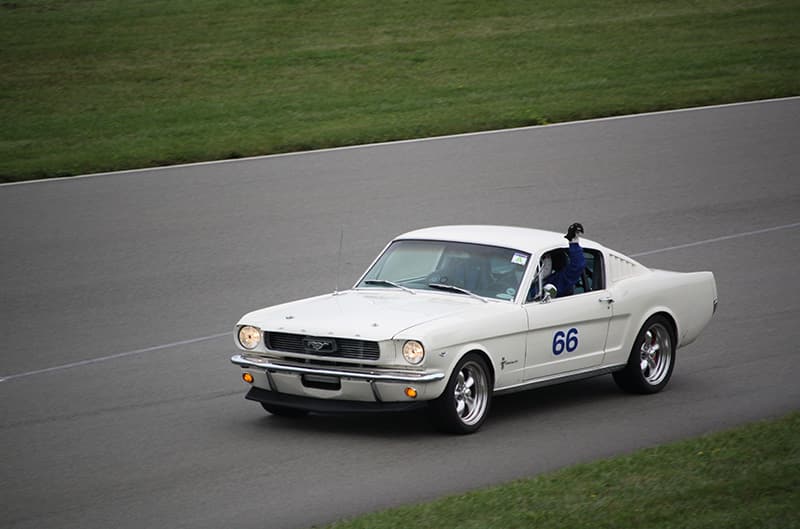 Leonardo, according to Hartlmeier, was purchased by Cape Cod collector Lee Miller around 1995, possibly at the Markham auction. Miller modified the engine with high-compression pistons and a more aggressive cam, and at some track-day event the whole thing grenaded and caught fire as shrapnel sliced through a fuel line. The fire was brought under control, but not before most of the plastic on the right side of the car, along with the rear bumper, was seriously charred. Miller replaced the shattered motor with a stock SHO unit, but rarely, if ever, drove Leonardo again. Porter recalled seeing the fire-damaged car at the SHO convention in 1998. He learned of its whereabouts through former SHO owner Jim Merriman, and connected Hartlmeier to Miller.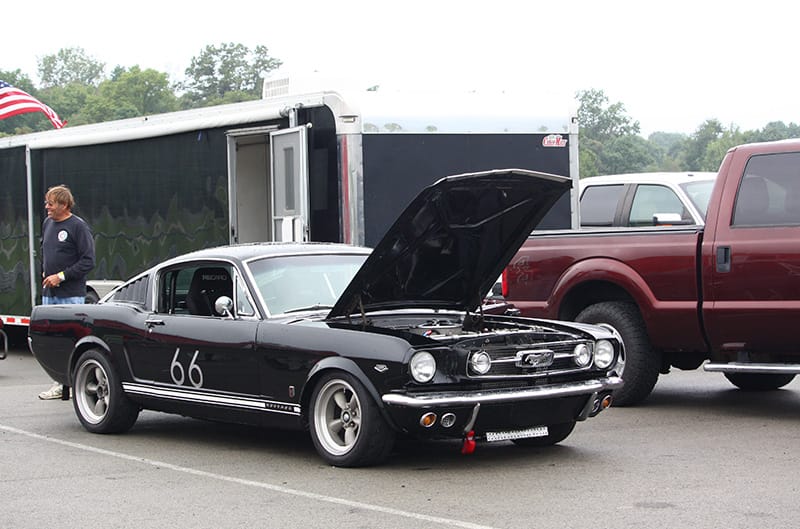 "We've since got it running," said Adam, "but it's nowhere close to track-worthy." Esthetically, "I plan on repairing it as minimally as I can. It still has the original Ninja Turtle on the hood, and the original decals on the rear windows. It's mostly original as it when it last raced in 1992. So we don't plan on re-painting or re-decaling the entire car." Leonardo is the only member of the team that did not appear at the 2021 Convention.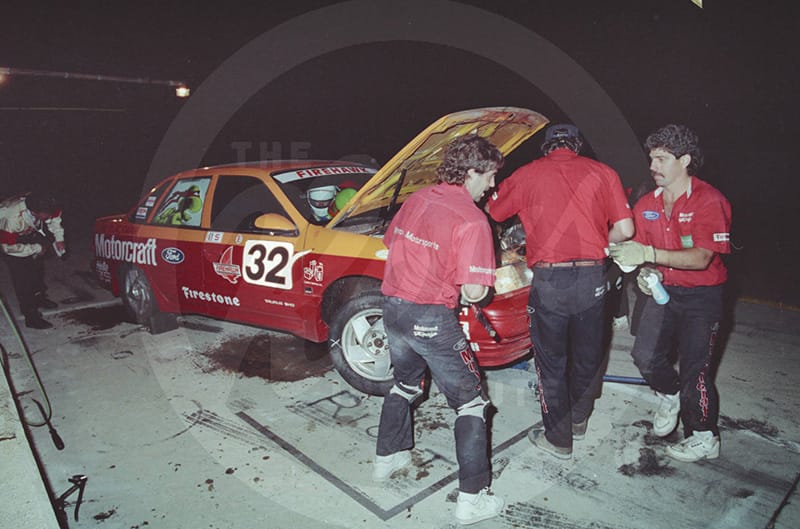 Still, given the short and brutal life of most race cars, it is remarkable that all four of the Ninja Turtle SHOs have survived – and that even three of them were reunited at PittRace last year. "My biggest takeaway from the event," said Delbaugh, "is that, for the first time since the 1992 Firehawk, we had three of the cars together on the track. And on the parade lap we drove them three-wide down the front stretch."
Historic photos courtesy of Adam Hartlmeier. Photos of Michelangelo, Donatello and Raphael together at PittRace by Tom Ochal. All other photography by John F. Katz. Thanks to Ron Porter, Matt Delbaugh and Adam Hartlmeier for sharing their knowledge and research.