ORANGE COUNTY, Calif. – So, you think you're a Ford person? If you're reading this story on this website, you probably are. But you've never met one like Dr. Luis Chanes, or seen a Ford Fort Knox like his magical Southern California "car barn." Not only does Mr. Chanes know what he likes, but he gathers, collects and curates it to the proverbial Nth degree. It was our good fortune to visit this Blue Oval Man Cave on the occasion of "Lu" taking delivery of his new 2021 Mustang Twister Orange Mach 1.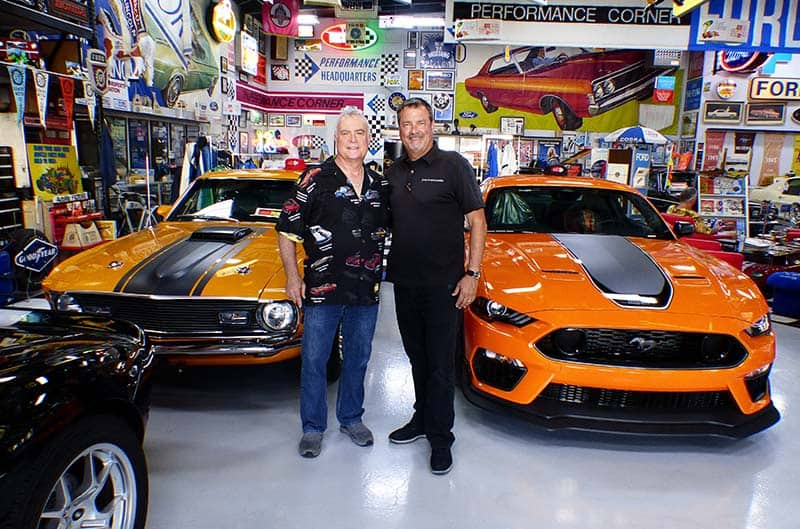 Why a new Mach 1 in Twister Orange? To keep his other fabulous Mach 1 Twister company in the garage, of course. That "other 1" is a very special, limited-production 1970 Twister, although at the time the color was actually Grabber Orange, but it's all close 'nuff.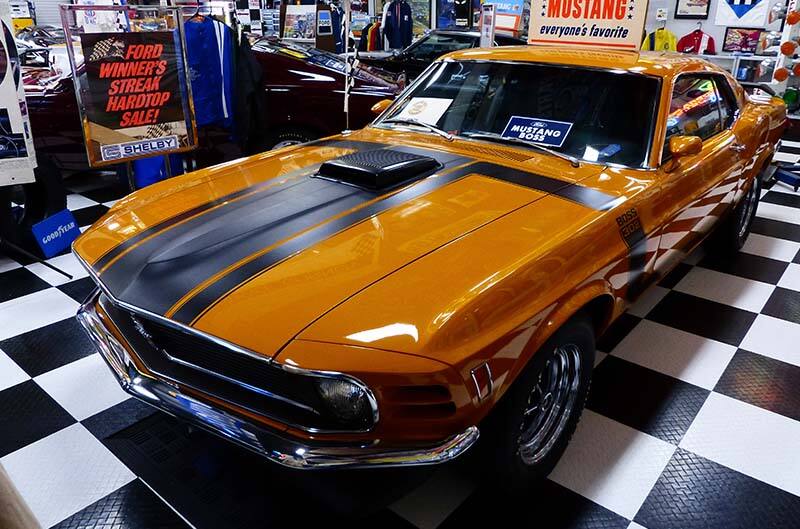 Not familiar with the Twister Machs? At the time (late 1960's to early '70's), Ford was amenable to producing limited runs of special-edition models for certain groups and to certain spec through its Special Promotions Department. The most identifiable among them is the 1968 Mustang Grand Touring / California Special, or GT/CS, for California markets and dealer groups. Colorado soon jumped on the same bandwagon with a very similar car badged and trimmed as the High Country Special. In 1970 (then again in 1985 and 2008) Ford put together a special badge and graphics package for a "tornado belt" bespoke Mustang model for the Kansas (and Missouri) dealer region. The Twister name (and unique badge/sticker graphic) riffs-off of the region's nickname for a tornado, which is of course a twister."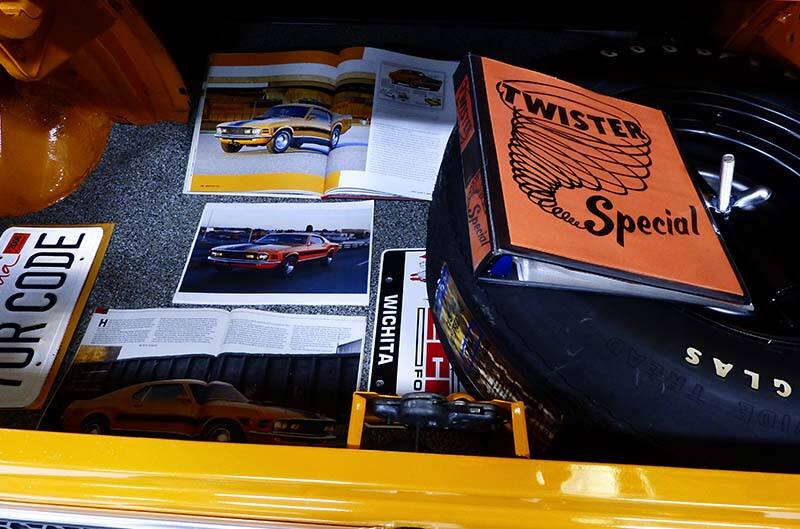 It was primarily an appearance package, focused on look, identity and performance, and a dynamic one at that -- with the brilliant Grabber Orange as the primary paint color, punctuated by crisp, black stripes and graphics. The original sales goal was 100 cars, ultimately with 96 of the Orange screamers produced. About half were built powered by 428 Super Cobra Jet V-8s, while the other half ran 351 4-barrel Clevelands; equally the same ratio of 4-speeds, the rest C-6 automatics. These unique Machs were spec'd out for performance, so AC and other power-robbing extras needn't apply. Standard were the Drag Pack equipment package, comp suspension, Magnum 500 wheels and 3.91:1 Traction-Lok diffs. The only mild nod to comfort was tinted glass. Ford did not produce any six-cylinder or base V-8 Twisters.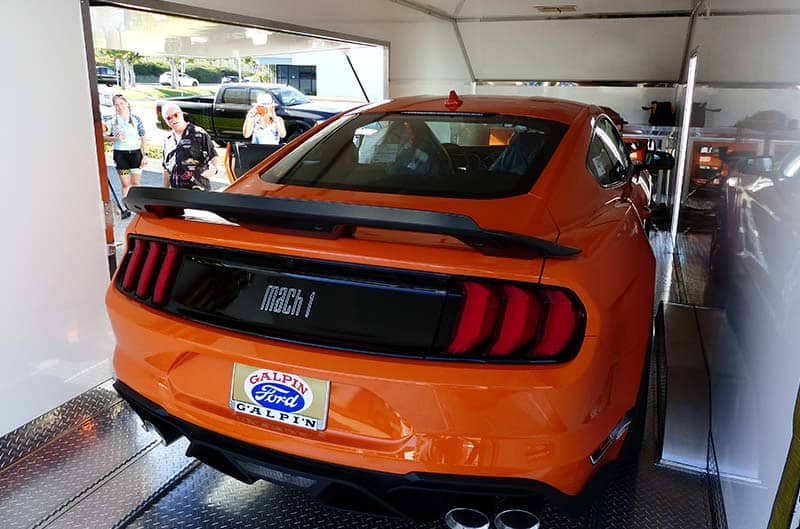 With less than 100 built, these buggies were very light on the ground at the time, and exceedingly rare and highly sought-after today. All were produced during a very short special factory run in late 1969, and are identical save for transmission choice. They were very thinly spread over the Kansas City region's dealers to include Kansas, Missouri and Arkansas – 96 cars for three states doesn't leave warehouses full of them.

Dr. Chanes' 1970 Twister, although driven now and again, is fully restored and virtually mint. It's a 428 SCJ, automatic-equipped example, and dead stock and correct in terms of appearance and equipment. So why not add a new, identical (or as close as possible) Mustang Mach 1 to complete the set?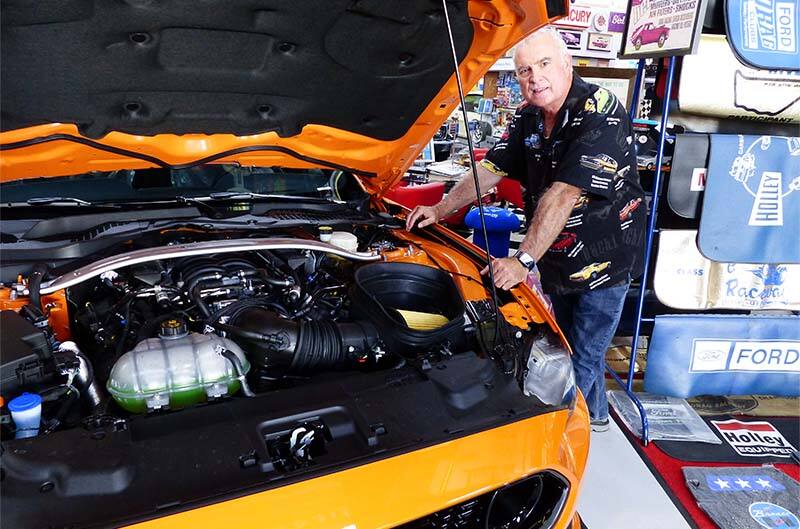 Chanes checked in with several Ford dealers in search of detailed Mach 1 ordering information before landing at the informed and influential doorstep of Galpin Ford, in the name of Special Projects and VIP sales manager Steve McCord. Chanes and McCord worked together to develop an order for the exactly right new Mach 1 that would look just the part, be a blast to drive, and mate nicely with the '70 Twister. Which all brings us to this warm August day in 2021, at the gates and doorstep of Chanes fabulous, fantasy Ford collection.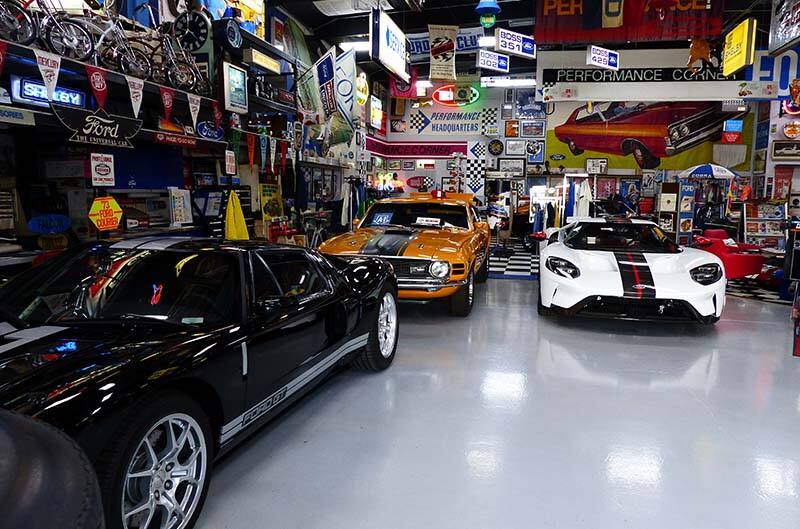 It corners a busy Orange County street, and at least a thousand people drive by this non-descript R & D warehouse building daily having no clue as to what's inside. There are no signs, no sirens, no spotlights and no fanfare -- which is exactly how Dr. Chanes likes to fly. We rode to this mystical place in the truck with McCord, Galpin's trailer containing the brilliantly orange new Mach 1 in tow; the new car includes as standard equipment lots of luxury, tech, and convenience touches that the old '70's did not, and of course performance and handling the original couldn't dream of. Chanes ordered this car with the 10-speed automatic transmission, keeping it close in concept to his classic Twister.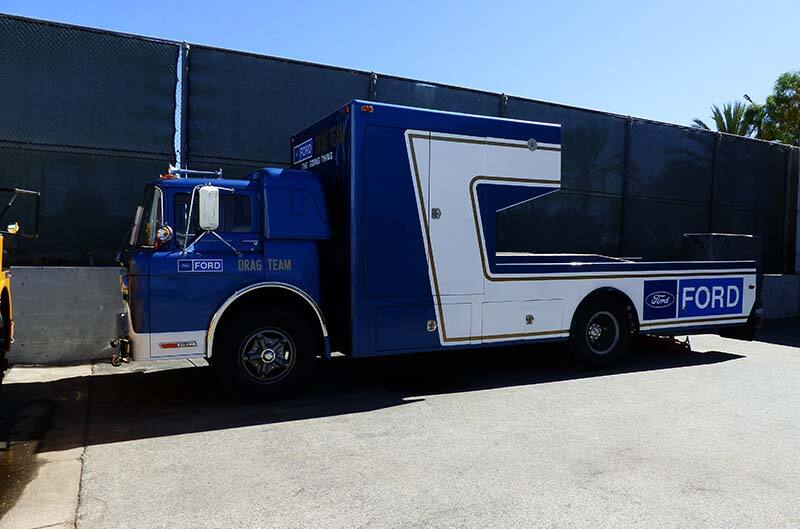 After docking the truck and trailer, were led behind the gates into the compound only to be met by vintage Ford race car transporters. One particularly interesting F600 COE truck was the former team hauler for Ohio George Montgomery's "Malco Gasser" AA/Gas Mustang racing team; an unusual piece with a piggyback extended sleeper cab mounted just aft of the doors, and a refrigeration truck AC unit mounted on top. Plus the most immaculate '71 Torino GT you can imagine. This '351 Cleveland 4V/Automatic machine wears less than 40,000 original miles, and its original burgundy/maroon paint. The loader trucks and Torino were the barest morsels of what we'd see when the roller door cranked open.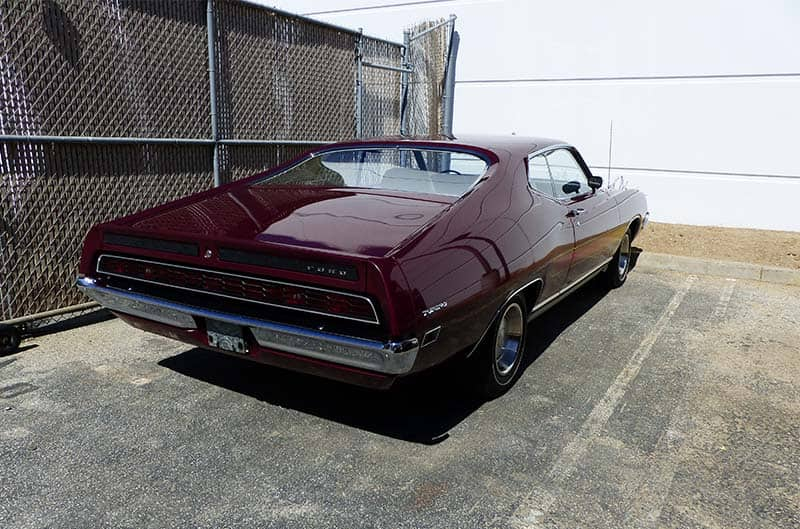 We were modestly warned, yet not at all mentally prepared for the kaleidoscope of color that bursts all over the inside of this tall, spacious building; a smorgasbord of period Ford color, light and dazzle everywhere you look. Two Ford GTs sit up front, Chanes' minty new, white Ford GT, plus an elegantly sinister black '05. To paraphrase that Renee Zellweger line from the film Jerry Maguire, "You had me at Hello."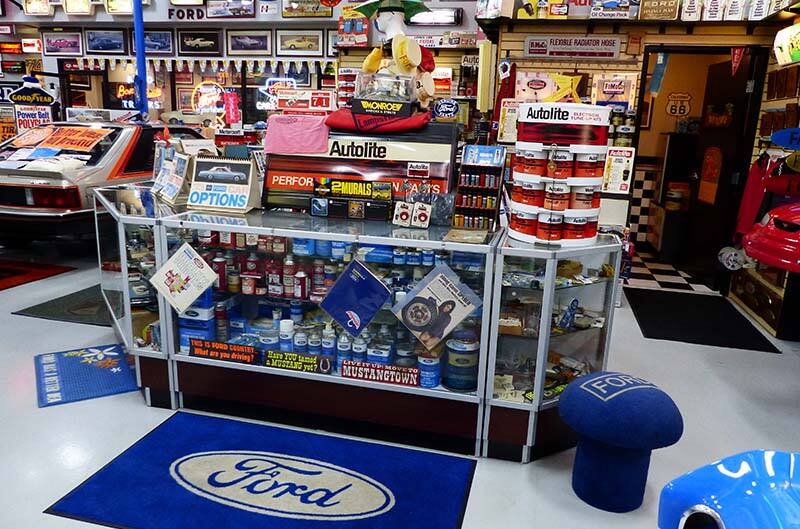 The room unfolds, revealing a Ford and Mustang greatest hits collection, to include a breathtakingly orange '73 DeTomaso Pantera L in its original paint, with less than 1,000 miles on the odo. Plus a few Mercurys and a killer first-gen Bronco. And the most immaculate, authentically restored Maverick Grabber you'll ever see. An immaculate Pinto. Kid-sized motorized Mustang and GT40. Virtually new '79 Indy Pace Car Mustang 302 4-speed. Mustang IIs, too. 1960's bicycles, Honda minibikes. Tools.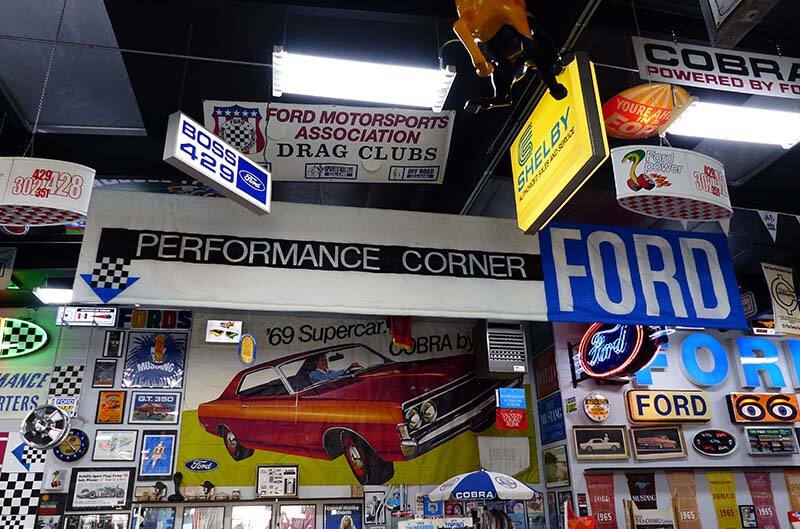 Shelbys? Sure. Got 'em. Bosses? Got 'em all too; at least one each 302, 351, and 429. All showroom fresh, immaculate, ready to go and fire on the button. A '68 Mustang 428 Cobra Jet? Natch.
And this is just the showroom – not to mention "the shop" that's a driveway or two away; this is where the cars are fettled and restored. A big-banger Mercury Cyclone Spoiler 429, Rancheros, more Mustangs, another Bronco, a period-perfect, restored early '70's Econoline camper van, NOS stuff and parts, and engines and future projects hidden beneath covers.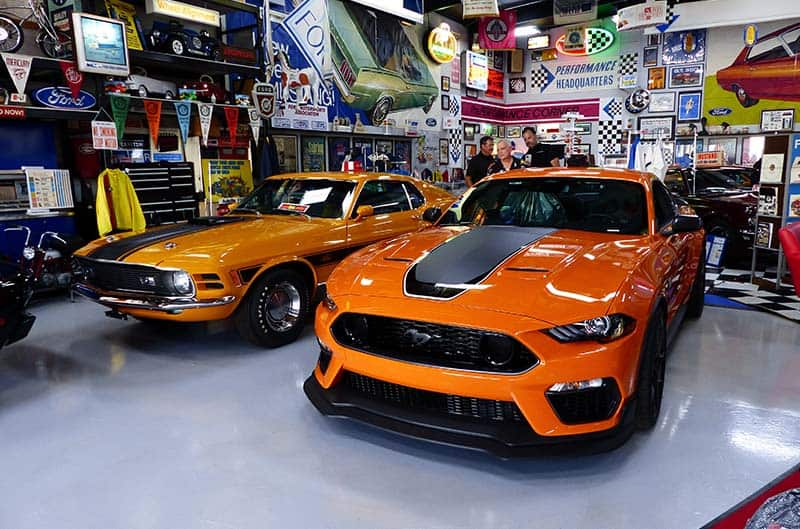 If you haven't already hyperventilated, you'll be deep-fried and blown away by the definitive gathering of Ford factory dealer point-of-sale and showroom display; signs (indoor and out), neon, posters, promotional resin models and die-casts, optional equipment display cases, vintage Philco radio and TVs, parts-counter displays for oil, filters, batteries and touch-up paint. Plus dealer books and catalogs galore. Jackets, clothing, hats, keyrings. It just doesn't stop.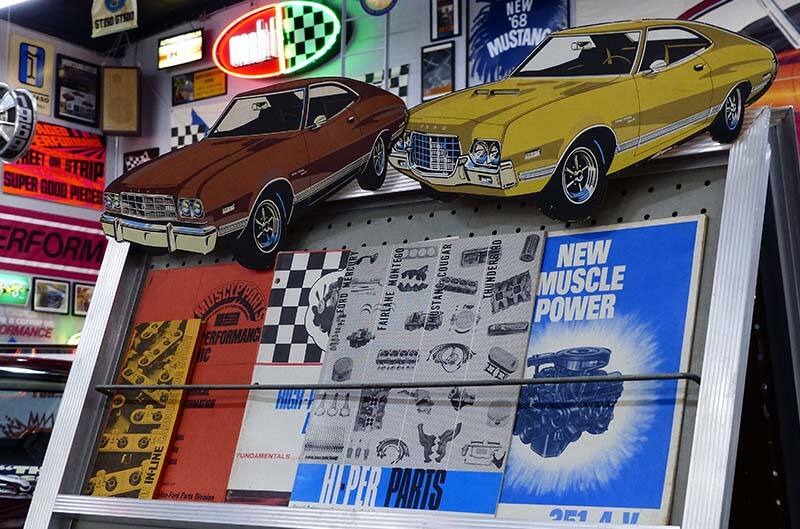 For as much stuff as is packed into this immaculate building, its beautifully presented, not just junked-in or strewn about. One man spent a couple years of his life arranging, assembling, constructing, hanging and in fact curating this amazing collection as if destined for the New York Museum of Contemporary Art, or the Smithsonian. Because that's what it is: An amalgam of art, history, pop culture, and dealerphinalia of Ford's greatest muscle cars, assembled with superb museumcraft.
Naturally this main showroom building contains several comfortable entertainment areas, including a full bath and shower, kitchen, office, and gameroom/bar (and don't miss the sure-to-be-rare Boss 302 themed pinball game).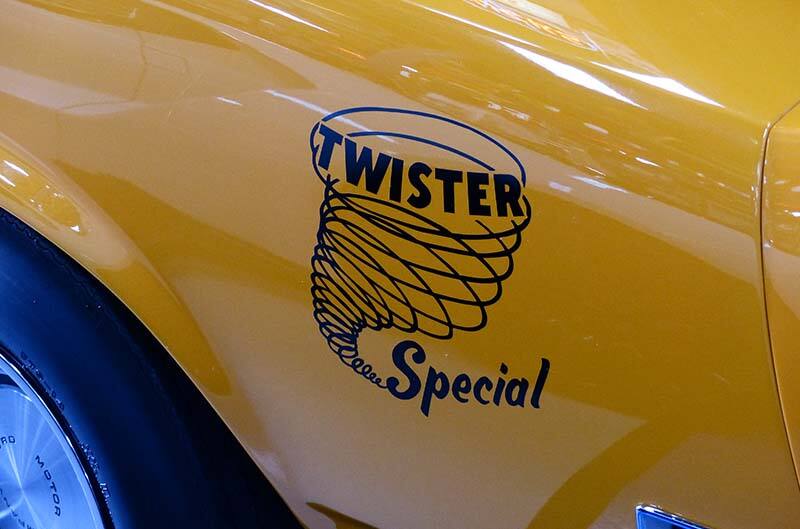 Comparing the new Mustang Mach I to the '70 Twister Mach, it's absolutely obvious that they are cousins -- if not brothers; some of the proportions, shapes and details are clearly and logically connected, yet of course the new car is distinctively evolved from the five-decades-old original. It's immediately obvious that the original Grabber Orange is a slightly darker, richer hue than that of 2021's Twister Orange, but both look great. Chanes and McCord did the traditional key handoff, and it was done.
The new car of course doesn't wear any Twister graphics or ID, and Dr. Chanes added that some guys involved with keeping track of Twister cars and owners will provide him with reproduction -- but absolutely NOS-looking -- vinyl stickers of the original Twister fender logo graphics. We asked if he planned on getting a pair for his new car, to which he quickly replied, "Yeah, why not?" We also inquired if he intended to order up a new Shelby GT500 to go with his group of '60's GT500s – to the same answer, "Year, why not?"
Indeed, why not?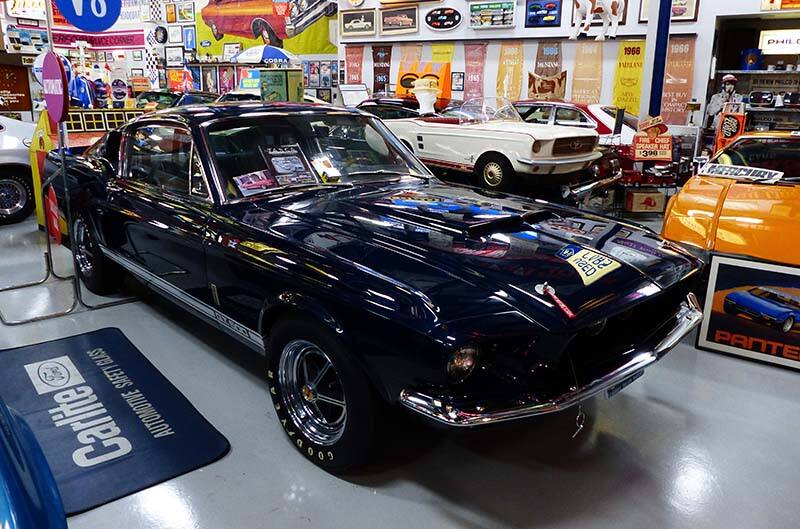 PHOTOS COURTESY MATT STONE / INSPIRED COMMUNICATIONS