Established on November 11, 1926, Route 66 may be America's most famous historic highway. However, despite being permanently etched into the fabric of American culture by songs like Bobby Troup's "(Get Your Kicks on) Route 66," and being featured in John Steinbeck's classic novel, The Grapes of Wrath, "The Mother Road" isn't actually America's original interstate. Barely more than five short years after the Ford Motor Company was incorporated on June 16, 1903, Henry Ford unveiled his Model T on October 1, 1908. As Americans began to move out from behind the reins of a horse and into the driver's seat of Ford's revolutionary new automobile, Indiana's Carl G. Fisher envisioned a "coast to coast rock highway" that would allow safe and efficient travel from the Atlantic all the way to the Pacific.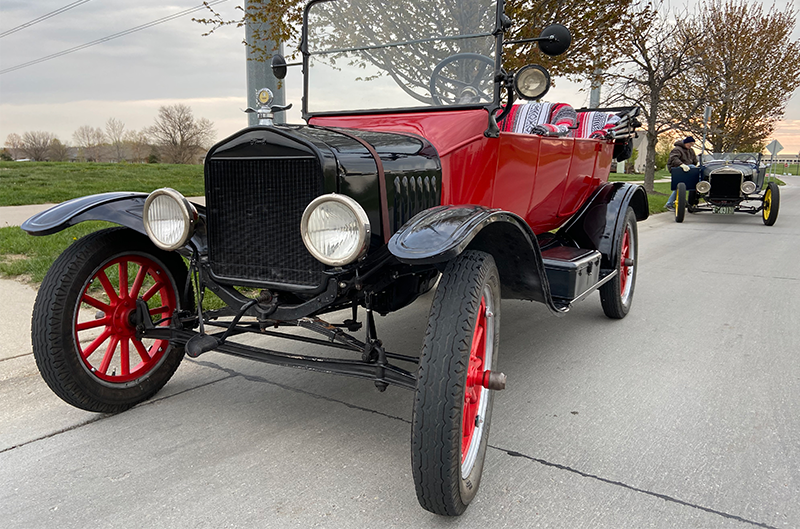 Fisher, an accomplished entrepreneur in his own right, had made a name for himself by manufacturing Prest-O-Lite automobile headlights, and investing in the construction of the Indianapolis Motor Speedway. By September 1912, Fisher began campaigning his idea for a transcontinental highway, to be named in honor of the nation's slain 16th President, pitching donors his belief that the project could be completed in time for the Panama-Pacific International Exposition in San Francisco on May 1, 1915. Donations began to trickle in from across the country, with industry heavyweights such as Goodyear Tire and Rubber Company's president Frank Seiberling pledging $300,000, and Henry Joy, president of the Packard Motor Car Company, pledging $150,000. Additional notable contributions were made by Thomas Edison, former President Theodore Roosevelt, then-current President Woodrow Wilson, and even a small group of children from Anvik, AK whose donation included a note that read, "Fourteen pennies from Anvik Esquimaux children for the Lincoln Highway."
At the time, the United States Federal Government was not yet in the business of building roads, so the Lincoln Highway Association (LHA) was founded on July 1, 1913, with Henry Joy as its president, "to procure the establishment of a continuous improved highway from the Atlantic to the Pacific, open to lawful traffic of all description without toll charges." The first portion of the highway to be completed was dedicated in New Jersey on December 13, 1913. As more sections of the road were completed, excitement built among the cities and townships through which the highway would pass. Small business owners and city councils alike recognized the potential economic impact that would likely accompany their out-of-town guests. Fuel stations, hotels, auto repair shops, barber shops, and general stores all stood to benefit from the increased traffic. And as their predictions turned to reality, convenient, low-cost, roadside motels began to sprout up along the nation's new automotive artery.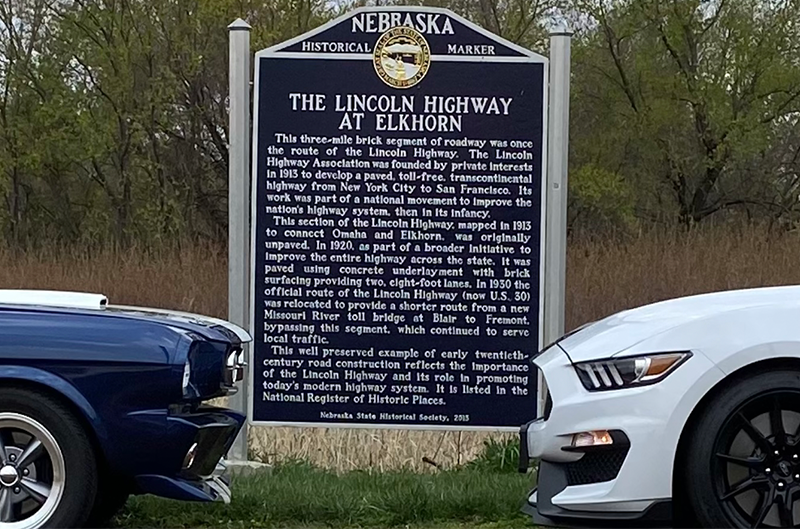 Henry Ford had declined the LHA's requests to donate funds for construction of the new highway, citing his belief that the building of public roads ought to be a governmental obligation. The Good Roads Movement eventually proved Mr. Ford right, when President Wilson finally signed the Federal Aid Road Act on July 11, 1916. The new law allocated $75 million of federal funds to match states' investments in new road construction over a five-year period. It also marked the first time the federal government actively participated in such activities. With ample funding now available, additional improved roads proliferated across the nation – many christened with inspired names such as the Yellowstone Trail, Victory Highway, and National Old Trails Road.
By 1919, the Lincoln Highway stretched across more than 3,000 miles, from Times Square in New York City, to Lincoln Park in San Francisco. But while many portions of the highway were genuinely well-built and welcoming to motorists, there were large swaths across the Great Plains and into the Rocky Mountains that remained little more than the wagon trails of days gone past. So, on July 7, 1919, the United States Army Transcontinental Motor Convoy departed the White House and merged onto the Lincoln Highway in York, Pennsylvania. The convoy of nearly 300 men and 80 vehicles headed toward the West Coast to test the efficiency of cross-country motorized troop deployment for the Department of Defense. By the time the convoy reached Oakland, California, on September 5, a total of 230 road incidents had left them short 21 men, nine vehicles, and an entire week behind schedule. The exhausted convoy ferried to San Francisco the next morning, and upon their return, convinced the government that a fully functioning network of paved roads was absolutely essential for the nation's defense.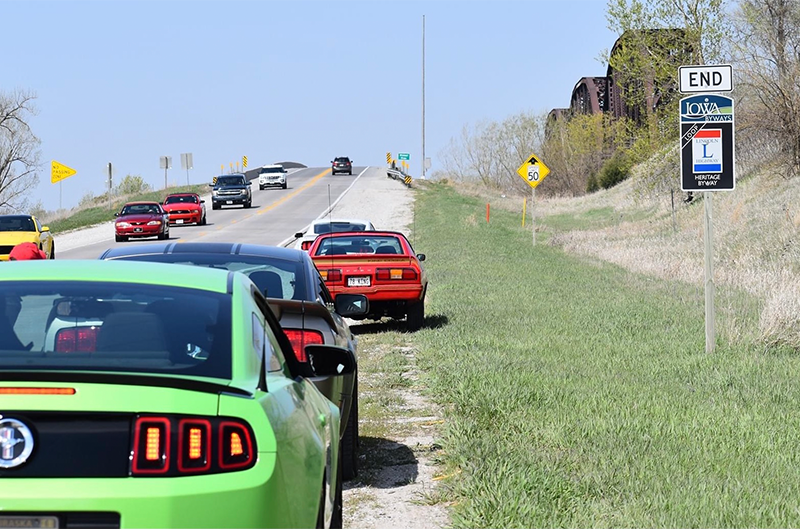 Ford's 10 millionth Model T rolled off the Highland Park production line on June 4, 1924. To celebrate the milestone, Ford shipped the car to New York, where Ford race car driver Frank Kulick took over driving duties. Kulick subsequently navigated the T along the Lincoln Highway, stopping periodically for photo ops with local press, all the way to California. The promotional tour was a rousing success, and Henry saw another 5 million units of his beloved machine produced before son Edsel's Model A replaced it in 1927. By that time, the federal government, with the support of the LHA, had instituted a new numbered system to greatly simplify road signs across the country. In doing so, the old Lincoln Highway was relabeled US 1, 30, 530, 50, and 40, as it progressed west from the east coast.
In 1928, the Boy Scouts of America placed roughly 2,400 commemorative concrete posts, each adorned with the red, white and blue "L" insignia, directional arrows, and a bronze medallion bearing President Lincoln's likeness, along the route. President Dwight Eisenhower, who'd participated in the 1919 convoy, signed the National Interstate and Defense Highways Act in 1956, authorizing the biggest public works project in U.S. history, and simultaneously creating Interstate 80, a thoroughly modernized road designed to re-route the majority of traffic away from the old highway. Years later, however, the long-disbanded Lincoln Highway Association would re-form in 1992, "... to identify, preserve, and improve access to the remaining portions of the Lincoln Highway and its associated historic sites."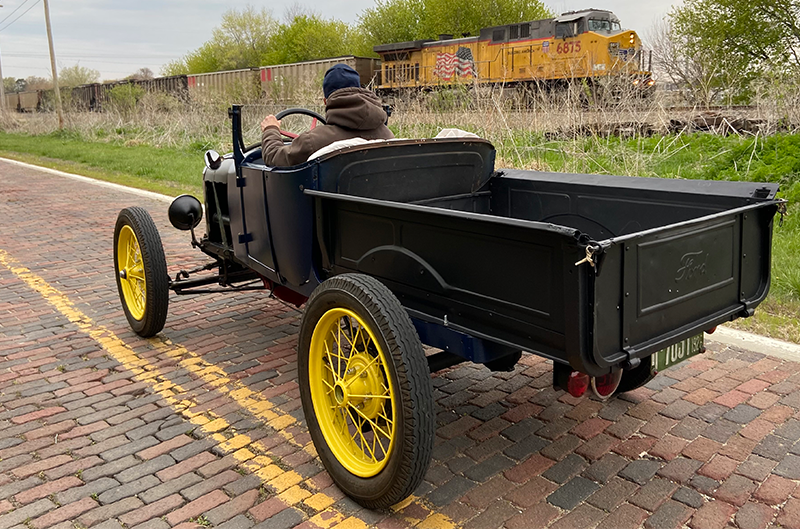 In 2003, Ford's Lincoln-Mercury division worked with the modern LHA to sponsor a 90th Anniversary Tour of the remaining route from Times Square to Lincoln Park. And in 2013, the LHA hosted another driving event to celebrate the road's centennial anniversary. More than 270 participants from around the globe set east from San Francisco, and west from New York, driving everything from Packards and Tuckers to Model Ts and Mustangs. The separate groups convened in Kearney, Nebraska, and were joined by an additional 250 vehicles and 12,500 spectators to celebrate in downtown Kearney, and at the Great Platte River Road Archway.
So just what could be so special about a 108-year-old road, that it inspires such passionate enthusiasm today? To find out, the Centennial Model T Club (CMTC) and Mustang Car Club of Omaha (MCCO) rounded up two-dozen of their best mounts in historic downtown Elkhorn, Nebraska, on Sunday, April 25, 2021. While Elkhorn boasts a variety of fabulous restaurants whose menus feature foods as delicious as the vintage charm of their buildings, its biggest treat is located just a quarter-mile east of downtown. Here, one can find the single best-preserved section of the original Lincoln Highway remaining anywhere in the country. Listed on the National Register of Historic Places since 1984, this three-mile stretch of brick road extends between 174th and 204th Streets, just north of West Dodge Road. Currently closed to local traffic, the century-old motorway has been thoughtfully preserved by the City of Omaha ever since. Special permission was kindly granted, however, by the Omaha Police Department (OPD), for Ford Performance and the local car clubs to conduct a small photoshoot atop its weathered bricks.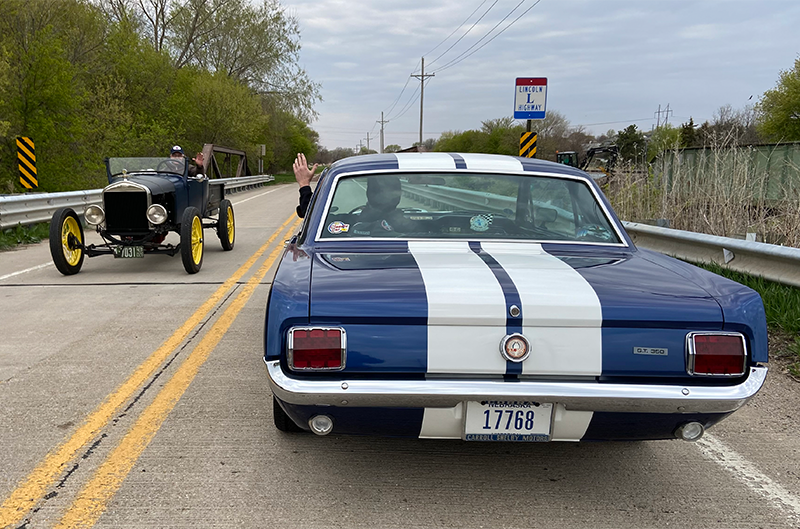 Following the patriotic photoshoot of red, white and blue Mustangs owned by Robert Kennedy, Mike Intrieri and Jack Seeber, Model Ts owned by Curt Carrick and Doug Wilson, and even an impressively equipped OPD Explorer (driven by Officer Joseph Wherry), the clubs traveled northwest on Elkhorn Drive/Lincoln Highway, along W. Maple Road, and north on Highway 275, before hopping back on W. Reichmuth Road/Lincoln Highway to equally photogenic downtown Valley, Nebraska, for more pictures. MCCO members then continued farther northwest along W. Reichmuth Road/Lincoln Highway, between Highway 275, and the Platte River. The Mustang club stopped again for a particularly delightful photo opportunity in front of Kim and Andy Schnatz's incredible 120-year-old barn. The herd then stampeded up NE-36 and 31 until they could reconnect with the modern Lincoln Highway/U.S. 30, passing through Kennard as they headed east toward to Blair, and just across the Missouri River to Iowa, where members snapped a few final pics with the Abraham Lincoln Memorial Bridge, and the Union Pacific's Blair Bridge.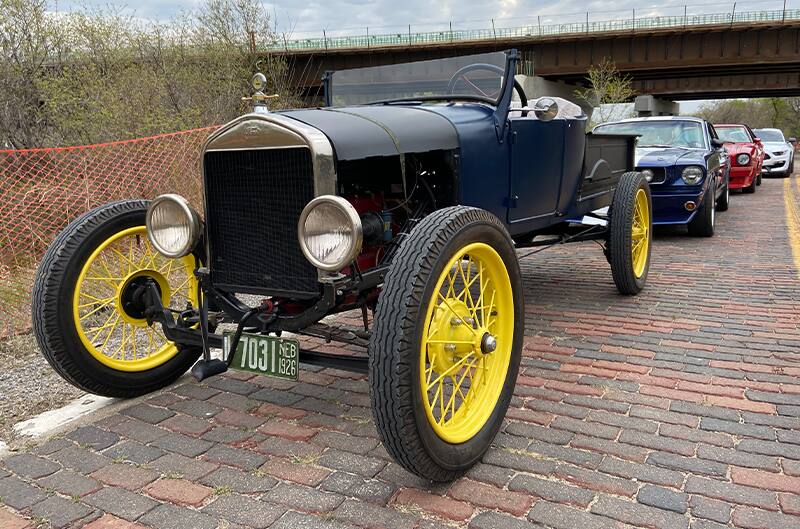 Although the official tour had ended for the day, the historic highway's mysterious appeal had clearly worked its magic on the club's members. Nearly everyone trotted their Hi-Po ponies back down to Elkhorn, and enjoyed an ice-cream cone at the area's favorite local soft-serve shop, Dairy Chef, located just a few minutes' walk from the historic brick section. On a personal note, having the unique privilege of driving the red King Cobra, and riding in each of the other cars selected to traverse those weathered bricks, I was amazed by the differences in character that could be felt through the suspensions of each machine. Not surprisingly, the IRS in Mr. Intrieri's 2020 GT350 provided a far superior ride to the stick axles in Mr. Seeber's '65 and my '78. What was most impressive, however, were the sights, sounds, and even smells that I experienced while traversing the old road in Mr. Carrick's Model T. Although still clutching my smartphone in hand, I felt as though I'd been transported back to a time in which life was generally simpler, yet travel was so much more difficult.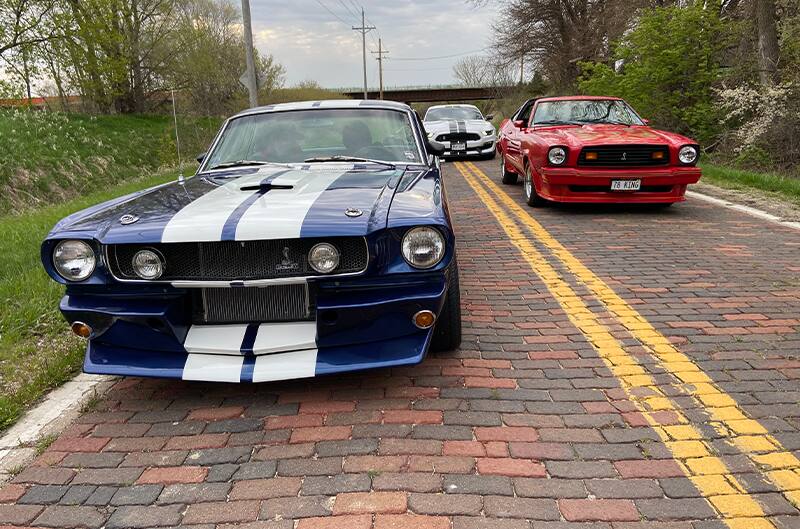 Much has changed in our country since the first bricks were paved along Mr. Fisher's "coast to coast rock highway." Model Ts have given way to Mach Es, and road maps have been replaced by mobile apps. And although it took the United States Army Transcontinental Motor Convoy two months to travel the entirety of the Lincoln Highway, that distance can now be covered in just a few days, by anyone armed with a modern vehicle, a GPS, and a few caffeinated beverages. Today, there are many larger-than-life roadside attractions, monuments and campgrounds that can be found along the Lincoln Highway – if one only takes the time to visit lincolnhighwayassoc.org to research and follow its route. If one does undertake this once-arduous journey, they're likely to discover something about America and her past. What's more, they're quite likely to discover something about themselves, and possibly even shift their perspective about our collective future as well.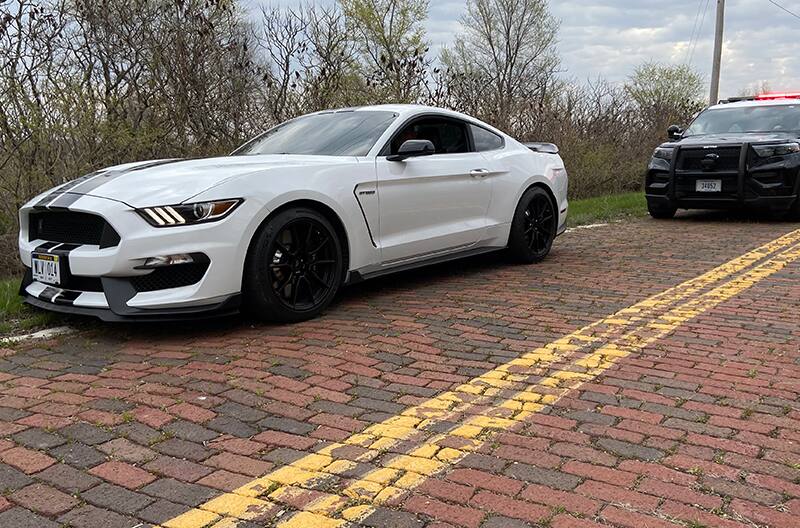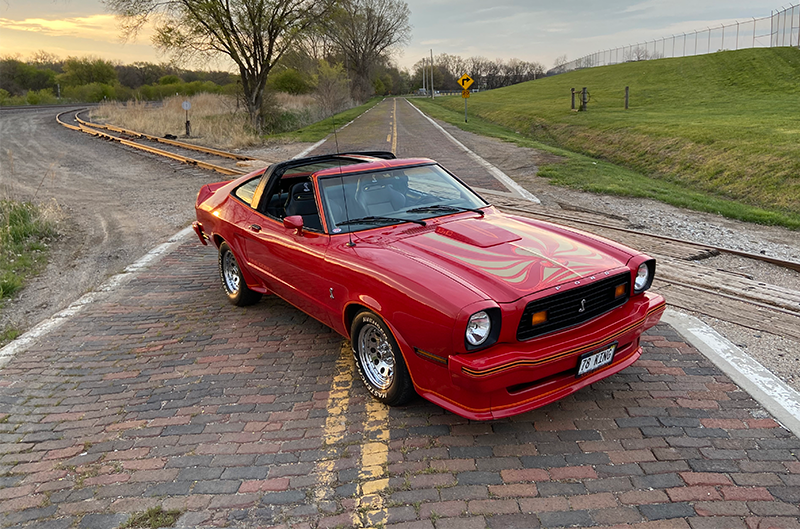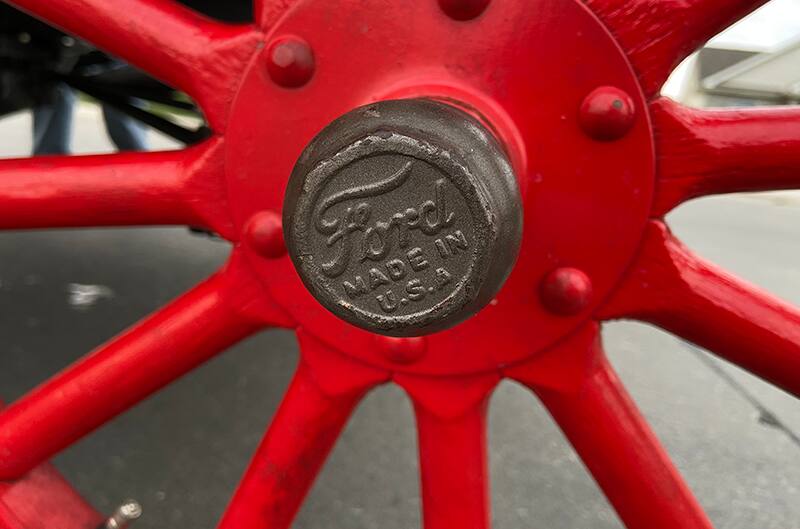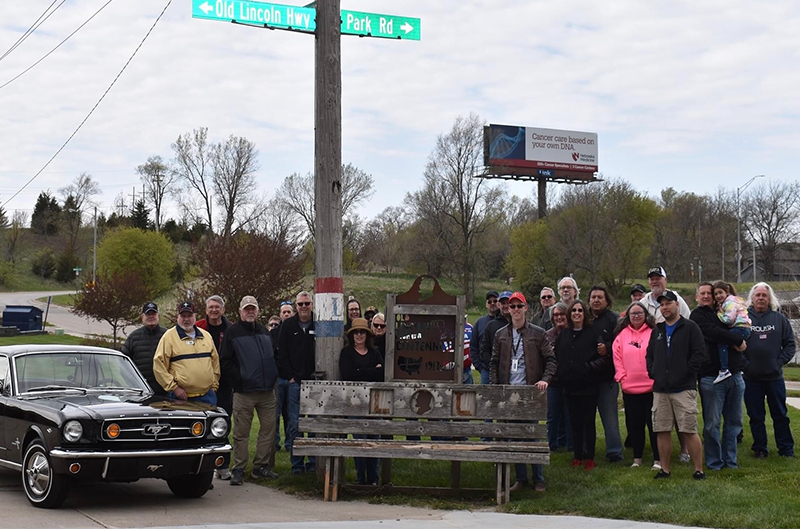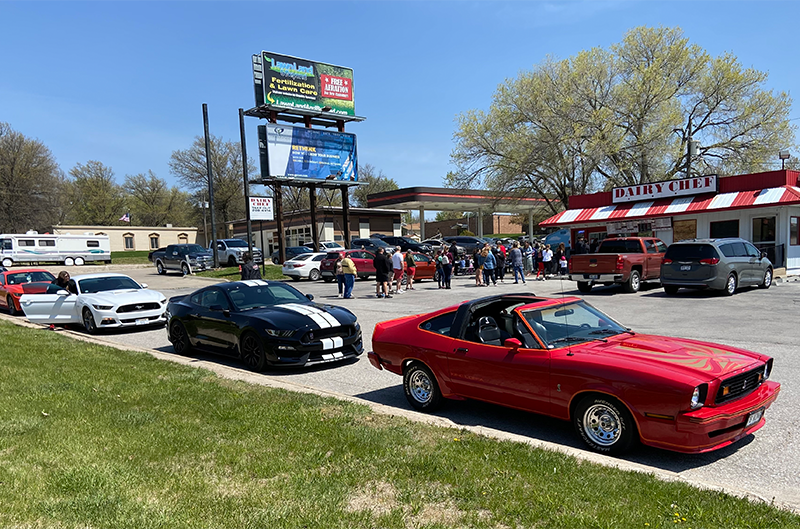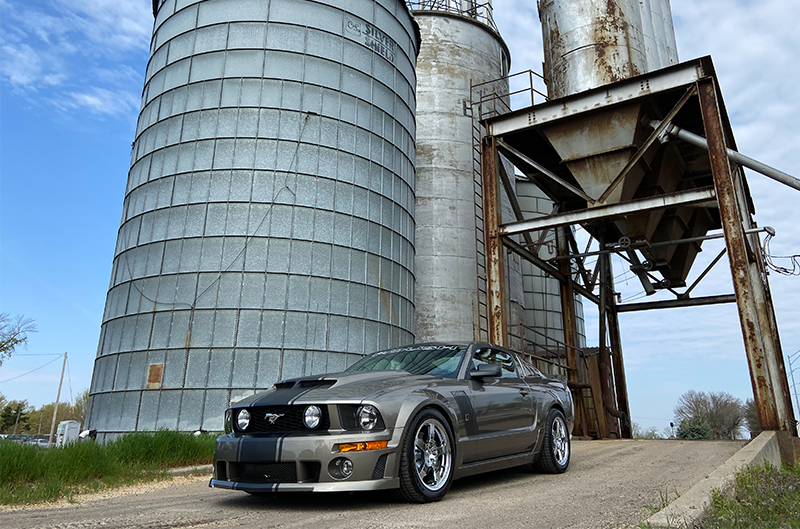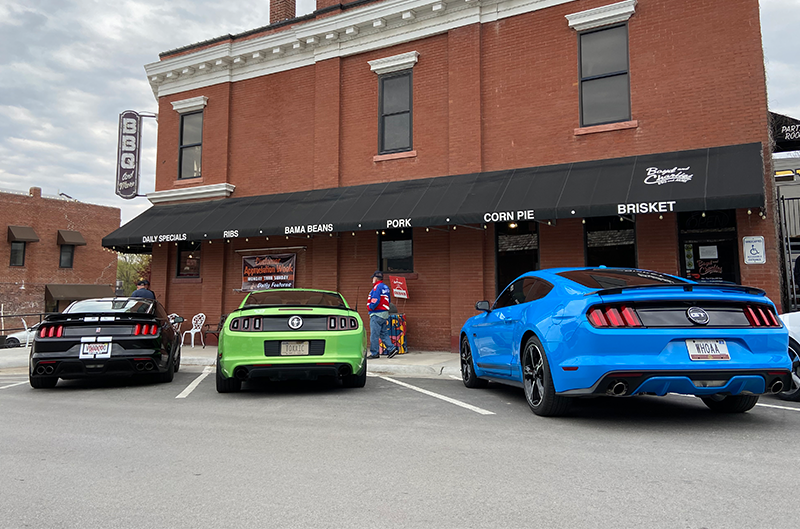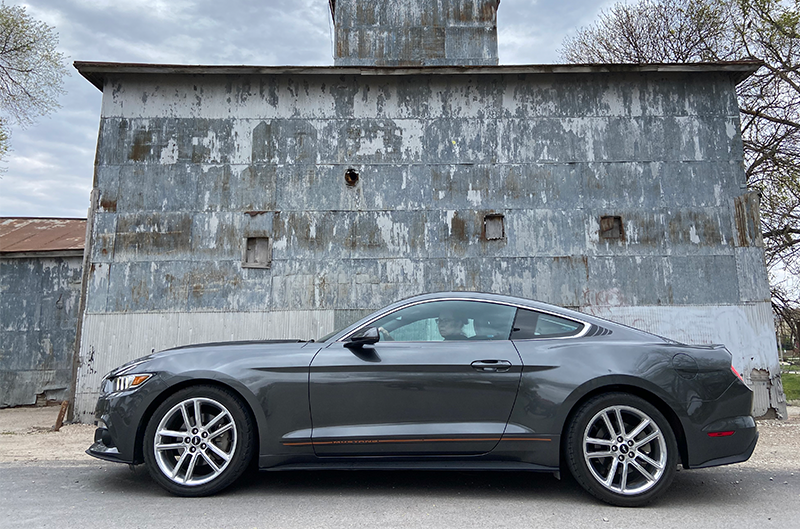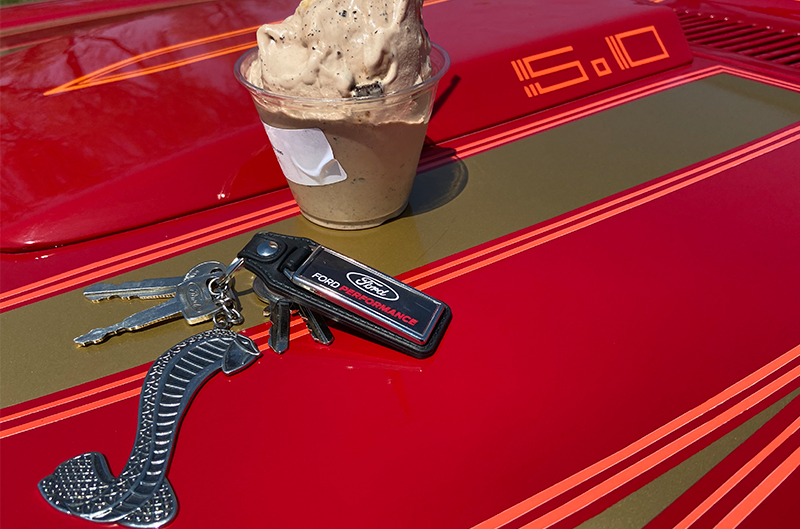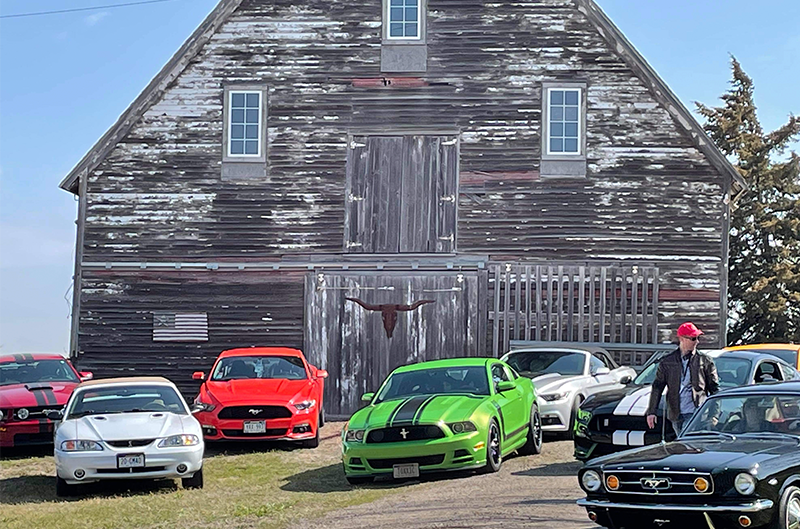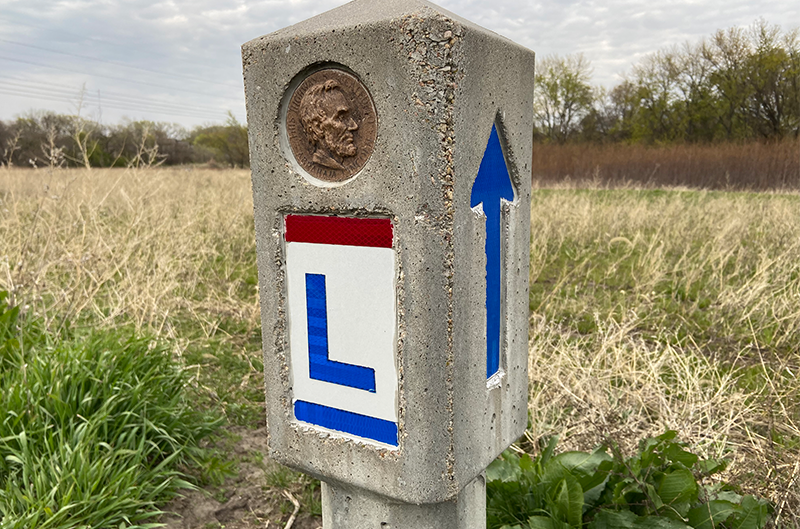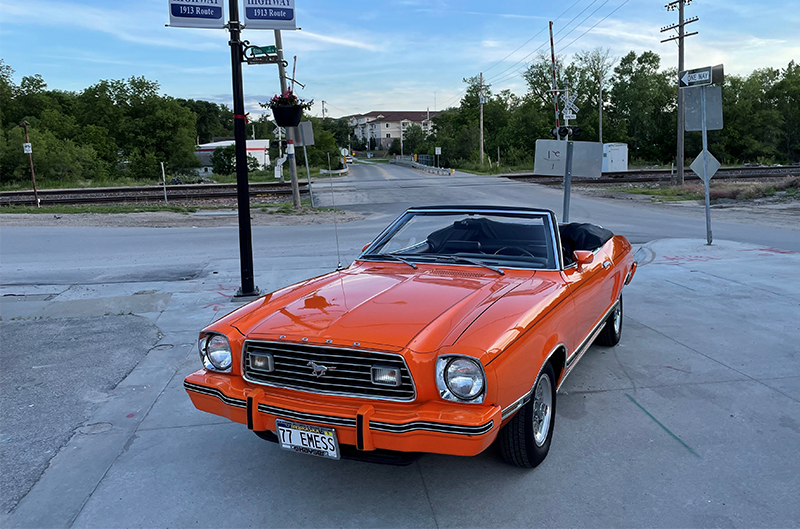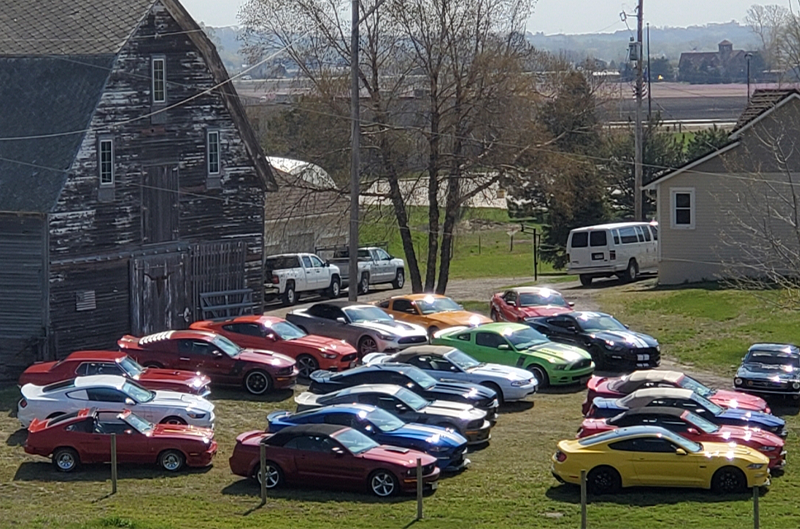 FORD PERFORMANCE PHOTOS / COURTESY ROBERT KENNEDY