DETROIT, Mich. – By now, the whole automotive world knows that Ford Motor Company has stepped up to sponsor Detroit's annual Woodward Dream Cruise for 2021. You'll recall that the big event -- and Ford's famed "Mustang Alley" portion of it -- was canned last August due to the COVID-19 lockdowns, but even that that didn't stop some automotive diehards from "unofficially" cruising up and down the Woodward Avenue route in relative desolation. You can read our Woodward coverage for the past few years in the Enthusiasts section of FordPerformance.com.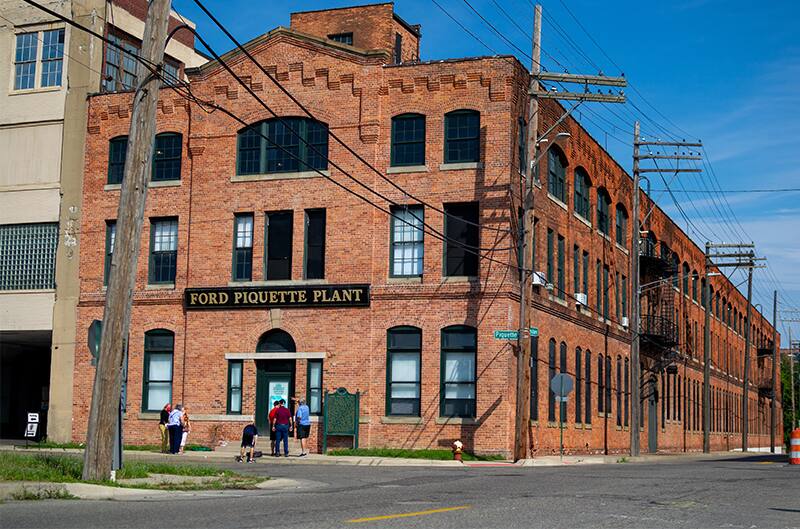 "Once again, Ford Motor Company is stepping up to lead Woodward Dream Cruise, and we look forward to returning and elevating our annual tradition that puts Metro Detroit's automotive scene and culture in the international spotlight," Tony Michaels, the executive director of Woodward Dream Cruise, said in a pre-event press release. "Ford has consistently helped to make the cruise stronger, more engaging, more culturally relevant and more valuable to the Detroit region, and we are incredibly grateful for that."
So what's this whole Woodward Avenue thing all about? As a born-and-raised Detroiter, the historical importance of Woodward Avenue in automotive history has long been a source of Motor City pride. In fact, Woodward Avenue is one of America's most iconic roads. The avenue was named after Augustus B. Woodward, the first Chief Judge for the Michigan Territory. Woodward was credited with working to help rebuild Detroit after massive fire in 1805. The first mile of concrete highway in the world was built on Woodward – between 6 Mile and 7 Mile roads – back in 1909. And by 1916, the remaining 27 miles of Woodward was paved.
Another first came in 1920, when Woodward became the first place that a three-color traffic signal was installed – invented by a black Detroit Policeman named William L. Potts. Perhaps fittingly, Woodward also has the distinction of being the first public road on which a ticket was written for street racing. It happened on March 17, 1895, when two unidentified motorized vehicles were caught by police racing up Woodward just before dawn.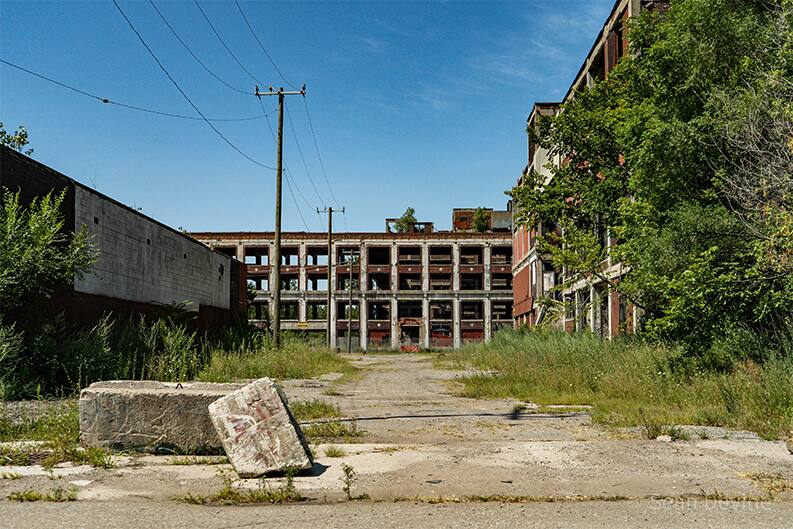 And of course, the American auto industry was born near Woodward, with Ford's first Model T factory, the Piquette Avenue Plant, just a few hundred feet off Woodward, before the world's first moving auto assembly line was implemented on Woodward at Ford Motor Company's massive Highland Park Assembly facility. Henry Ford himself lived near Woodward, at 58 Bagley Avenue. A workshop behind his home is where he created his first gas-powered vehicle. Chrysler was also founded just blocks from Woodward Avenue, at a Highland Park property where the company headquarters stayed until 1992.
For me, Woodward Avenue is . . . well, personal. Woodward was the place where, in my youth, I had witnessed both the rise and demise of the Muscle Car Era. By the mid-1960's, Woodward's claim to fame was that the avenue crowded with young cruisers each night was being used by Big 3 engineers as an after-hours proving grounds of sorts for their latest and greatest muscle car advancements. But by the mid-1970's, Woodward became a car-culture battleground where the policies of local law enforcement, insurance companies, the EPA and OPEC effectively drove street racing and performance cars from the public consciousness.
Yes, the Woodward Dream Cruise is much more than just a celebration of our automotive past. It's a worldwide recognition of the Motor City's manufacturing mastery. The place that put America – and the whole world – on wheels. The place that helped win World War II with The Arsenal of Democracy. The place that gave birth to the middle class with a living wage. And the place where the future of mobility will be designed.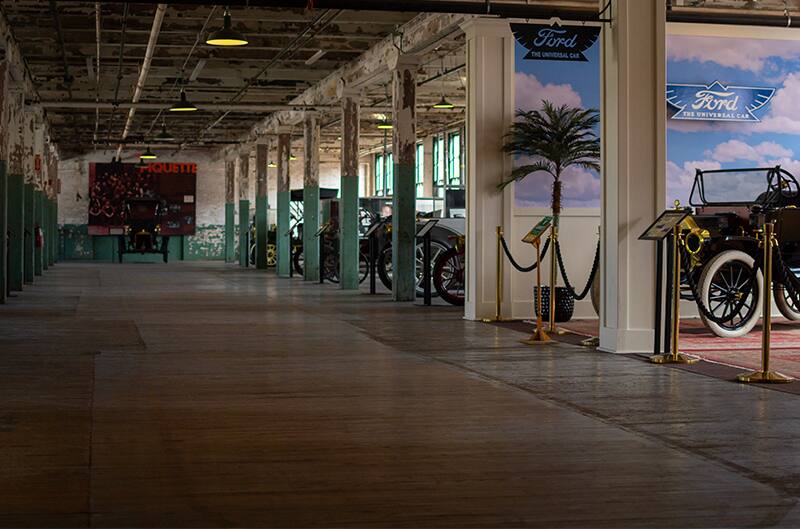 While today's talk of an electric car future seems to give a nod to Silicon Valley, it's important to know that EV's were also invented here -- a long time ago. Cars like the battery powered 1910 Detroit Electric traveled along Woodward Avenue back at the turn of the century! Yes, there's much to celebrate during the 2021 Woodward Dream Cruise. For most, it's seeing all the legendary Detroit Iron on the road; seeing the storied history of the Ford Mustang on display, and Ford Motor Company's legacy of 118 years of innovation; plus seeing so much talent and passion in the car hobby. And for all of us, it's the pride that comes from building amazing things with our own hands, and from sharing in the human accomplishment that is our rich automotive heritage.
That's why it was so disappointing to have had the Woodward Dream Cruise cancelled last year. So many people had already made plans to come to Detroit – I even had several out-of-town club friends ask me, "What's there to do and see with the Dream Cruise activities all shut down?" And that's where I got the idea to put together a mini "insider's tour" of old Woodward and Detroit – things that are not part of the Dream Cruise itself that is all held well north of Detroit proper.
So, on Woodward Dream Cruise day 2020, I came up with an itinerary for a Detroit driving route that offered a glimpse at places where the auto industry left indelible marks on the Detroit landscape. We'd got word that 10 friends came to Detroit for the now-cancelled Woodward Cruise but who instead wanted to join in on an "Old Woodward" daylong drive with us. So we drove off to Midtown Detroit, exiting I-94 at Woodward Avenue and turning north toward Piquette Street. On the way to our first stop for a tour of the Ford Piquette Plant, we paused for photos at some of the ruins in the area, including the old Fisher Body Plant 21 on Hastings Street (looking much like the old Cadillac Stamping plant on Connor Ave.), plus at what was a huge but crumbing envelope factory nearby.
Our hour-long-plus tour of the Ford Piquette Plant – the world's oldest purpose-built car factory still open to the public -- was simply fascinating. We parked across the street, and were surprised to find a bit commercial activity still happening in the area, with a linen service company headquartered in the former EMF/Studebaker factory just next door to Piquette. You can read about Piquette on FordPerformance.com, so check out the Enthusiasts section for a full report and more photos. Suffice to say that coming here is so steeped in Ford history that it should be on every Blue Oval fan's bucket list.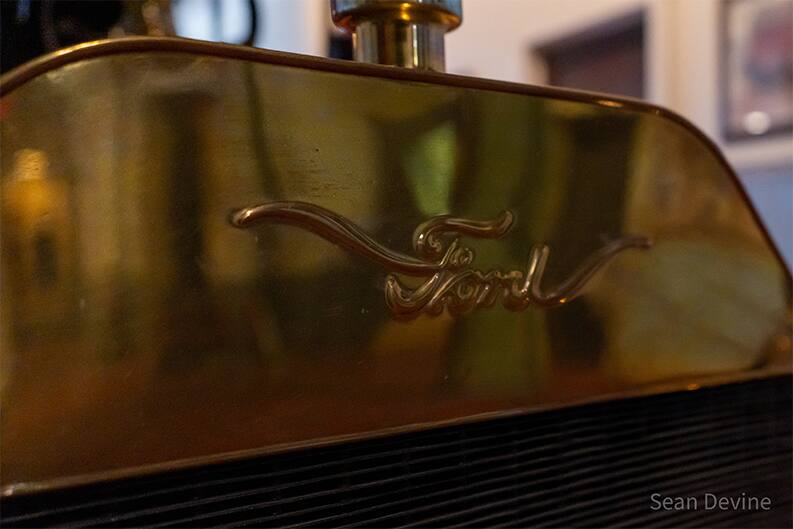 Soon it was time for an early lunch, so we drove a few hundred yards down Piquette Avenue to the corner of Woodward to dine at an old inn-turned-tavern/restaurant called "Z's Villa." We chose to sit at tables on big outdoor patio, right next to the historic inn building that's well over 100 years old. After some good food and drink, we got back in our rides and turned north on Woodward a few miles to the massive and long-shuttered Ford Model T Plant in Highland Park, Michigan. We pulled off at the corner of Manchester Ave. and Woodward to get some photos at the old factory's Administration Building, and to try and take in just how huge this city-blocks-long place really is.
Unhappy with Detroit taxes and regulations, Henry Ford purchased a 130-acre tract of land in adjacent Highland Park of September of 1907, where renowned architect Albert Kahn helped Ford design and build the second American production facility for the Model T automobile and the first factory in history to assemble cars on a moving assembly line. Millions of Models T's were produced here, helping to put the world on wheels. The factory was nicknamed the "Crystal Palace" for its many glass windows in the roofs and walls to provide natural light inside the plant. It became a National Historic Landmark in 1978.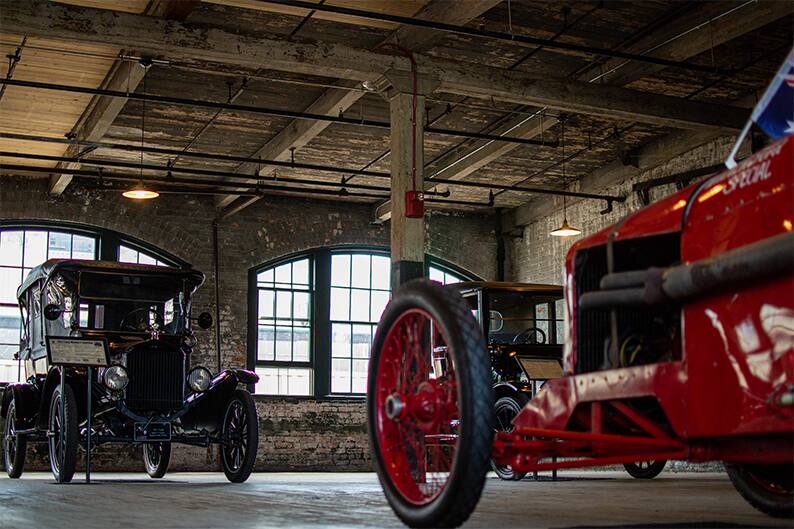 Getting back in our cars, we turned south onto Woodward heading out of Highland Park and back into Detroit, passing the Boston-Edison Historic District in the heart of the city, still containing over 900 homes mostly constructed between 1905 and 1925. Included among them were impressive mansions once owned by Henry Ford, James Couzens, Sebastian Kresge, and Joe Louis. Once we got to West Grand Boulevard in the New Center area of Detroit, we turned right to do a loop around Cadillac Place, which was formerly the General Motors World Headquarters high-rise office complex now occupied by State of Michigan government offices.
We continued down Woodward heading downtown, past my alma mater, Wayne State University, then to the spectacular and spanking-new Little Caesars Arena, home to the National Hockey League's Detroit Red Wings as well as the National Basketball Association's Detroit Pistons. The Red Wings moved from the now-demolished Joe Louis Arena on Detroit's riverfront, and the Pistons came in from the their previous home north of Detroit at the more recently torn-down Palace of Auburn Hills, a suburb that is the home of the former Chrysler Corporation, now owned by a Euro auto conglomerate known as Stellantis.

A few blocks down we came upon Detroit's Fox Theatre, which was originally billed as "the most magnificent Temple of Amusement in the World." The imposing 10-story structure was designed by C. Howard Crane and was built as part of the theater empire of film mogul William Fox. Opening in 1928, it was the first to include escalators and elevators for patrons and the first in the world to have custom, built-in equipment for presenting "talking movies." It fell into disrepair in the 1970's before closing and being purchased in 1987 by Detroit pizza tycoons Mike and Marian Ilitch, who undertook a full renovation of the 5,000-seat theater's neglected splendor. It was officially designated a National Historic Landmark in 1989.
Across Woodward from the Fox we could see the professional homes for the other two big-league Detroit teams that play along the Woodward corridor. Trendy Comerica Park, home of Major League Baseball's Detroit Tigers, is right on Woodward, and Ford Field, the indoor home of the National Football League's (and Ford-family owned) Detroit Lions, is right behind it.
From there we turned east and drove through Detroit's Eastern Market Historic District, which dates back to 1891. After the end of World War II, Eastern Market became a hub for food processors and wholesalers who moved operations to the 43-acre, six-block public market that houses some 80 structures. Today, Eastern Market is the largest historic public market district in the United States with more than 150 food and specialty businesses selling all types of goods including produce, meat, spices, jams, flowers and poultry. It was added to the National Registry of Historic Places in 1978.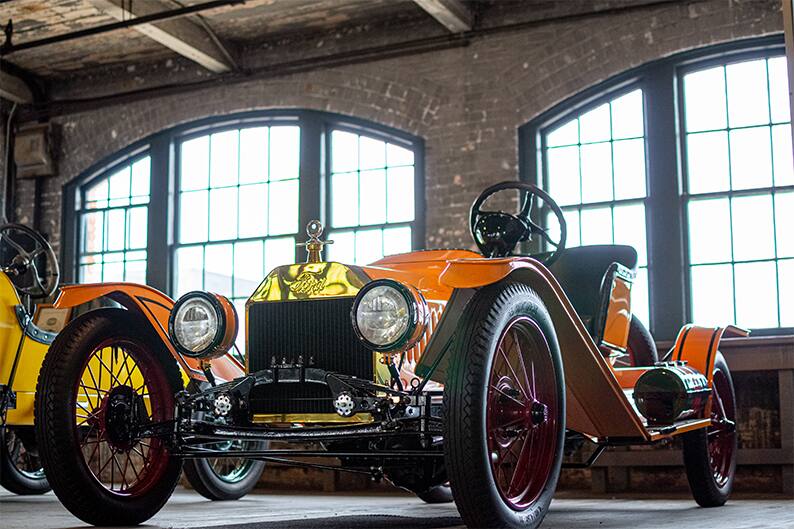 For some more visual diversion, we headed a bit further east to The Heidelberg Project, a defunct neighborhood-tuned-outdoor urban art exhibit started by award-winning artist and sculptor Tyree Guyton as a political protest in 1986. The Heidelberg project is one of the most visited spots in Detroit and remains quite controversial, with the city demolishing some of the art-project houses in 1991 and again in 1999. More recently, it has been hit with a string of unsolved arsons, destroying eight of the old homes in 2013.
From there we headed down Mt. Elliott Street before turning right on East Grand Boulevard to see what is perhaps the most famous of Detroit's auto industry ruins – the former Packard Motor Company plant, which remains as the most recognizable symbol of the decline of Detroit's auto industry. When it opened in 1903, Packard's Detroit plant was the largest and most advanced auto factory in the world. Also designed by Albert Kahn using reinforced concrete, it covered a staggering 35 acres of land and boasted over 3.5 million square feet of space. During WWII, the Packard plant produced engines for P-51 Mustang fighter planes, but afterward their legacy as a luxury brand slowly faded until ending for the 1958 model year. After being abandoned for years, recent attempts by investors to repurpose the site have all failed, and an eventual date with the wrecking ball may soon be in its future.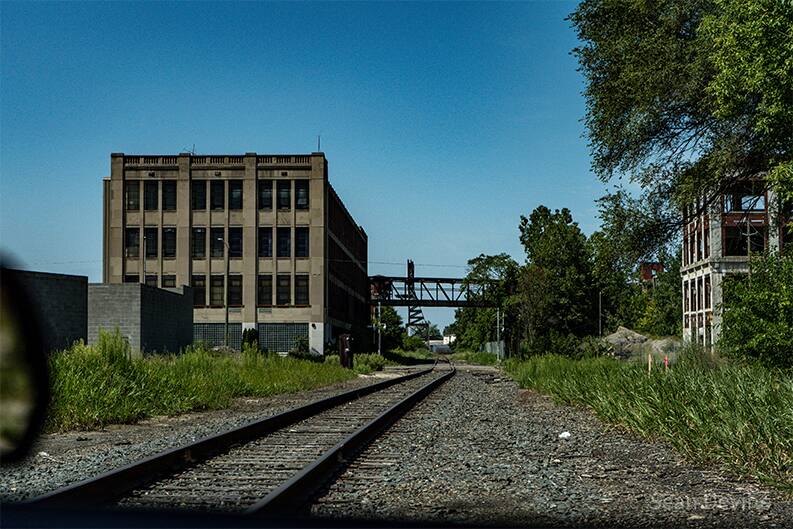 We stayed on East Grand Boulevard to see some of the few remaining grand homes still standing from back when these addresses were among the most prestigious in the city in before a long decline in the area began in the late 1920's. So we headed further due east to Indian Village, a historic and affluent three-block neighborhood with a number of architecturally-significant homes built in the early 20th century for prominent Detroiters like Henry Leland, Arthur Buhl and Edsel Ford. Indian Village was listed on the National Register of Historic Places in 1972. From there we turned onto East Jefferson along the riverfront and across the bridge onto Belle Isle, an island park located in the Detroit River.
Belle Isle was opened in 1880 and remains the country's largest city island park -- at 982 acres, it is even larger than New York City's Central Park. Entrance to the park is via the MacArthur Bridge. Visitors are immediately treated to rich and unique architecture, fountains, statues and manmade lagoons. Belle Isle is home to a Coast Guard station, a maritime museum and an aquarium, as well as the William Livingston Memorial Light, the only marble lighthouse in the nation. Belle Isle also boasts a nature center and trail, picnic pavilions, baseball fields, tennis and basketball courts, a small golf course, a playground and beach access. While Belle Isle is home to the historic Detroit Yacht Club, as well as the nation's oldest rowing club, the Detroit Boat Club, our interest there was to cross the start-finish line of the Detroit Grand Prix, which has been held on the island park for years, and for a photo-op of the Detroit skyline. The park is now operated by Michigan's Department of Natural Resources.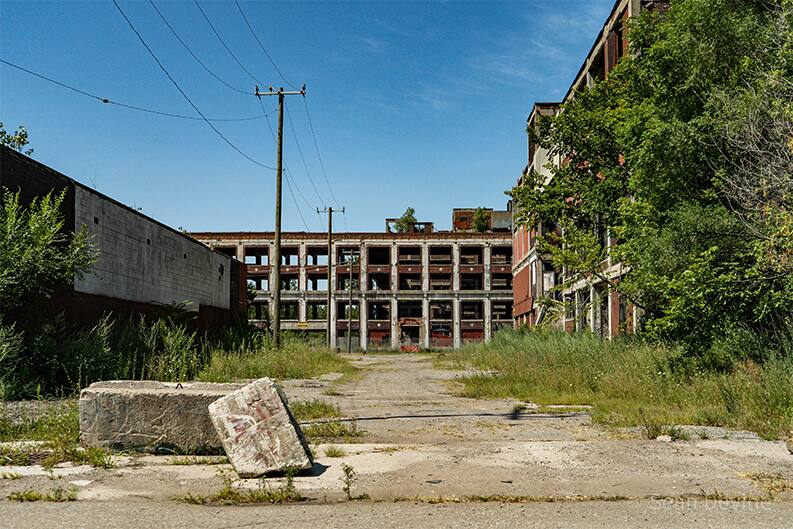 After we left Belle Isle, our day ended with a drive past The Renaissance Center on Detroit's riverfront just east of Woodward, whose central tower is the tallest building in Michigan and the anchor of Detroit's skyline. The "Ren Cen" as it is known, incorporates a group of seven buildings: six 39-story office towers and a central 73-story hotel. In 1971, in the aftermath of the 1967 Detroit Uprising, a group of 26 Detroit civic leaders led by Henry Ford II formed a coalition called "Detroit Renaissance" to build the center in hopes of revitalizing the city. Ren Cen construction began in 1973, and the first tower opened in 1976. Ford held corporate offices in the Ren Cen until Detroit's population decline in the late 1980s. That's' well before the complex was eventually purchased in 1996 by General Motors for $73 million to become that company's world headquarters. It has since undergone a $500-million renovation that was completed in 2004.
As we headed back to the hotel, the conversations with our friends about Old Woodward and Detroit's auto history were lively and interesting. Despite having everyone see Detroit with all of its scars, I felt as if I brought a Motor City experience to my friends that they'd never get by only attending the Woodward Dream Cruise. To a person, all of them said they much enjoyed the tour and learned a lot about Detroit in the process. After a full day of driving and a tank of gas, that was reward enough for me!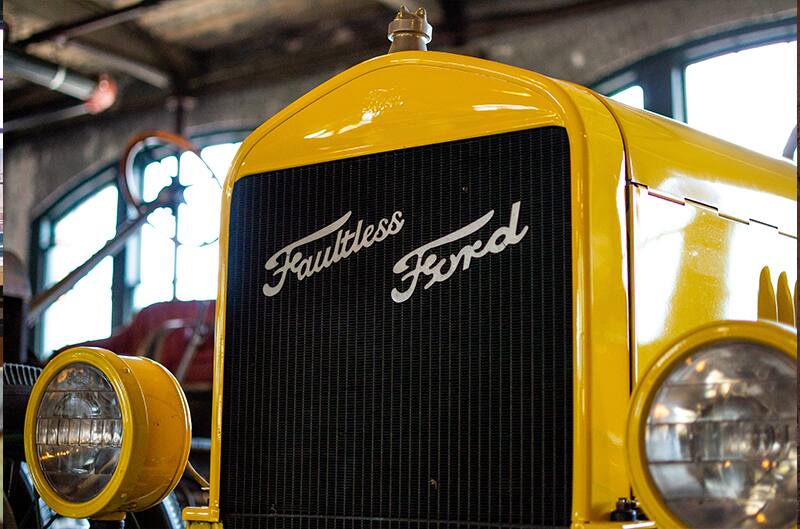 Blue Oval fans who visit the Detroit Metropolitan Area love to explore the home and birthplace of the Ford Motor Company, and not just to walk "Mustang Alley" during the Woodward Dream Cruise each August. Sure, many of you have visited The Henry Ford Museum of American Innovation and Greenfield Village on the Ford campus in Dearborn, or perhaps the adjacent Automotive Hall of Fame. Others have discovered Edsel & Eleanor Ford House, plus lots of Ford heritage at the Detroit Historical Museum, the Ypsilanti Automotive Heritage Museum and the ever-expanding Gilmore Car Museum in western Michigan. And if you think you've been here and seen it all, what about places such as the Roush Automotive Collection or any of the remaining sites from Henry Ford's "Village Industries" of the 1920's and '30's, like Nankin Mills or the Old Mill Museum?


That's' why Detroit has the nonprofit MotorCities National Heritage Area (MCNHA), which is part of the National Parks Service. The MCNHA helps tell the story of how southeast and central Michigan "Put the World on Wheels." For a true insider's perspective, my suggestion would be to sign up for the MotorCities National Heritage Area Michigan Passport Book and Stamp Program to log your journey retracing the Ford contribution to automotive history. Better still, buy a tax-deductible membership or sponsorship and enjoy admission or store discounts at 15 different attraction partners exclusively for MotorCities members.
Lastly, beyond the annual Woodward Dream Cruise and the MCNHA there's always Detroit area Ford and Mustang clubs to help you find and explore the hidden gems of the Detroit area's Ford automotive attractions. Even if you've visited Piquette, been on the Rouge Factory Tour, or eaten at Ford's Garage in Dearborn, there are always private collections to see and club events to attend. It's all Blue Oval gold, so the next time you visit Detroit – go for it!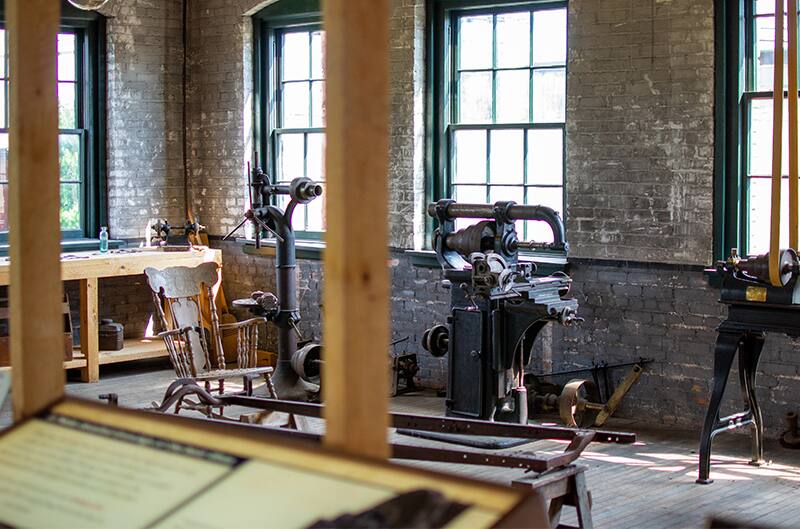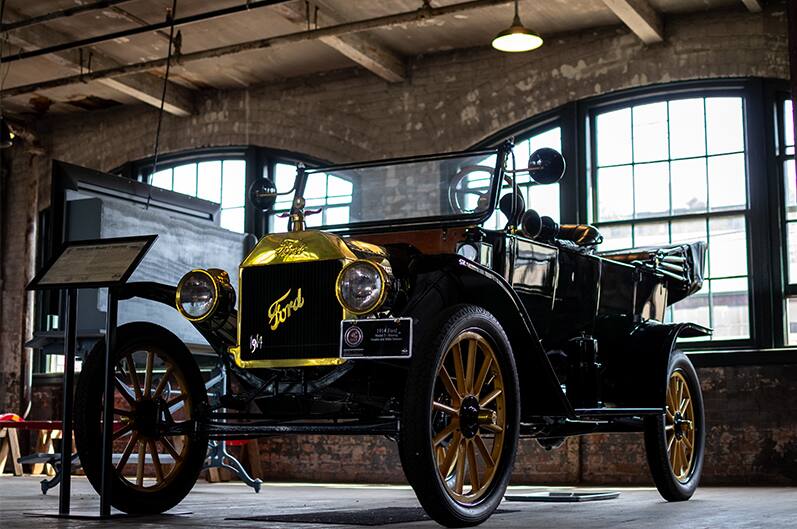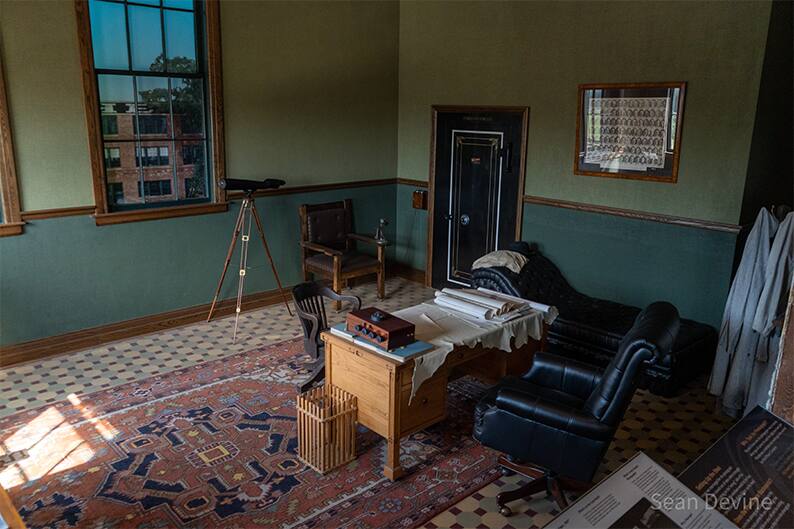 FORD PERFORMANCE PHOTOS / COURTESY SEAN DIVINE and JOE DELADAVITCH