Some people wondered what would become of Shelby American once Ford was building and selling Dearborn-grown GT350's and GT500's. The answer is that the company and the model lineup grew. Many of the same naysayers opined that "they'll never survive COVID." Again, the answer is that the company and the model lineup grew amid strong sales. Adding so many variations and new models over the last five years created some model overlap, and some product redundancy, so with this round of roster revision, Shelby Vice President (and chief designer, chief product engineer, and wicked-fast chief test driver) Vince Laviolette took the opportunity to clean up the product overlap and redundancy issues.
Although it found a certain audience, the EcoBoosted Shelby GT never sold in meaningful numbers, so it's departed. The previous Terlingua model has also exited, Stage Left. The SIXT rental car program is just now being phased out, and those supercharged Rent-A-Shelby Mustangs are being released into the resale and dealer network as we write this. And the Shelby Ford truck roster has also been expanded and cleaned up. Here, we focus eyes, lenses, hands and feet on the three newest Shelby Mustangs. The next time up, we'll visit with the newest Shelby – and that happens to be a Super-Duty based and diesel-powered (!) 4WD truck. But for now, we'll take you behind the wheel of the 2021 Ford Mustang Shelby GT, the 2021 Ford Mustang Shelby SuperSnake Speedster, and the 2021 Ford Mustang Shelby GT500 Signature Edition.
Shelby GT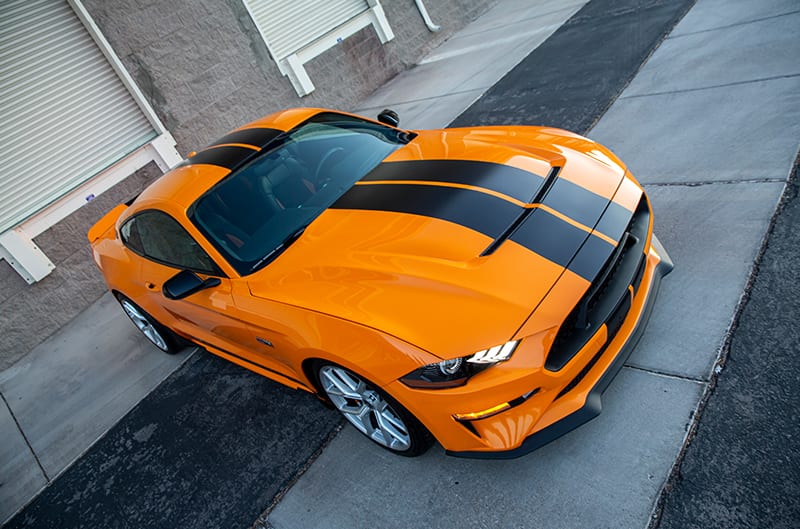 The foundation of Shelby American's Mustang lineup has been, since 2007, the naturally aspirated Shelby GT. Like the original GT's, this new one offers commendable looks and performance content for a relatively modest price bump (to make it a Shelby), now again meaningfully distinguishing itself from bigger, faster, costlier models. The starting point is a "300A" equipped Mustang GT with the 480-horsepower 5.0, and your choice of 6-speed manual or 10-speed automatic transmissions. The only notable power-adder standard (or needed, quite frankly) is a rumbly Shelby/Borla cat-back exhaust system.
Underhood you'll find a full roster of Shelby aluminum engine caps (oil, brake booster cap, etc.). The rest of the mods are all about Shelby style, as well as meaningful handling and braking upgrades. The look begins with a vented "deep-draw" Shelby hood, and continues with an aggressive Shelby upper front grille treatment. Amped-up handling (and stance) begin with new Shelby 20-inch wheels, size-staggered widthwise back to front. Shelby also specs a 20-inch round of high performance rubber. Ford Performance supplies the hi-po springs and anti-roll bars (the factory shocks remain, as does fully functional magnetorheological damping) plus a set of fully adjustable caster/camber plates allow ultimate alignment tuning ability.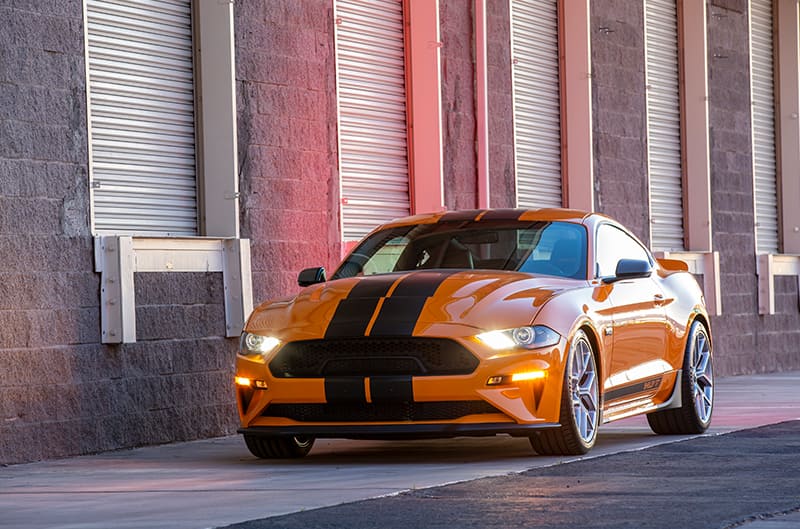 Inside you'll get comfy into Shelby leather seat recovers, and embroidered floor mats. Plus there's a serial-number plate, marking your car's turf in the Shelby production run. The body armor bits are subtle but aggressively effective. There's Shelby side rockers and rocker wings, a taillight panel which restyles that particular fascia, plus a rear spoiler, and a full round of Shelby stripes and ID badges and such. Buy the whole enchilada for around $62,000, or convert your own current Mustang GT to Shelby spec for $25K. There are too many options to list here, running from a Wide Body package to a 700-horsepower supercharged engine. Or choose painted (instead of tape) Shelby stripes, an extreme-duty cooling package, and tons of other stuff.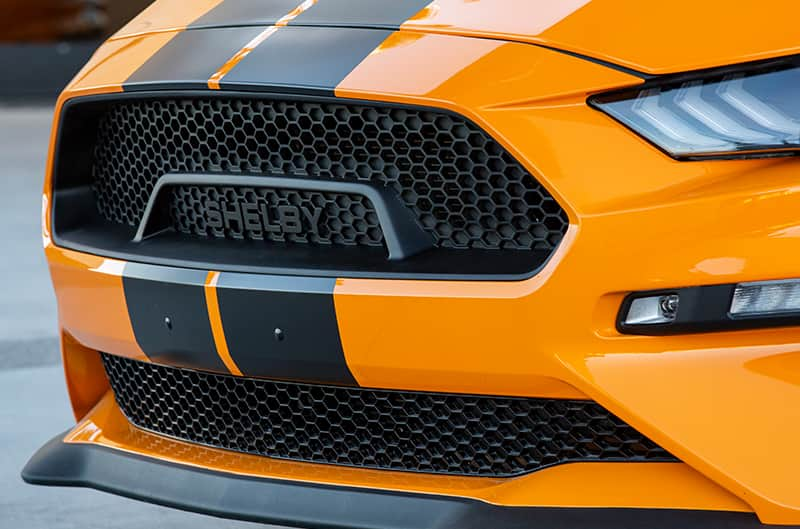 Our tester, painted a visible-from-space shade of Twister Orange, really looked the business, and was equipped with Ford's rather fabulous new 10-speed automatic transmission. You can simply slap it into Drive and go, select a crisper-shifting Sport mode, or play it on the shifter paddles as you wish.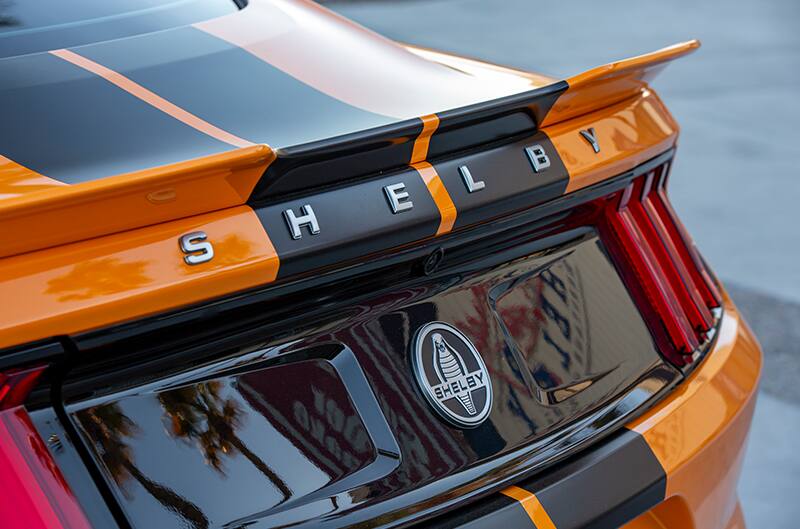 The new Shelby GT lights with a chesty bellow – at least as good as the recent Bullitt or even a stock GT500. Even though there are no big engine mods, the stock power curve is more than enough to motivate this Mustang in fine style. The Borla exhaust might add a small handful of ponies, but you'd need a dyno to verify it; still, it feels and pulls strong, with a brilliant soundtrack. And DO NOT poo-poo the 10-speed autobox. It's very responsive to your commands, with shifts that are crisp without jarring. As you'd imagine with 10 gears to offer, there's a ratio for every occasion, and the trans always feels to be in the right gear, without hunting.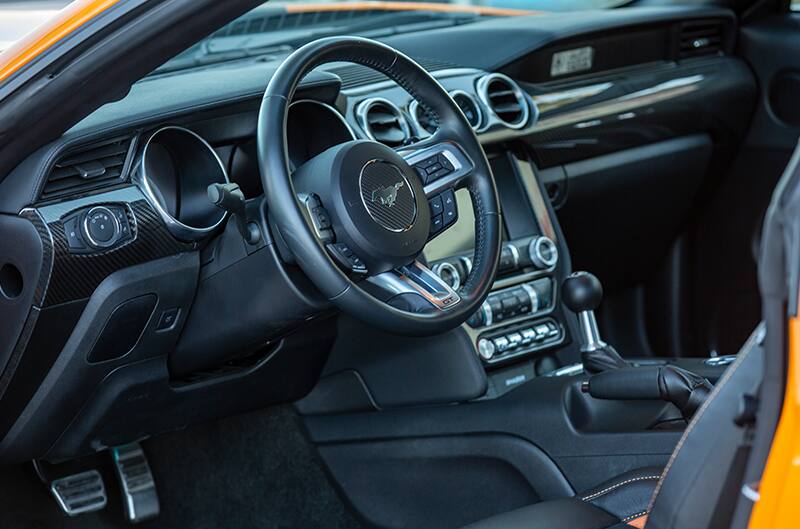 Shelby American doesn't modify or reprogram the engine management system or the trans; which learn your driving style and demands, and adjust accordingly. We played the tranny on the paddle for a bit to evaluate its habits, but honestly, just drop it in Sport and drive it. When it's time to go and you want downshifts, just use your right foot and you'll get 'em. This is a magical box, and while not as racy as the GT500's dual-clutch technology, the 10-speeder is a perfect dance partner for this nat-asp combination.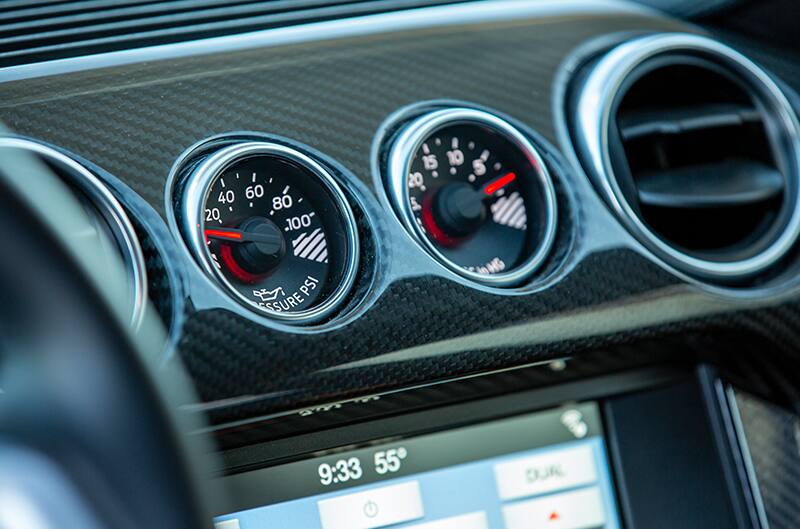 Where you really feel the Shelbyness of this model is in terms of firmer and increased-limits handling. The 20-inch, low-profile rolling stock really sharpens up the steering response, improves body control, and ups the grip levels – while maintaining an ideal ride/handling balance. Much of the credit here goes to the MagnaRide dampers. This technology is simply brilliant in its ability to constantly adapt to driver inputs and road conditions. There was no need for Shelby to reprogram the shocks, as they learn and adapt to the car, the driver, and the road conditions on the fly.

Not only is the new GT the pricepoint leader in the Shelby American Mustang lineup, it's also a superlative choice if you want your Shelby as an everyday car – because there's absolutely no reason not to. The car is docile when you want it to be, handles superbly, with a palatably sporty ride, and it's a perfect commuter especially with the 10-speed autotrans. If desired, you can option the GT up to near SuperSnake spec and performance, yet don't need to, especially if you're at all pricepoint driven, this is the place to begin your Shelby Mustang story.

Shelby SuperSnake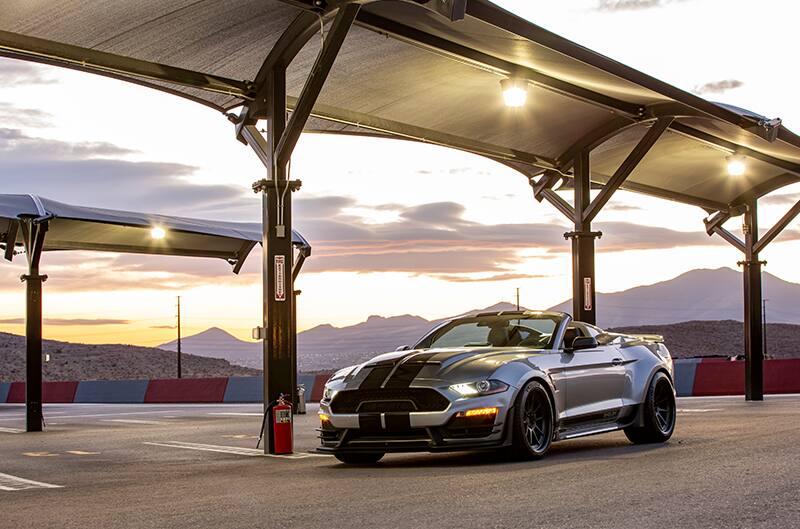 You've gotta check out the new Speedster Edition SuperSnake. Shelby American's designers (primarily Vince) were clearly influenced by the look, style and panache of the highly sought-after '63 Ford Thunderbird Sport Roadster, which effectively turned the "RocketBird" gen T-Bird back into a 2-seater, recalling the original 2-seater 'Birds of 1955-57. The problem with so many speedster-style cars is that they sacrifice the rear seat, and in some cases the stock operation of the convertible top. Laviolette worked hard to ensure that didn't happen with Shelby's Speedster.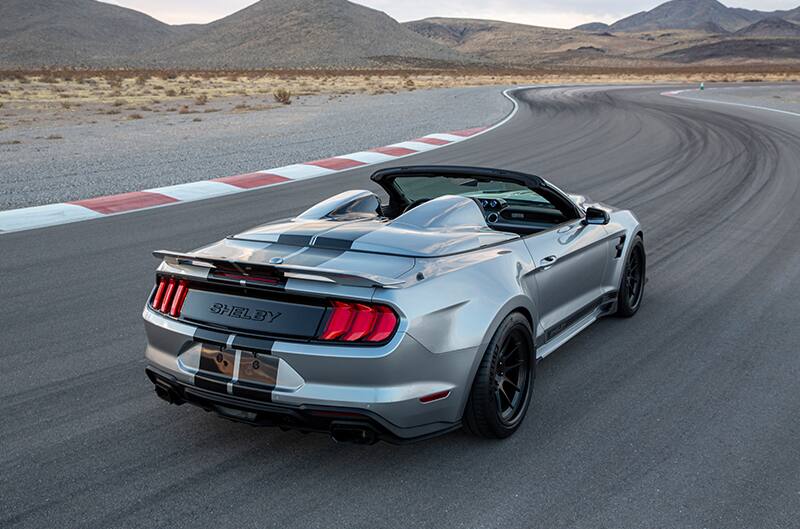 The three-piece tonneau cover panels that give the Speedster its flowing deck ultimately preserve the seating and functioning top. The two rearmost panels unsnap and pop off with ease (and no tools) allowing full deployment of the power convertible top. These two lightweight plastic panels are compact enough to also fit in the trunk. The curvaceous single panel that forms around the headrest-style edges of the front seatbacks takes a bit more work to remove in order to utilize the rear seat, and doesn't fit in the trunk. It's our guess that most Speedster owners won't take this panel off and on too often; however the easy R & R of the smaller pieces allowing full use of the ragtop will. Of course on a warm, sunny day, the Speedy is at its best in full-open mode which is how we sampled it.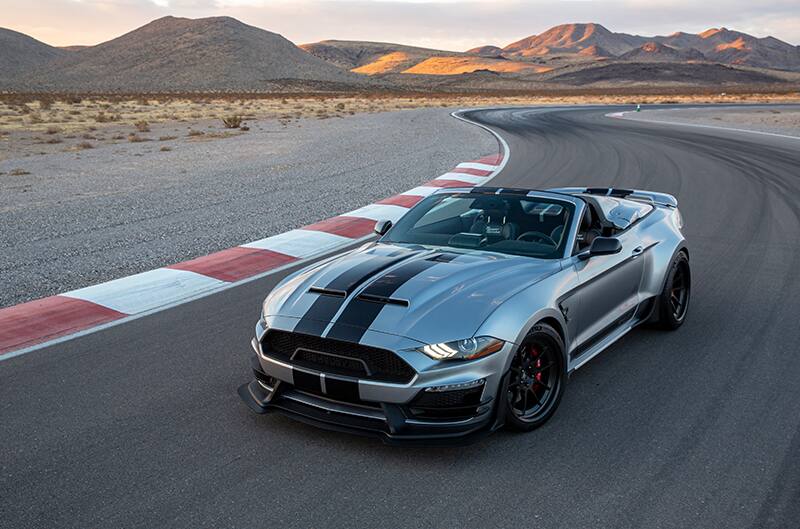 What else defines the new SuperSnake (be it coupe or Speedster)? Lots and lots of content, the headliner of which is a polished Whipple supercharger that along with other upgrades crank the horsepower up to a not-just-quick-but-genuinely-fast 825. The extreme cooling package is also included, as are its own Shelby Borla exhaust, Ford Performance wheel studs, a short-throw shifter (manual trans) or a trans cooler (automatics).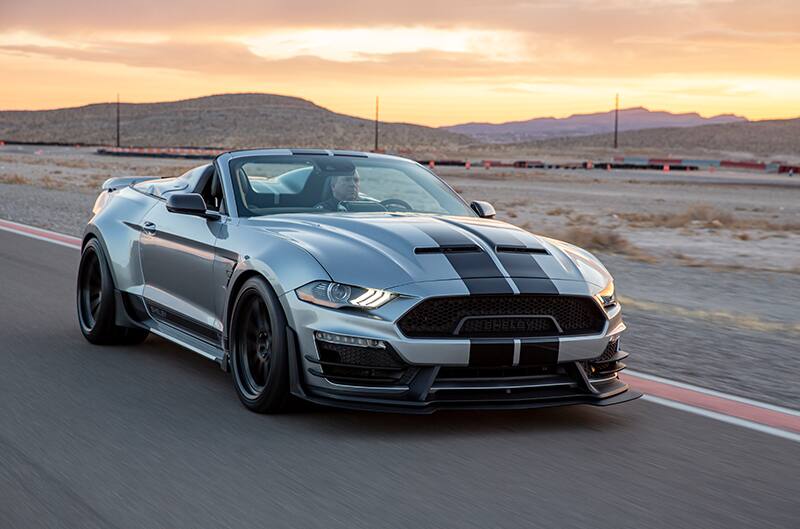 The SuperSnake's braking system is truly the stuff that race cars are made of; all by Brembo, of course, the front binders are huge, red, six-piston calipers, with four-piston grabbers aft. The 20-inch one-piece forged aluminum wheels are wrapped by Shelby-spec high-performance tires. The rolling stock, brakes, and a Ford Performance "track pack" suspension, pretty much round out the SuperSnake's underpinnings.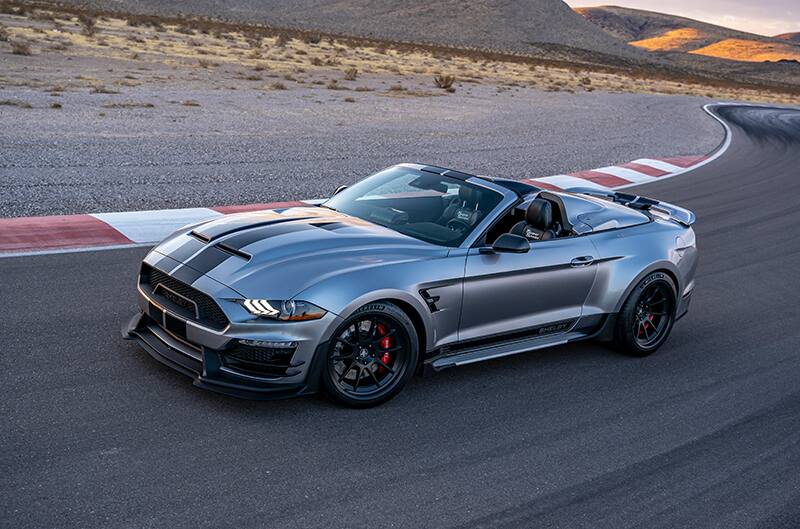 Of course there's more; you get plenty of Shelby ID everywhere and the requisite serialized VIN plate. The new Shelby hood and front fascia are particularly interesting in that they both have actual air intakes, and do a considerable amount of engine compartment and aerodynamic air management, so there's function to go with the great-looking form. The SuperSnake also gets its own lower rear fascia and air diffuser.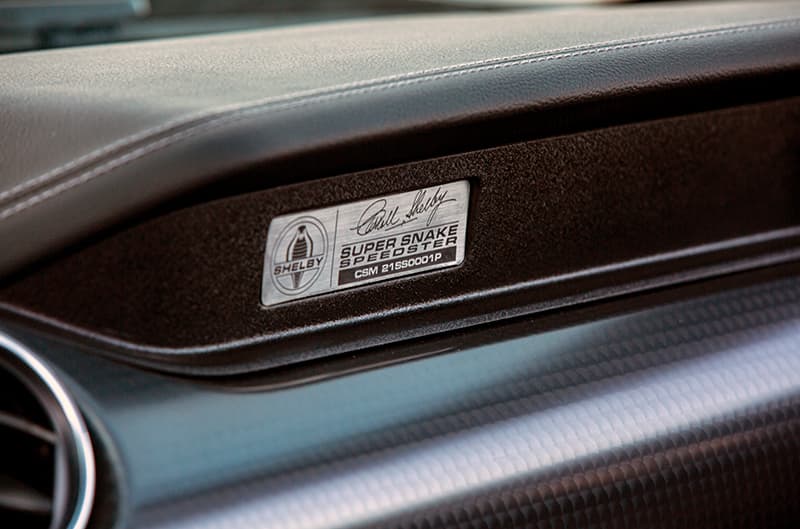 Check the box for the Wide Body design package, and you get serious flowing flares that give the car even more visual heft and gravitas. And now, the front fenders are stamped aluminum, patterned to mount utilizing factory mounting holes. The WideBody SuperSnake Speedster looks the mac daddy in terms of open-air style and panache, with race car-like performance to back it up. No matter the '01 SuperSnake will be rare, as Shelby American will only produce 98 convertible and 98 coupe examples (with or without the Speedster and Wide Body options).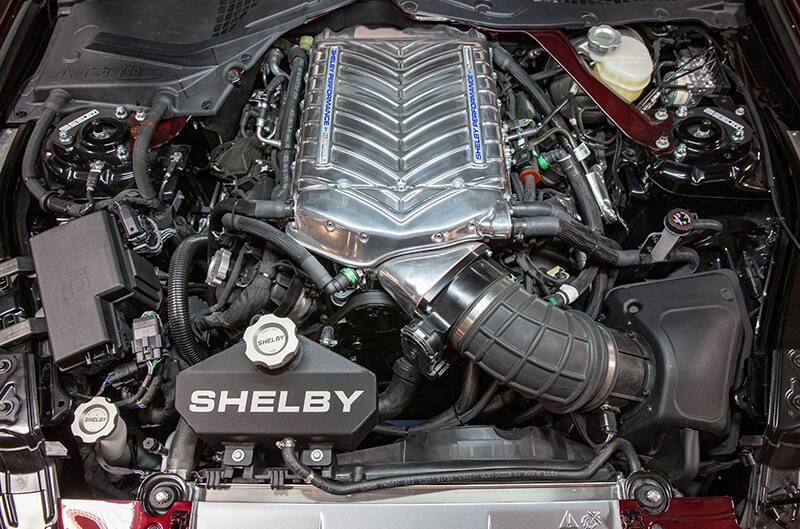 Our SuperSnake drive had to be conducted on the street, so meaningful evaluations of its suspension and rolling stock upgrades will have to wait for another day (and a test track), but that didn't keep our foot out of the 825-horse blown Coyote. Oh Daddy, does this thing go! Truly the steel fist in a (handsome) velvet glove, with as much power as you'd likely want, all with amazing manners. It's fast, it's loud, it's fabulous -- but it never punishes in terms of comfort, ride, or drivability.

Shelby GT500 Signature Edition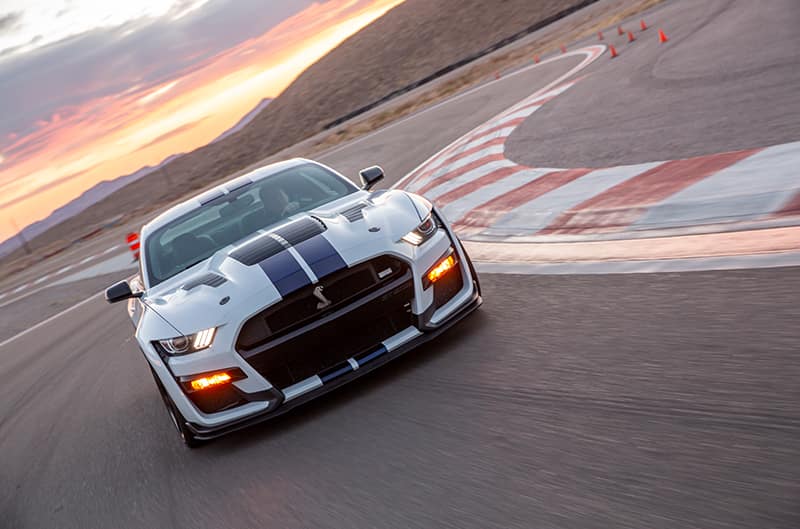 As great as Ford's new GT500 is, Shelby American just couldn't leave well enough alone. Laviolette said he knew that with the right development partners, the right hardware and lots of testing, the factory 500 could be further and properly amped up. Indeed. It's called the Shelby GT500SE, or Signature Edition.

If the stock GT500's 760 horsepower isn't enough for you, then Shelby American quotes "800+" for the SE. The "+" feels like an extra 50 on top of the 800 to our reasonably well-calibrated buttdyno. As with the factory car, the only transmission offered (or needed, quite frankly) is the 7-speed dual autoclutch paddleshifter. The extra power comes courtesy of a performance supercharger pulley, and higher-volume supercharger intercooler and heat exchanger.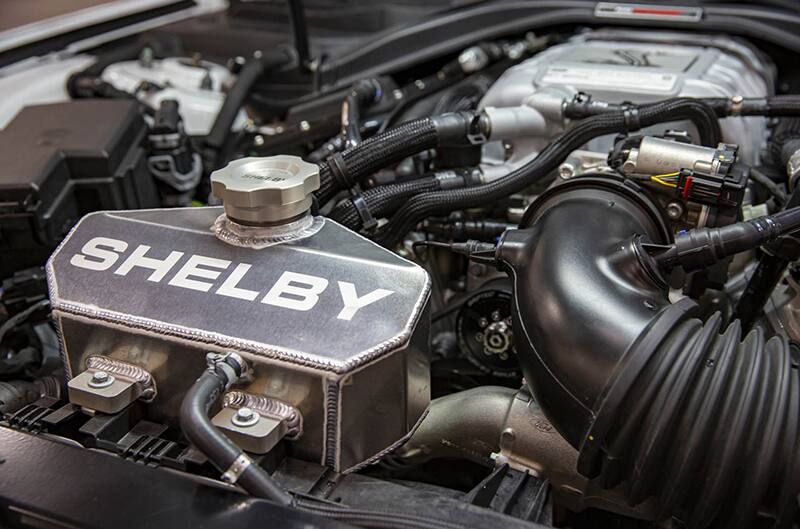 Laviolette worked with MMS for a new and substantially stiffer set of springs, and Ford Performance supplies the revised anti-roll bars. Fully adjustable caster and camber plates allow for razor-precise alignment tuning, and the MagnaRide suspension is modestly recalibrated, although the transmission was deemed spot-on with more than enough "learning and adjustment capability" to suit the rest of the motor and chassis upgrades. The final stroke for the underpinnings are new boots in the form of forged alloy wheels, measuring 20x11 inches front, and 20x11.5 inches rear, and new high-performance tires (something that buyers seem to like, as they can then save their uber-expensive factory carbon fiber wheels for car shows or future owners).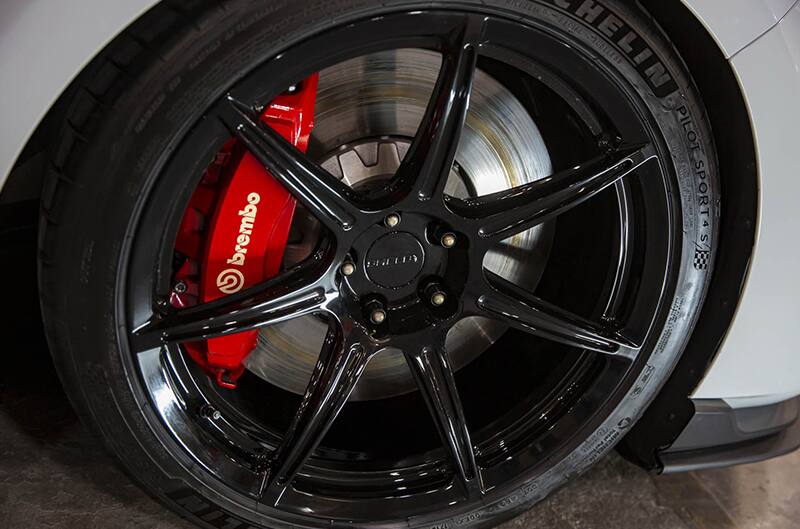 Naturally, the SE gets all sorts of special Shelby ID and serialization. There are a few options, but as you'd imagine, not many. Further demonstrating that speed costs money, Shelby American will source a brand-new car in your choice of colors, and make it an SE, for around $105,000. Bring them your own GT500 and another 30 grand, and they'll monsterfy it for you.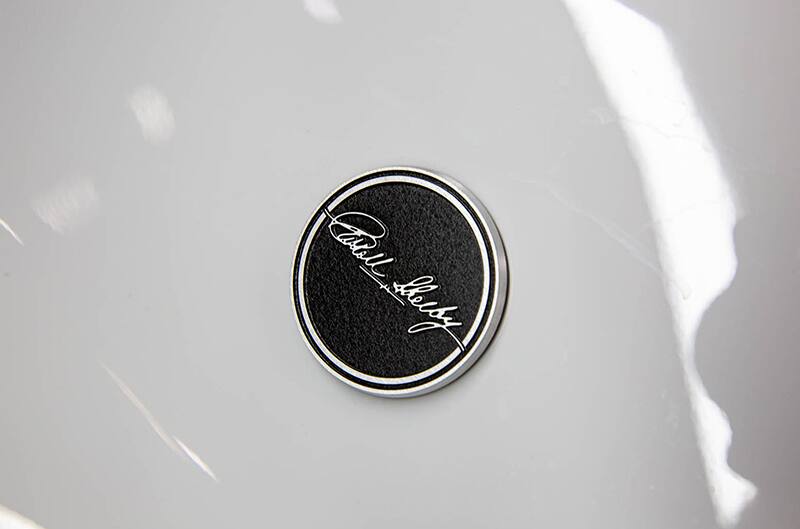 We were anticipating an uber-fast, overly loud, hard-riding and generally punishing car, which was not at all what we found sliding into the SE's Recaro seats. Fire-up the starter button, and you know "something more" is going on here, but still it idles smoothly as a well-oiled Rolex plus with some attitude and lots of bass. Selecting a forward gear is no more dramatic than spinning the transmission gear selector wheel. Even left in regular non-Sport automatic mode "Drive," this car's acceleration is simply relentless. There are no flat spots, no lag of any kind, and it just bellows, and pulls and pulls. Then it upshifts and pulls some more.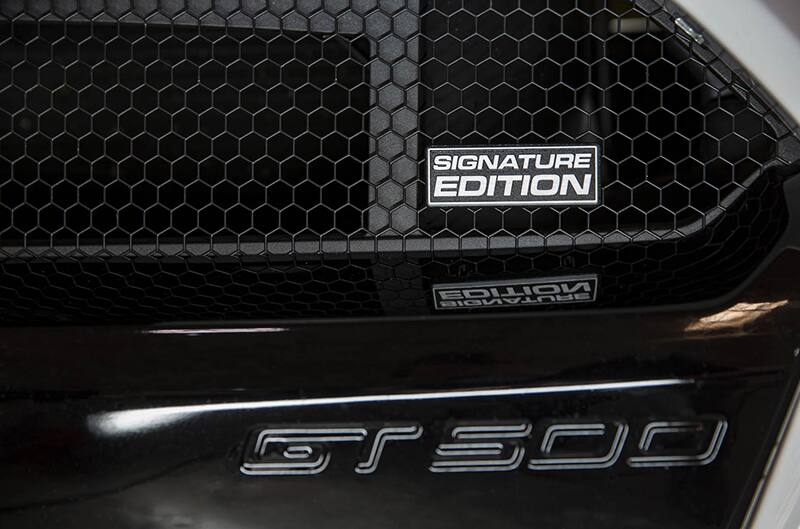 Laviolette took us to a fast and modestly undulating two-lane road just south of Shelby American's Las Vegas strip area facility. In spite of varying road surface quality, and some elevation changes that demonstrate how the SE rides, and how its beefed-up suspension compresses and relaxes – which is amazing considering how stiff the springs are, allowing improved and complete control with minimal body motions -- yet we found a still street-friendly ride.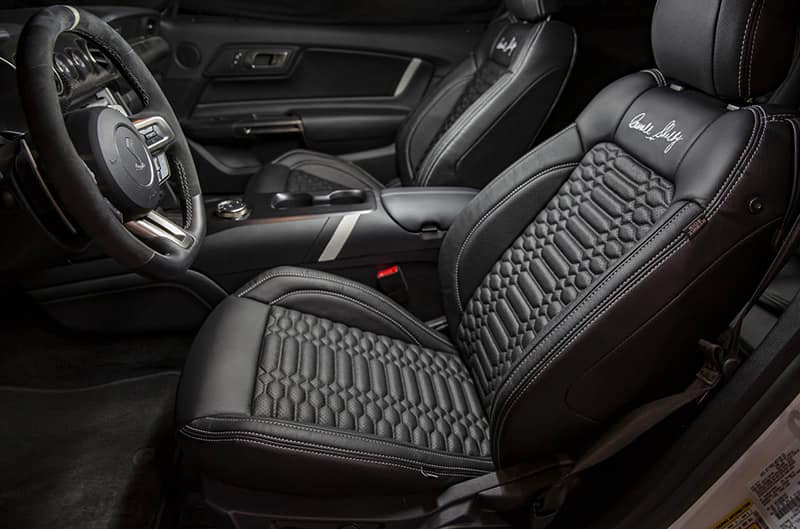 We swapped seats to put former racing car driver Laviolette again behind the wheel for some hot (not kidding here) laps around the twisty, technical-but-still-fast SpeedVegas.com road course. SpeedVegas is an open-to-the-public track facility at which you can driver train or cut hot laps in your own car or choose to rent one of theirs – which on the day we were there included several Shelby Mustangs, a C8 Corvette, and a Lamborghini. They also have a Ferrari 488 and a Porsche GT3RS, plus a worthwhile off-road course and the offer of rally school driver training. Great place that's well organized, run and maintained – we'll go back.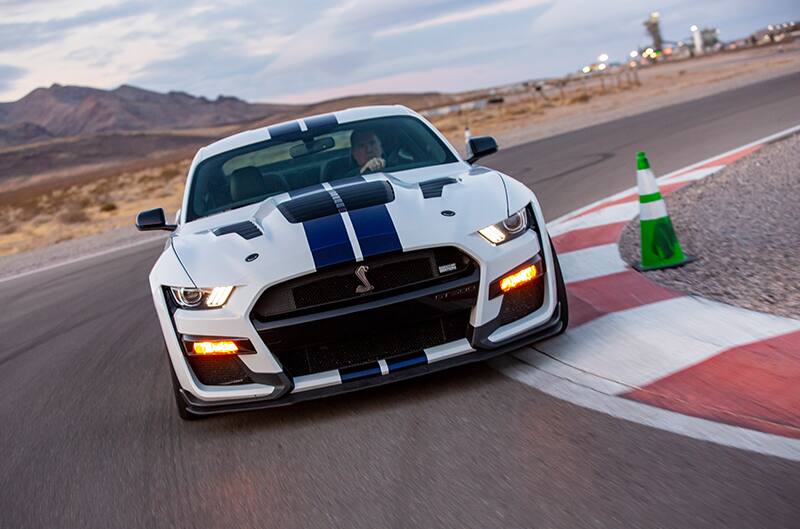 Laviolette is an uber-smooth driver, but he can really haul. He often uses the SpeedVegas facility to fine-tune Shelby cars' specs and calibration, so he knows every nuance of this course. It's not all that large, but highly technical, and still fast. The SE hits 150 at the end of the short main straight, and just screams through the corners with dependable grip, quick rotation, and barking, high-RPM downshifts for the corners – in paddle manual mode or full automatic. Unless your last name is Follmer or Andretti, you can't outshift this amazing trans.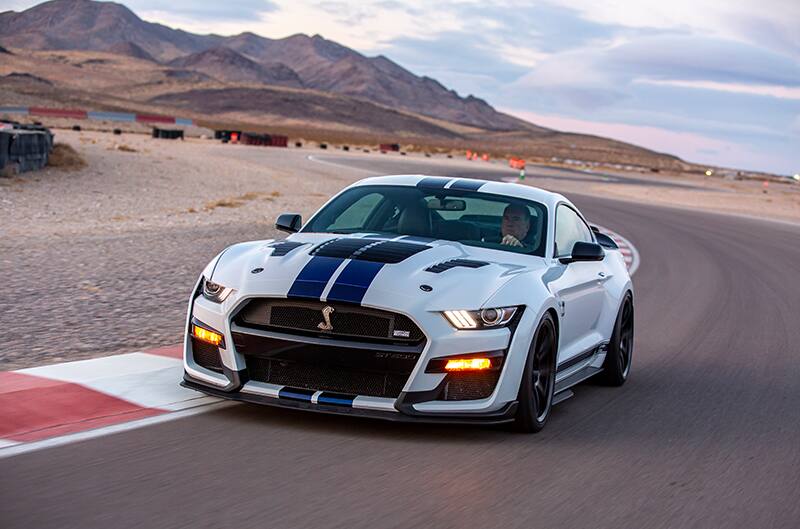 What may impress us most about these new Shelby Mustangs is how much they look and feel like OEM-built cars; the days of marginal panel fit, surfacing and rattles are just gone. This is something that company president Gary Patterson, Laviolette, and other team members set as a goal some years back, and have worked hard to achieve. The massive production floor has been thoroughly reorganized to operate more properly like a low-volume manufacturer (as opposed to any notion of a "tuner" or job shop). And the company has pushed its production partners to produce every piece to OEM-quality levels of fit, finish, and operation. The cars really show it now, assuring that they will last a long time, look great, and perform as promised.

Back to our opening point about COVID-era survival: Laviolette adds that many cars are sold before they're built, estimating some form of "life's short, I'm going to buy what I want" customer philosophy positively influencing the market for Shelby American Mustangs, Ford trucks, and of course ongoing Shelby Cobra production.

More Ford / Shelby American vehicles are under development as we write this. Carroll would be proud. You can stay tuned at www.Shelby.com.
FORD PERFORMANCE PHOTOS COURTESY JONATHAN MARSH / SHELBY AMERICAN