DEARBORN, Mich. – If you're a regular reader of Ford Performance.com, you might notice that we often attend and cover the delivery of cool specialty Fords and Mustangs, because these kinds of cars are what makes our hobby so much fun. And "fun" would likely be the best way to describe what it was like to attend the recent local delivery of two custom Ford Mustangs that are actually much more than what they appear to be at first glance. They are the creations of Aaron Duncan of Duncan Brothers Customs, an automotive restorations service shop located in Paducah, Kentucky. And they deserve a closer look. Much closer.
If you happened to drive past the ever-popular Ford's Garage restaurant in Dearborn, Michigan – just down the road from Ford World Headquarters – on that cloudy Saturday in May this spring, then you probably noticed what looked like two classic 1969 Mustangs parked on the eatery's front lawn. One was a gunmetal-hued 1969 Fastback pegged as a "John Wick Tribute" car fit for Baba Yaga; the other, a black 1969 Shelby GT500 Convertible with red stripes and a stunning custom red interior. Except they weren't. They are more like Mustang time machines.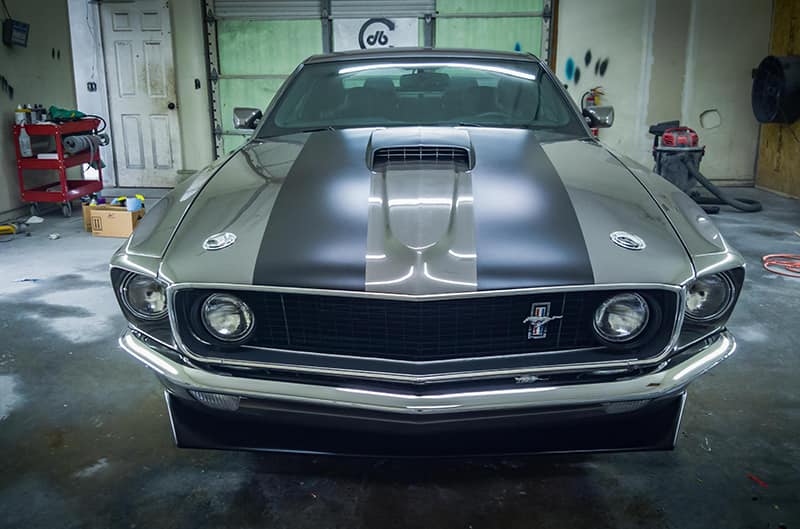 The '69 Fastback (now called the "Boogeyman Mustang") started out as a 2012 Kona Blue Mustang GT owned by Kim and Mike Haslip; the GT500 (that the Duncan Brothers dubbed the "DB500") began life as Kevin Cramton's 2011 Mustang GT Convertible. The transformations into two different iconic 1969 Mustang models was accomplished via the magic of Duncan Brothers Customs. Aaron likes to think of it as the melding of classic Mustang style with modern Mustang performance. And upon our closer inspection during interviews and a photo shoot, we can tell you that the look and the craftsmanship is downright amazing, and will be sure to turn heads and spark conversations until the end of time.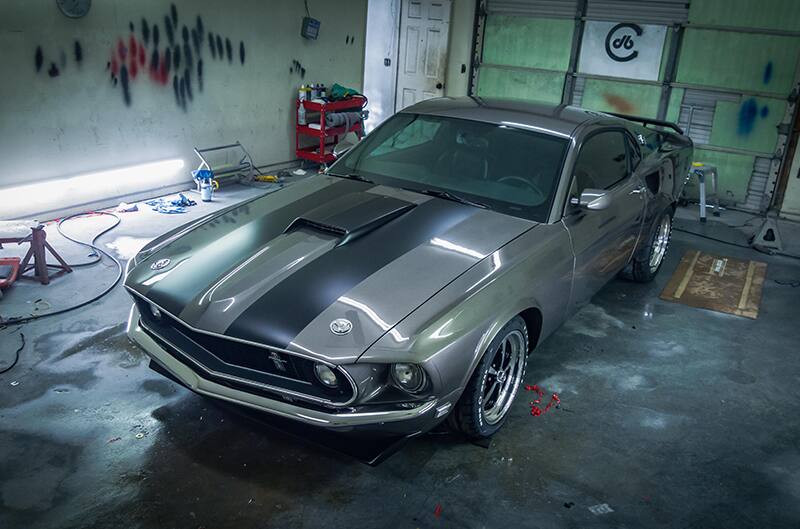 Unlike the reproduction Mustangs being produced by Revology Cars in Orlando, Florida -- which start with a brand-new, first-gen Mustang body shell and are built from the ground-up using new, upfitted componentry, the Duncan Brothers process uses your own donor 2005-2014 Mustang as the platform for the transformation into a '69 dream machine. That's why a Duncan Brothers recreation car like these can cost as much as one-third less than the six-figure plus cost of the cars hand-built by Revology, which is managed by a former Ford SVT Marketing Director, Tom Scarpello.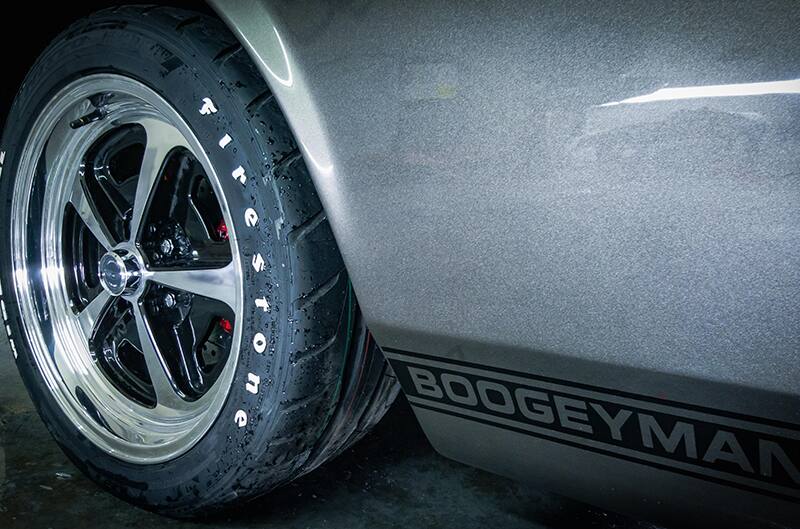 The Duncan Brothers transformation has the donor Mustang giving up its hood, fenders and decklid. Custom-molded 1969 replacements are engineered to mount and replace the S197 sheet metal. The doors get re-skinned in fiberglass and '69-shaped quarters get affixed before the front and rear ends are re-engineered for custom classic bumpers and under-pans, designed to incorporate original style exhaust exits. Open the doors, hood and trunk and you'd think the car is factory – the fits are that seamless. The rework effort mirrors the original design even to the point of using 1969 reproduction rear panels, headlamp buckets and many trim pieces.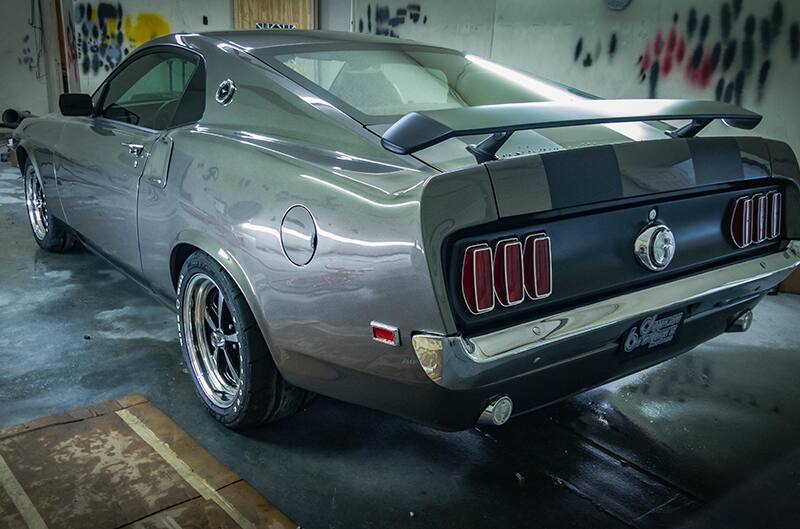 You may have previously seen this idea on display at Mustang events in the past, put forth by a firm called Retrobuilt. Their mantra was to take your S197 Mustang and "retrofit" it to look like a 1967-70 Ford Mustang, all while keeping the donor car's modern chassis, driveline, interior and safety features intact. Indeed, Aaron himself had worked for that same company a while back, followed by a stint at Ford Performance marketing partner Gateway Classic Mustang out of Bourbon, Missouri. But those jobs just left Aaron wanting to do more, and take his skills – and those of Duncan Brothers – to the next level.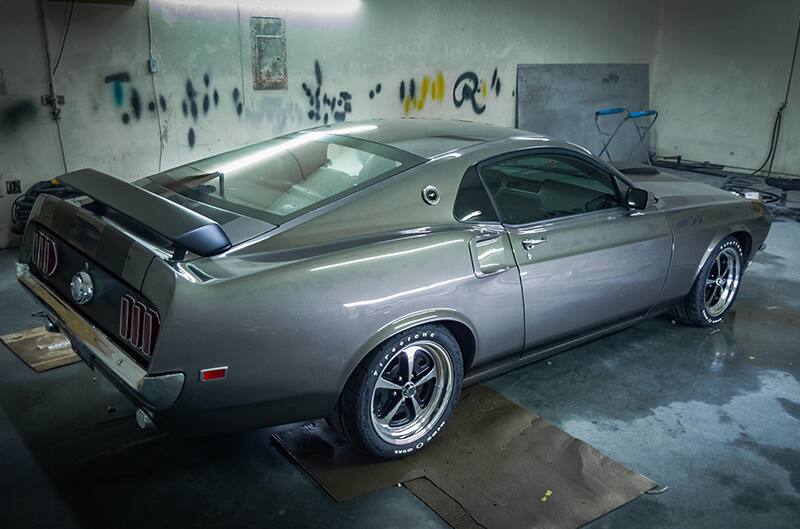 "There's much more to the process than just trying to get fiberglass bodywork to fit onto an S197," he told us over a group lunch in Ford's Garage with fellow Mustanger Mike Rey, president of the Mustang Owners Club of SouthEastern Michigan (MOCSEM). "They also have to look right. Your eyes tend to gravitate to the shapes and details that are a bit off, even if just a little. To me as a designer, it's all about proportions. You can get '69 Mustang fiberglass body panels to look 'close' to an original, or you can pay close attention to the original car's body-fit details and overall proportions, and make end product so much better. That's why I spent so much time tweaking our fiberglass molds, and why our team spent so much time and effort on making them look, fit and attach right."
If that sounds like something only a seasoned designer and customizer would say, you'd be wise not to let Aaron's youth and long, flowing hair deceive you. Though originally from car-crazed Southeastern Michigan, Aaron paid his dues honing his advanced skills in the family business. They're proud to say the family has been building cars privately for 70 years, beginning with brothers Leonard and Barnett Lee Duncan in 1949, followed by Leonard's sons, Rick and Randy Duncan. Now, the third generation of Duncan brothers, Aaron and Joey are taking their craft to the next level by offering their custom builds to the public.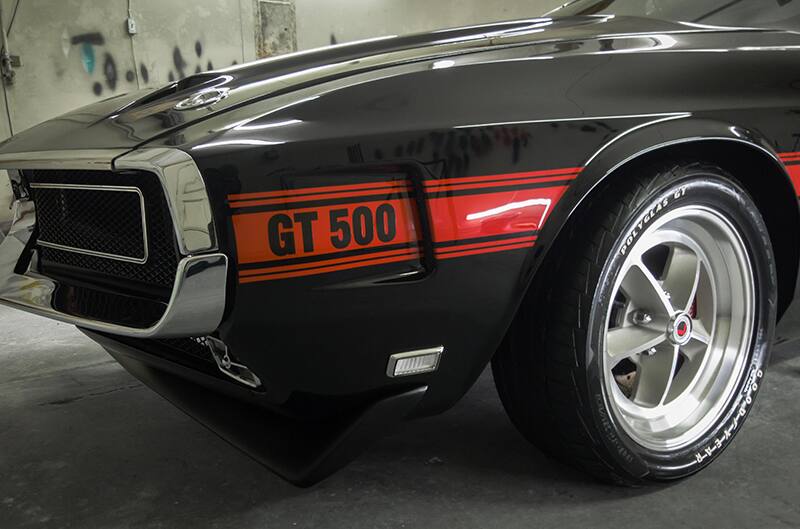 While Aaron has ideas of doing award-winning customs for shows like the World of Wheels Autorama and SEMA, he's always looking to make the next customer's dream Mustang come true, with the help of his family of craftsmen. The Duncan Brothers corporate hierarchy doesn't take itself too seriously. Aaron Duncan is listed as Chief Strategy Officer (CSO) – plus Head Designer, Fabricator, Mechanic, and Social Media leader. Brother Joey Duncan takes the title of Chief Creative Officer (CCO) – plus Welder, Fabricator, Video & Photography, Graphic Design, and also Social Media. Then there's Rick Duncan, Owner – Designer, Fabricator, Mechanic and "The Allfather;" Randy Duncan -- Body & Paint Specialist, Bodyman, Painter, Fabricator, Welder, Mechanic; plus Garrett Moberly -- Bodyman, Welder, Mechanic, Pinstriper, Artist, and Graphic Designer. The "Extended Crew" includes Danny Duncan and Justin Byram.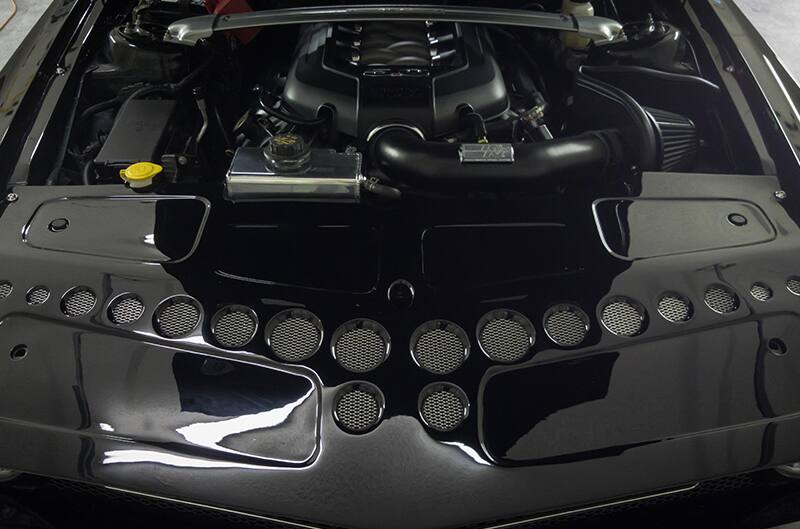 If you are on the show circuit this year, expect to see the Haislip's 1969 Boogeyman Mustang (a.k.a. 2012 Kona Blue Mustang GT underneath it all) make an appearance or two. The "DB500 Convertible" that owner Kevin Cramton had built off of his 2011 Mustang GT Convertible will likely be cruising on Woodward for the Dream Cruise this year. You can see all the photos of how both of these builds came to be by checking out the massive photo galleries posted on the Duncan Brothers Customs website at https://www.duncanbrotherscustoms.com. And the next time you see a '69 Mustang that looks and sounds too new and fresh to be 52 years old, go ahead and do a double take – it just could be an S197 recreation done by Duncan Brothers Customs!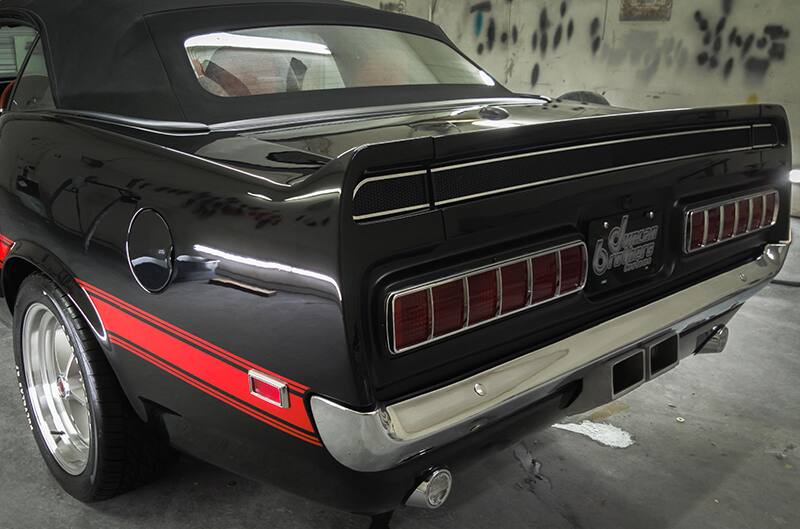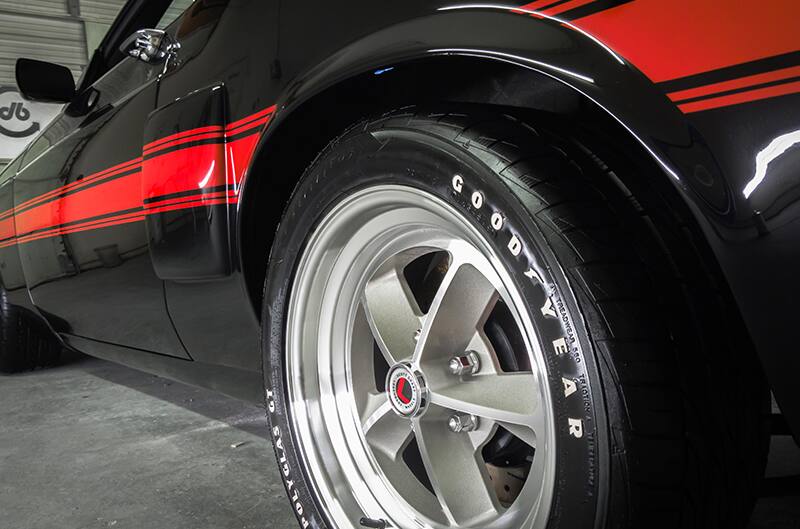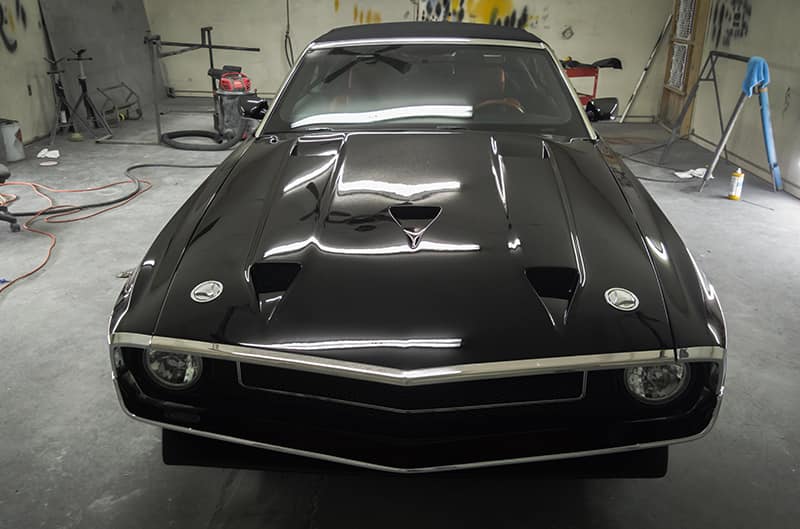 FORD PERFORMANCE PHOTOS / JOHN M. CLOR & COURTESY DUNCAN BROTHERS CUSTOMS