This year's Carlisle Ford Nationals included a "celebration" of the "Big Horse" Mustangs of 1971-73. Although regarded by many enthusiasts as the ultimate extension of the Mustang's first generation, these models were extensively redesigned and re-engineered, arguably representing a second act in the long-running Mustang drama. And second acts are notoriously tricky – especially when Act One has been one of history's biggest hits. The natural inclination is to give the audience more of the same, emphasis on more – bigger, brasher and even flashier than before.
But when the curtain rose on the '71 Mustang – on August 20, 1970 – the world beyond the proscenium had irrevocably changed. Federal rules regarding safety and emissions were tightening, but more critically, rapidly rising insurance premiums were suffocating sales of high-performance automobiles. But if any of this was foreseen in the spring of 1967, when planning for the '71 Mustang began, it certainly wasn't considered.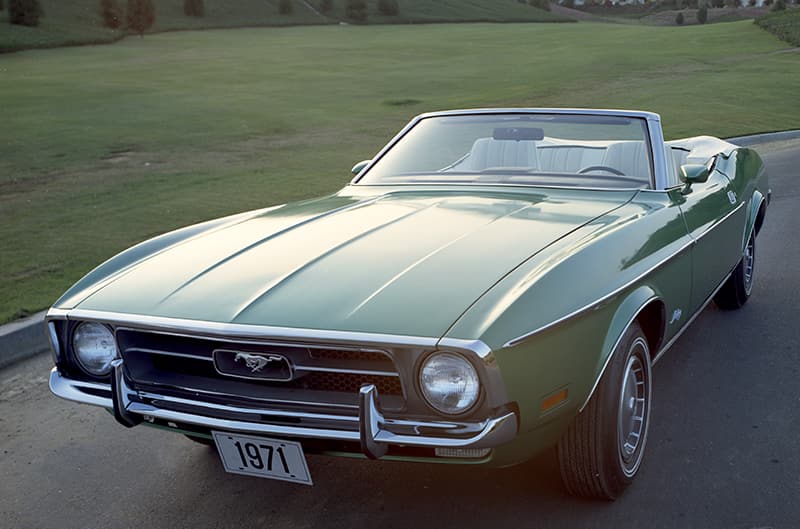 The once-unique Mustang was handily outselling a raft a newly minted imitators, aided by a newly optional 320-horsepower 390 V-8, and even larger and more powerful engines were on the way. The horsepower race alone demanded a larger, more robustly constructed Mustang. But just as profitable as the high-performance models were the Mustang's highly optioned luxury variants, and Ford product planners believed that the buyers of these mini-T-Birds would prefer a larger car as well.

Initial design proposals tended toward bulbous bulk and overwrought detail. However, around February 1968, newly installed Ford Motor Company President Semon E. "Bunkie" Knudsen pronounced his blessing upon a crisp and angular fiberglass exercise, distinguished by a nearly flat backlite that tapered toward a high, Kamm-style tail – a clear visual reference to Ford's Le Mans-winning GT-40s. And while details would evolve considerably under Mustang Design Chief Gale Halderman (and Knudsen's continuing influence), in that moment the fundamental appearance of the '71 Mustang was established.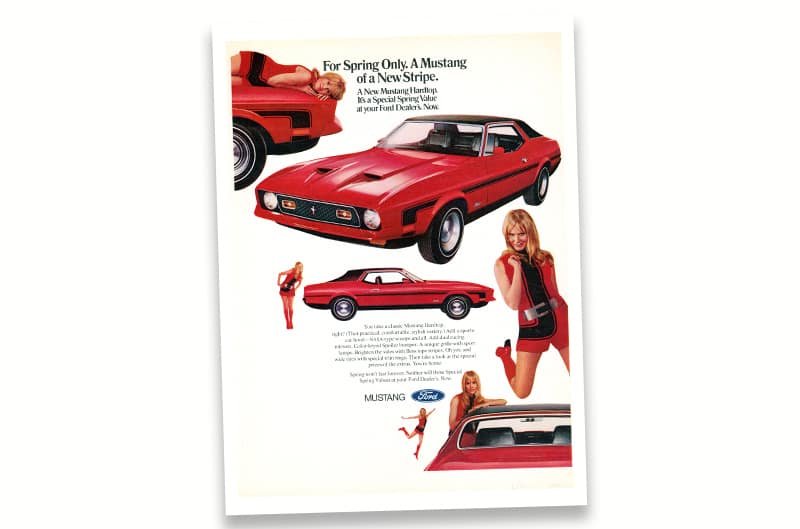 Meanwhile, production Mustangs continued to grow in size and mass – from a 1964 base weight of 2,449 pounds, and a length of 181.6 inches; to 2,721 pounds and 187.4 inches for 1970. Sheet metal was significantly revised for '67 and '69, with each iteration gaining visual heft. Perhaps most significantly, 1965's top performance engine option, a "High Output" 289 rated 271 horses, was ultimately eclipsed by the ultra-low-production Boss 429, whose hulking semi-hemi cylinder heads required significant modification to the front suspension and engine bay.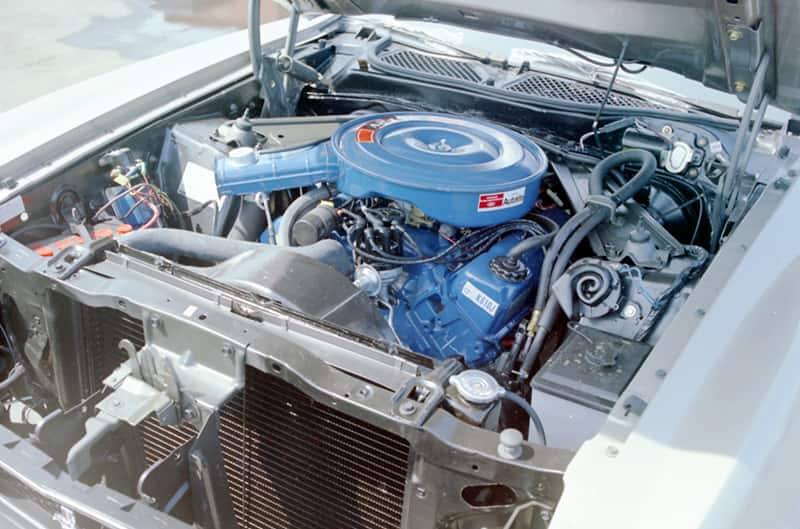 And so it should surprise no one that Ford made the '71 Mustang bigger still: 2.1 inches longer than the 1970 model, with all of that increase ahead of the windshield. The front wheels stepped out one inch further ahead of the cowl (stretching the wheelbase from 108 to 109 inches), while additional front overhang accounted for the rest. Even more dramatic was a 2.4-inch increase in overall width. Tire track spread wider too, from 58.5 inches front and rear, to 61.5 inches up front and 61.0 out back.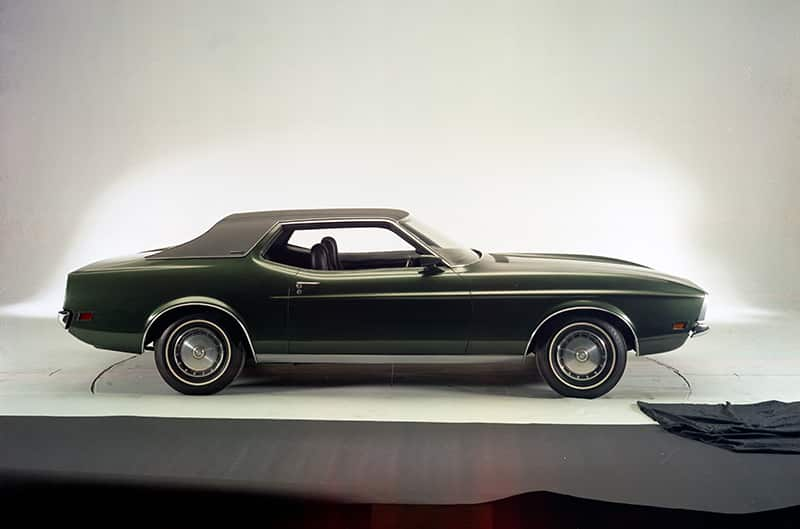 Final production styling emphasized the Mustang's newfound mass. Previewed by the '69 Shelby, the grille opening now stretched as wide as the car, highlighted by surrounding brightwork; although plastic inserts still defined the traditional, rectangular "horse corral" grille set inboard of the headlamps. Around back was a subtly concave tail panel housing trapezoidal three-segment taillights. Semi-concealed wipers and flush door handles followed industry-wide trends.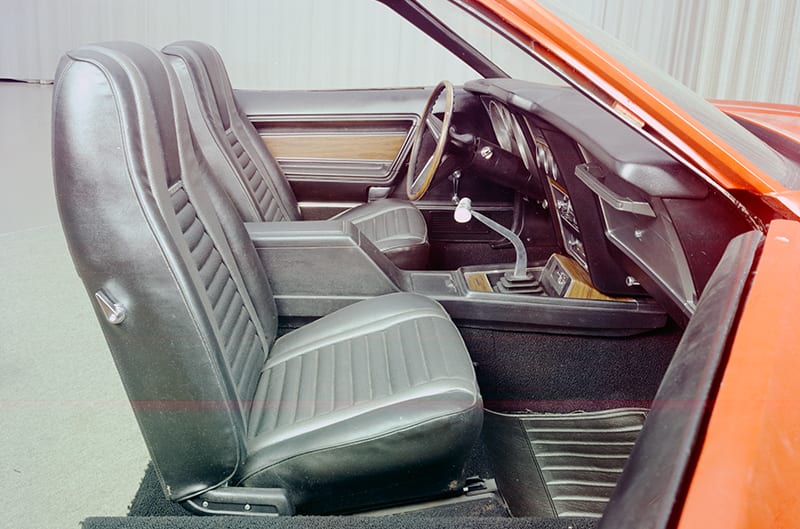 The maximum-macho Mach 1 skipped the bright trim around the grille; even its urethane front bumper was body color, underscored by a prominent black chin spoiler. A simplified grille housed rectangular driving lights, and a blacked-out power bulge integrating twin NACA ducts topped the engine hood. Stretched between the taillights was a honeycomb trim panel that echoed the texture of the grille, centrally punctuated by a flip-up fuel filler. Racy tape stripes and a free-standing rear wing were popular options.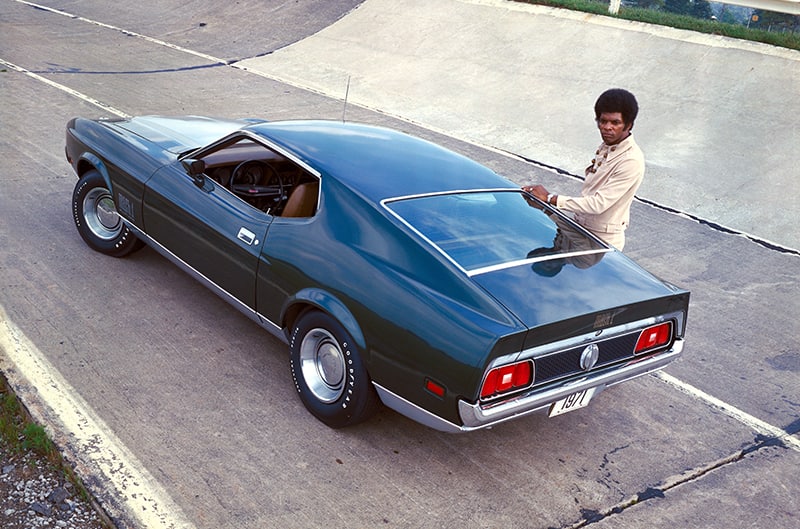 A mid-year Exterior Decor package would apply the Mach 1 grille, lights and scoops to milder-mannered Mustangs, and for luxury buyers, the popular Grandé model returned, with its cloth seats, faux-wood interior paneling and deluxe exterior trim.

The wider track, combined with a higher roll center, kept the Mustang's tires more perpendicular to the road while cornering. V-8-powered models could be ordered with a stiffer "Competition" chassis. Optional power steering was now integrated with the recirculating-ball steering gear, eliminating the older car's linkage booster. Steering ratio was fixed with the base suspension but variable with the Competition setup.
The new suspension geometry required significant changes to the Mustang's unit-body, including a front-end structure shared in part with the mid-size Fairlane and Torino. The new engine bay featured a cross-flow radiator and re-shaped front spring towers which, along with the dimensional increases, allowed the 429 cubic-inch big-block to slip right in as a regular production option.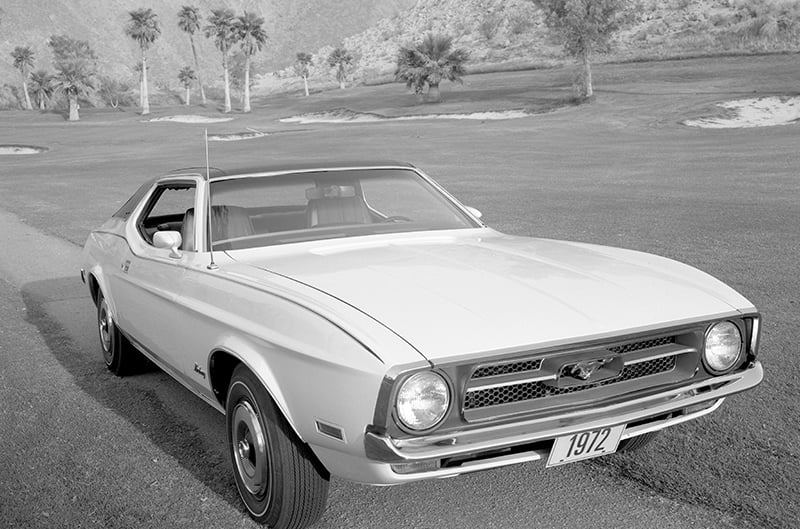 Except the Boss 429 was gone; so was the road-racer Boss 302. Ford had spent somewhere between $4 million and $5 million winning the SCCA Trans Am series in 1970 and, the way Dearborn saw it, that point was already made. The top engine option for '71 was the somewhat slimmer 429 Super Cobra Jet (SCJ), which with optional Ram Air rated the same 375 horsepower as the bulky Boss. Standard issue for the Mach 1 was down-rated from a 250-horse 351 to a 210-horse 302; although 351's rated 240hp and 285hp were optional. The base engine was a 250 cid six rated at 145 horsepower.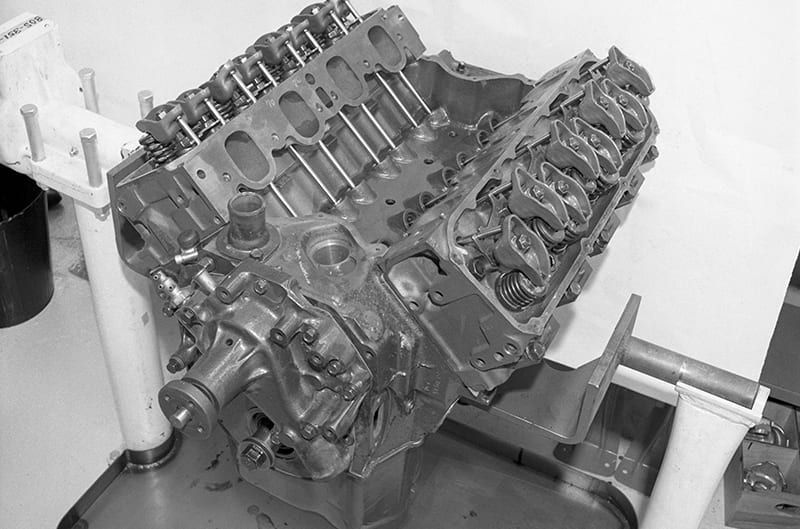 The all-new styling drew mixed reviews – especially the fastback "Sportsroof" version that had Bunkie so beguiled. Motor Trend (September 1970) swooned over "the svelte, aerodynamically clean lines [of Ford's Le Mans prototypes], with a sidelong glance at the Maserati Ghibli;" while Car and Driver (October 1970) derided the marriage of the "bread-van" tail to the Mustang's traditionally long muzzle: "The 200-mph Mulsanne missile illusion doesn't quite come off . . . and the combination wallows in indecisiveness."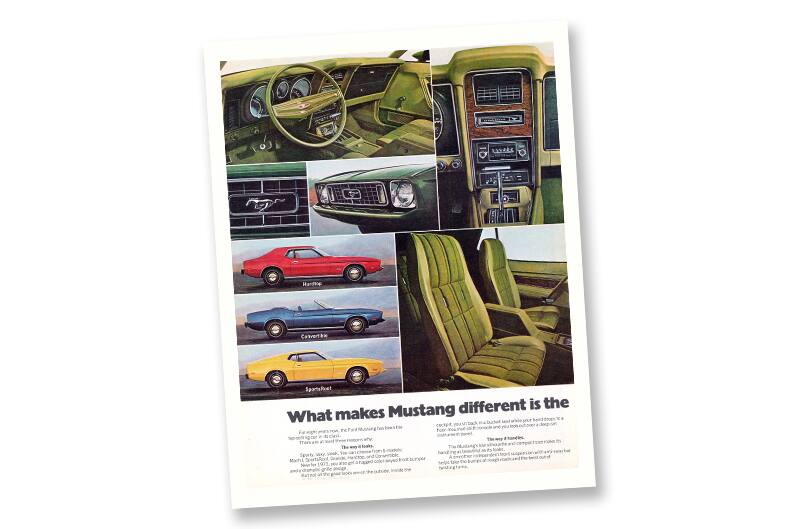 Less controversial were the Hardtop and Convertible variants. ("There are models that do look like Mustangs," C/D grudgingly allowed.) These shared the Sportsroof's dimensions and all of its lower sheet metal, but despite an all-new, deeply tunneled backlite, presented a more conventional profile that emphasized, rather than camouflaged, the Mustang's trademark long-hood / short-deck proportions. But even the Hardtop, C/D grumbled, had "ballooned another notch closer to an intermediate sedan." And Motor Trend questioned whether "a car with a 109-inch wheelbase, 189.5-inch length, 50.5-inch height and 39.8-foot turning diameter" could be still be considered "sporty and compact."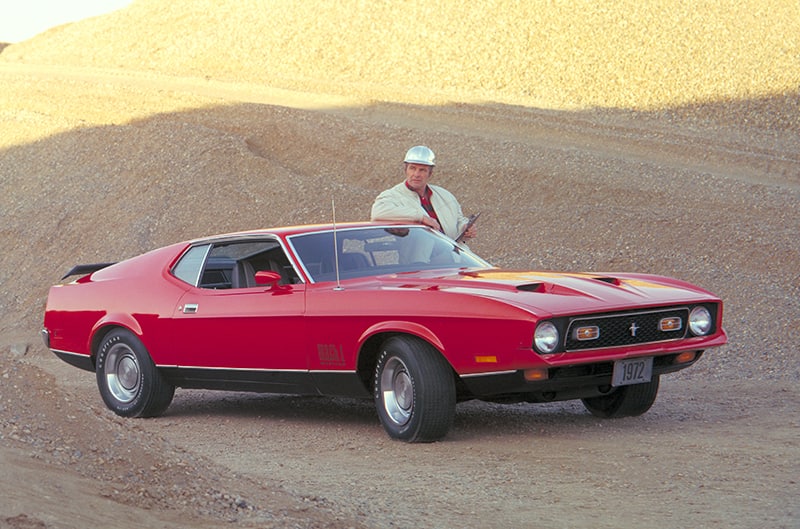 And while the outside of the Mustang grew, its interior seemed to shrink. The original Mustang had felt roomy and airy, at least for the two folks up front; but the '71 was universally panned as cramped and claustrophobic, with limited rearward visibility exacerbated by the Sportsroof's 14-degree backlite. Car Life, in September 1970, kvetched that "the rear window would make a good skylight." The view ahead wasn't much better: "From the driver's seat," groused C/D, "you can hardly see the surrounding earth. . . . a wide power bulge . . . blocks off the road for yards ahead of the car."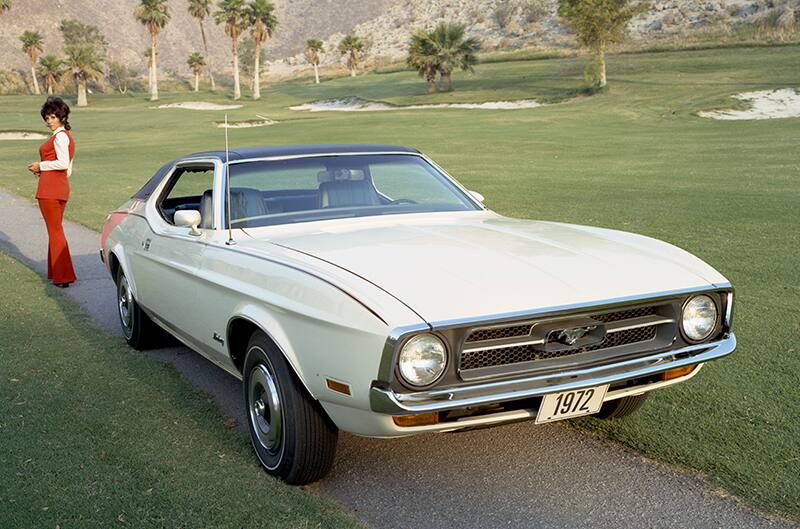 Initial impressions of the new chassis were more positive. Motor Trend reported "vastly improved ride and handling," while Car and Driver conceded that "from a mechanical point of view, the Mustang is clearly a better car than it has ever been" – with "solid improvements" in "steering response" and "straight-line stability."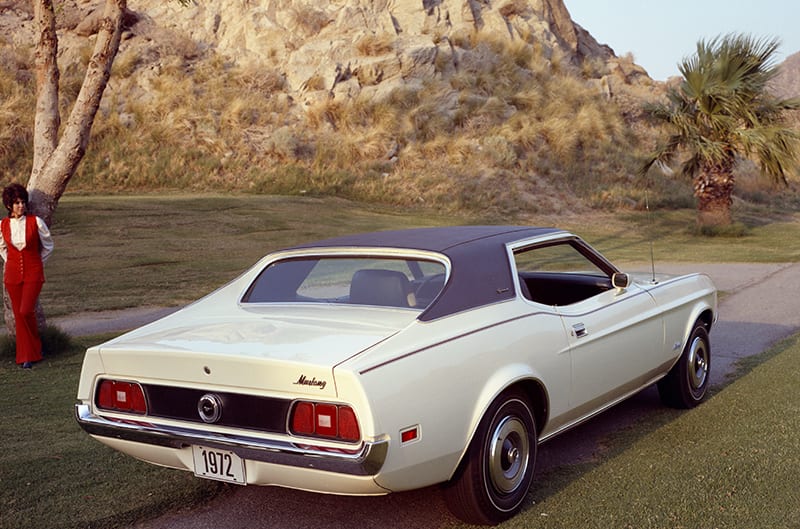 And by late November that year, the Boss was back, festooned in full Mach 1 regalia, plus a chrome front bumper and a unique taillight panel without the blackout trim. Ford transferred the cast-aluminum, oval-port, angle-valve heads from the Boss 302 to the tall-deck 351 block, fed by a 750cfm spread-bore carburetor and packing a radical, high-lift cam. Compression increased, from 10.6 to 11.0:1, and so did horsepower, from 290 at 5,800 rpm to 330 at 5,400. Torque registered 370 pounds-feet at 4,000. A unique heat-treatment fortified the crank, and the forged conrods were shot-peened and Magnafluxed.

This was a serious race engine, said Car and Driver in February, more comparable to Corvette L88 than a Camaro Z/28. The magazine clocked a 14.1-second quarter-mile at 100.6 mph, and then by shifting with the throttle wide open, dropped the ET to 13.9 and boosted terminal velocity to 102 mph. Yet aside from some mechanical valve clatter, C/D found the Boss motor "remarkably well behaved" for use on the street. Unfortunately, the honeymoon with the new Competition suspension was over. "The car just doesn't handle well enough to be worth the punishing ride," said C/D, while lamenting the Boss's "fierce understeer" and instability under hard braking.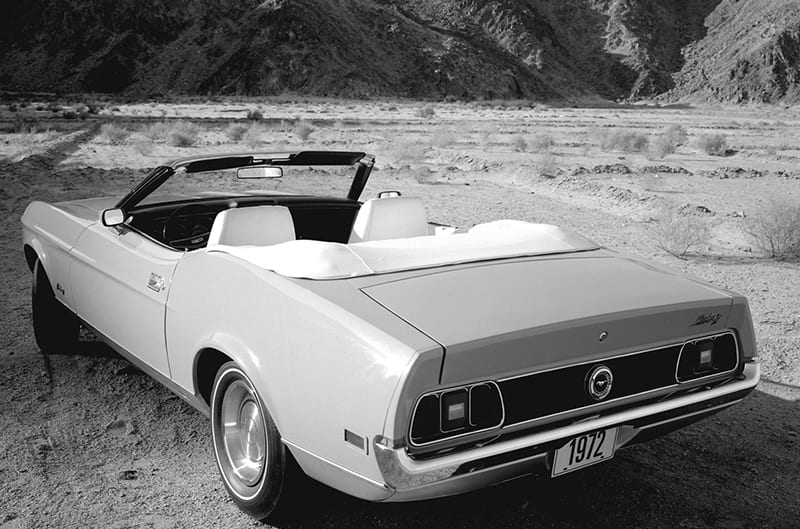 In a January '71 Motor Trend comparison test, a four-speed Boss 351 out-dragged an automatic Mach 1 Super Cobra Jet, 13.80 seconds to 14.61 in the quarter mile, and 104.0 mph vs. 96.8 through the traps. The big 429 did score slightly better fuel economy, 11.3 vs. 9.6 mpg.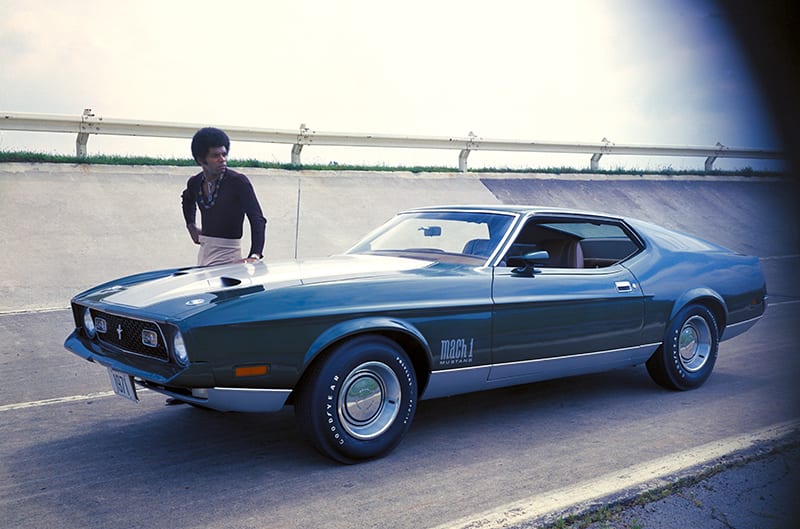 Model-year sales slipped from 1970's 190,727 to just 149,678 in 1971. Visual changes for '72 were limited. The Mach 1 surrendered its flip-up fuel filler for a more conventional gas cap, and on base-model trunk lids a new Mustang script replaced the block letters seen before. Convertibles benefited from an upgraded interior. Late February brought the star-spangled Sprint package, with white paint, blue stripes, patriotic graphics and a Mach 1 grille, available on Sportsroof and Convertible body styles only.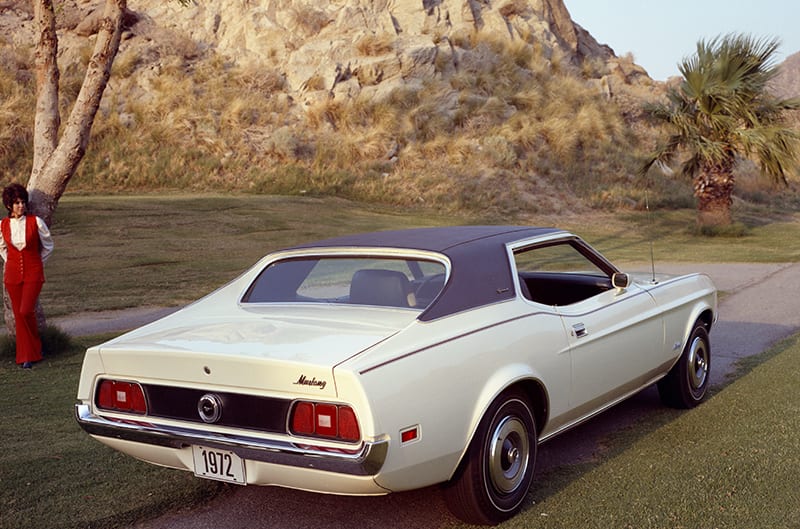 Bigger changes arrived under the skin. Ford proudly touted a 60-percent reduction in carbon monoxide emissions, with hydrocarbons down by more than 85 percent. But the Boss had been dismissed, and the 429 consigned to history; although the option sheet still listed a solid-lifter "351 HO." Ford now reported SAE net, rather than SAE gross horsepower, and this last-of-the-would-be racers rated 275 of the more realistic ponies, peaking at 6,000 rpm.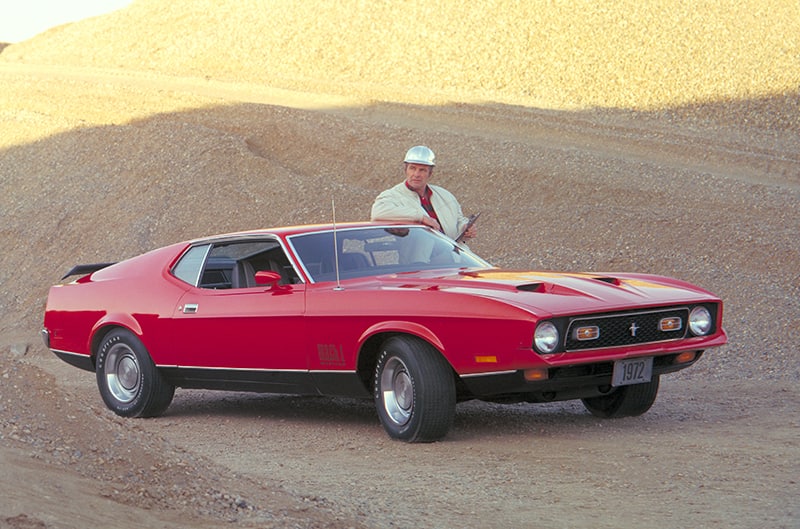 Included with the High-Output engine was the Competition suspension, F60-15 tires on seven-inch rims, front disc brakes and other heavy duty equipment. C/D tested a base-level Sportsroof with the HO package in March 1972; Executive Editor Patrick Bedard called it "big" and "self-assured" – a muscle car at the end of its era. "Everything is massive. When you lean on the Hurst lever that's sticking up through the tunnel you can feel about 10 pounds of brass synchronizer rings and steel hubs sliding into position. . . . There is little demand for finesses, only machismo."
With a 3.9:1 rear, the quarter-mile passed in 15.1 seconds at 95.6 mph. Overall, Bedard concluded, "the 351 HO drives just like last year's Boss. It rides like a Grand National stocker and feels like it would handle that way until you try to turn a corner. Then it understeers. . . ." Fewer than 1,000 were built.
Motor Trend had tested a 302 Hardtop in October, which despite a nominal reduction in horsepower turned a quarter-mile in 17.5 seconds, at 75 mph. Characterizing the standard suspension as "surprisingly good," MT rated the low-end Mustang a better car overall than an equivalent Camaro, Firebird, Javelin or Barracuda. Yet sales slid further to 125,405.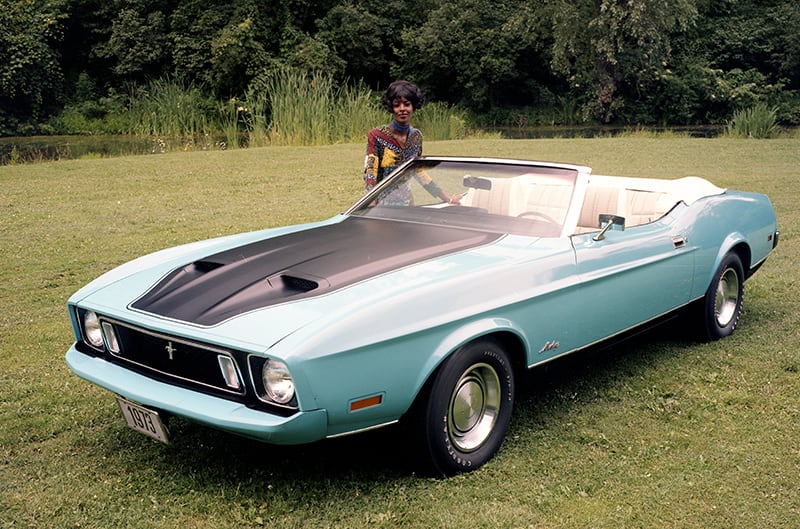 All Mustangs for '73 were easily identified by vertical turn signals at the outer edges of the grille, which on base models now featured a bolder, more rectangular grid pattern, with the central horse corral now intersected by a vertical rather than a horizontal bar. All models were protected by more substantial, body-color front bumpers, and the new turn signals left no room for driving lights, but the Mach 1 retained its corral-free grille of honeycomb mesh. Headlight bezels were outlined in chrome on Mach 1's and fully chromed on base models.
Horsepower was down to 99 in the base six, and 141 in the 302; while a trio of 351's offered 177 hp, 266 hp, and 275 hp. Brakes and shocks were upgraded on all models, and front disc brakes were optional with the 351 V-8s and on all convertibles. (Those '73 soft tops, incidentally, would be the last open-air Mustangs until 1983.) Other new options for '73 included aluminum wheels and steel-belted radial tires. In a boom year for car sales in general, Ford moved 134,867 Mustangs.
Alas, however, the Mustang's second act was second-guessed before the curtain ever rose. Henry Ford II had abruptly fired Knudsen in August of 1969. At a management conference that November, Lee Iacocca, then President of Ford's North American Operations, questioned why the Mustang was growing larger, while its target demographic was turning toward smaller imports. That question led ultimately to the "Mustang II," which was approved for production in July 1971, with assembly slated to begin just 24 months later.
Fifty years later, cynics might dismiss Bunkie's Big Horse as an ill-timed mis-step – and they would be wrong. By 1971, all of the old ponies were putting on weight, for all of the same reasons. Even the vaunted 1970-1/2 Chevrolet Camaro, for all its visually slender, "Europeanized" styling, in fact measured a half-inch wider than the '71 Mustang, and only 1.5 inches shorter, bumper-to-bumper. And despite steep declines in all pony car sales, the Mustang continued to dominate the segment, through the Big Horse years and beyond.
As much as any other Mustang, the Big Horse cars were an evolutionary link in the unbroken chain that has now brought us the best Mustangs ever. Today's base-model Mustang stretches 188.5 inches long, on a wheelbase of 107.1 inches. It looms 74.5 inches wide and stands 54.3 inches tall; that's within an inch or two of the Big Horse in nearly every critical dimension. At 3491 pounds, it weighs about the same as a '71 Boss; while its 2.3-liter turbocharged four produces a near-Boss-level 310 horsepower and 330 lb-ft of torque, both SAE net, with 30 mpg on the highway.
Go ahead. Press the start button. And tell us you can't hear the distant hoof-beats of a long-ago Clydesdale ancestor.
Note: In addition to the contemporary road tests cited within this article, important sources included Jerry Heasley's "1971-1973 Mustang Spotter's Guide," posted by Mustang 360, December 11, 2018; and especially The Complete History of America's Pioneer Ponycar, by Gary Witzenburg, published by Automobile Quarterly in 1979.Thanks to Peter Sutton and Jamie Myler of the Ford Archives, who located and provided the photos.