Ford's new Bronco and Bronco Sport SUV models comprise one of the most anticipated and exciting new product launches from Ford attracting interest – and dealer orders – rivaling that of any-gen Ford GT or new Mustangs wearing a Shelby badge. The late Bill Stroppe is a name synonymous with the notion and term Ford Performance. Stroppe was a legendary racing driver, car builder, racing team owner, and particularly famous off-road racing co-driver with the exceedingly legendary Parnelli Jones. Stroppe's teams began building and racing Ford Broncos not long after the model was introduced in 1966.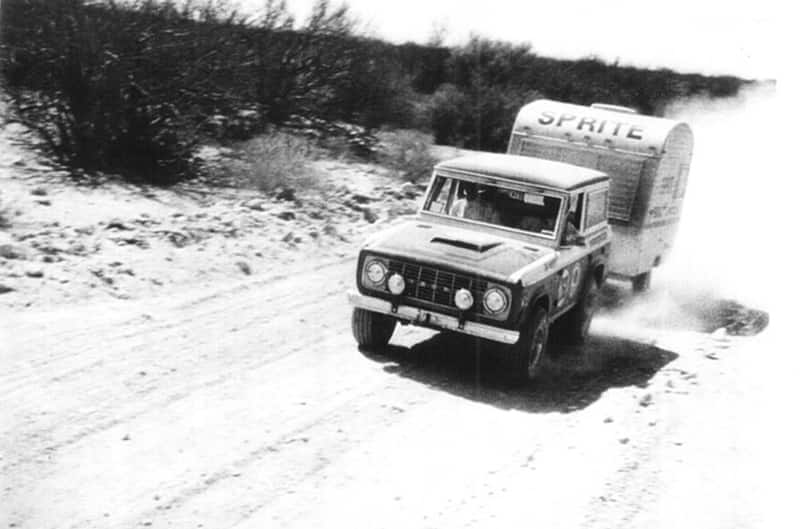 The most famous among all of them was an angry, tube-framed pit bull of a Bronco nicknamed Big Oly, due to its general bad-assedness, and its sponsorship by the Olympia Brewing Company. Jones drove it, with Stroppe up as his co-pilot/navigator, and this combination raided and handily dominated Baja-style off-road racing in 1971-72. (Just this past week, Jones' own 1969 Big Oly Bronco sold at auction in Indianapolis for $1.87 million.)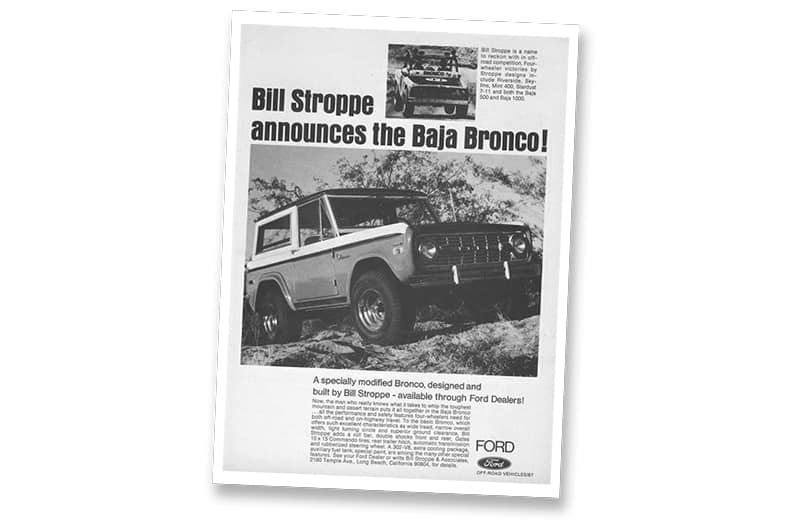 Stroppe once told your author that, "when you rode along with Parnelli, any of three things would happen. You'd win, you'd break, or you'd die."

They won.

Out of Bill's racing success with Ford, and Broncos particularly in the late 60s and early 70s, he and Ford Marketing divined that a specially modified, beefed-up Bronc conceived and built by Stroppe would be a welcome addition to Ford Dealer showrooms. So Stroppe and his band of hot-rodders and fabricators dreamt-up a package that improved the Bronco's off road prowess and overall pizazz levels, which became known as the Stroppe Baja Bronco. Noted Baja Bronc authority and restorer Andrew Norton tells the story: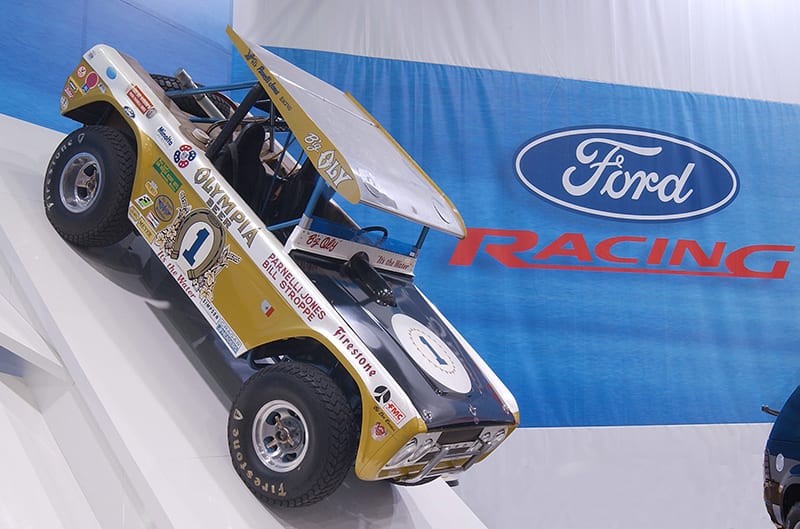 "From what I understand, a Baja Bronco could be ordered from most any Ford dealer. The customer just had to complete the Baja Bronco order form and have the dealer put the order in. Ford would then build a semi-complete Baja Bronco and send it to Long Beach, California, for completion by Stroppe. Once Stroppe was finished with the conversion, the completed Baja Bronco was sent to the ordering dealer for customer delivery.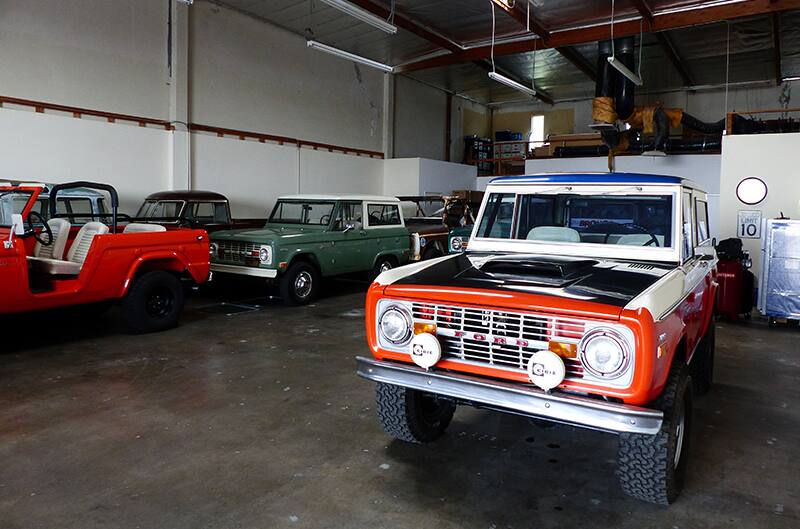 The Baja Broncos all started life as Sport Broncos with special paint done at the factory. The paint scheme was metallic blue on the roof, Wimbledon White from the drip rail to the beltline, and Poppy Red from the beltline down. The hood was painted semi-gloss or flat black except for the leading edge of the hood, which was painted Poppy Red to match the line where the grill and fenders meet. Additional Ford-supplied equipment consists of the Extra Cooling Package, reduced sound exhaust, and heavy duty suspension.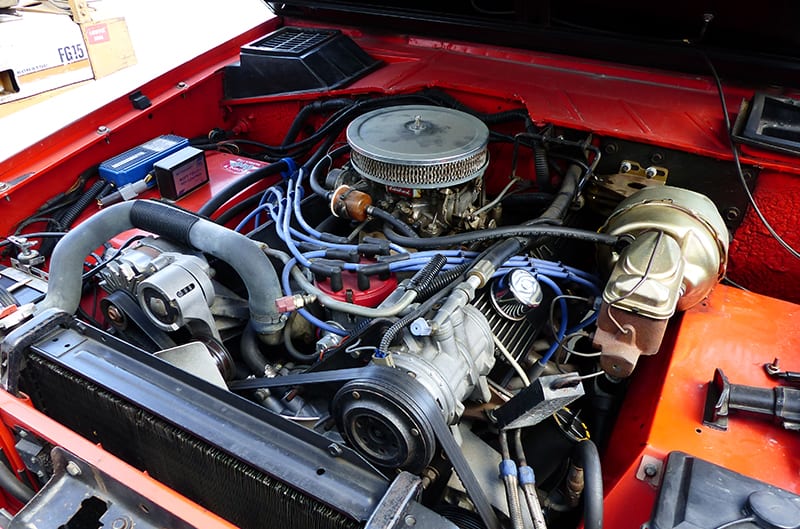 Ford left the rest of the conversion to Stroppe. Stroppe installed fender flares in the rear and trimmed the front fenders for clearance of the Gates Commando XT tires on either painted-steel wheels or slot mags of 8.5x15-inch size. Also included in the Baja Bronco conversion were dual shocks at each wheel, padded rollbar, rubberized steering wheel, front bumper braces, trailer hitch, and Baja Bronco tire cover and fender decals.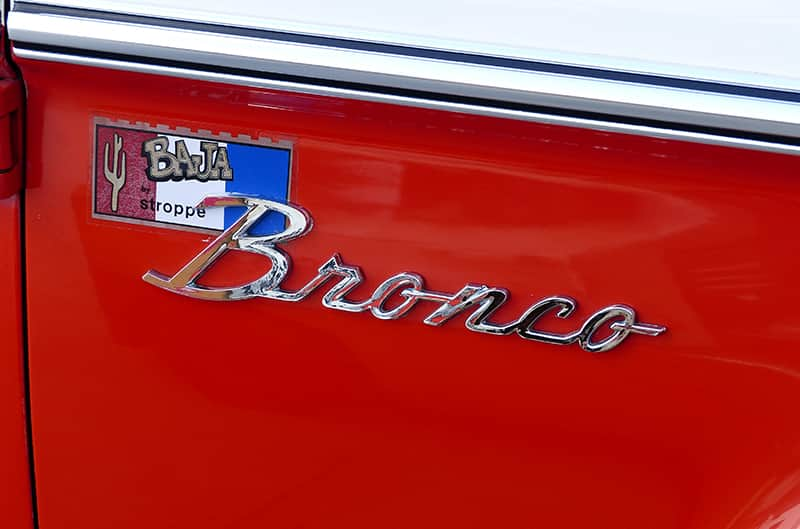 Perhaps the most important feature of the Baja Bronco was its powertrain options. In '71 and '72, the only way to buy a Bronco with automatic transmission and power steering was to order a Baja Bronco from Stroppe. If so ordered, Stroppe converted the early Baja Broncos to Saginaw power steering and installed a C4 automatic transmission and trans cooler. Contrary to popular belief, not all Baja Broncos were converted to automatic and power steering. However, the later Baja Broncos were all factory equipped by Ford with power steering and automatic."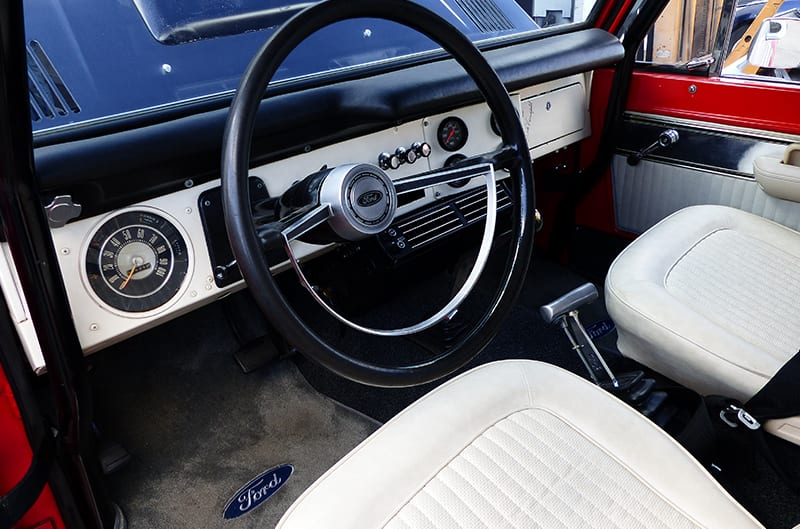 There were no 6-cylinder powered Bajas; the 302 Small-Block Ford V-8 was standard. Most Bajas were equipped with 3-speed automatic transmissions as Norton notes above, although a very few slipped out with 3-speed manual transmissions. Stroppe's off-road parts and accessories catalog offered a wide variety of options, from racing seats, harnesses and auxiliary lighting, to Phase 1 and Phase 2 performance upgrades. The former includes expected mods for the standard 302, such as headers, dual exhaust and a four-barrel carb. If you really wanted more power than that, the next step up was a 351 Windsor V-8 engine swap; the latter also mandated a Mustang scoop on the stock hood to allow for clearance of the slightly higher manifold and carb setup on a 351.
Uber serious Baja (and racing) Bronco collector Kiyoshi "Tiger" Uchiyama has one such 351-motivated '71 Baja -- in fact, one with a unique racing provenance, which we'll get into in a bit. As if to demonstrate how serious the mid-40s-ish Uchiyama, (originally from Tokyo, who now spends most of his time in Los Angeles with construction business involvements in both places), is about Broncos, you should know he collects but two types of vehicles: multi-window early Volkswagen Type 2 buses and trucks, and Ford Broncos. A visit to his shop will have you breathing heavy within moments of arrival. Even though the White/Blue/Red paint scheme is the iconic and generally considered standard treatment for a Stroppe Baja, not all of them were. However, this particular Baja was built accordingly. It also wears chromed steel wheels, while many ended up with brushed or polished aluminum "slot mags" -- we submit that the steelies are just the right look for a Baja.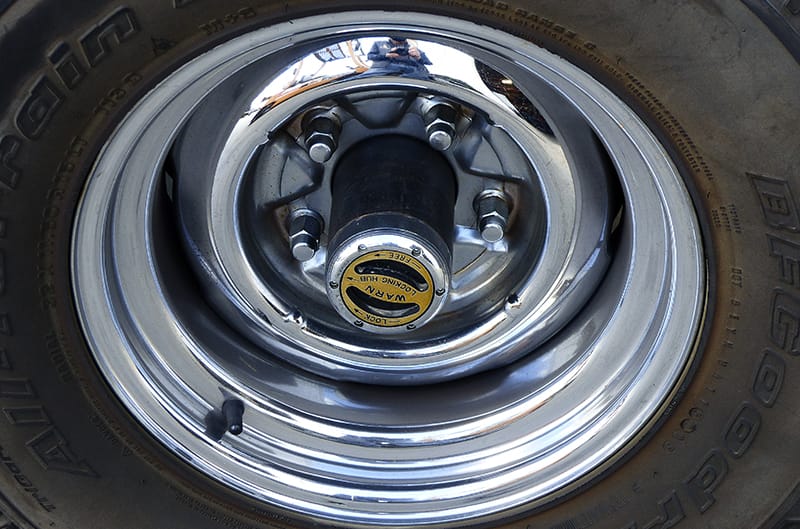 And it's stunning, now an older restoration albeit with constant fettling by the abovementioned Norton. It's also immaculate, save for a bit of dust here and there to prove it's driven and enjoyed, but not an overly polished concours prisoner. It wears the seminal tri-color paint scheme, roll bar, and a few engine dress-up goodies underhood, plus a B&M floor shifter for the automatic. Climbing aboard reminds you how short-wheelbased and compact these original Broncs are, especially when compared to the F-150 derived models that followed post-1977. The engine fires with no more drama than any late-60s Windsor equipped Mustang or Cougar. At idle, it burbles softly through its dual-glasspack exhaust system. Select Drive, and you're away; we also suggest leaving your biggest Western or work boots at home to drive a Baja, as Stroppe adjusted the brake and throttle pedals closer together – not uncommon for racers that often left-foot brake -- so today on the street, bigfoots could hit both at the same time, yielding a possibly unintended result.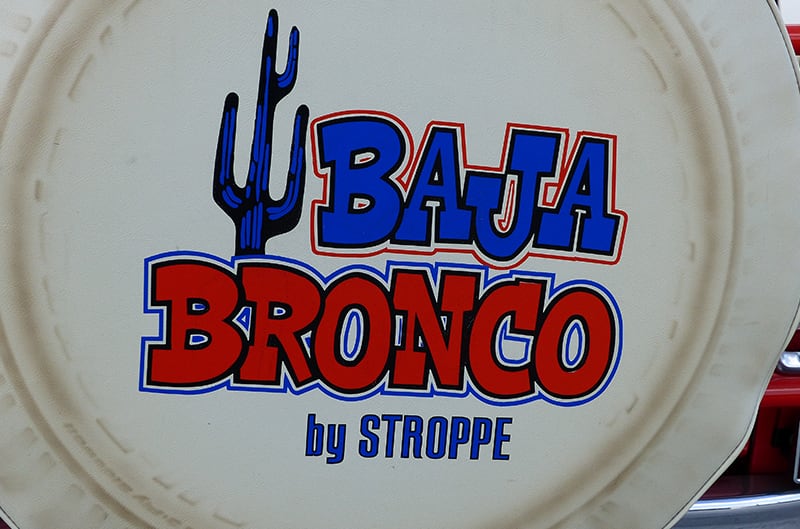 Otherwise, it's absolutely easy and fun to drive. The hearty V-8 has more than enough punch to move the Baja smartly away from the lights or while on the move. Location, time and conditions didn't allow us any off-roading, but we've no reason to doubt the truck's prowess on the dirt; there's plenty of suspension travel, and the short wheelbase aids maneuverability; the on-road ride is also quite comfy. The steering a bit lacking in feel, but otherwise this little Bronco is a joy to motor. It's no surprise at all why Bajas are so highly sought-after and have become pricey (the very best can cost $100K).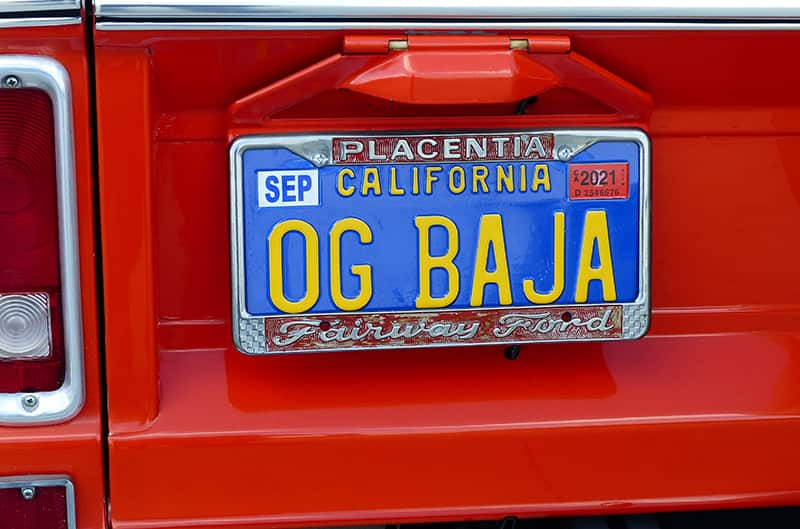 This one's history offers an extra, if somewhat unexpected, twist. It is the first vehicle to have raced the Baja 500 towing a travel trailer. Indiana-based Caravans International was launching its Sprite line of camper trailers, and felt that running one in the Mexican Off Road Race would be an interesting challenge and a whimsical PR play -- so they did. SoCal off-road racing vet Carl Jackson drove this very Stroppe Baja Bronco, with a Caravans International Sprite travel trailer attached via a standard Class II hitch, in the 1971 Baja 500. They didn't win but they did finish, and if you know anything about Baja racing, just finishing is a victory of sorts.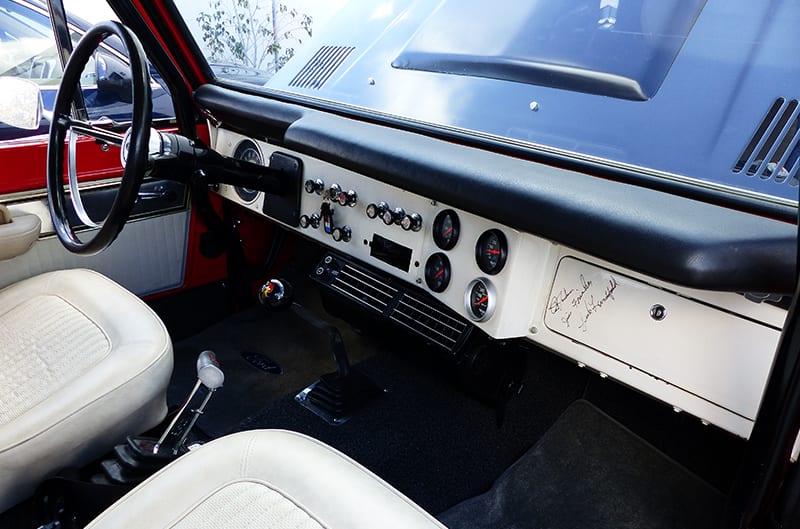 Baja Broncos, produced by Stroppe from 1971-75 weren't specially serialized so verifying the authenticity of any example can be challenging, plus the company's invoicing records of each job are long MIA. Experts like Norton can spot a marginally done clone a mile off, as there are numerous small tells. Norton advises that 380 Broncos were specially configured for Baja conversion by Ford, but that several hundred more were customer or dealer cars that were later Baja-fied by Stroppe; he estimates that between the original Ford configured cars and post-Ford yet authentic Stroppe-built conversions, that the total Baja Bronco production population was about 650 trucks. Proof that not all were red/white/blue, Mr. Uchiyama has one such Baja in his collection that still wears its original medium green metallic paint, and it also seems there are several around wearing a very '70s shade of metallic "root beer" brown, or Big Oly Gold.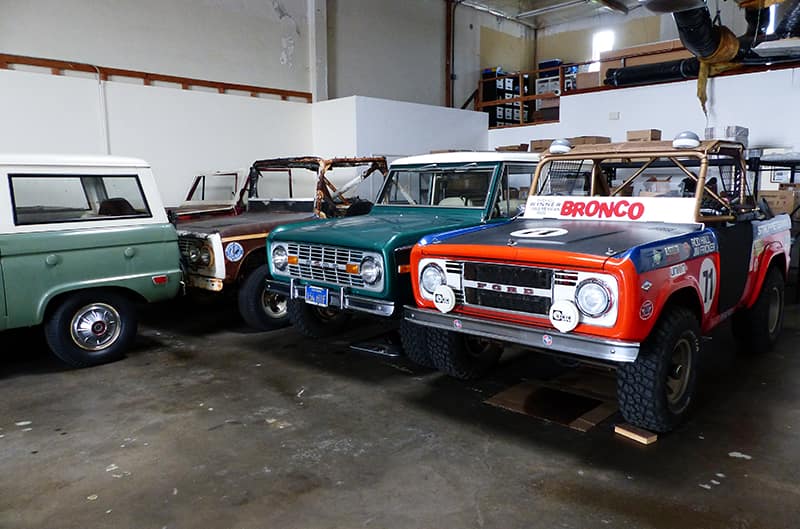 Even though the original Bill Stroppe himself is no longer with us, there still is a Stroppe Enterprises company with its hands in the automotive pie. One can only wonder the chances and appeal of a new 2-door Ford Bronco given a modern Stroppe Baja treatment.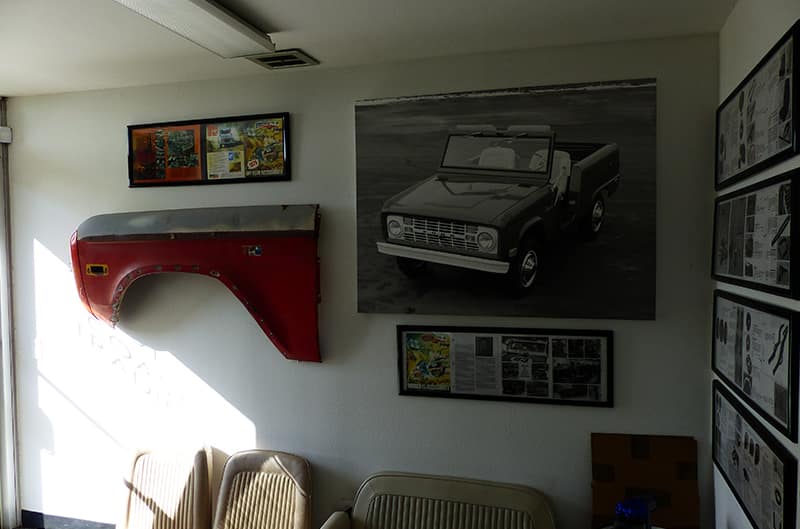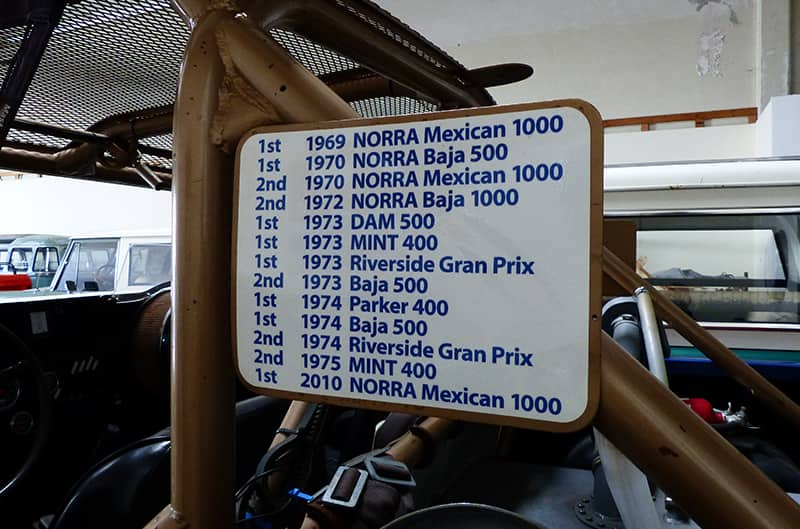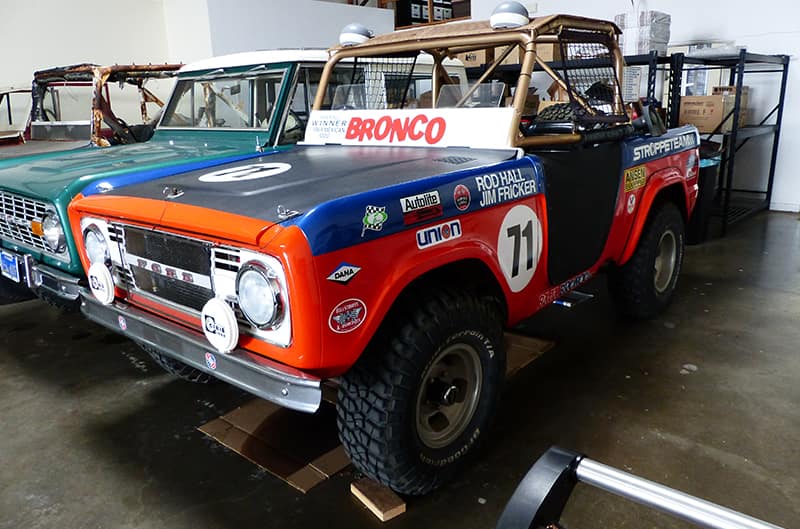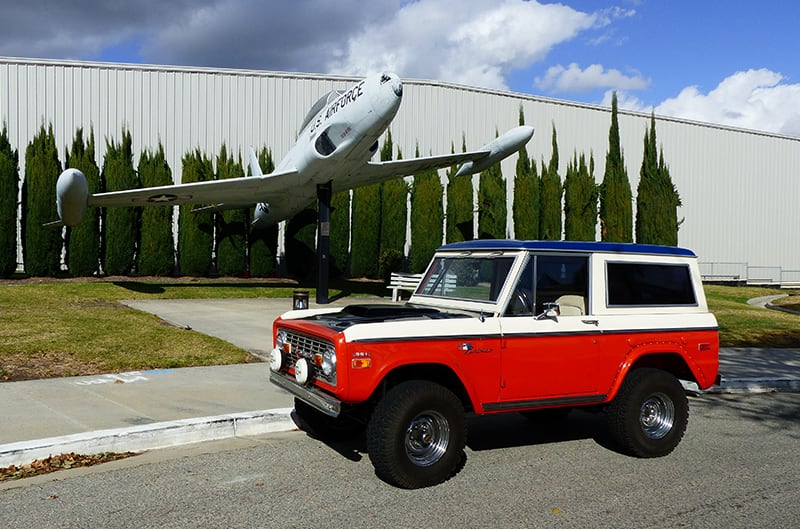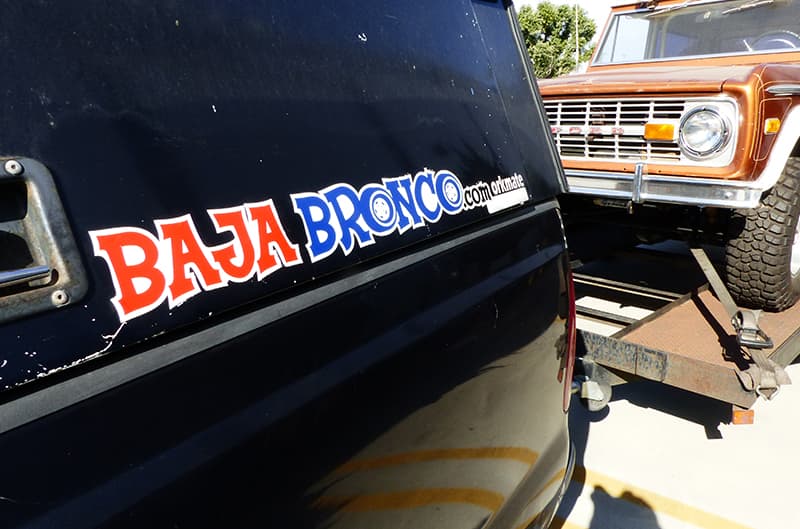 FORD PERFORMANCE PHOTOS / CURTESY MATT STONE and ANDREW NORTON COLLECTION