LORAIN, Ohio – In its 48 years of operation, from 1958 through 2005, Ford's Lorain, Ohio, assembly plant had built a whopping 15,805,106 vehicles; set multiple production records; and earned literally dozens of awards for worker safety, product quality and community involvement. When it opened, its painting operation was the largest in the industry. Its vast facilities even included a hospital.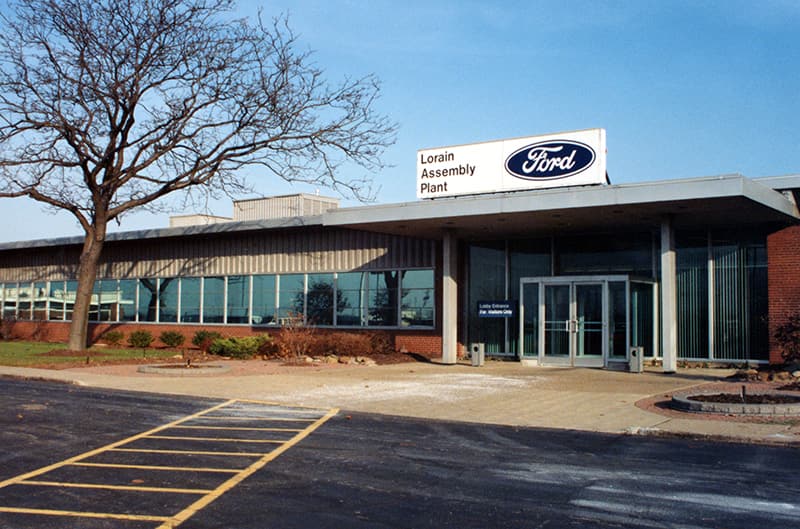 Nearly half of the vehicles built at Lorain were Econoline vans and their E-Series derivatives. In fact, no other product built there enjoyed a longer continuous run, with nearly 7.5 million assembled from the model's 1961 debut through Lorain's last day of operation. But Lorain also supplied nearly 2 million 1980-97 Ford Thunderbirds; more than 1.8 million 1977-97 Mercury Cougars; over 1.3 million 1966-76 Fairlanes and Torinios; more than 900,000 first-generation Falcons; and roughly as many 1968-76 Mercury Montegos and Cyclones. Smaller numbers of Mercury Comets, Ford LTD II's, F-Series pickups, and full-size Fords were also assembled there.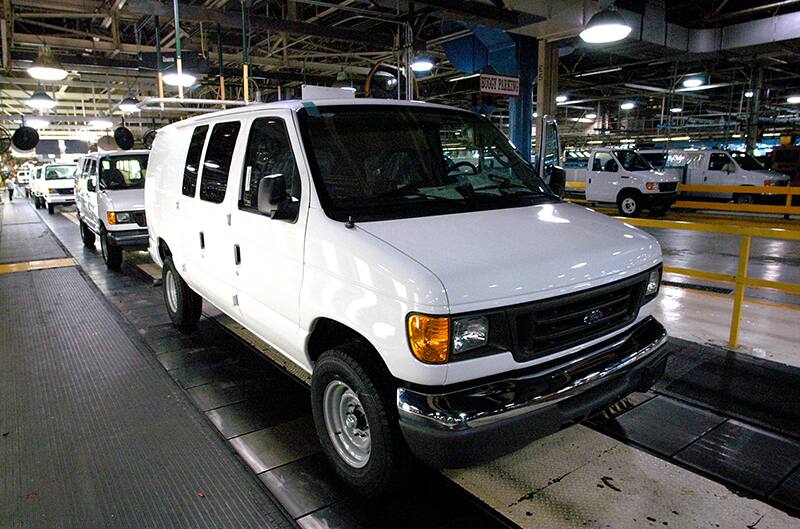 That list of course includes the exciting Thunderbird Turbo Coupe and Super Coupe, which re-established the model as a performance powerhouse and made it a significant force in NASCAR. Lorain workers celebrated when Thunderbirds won Motor Trend's Car of the Year Award in 1987, and again in '89; and yet again when MT named the luxury-oriented Econoline Chateau "Truck of the Year" in 1992. Photos show Lorain officials proudly lofting the magazine's coveted Golden Calipers.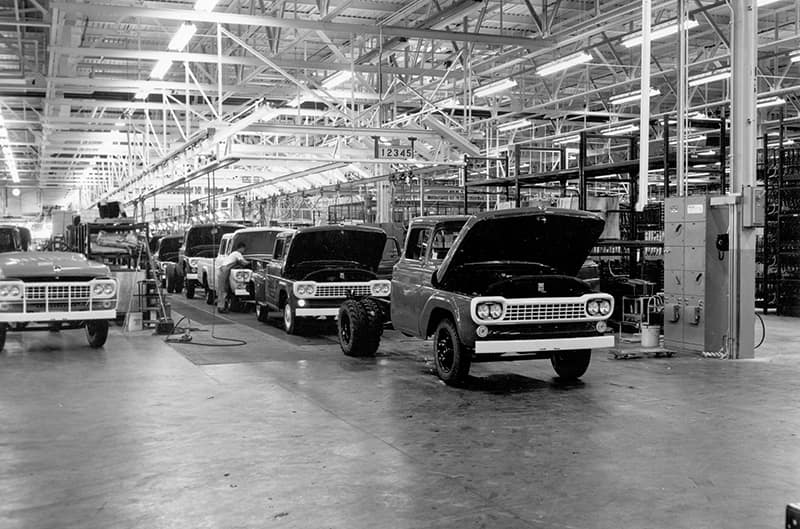 According to Lorain Assembly Plant 1958-2005 (published by the United Auto Workers), Lorain was, when it opened in 1958, "the most modern assembly plant in the automotive industry," incorporating "advancements in communication systems, employee safety and training, quality control programs, final audit procedures and methods of material handling." A primary design criteria was manufacturing flexibility: Lorain was engineered from the ground-up to produce the widest possible range of vehicles with the broadest combination of options -- a prescient goal in the mid-1950's, considering the trajectory of the U.S. industry through the decades to follow.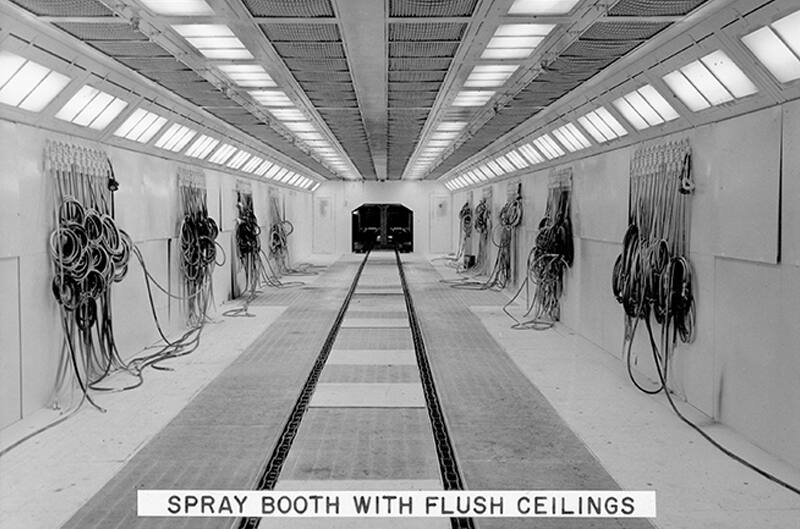 Planning for the new plant began during a dramatic comeback for the Ford Motor Company. As recently as 1948, Chrysler's four divisions collectively out-sold Ford and Lincoln-Mercury; yet in 1950 Ford surged past Chrysler to recapture its traditional second place in sales. Modern engineering and up-to-the-minute Ford styling had captured the public imagination. By 1956, Ford had industry-leader Chevrolet dead in its sights, with nearly nine Fords sold for every 10 Chevys.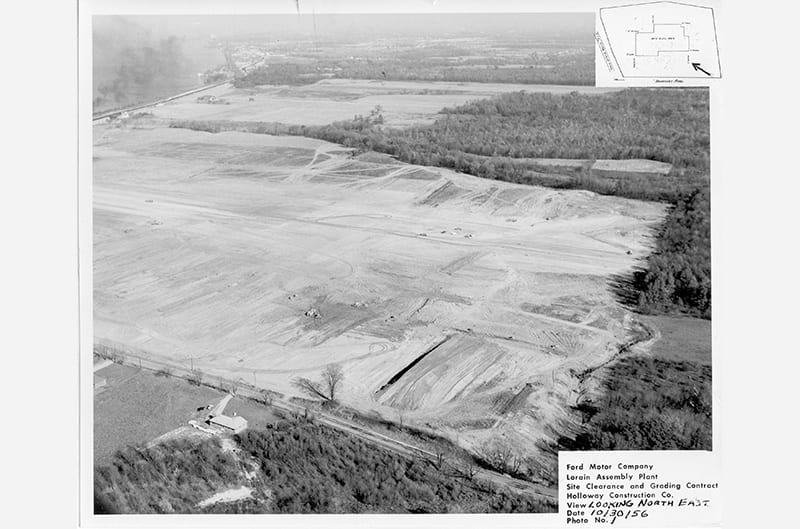 On July 11 of that year, corporate Vice President Robert S. McNamara announced that Ford would build a new assembly plant on the southern shore of Lake Erie, near the western edge of the city of Lorain, Ohio. "We selected the location," McNamara explained, "because it offers the best combination of power, transportation, market and employment factors. The new plant will be designed so we can produce the entire line of Ford cars and trucks with the most modern methods and equipment."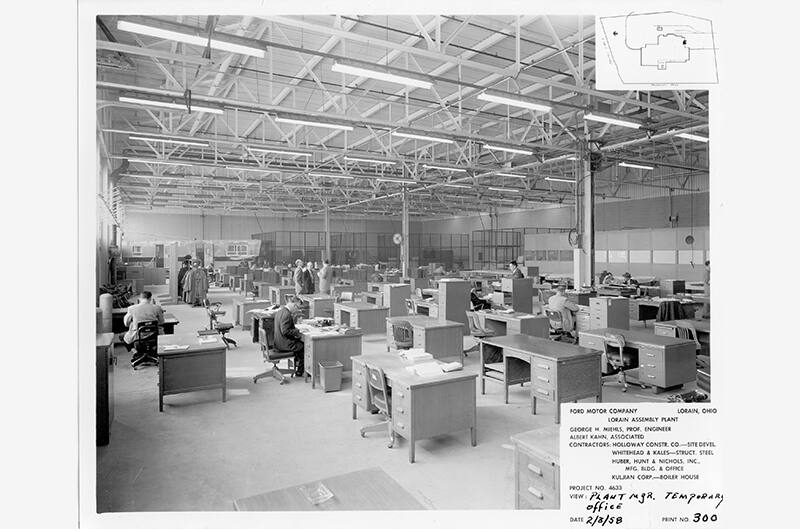 Ford paid $182,500 to purchase 202 acres spread across Brownhelm and Black River townships, partially bordered on the west by 3,400 feet of Baumhart Road, and by 2,444 feet of Lake Road to the north. Plans unveiled on August 2 listed George H. Miehls as the project's professional engineer. Site clearing and construction would involve at least four separate contractors. Following the November 21, 1956, groundbreaking, representatives from Ford and the Lorain community met for a small reception at the Brownhelm Congregational Church.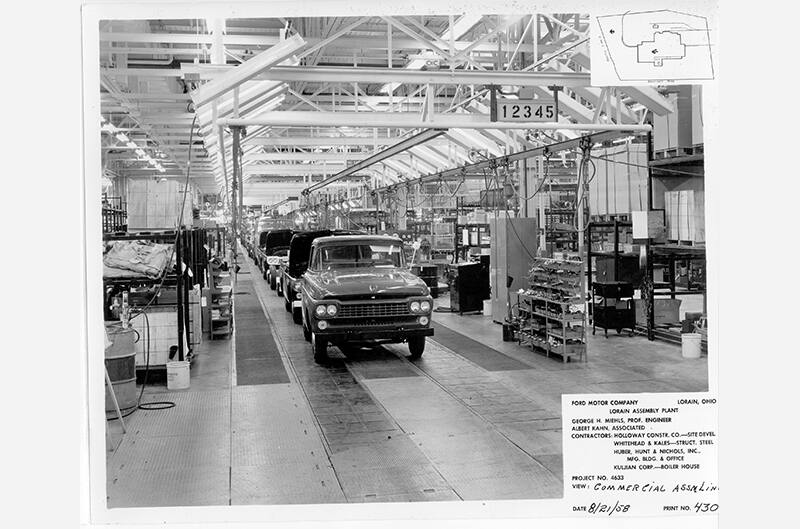 Many of Lorain's initial 1,700 employees were local, although some had transferred from older Ford plants recently closed in Buffalo, Memphis, and Somerville (Massachusetts). They completed their first vehicle, a bright-red F-Series pickup, on May 19, 1958. Lorain's first passenger car, a 1958 full-size Ford sedan, left the line on July 29. By April 1959, Lorain had added a second shift to keep pace with passenger-car production, expanding the workforce to 3,650. A total of 222,884 cars and trucks were built in Lorain's first full year of operation.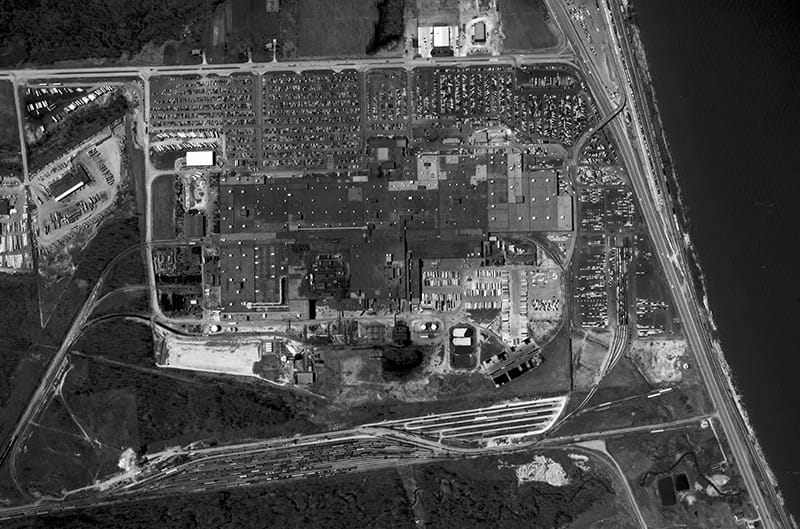 Ironically, Lorain built its last full-size Ford in the early fall of '59, as the plant retooled to accommodate the new compact Falcon -- the first of which rolled off the line on September 14. The Falcon Ranchero, Mercury Comet, and of course the Econoline, expanded the product mix in 1960. Bell Telephone quickly adopted the Econoline for its service and installation fleet, a very public endorsement which undoubtedly contributed to the little van's success. Lorain produced 309,642 vehicles that year, the highest count of any Ford assembly plant. On April 3, 1962, Lorain became the first Ford facility to assemble 1 million vehicles in less than four years. Appropriately, that 1-millionth vehicle was a passenger-model Econoline. Less than three years later, in February of 1965, Lorain production exceeded 2 million.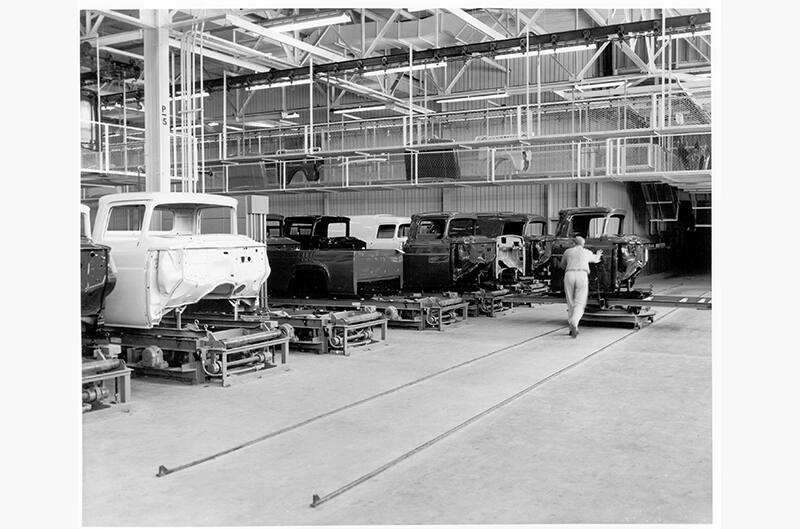 F-series assembly at Lorain had lasted only through 1964, when the big pickups were moved to other plants to make room for (surprise!) more Econolines. Falcon production ended in August 1965, replaced by the new-for-'66 Ford Fairlane. Also in '66, Lorain won a $2.4-million contract to build 1,457 military-spec Econolines for the U.S. Armed Forces, to be distributed among the Army, Navy, Air Force and Marine Corps.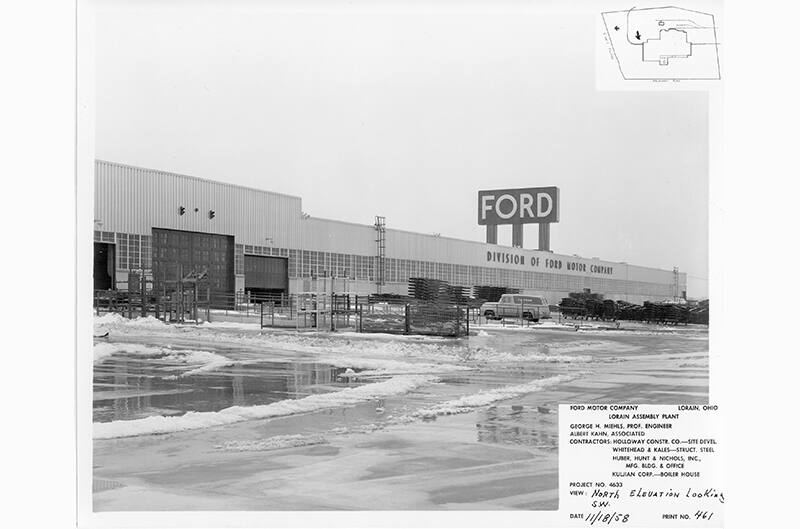 By that time, the plant had already expanded significantly. Back in December 1960, construction began on two concrete loading docks for shipping cars and trucks by rail. Other additions included a 31,000-square-foot parts warehouse, and an 11,000-square-foot water-test facility. These increased total floor space to 1,992,000 square feet, or the equivalent of 33 football fields. Employment had expanded to 4,700.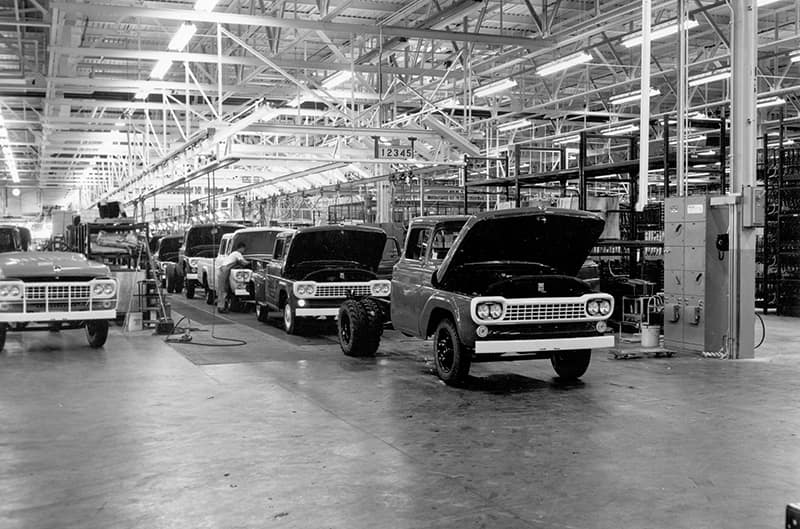 With a further 180,000 square-foot expansion, built between June and November 1967, Lorain became Ford's third largest assembly plant, at more than 2.1 million square feet. Another 100,000 square feet -- for a total of 2.2 million -- were added in July 1969, to warehouse parts for the Fairlane and Torino and their Mercury cousins, the Montego and Cyclone.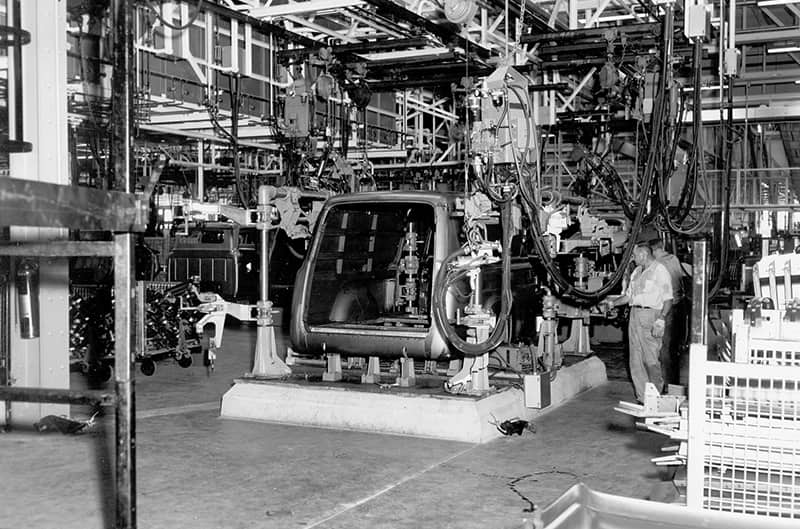 A grainy photograph from early April 1969 identifies assembly workers James Silva, J.R. Ellison, Ted Krause, and Joe Tramoniana as "members of the team that helped build" the very-limited production Mercury Cyclone Spoiler II. The bodies of 503 standard Cyclone Spoilers were cut off just ahead of the front wheels, then fitted with a 19.5-inch sheet-metal extension that sloped 35 degrees downward to meet to a flush-mounted, rubber-gasketed grille above a hand-fabricated, V-shaped front bumper. Modified rocker panels allowed Spoiler II's to nestle one inch closer to the road, further enhancing air penetration while also improving handling. These tweaks helped Cale Yarborough and the unrelated Lee Roy Yarbrough to win two NASCAR Grand National races each; but the '69 season belonged to the Atlanta-built Torino Talladega, with David Pearson narrowly edging past Richard Petty for the championship.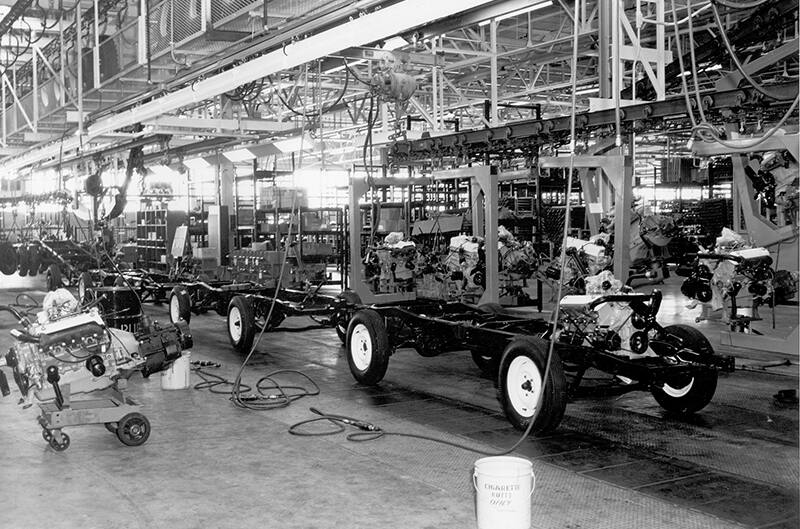 By 1973, Lorain was expanding again, this time by another 130,000 square feet, at a cost of $3 million. Annual production blossomed to 409,873 in 1974. By 1975, the plant had expanded nine times, growing by more than 40 percent to 2,729,110 square feet. That figure included the Ohio Truck Plant, a 169-acre site actually located 17 miles east in Avon Lake, which Ford had acquired from trailer-builder Fruehauf in 1972. Combined employment at both facilities totaled 8,600, as Lorain's annual payroll peaked at $121 million, and material purchases from area suppliers reached a record $16.2 million. Ford had even developed its own natural gas fields in southeastern Ohio, with 30 wells pumping close to 3.5 million cubic feet per day. Half of that powered Lorain, the rest was sold to consumers and local industries.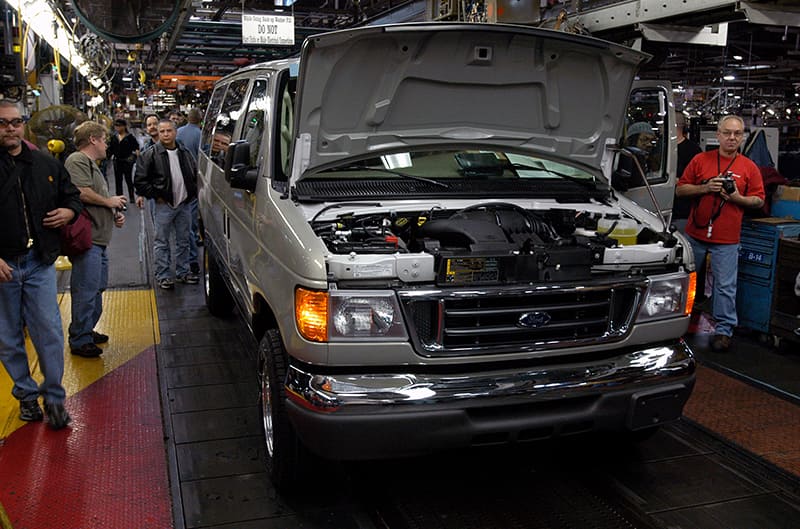 Ford had announced the purchase of Avon Lake as a paint facility, but soon afterward Econoline body assembly moved out of Lorain and into the newer factory up the road. Painted bodies were then trucked to Lorain, where they were mated with Lorain-built chassis, and where workers fitted the interior trim. In November of 1982, Ford announced a further investment of $11 million to speed Econoline production.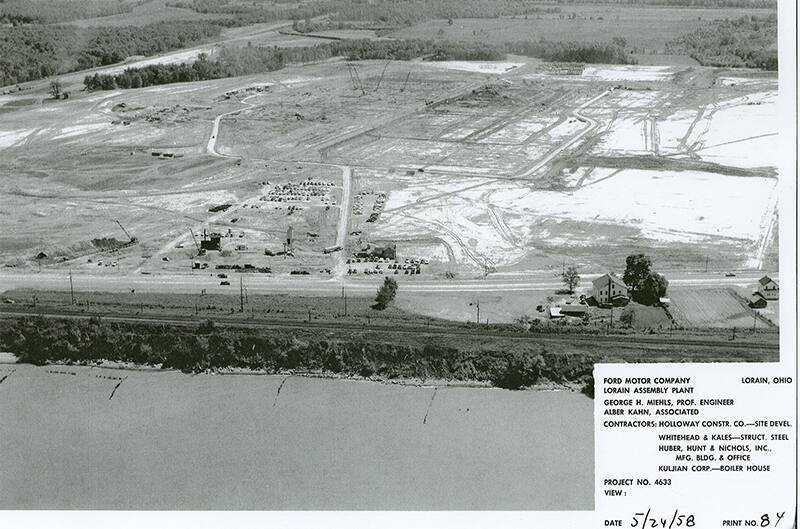 But the 10 millionth vehicle built at Lorain, on June 20, 1986, was a Thunderbird Turbo Coupe. No other North American auto plant had built 10 million vehicles in just 28 years. Two years later, Lorain celebrated its 30th anniversary with a two-day public tour that hosted some 3,200 visitors on the first day alone. Representatives of Ford and the UAW presented 331 employees with pins commemorating 30 years of service. On hand for the festivities was an appropriately two-tone 1959 Galaxie, representing Lorain's first full model year.

Lorain would find less to celebrate in the decades to come.

On a September evening in 1997, the last four-seat Thunderbird left Lorain. Workers wrapped it in a banner stuttering, "Th-that's all folks," and marked the occasion with a mock funeral. From then on, Lorain's sole product would be the Econoline. The 5-millionth unit was completed on February 10, 1998, an E-350 powered by natural gas. Econolines accounted for 49.4 percent of the full-size-van market at the time, having dominated the segment since 1979. But total employment at Lorain had slipped to just 1,630.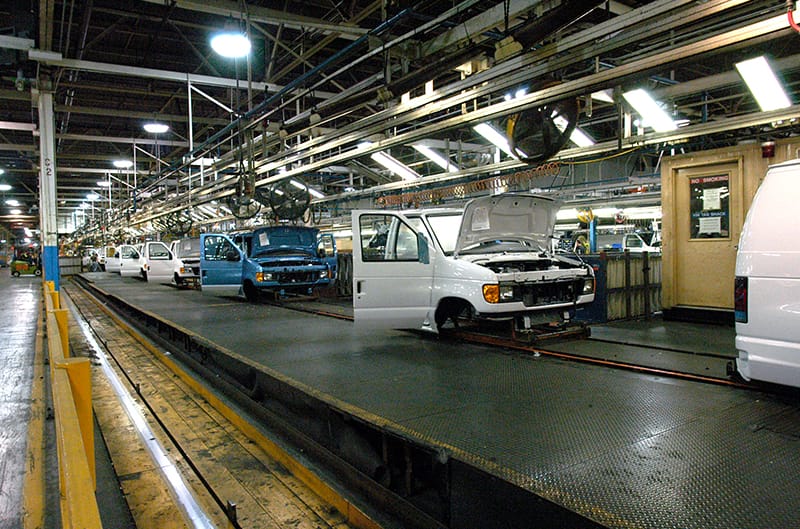 After New York City's World Trade Center fell to a terrorist attack on September 11, 2001, the Ford Motor Company donated five Lorain-built E-350 chassis to replace fire-fighting vehicles lost to the inferno. With hindsight, that gift may have marked the climax of Lorain's long history. In 2005, Econoline assembly was consolidated at Avon Lake. On December 18, 2006, Ford revealed that Lorain had been sold to a joint venture held by the Industrial Realty Group of Los Angeles and local investor Chris Semarjian. Industrial Realty had enjoyed some success in "recycling" large industrial sites, and Semarjian had, in fact, been showing Lorain to potential tenants for over a year. Almost 14 years later, Semarjian told Cleveland.com that Lorain still offered "plenty of space to lease." Five tenants variously engaged in manufacturing, warehousing and distribution, collectively employed 200 people, and occupied less than 500,000 square feet of the 2.5 million available.

"There is almost nothing recognizable left at the once great Lorain Ford Assembly Plant," lamented what appears to be an internal email from the Fairlane Club of America, dated June 26, 2012. "All of the huge signs are gone, the water tower is gone . . . A few small things [remain], including the railroad car loaders with the F O R D logos on them."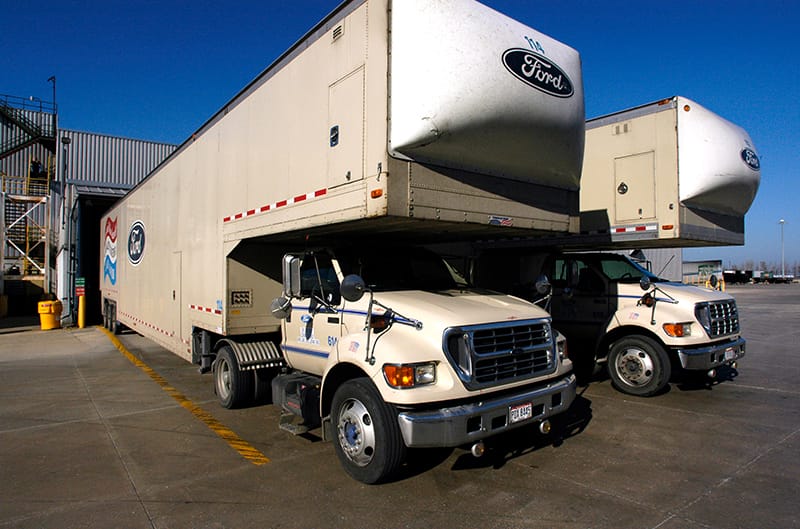 As this is written, however, most of the building still stands, some of it occupied by working businesses. And in that way Lorain has met with a kinder fate than so many other great Ford factories that built the great Ford vehicles that we Blue Oval enthusiasts still treasure.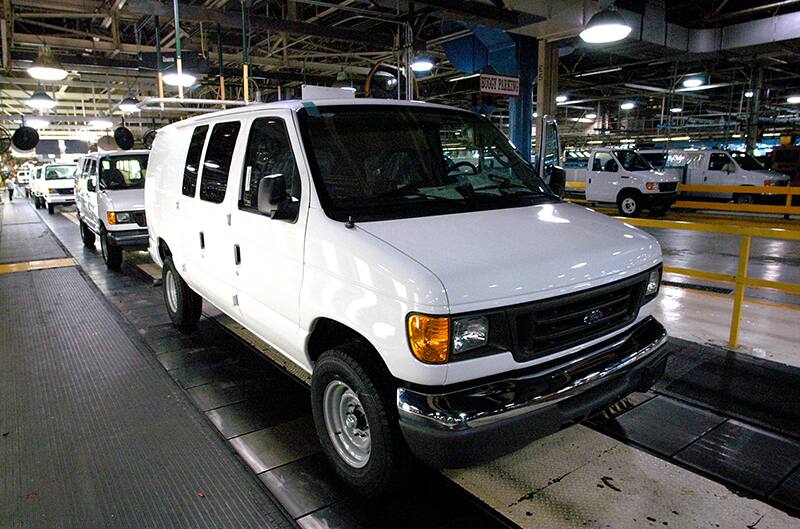 (NOTE: The author is most grateful for the invaluable research assistance and photos provided by Peter Sutton of the Ford Archives, and by Kaitlyn Donaldson of The Lorain Historical Society.)