ALLENTOWN, PA – "Thunderbirds have a style that's simply intriguing," enthused Linda Merkel, executive director of America on Wheels, "especially when cruising down the highway." For fans of Ford's iconic T-Bird, style is certainly where it all begins.
Located in Allentown, Pennsylvania, America on Wheels is an eclectic "Museum of Over the Road Transportation," whose permanent collections range from Mack Trucks (which was headquartered in Allentown from 1905-2009) to hydrogen powered vehicles to local racing personalities.
But given her simple declarative statement, it's clear that Linda likes Thunderbirds. "I was discussing a possible Thunderbird exhibit a while back with Walt Fries of the Lehigh Valley Thunderbird Club," she explained, "and I said something like, 'Can you Feel the Thunder come to life at America on Wheels?' And Walt replied, 'I like that.' And so that eventually became the actual name of the exhibit."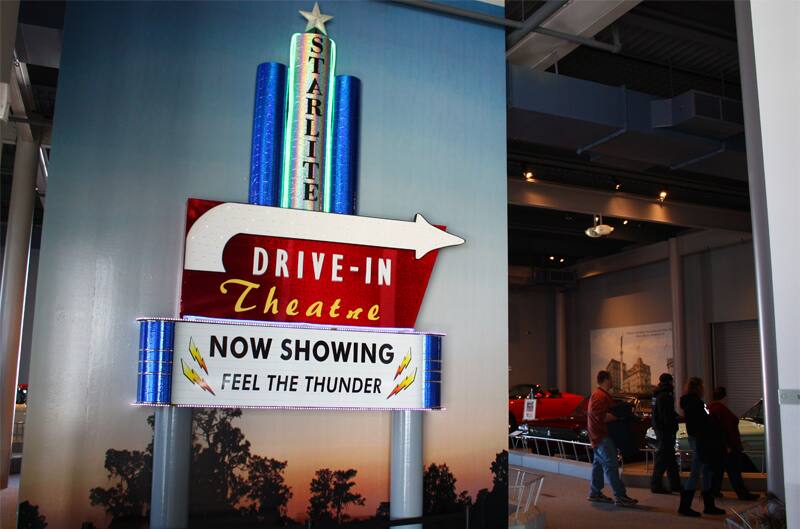 Putting the exhibit together was also helped along by Dan Mohry, another Thunderbird enthusiast, who happens to serve on the museum's own Exhibit Committee.

"The 1958-66 Ford Thunderbirds were unique in the marketplace," Mohry recalled, "with handsome styling and a ride that was unmatched at the time. And the early two-seaters -- well, they are nostalgia."

After title sponsorship for the new exhibit was secured from Michigan-based Race Ramps, the museum's "Feel the Thunder" exhibit officially opened on November 21, 2019, to appreciative visitors.
The breadth, scope and significance of the Thunderbirds gathered for this display was truly remarkable, especially given the fact that 10 of the 12 cars that were chosen reside within 60 miles of Allentown, and the remaining two hail from neighboring Maryland.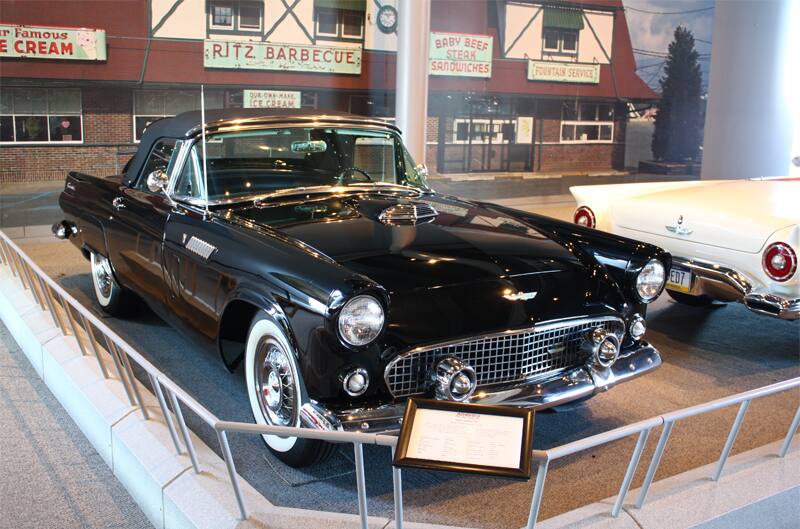 Fries' own black 1956 T-Bird was originally a Ford "executive vehicle" assigned to Chase Morsey, Jr., the very marketing maven who defined the Thunderbird as a "personal car" and, later, in 1968, boldly declared that "Ford Has a Better Idea."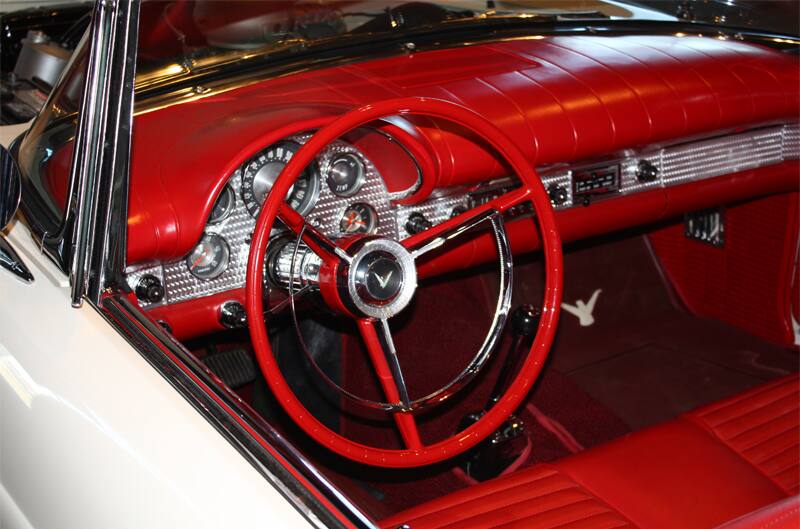 Paul Orr's white '57 is one of just 196 Thunderbirds delivered with a centrifugal supercharger; its pressurized 312-cubic-inch V-8 was conservatively rated at 300 horsepower but was reportedly capable of about 340. John Young's Flame Red '57 is an AACA Senior Grand National winner that has also been recognized for Excellence in Authenticity by the Classic Thunderbird Club International (CTCI). Rounding out the early two-seat era cars on display was Dan & Anna Mohry's own Fiesta Red '56.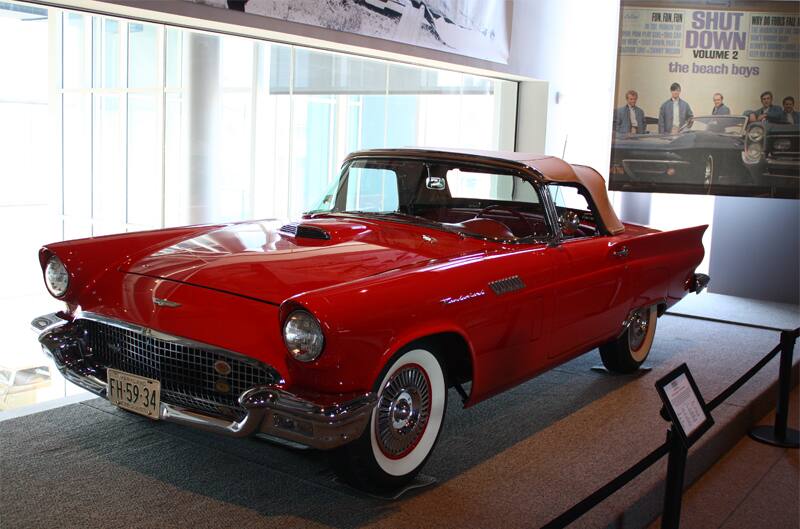 John Young's brother, Tom, brought his award-winning red-over-white 1960 hardtop, which we have encountered before (in Thunderbird Appreciation Grows at AACA Exhibit, back on September 6, 2018). Equipped with power-operated leather seats, a spotlight and other options and benefitting from a 15-year restoration, this gleaming gem has been feted with a Senior Award from the International Thunderbird Club (ITC), an AACA Grand National, and the AACA Thunderbird Award for 2012.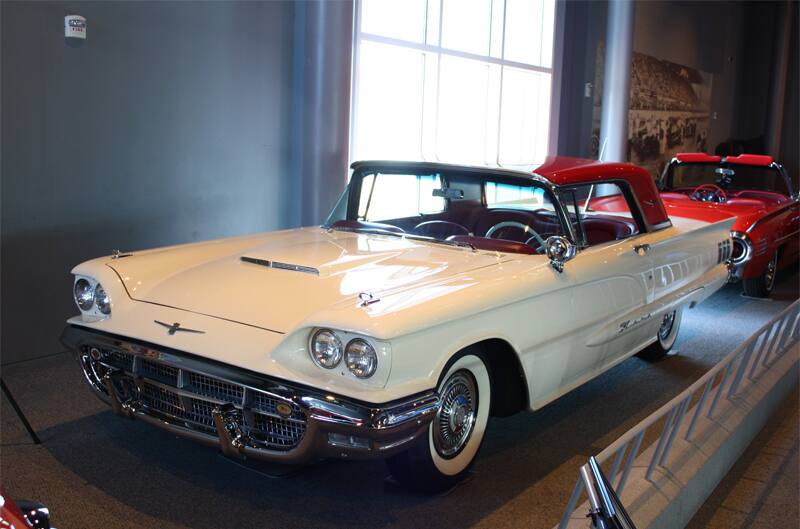 Also representing the "Squarebird" generation were a pair of convertibles: Carl Heller's 1958, in Colonial White; and Bill Merendini's Sultana Turquoise '60, whose painted wire wheels are a handsome and unusual accessory.
Ron Leibowitz's red 1961 convertible rides on accessory chrome wires, and was the exhibit's sole example of the 1961-63 "Bullet Birds," arguably sleeker and a bit more sophisticated than the Squarebird, if never quite as successful. Sales rebounded with the re-skinned '64, and here in Allentown convertibles from 1965 and '66 (belonging to Merendini and Martin W. Breidenthall, respectively) dazzled and delighted with their elaborately creased sheet-metal and scintillatingly space-age interiors.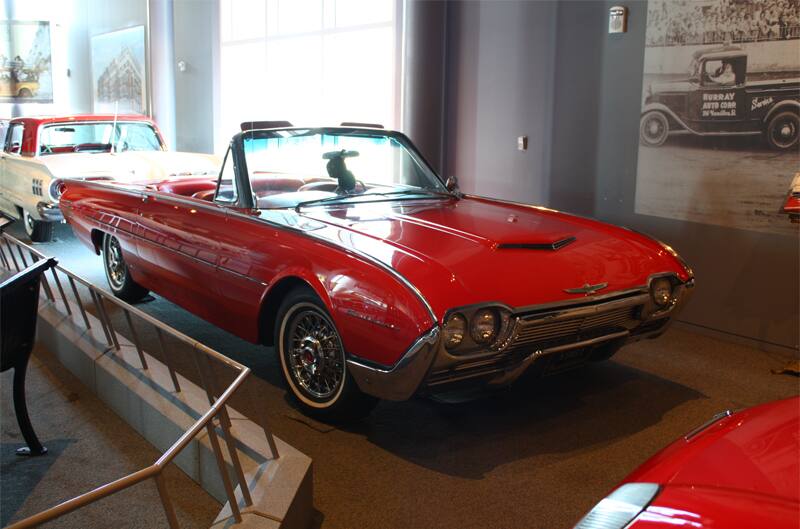 A unique feature of the 1961-66 Ford Thunderbirds is the "Swing-Away" steering wheel, and all three cars from this period were displayed with their wheels shifted right – all engineered to ease entrance and exit.
Thunderbird collector enthusiasm thins out after '66, and so did the Allentown exhibit. Joe Weaver brought his Oxford White Turbo Coupe from 1988, the year that Bill Elliott cinched the NASCAR Championship in his own Aero-Bird. And wrapping up the museum's collection was the Torch Red 2002 of Thomas & Claudia Hollenbach, a suitably splashy climax wearing an aftermarket tonneau cover and fender skirts.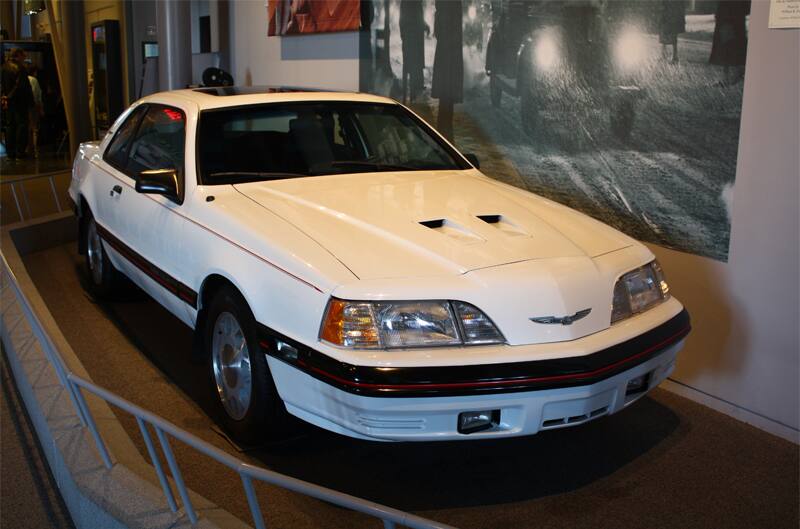 The "Feel the Thunder" exhibit had been slated to end in early April 2020, but you can be sure its success will be remembered by both the America On Wheels staff and those who got the chance to see the display before the museum was closed to visitors. Once America gets back to celebrating its love affair with the car with auto shows and museum tours, we wouldn't be surprised if T-Bird fans got another chance to Feel The Thunder.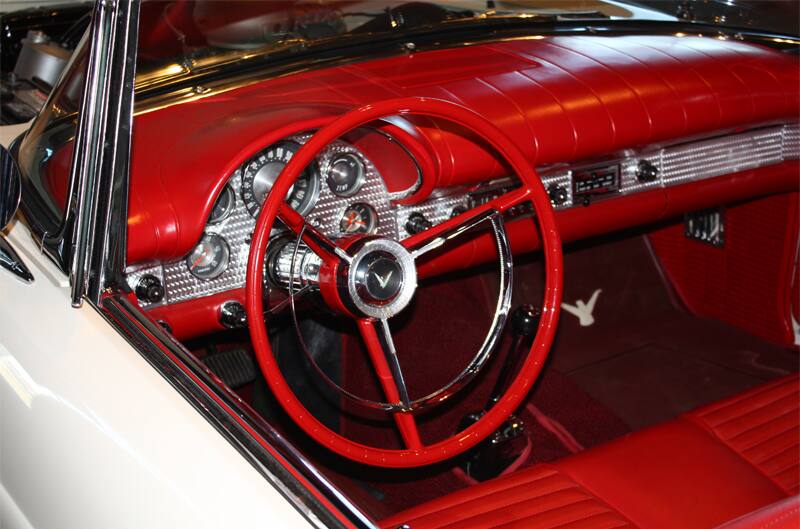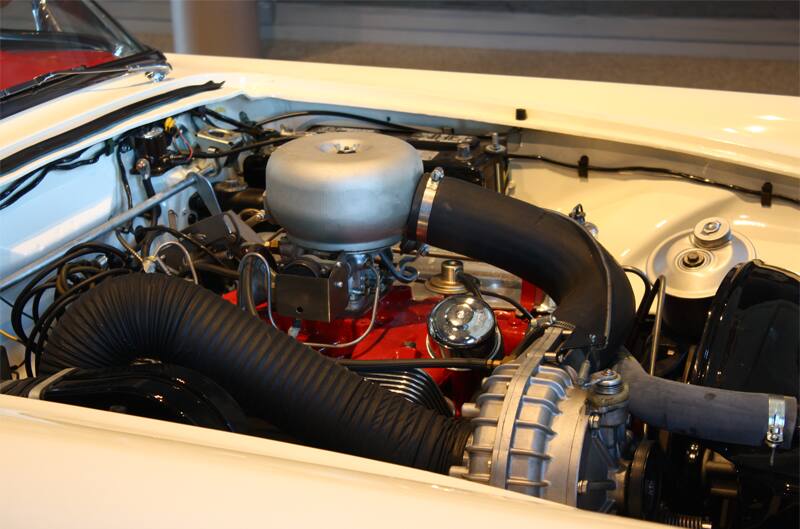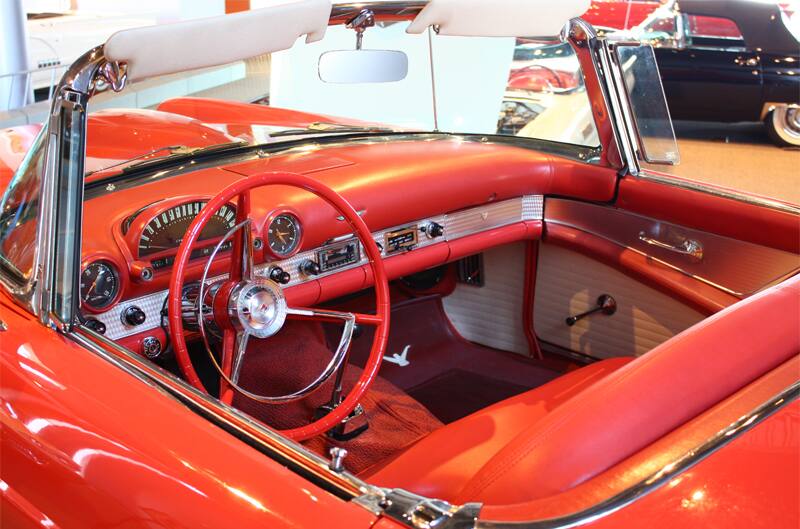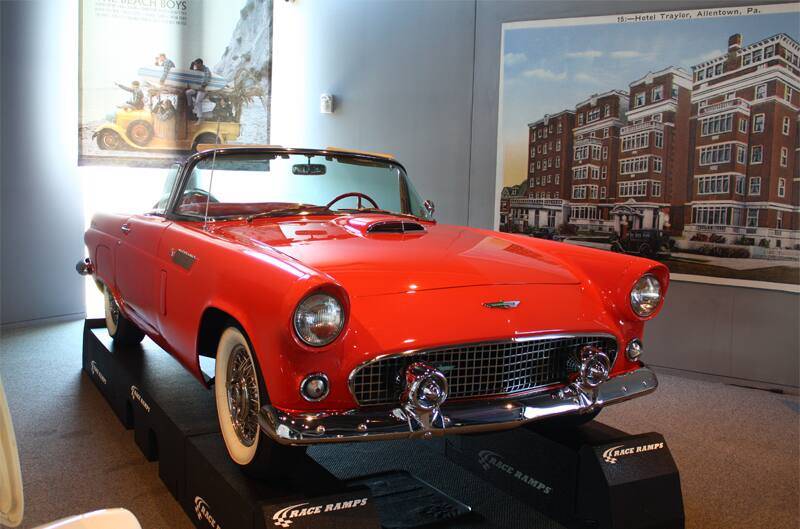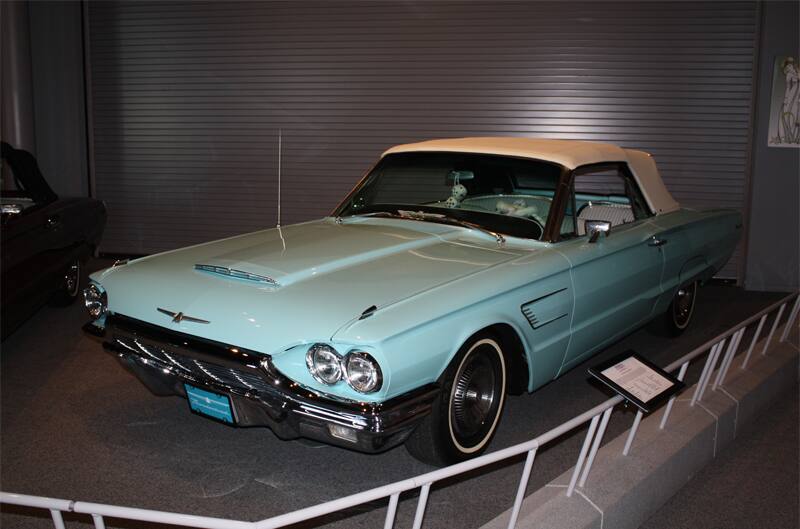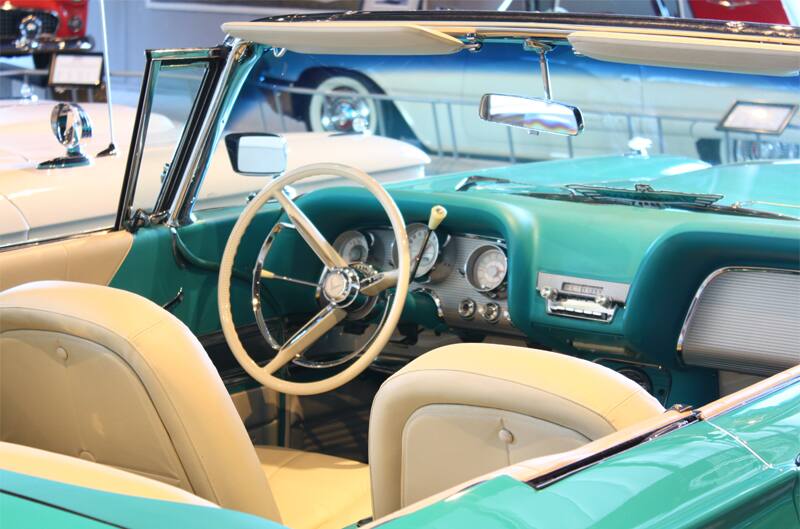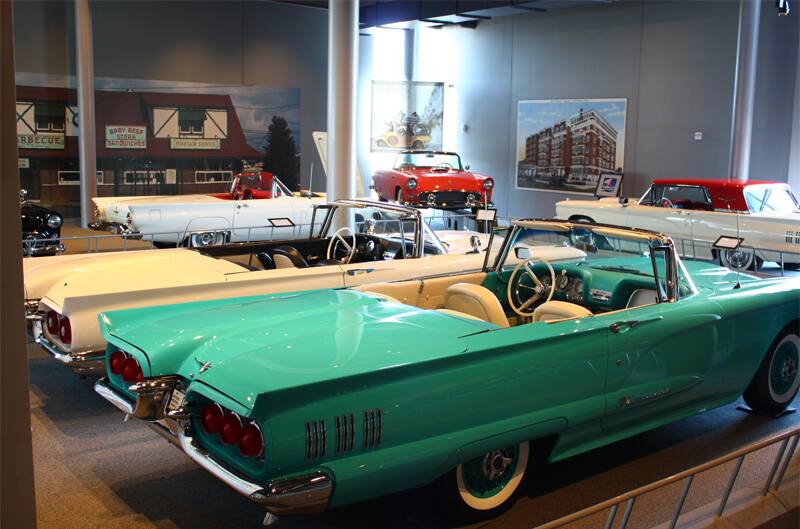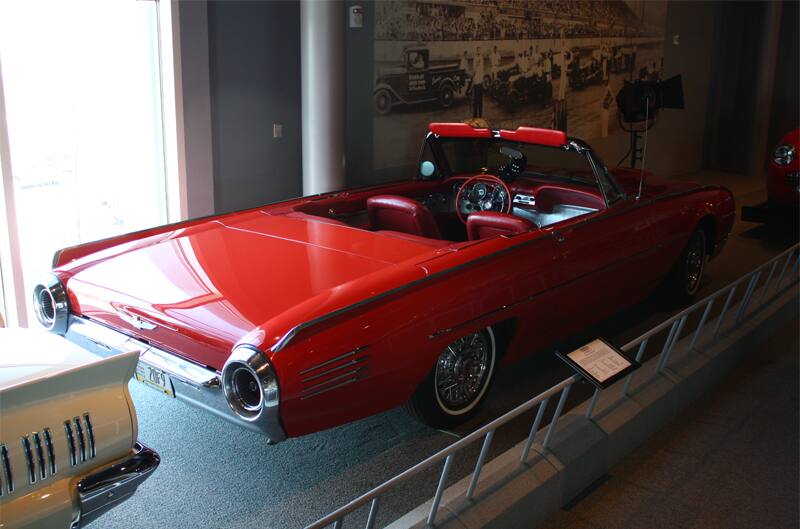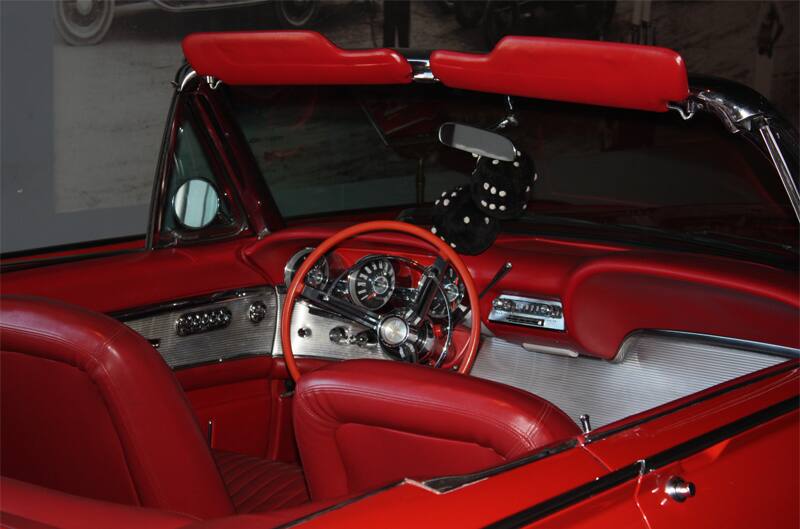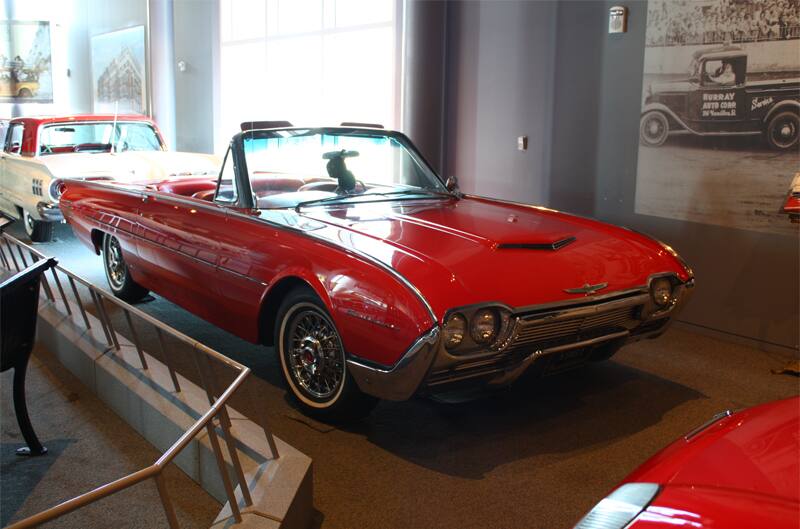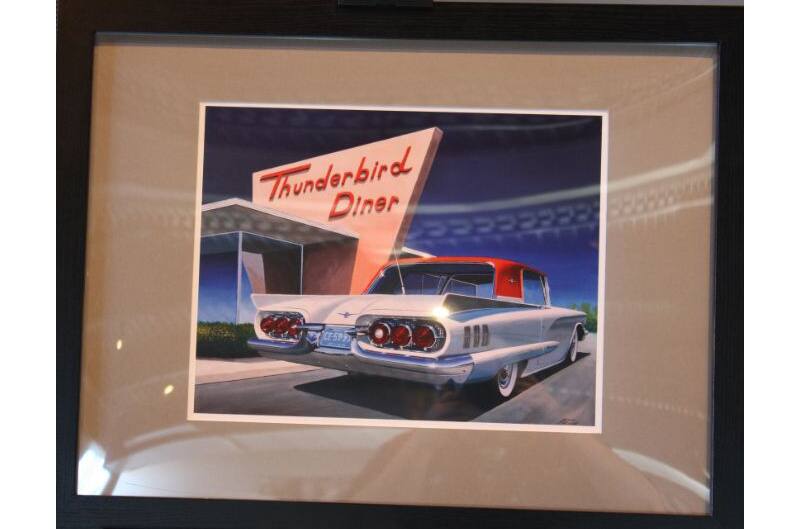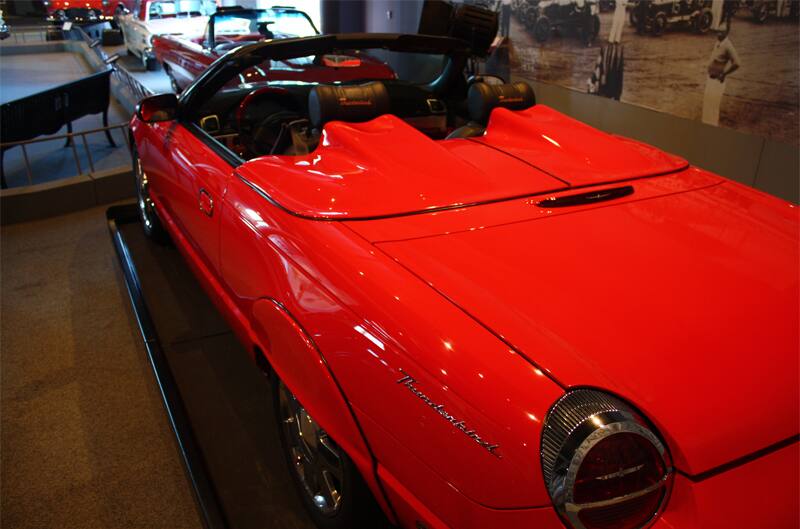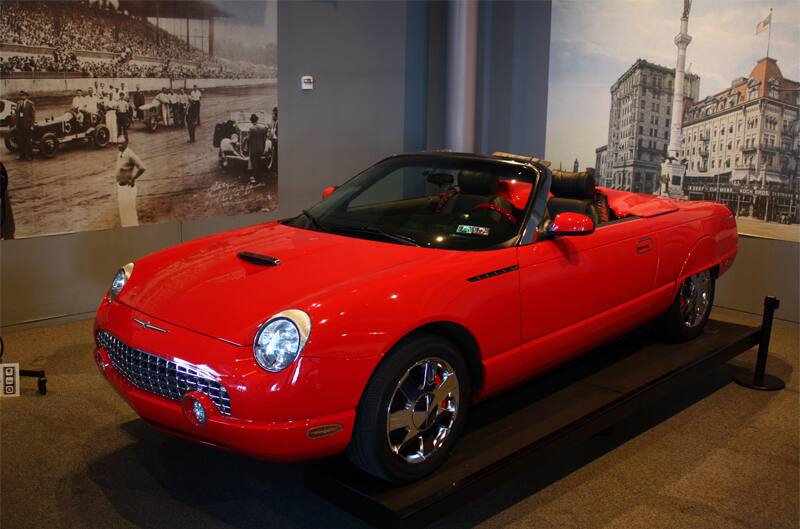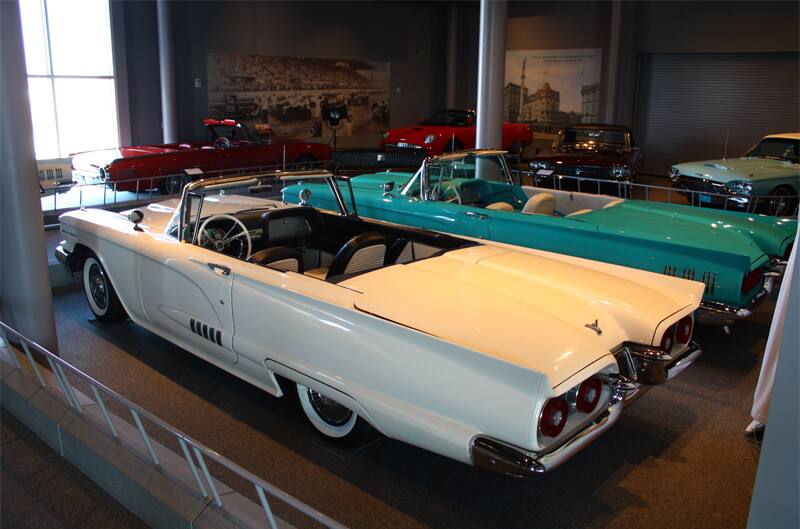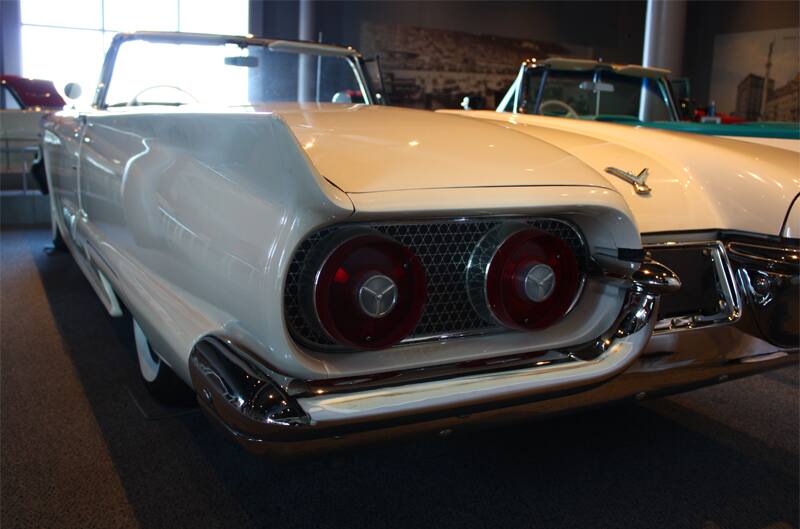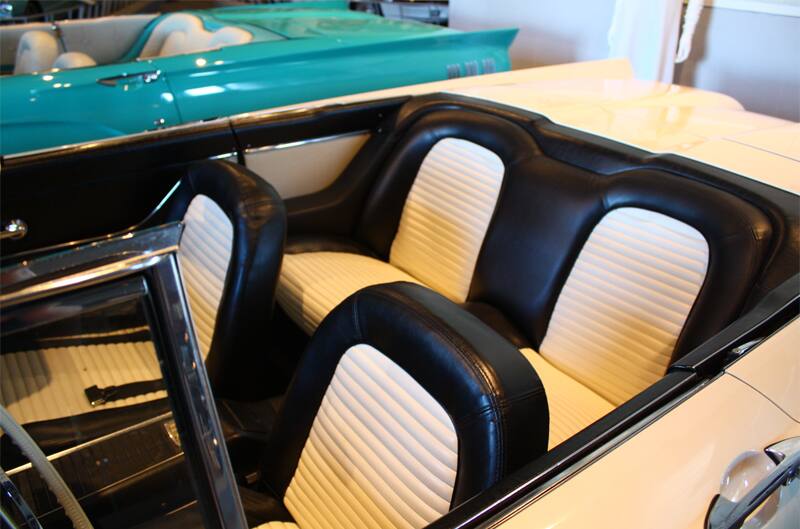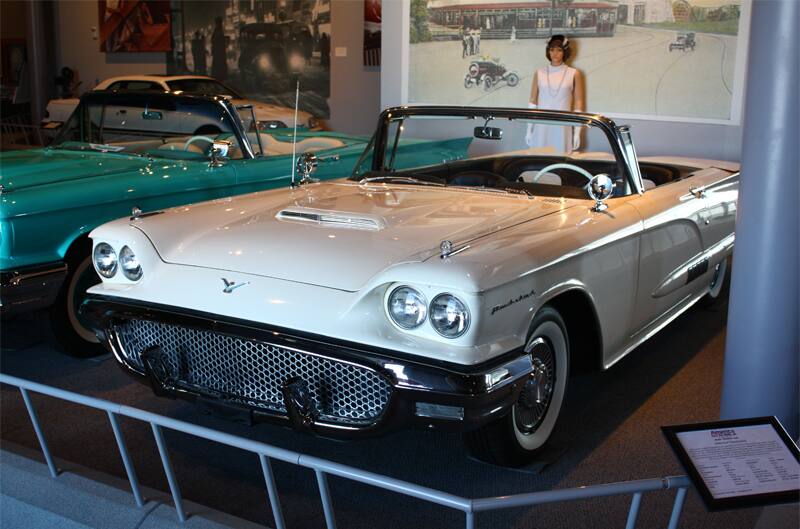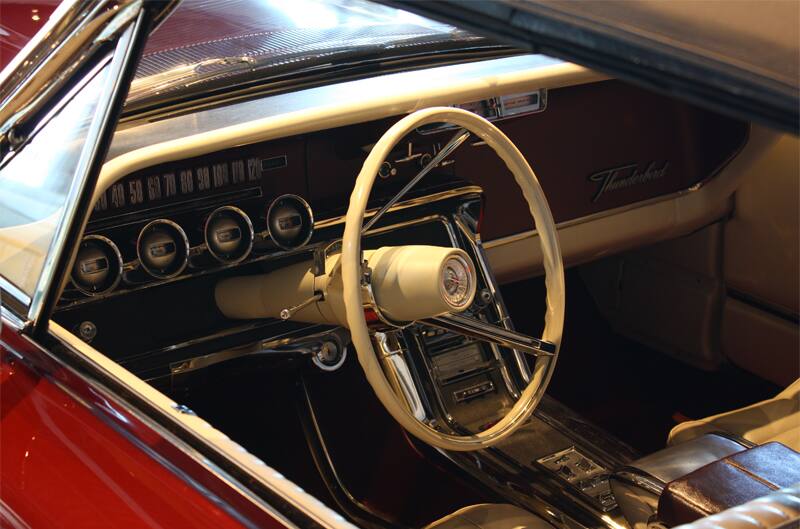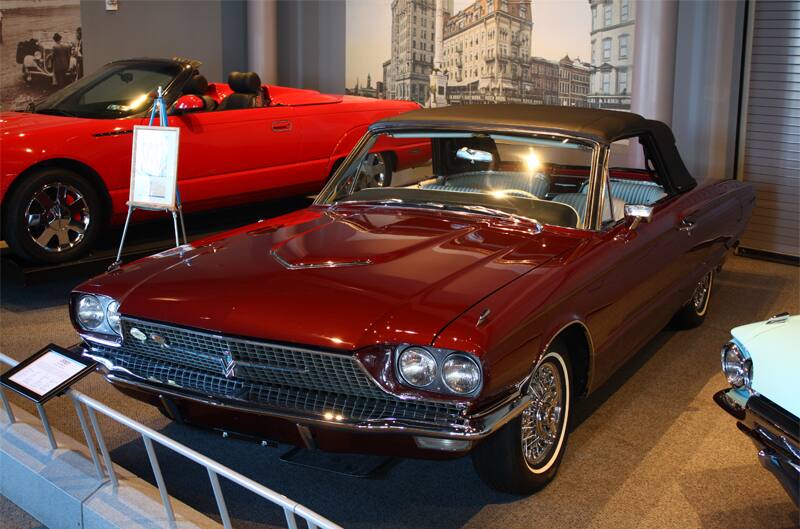 FORD PERFORMANCE PHOTOS / COURTESY JOHN F. KATZ