Several decades before there were Ford SUV models named Edge, Escape, Explorer or Expedition, subcompact cars were all the rage -- and what the market demanded. Ford's move to develop a competitive subcompact three-door hatchback coupe was spurred by global competition, and by the so-called OPEC Oil "Crises" of 1973. Customers were willing to give up large helpings of vehicle size, room, trunk space and big-engined performance for affordable small cars that were light, inexpensive to buy and run, and squeezed the most possible mileage out of the new unleaded gasoline blends mandated by ever-increasing emissions reduction requirements.

The most original front-drive ubercompact was the BMC Mini, a sparkling marvel of packaging and design engineering, yielding a car that was small on the outside, relatively spacious on the inside, a snap to park and easy on gas -- not to mention that it was fun to drive and ultimately became a highly successful rally and road racing car. That groundbreaking Mini was still around in the early 1970's, and with the times came an onslaught of competitors from nearly every carmaker you could name: Fiat had several of them, VW had the Polo, Renault and Peugeot had their own, as did everyone else. Cars like these were seldom big sellers in North America, but fuel mileage and fuel-cost issues ballooned the demand for them overnight in the United States, and Ford needed to get with the program. Ford had the Pinto and GM the Vega, but they were a little larger and not quite as fuel economy minded as the newest round of pint-sizers.
Recognizing that this product type would not only fill an empty void in North America, but could also offer considerable sales potential in many markets around the world, Dearborn greenlighted a subcompact car development program in late 1972, originally codenamed Bobcat (not to be confused with the later Mercury badged Pinto of the same name). The development job was handed to Ford's Italian design subsidiary Ghia, this specific project assigned to the late Tom Tjaarda, he of DeTomaso Pantera, Deauville, and Longchamp note, plus a handful of Ferrari designs while at Pininfarina. Tjaarda was an American expat born in Michigan with an interesting Ford connection. Tjaarda's father, John, was the principal designer of the original Lincoln Zephyr of the 1930's.
Tom's design for the Bobcat project, headed up by Lee Iacocca's special assistant and product guru Hal Sperlich, clearly had the Fiat 127 and Honda Civic in its sites, but was innovative in several ways. Based on a 90-inch wheelbase, the car that became the Ford Fiesta had a relatively low coefficient of drag, with its trim nose, aerodynamically shaped grille bars, and slight kick up at the rear of the roofline. Although the Fiesta would later be offered in 5-door hatchback models, it was initially served only as a 3-door.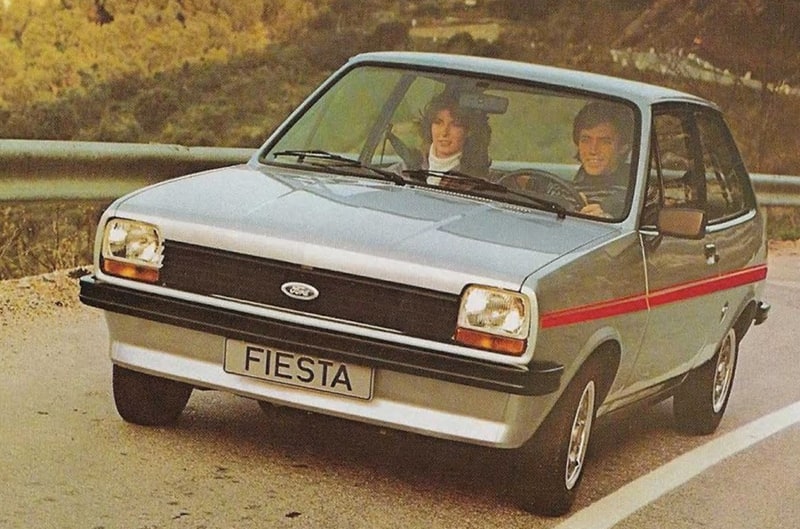 Most of the Fiesta's competition was of the front-wheel-drive, transverse-mounted engine variety, as was the new little Ford. Tjaarda and the design engineers worked hard to make the engine compartment as small as possible, maximizing interior cabin and rear cargo space, keeping within the design's approximate 140-inch overall length. The other key to keeping the car's fuel economy up was to keep its weight down. A variety of engines were offered in the first-gen Fiesta, depending upon the target market, but all were transversely mounted inline four-cylinders, ranging from around 1,000 cc to a redesigned and lightened 1.6-liter version of the venerable Ford "Kent" overhead valve I-4. Power output for this 97.4 cubic-inch flyweight four was just 63 horsepower in U.S. spec trim, with the only transmission offering being a 4-speed manual transaxle.
This engine, while technically referred to as a Kent architecture, shares only some similarities with the 1.6-liter Kent that went on to power countless Formula Ford open-wheel racers, and several Lotus models, but was simplified and lightened from its original spec for use in the Fiesta. The biggest technical difference is the switch from a five-main-bearing crankshaft lower end to one using a lighter, simpler, less-costly three-main-bearing crank. The earliest Fiesta wasn't seen as needing the more robust engine spec, as there were no performance models offered at the time, and racing wasn't on the agenda.

The Fiesta was lauded for clever interior packaging and relative roominess for its compact exterior dimensions. Pushing the wheels out toward the corners meant minimum front and rear overhangs and maximization of the room in between the wheels. The dashboard and instrumentation binnacle design resembled that of a BMW for sure, and Road & Track European/Engineering Editor Ron Wakefield, who stood about 5'9", commented that when the driver's seat was set for him, that he could easily "sit behind himself" with adequate, if not generous, leg and foot room and more than ample headroom. The airy glasshouse kept the cabin from feeling too closed in and was a happy place to live in for such a small car. The Fiesta was sold in North America in four trim levels.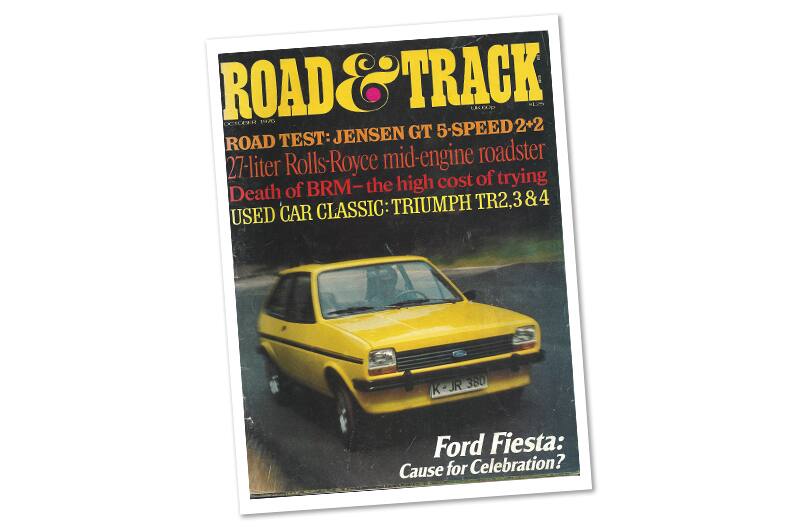 Nobody would characterize the first-gen Fiesta as fast, but it was zippy enough, and fun to drive. Its sub-1,700-pound curb weight helped a lot in that regard, giving the car a tossable quality and making the most of its pint-sized horsepower rating. No first-gen performance version was ever factory offered in North America, although there was a 1.3-liter SuperSport variant sold in Europe for 1980. The original Fiesta lived a fairly long life, from model years 1976 through 1983. Even though the Escort was more often referred to as Ford's "World Car," the Fiesta can make similar claim, having been produced in Europe, Australia, Brazil, Argentina, Mexico, China, India, Thailand, and South Africa.
GM's response to this whole notion was the Chevette, which also came to market as a 1976 model, but it was philosophically and architecturally a much different car than the Fiesta and most of its competitors. The Chevette's engine sat longitudinally and powered the rear wheels. The Chevette was also rebadged and sold as a Pontiac, an Isuzu and an Opel, but never had the global sales success that did the Fiesta.
The Fiesta was eventually redesigned and recontented into a second-gen car that ran from 1984-1989. It was dimensionally identical to the first Fiesta, and still offered only as a 3-door hatchback, plus a 3-door panel van. It, too, was powered by a wide variety of engines, and for the first time, offered with a CVT automatic transmission. This model wasn't imported or sold into the U.S. market; intended to fill its place in the Ford lineup was the egg-like Festiva (1986-2002) although it wasn't as popular or as well received as the Fiesta. Designed by Mazda and produced by several Asian carmakers, many buyers didn't perceive it as a "real" Ford.
For its third generation beginning in late 1989, the Fiesta underwent a more substantial redesign and recontenting. For the first time, it could be had as a 5-door hatchback in addition to the original 3-door, and the Ford performance boffins finally began to have their ways, as there were higher-tech Zetec and turbocharged engines served up, with the option of a 5-speed manual transmission instead of only 4-speeds. The RS Turbo was a pretty hot little rod, and had something to offer up against those pesky VW GTi models. There was also a hyper economy diesel engine option. The "Mk III" Fiesta was also not sold in the U.S. market.
A fifth-gen Fiesta broke ground for 1995 running through 2002. It also was served up in a variety of hatchback, sedan, and minivan-type bodystyles, and was all but a twin to the Mazda 121. Sadly, the RS Turbo model failed to make the transition from Gen 4 to 5, and the Fiesta was also not to be found in the United States model offerings during this time period. There was also a terribly cute subcompact "baby Ranchero" style car-based pickup called the Ranger. This generation of Fiesta, still absent from the U.S., got Ford's "New Edge Design" facelift in 1999.
During the years that the Fiesta wasn't sold here, Ford continued to dangle all manner of performance and style-driven Fiesta concept cars and design studies, keeping the car interesting and relevant in the growing "hot hatch" markets around the world. Finally, for Model Year 2008, Ford elected to completely reconceive and redesign the Fiesta as a global product, again to be offered in the United States market. This time around, the American version would be sold as a four-door sedan with a conventional trunk, or again as a five-door hatch. At the time of the Fiesta's worldwide auto show introduction, Ford's global vice president of design J Mays told us that considerable effort and money was invested into the design of the new global Fiesta to give it "C-class car amenities and comfort in an affordable B-Class car." What Mays more simply meant by that was that this subcompact car would offer the comfort, quality, safety and amenities of a compact or larger car.

This seventh-generation Fiesta was the car still sold new by Ford in the States up until last year, and which was offered in uber-economy three-cylinder EcoBoost form, through a variety of mid-level models, and up to the zesty Fiesta ST. The last of the breed for the North American market came in 1-6-liter four-cylinder trim (with the raucous 3-cylinder reserved for the Europeans) for the 2018 model year, and carried into 2019 only in Fiesta ST guise.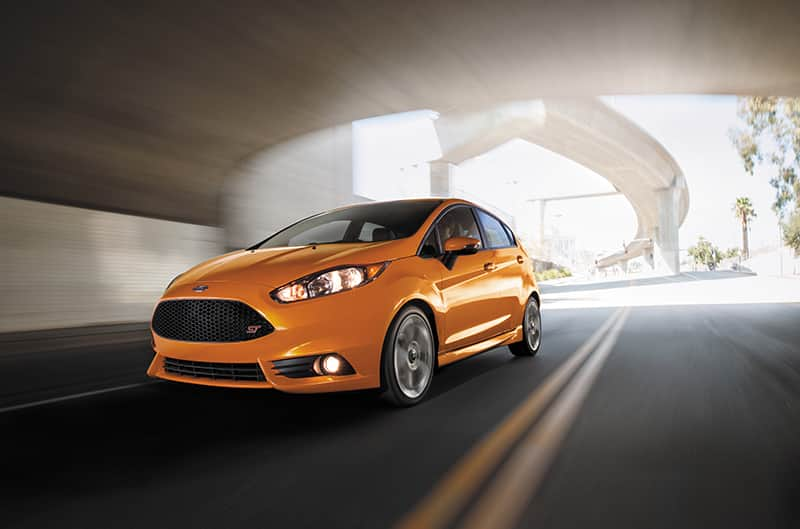 During its last year in U.S. showrooms, Fiesta also ushered in a new "ST Line" trim level that provided flashy Fiesta ST looks without the cost and driving moxie required by having nearly 200 horsepower underfoot. Millions of Fiestas have been sold worldwide during the car's successful 43-years of production, making it one of Ford's most popular nameplates. And even though the Fiesta completed its North American build-out in May of 2019, many owners and Ford enthusiasts across America have vowed to continue celebrating this fun-to-drive little Ford well past its subcompact sunset.

"Luckily, Americans got to experience factory forced induction in a subcompact in the form of the Fiesta ST," said Brinton Evans, a Ford Focus and Fiesta Enthusiast and club member of Focus Rising. It is the pinnacle of what the MK1 Focus could've been, with the fuel economy and torque of a turbo GDI motor, mated with the amazing platform that is a rally chassis. Thanks to Ford for giving us six solid years of FiST. Long live the HOT HATCH!"

That sentiment was mirrored by the co-founder of Focus Rising, Ken Appell.

"After just recently purchasing my 30th small Ford, I'm saddened by the fact there is nothing new available from Ford here in North America that offers the 'go-kart' driving feeling of the Fiesta and Focus hot hatches," said Appell, who is also a FocalJet moderator and founder of the SVT Focus Registry. "I recall when the Fiesta launched here in America with the 'Fiesta Movement,' which got the cars in the hands of people all over the United States. Having friends that were Fiesta Movement agents, I got to see the new Ford Fiesta firsthand and instantly fell in love with it. The "go-kart" feeling of driving was back for the first time since the MK1 Ford Focus left the market at the end of 2007. It's sad to see the Fiesta (and Focus) platforms go here in the United States, but I hope the feeling returns in another hot hatch from Ford again in the future."