CARLISLE, Pa. – Some of us can remember 1969. It has now been 50 years since the inauguration of Richard M. Nixon, since the first moon landing, since Woodstock, since the final episode of the original Star Trek and the beginning of the end of the Beatles. And on April 17 of that epochal year, the Ford Motor Company launched a sporty, youth-oriented compact called Maverick.

The date was both auspicious and fraught with expectation, as it was exactly five years to the day since the release of Ford's chart-busting Mustang. Yet while the Mustang, already hailed as a cultural phenomenon, could be optioned as thundering road racer, as a working-class Thunderbird, or as an economy compact with sporting flair, the Maverick was, well . . . just an economy compact with sporting flair. Ford called it "The Simple Machine" (and it was, at least in the beginning) and the "First Car of The '70s" (which we'll see about a bit later.).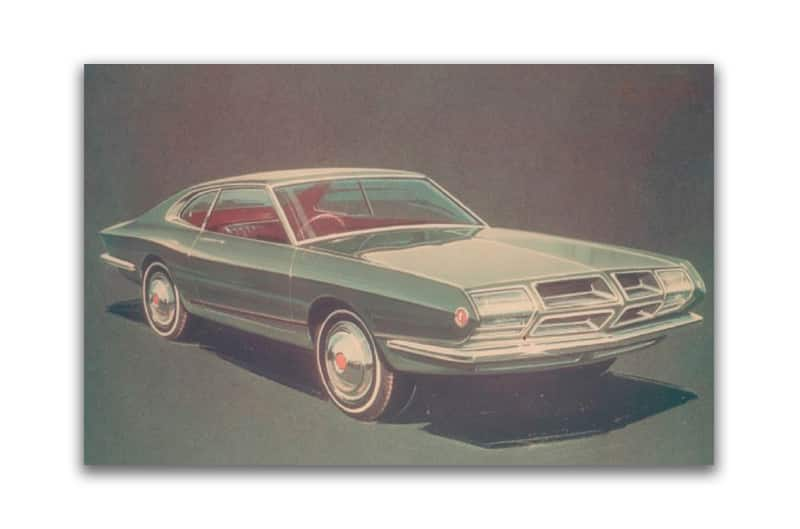 Originally code-named "Delta," the Maverick was first manifest as a sketch by Virgil M. Exner, Jr., shortly after he was hired by Ford Division Studio Chief Joe Oros in February of 1967. The son of Chrysler Corporation's celebrated Vice President of Design, the junior Exner had previously collaborated with Duncan McRae on the Studebaker Lark, and consulted on designs for Volkswagen, Fiat, Renault and others during a gig with Italian coachbuilder Ghia.

"A lot of my portfolio consisted of small cars," Exner recalled for FordPerformance.com, "and that impressed Oros. I think he foresaw the need for a smaller car from Ford."

Although initially assigned to Ford's Advanced studio, and then to the 1970 Thunderbird program, Exner and three other designers (Jerry Morrison, Toshi Saito, and Jack Mills) were soon tapped by Oros to explore design concepts for a new compact. Exner's sketch was chosen to be developed in full-size clay by Design Manager Keith Teter. "And he did a beautiful job of executing my basic design," said Exner – who continued to confer with Teter, even after Oros sent him back to finish the '70 T-Bird.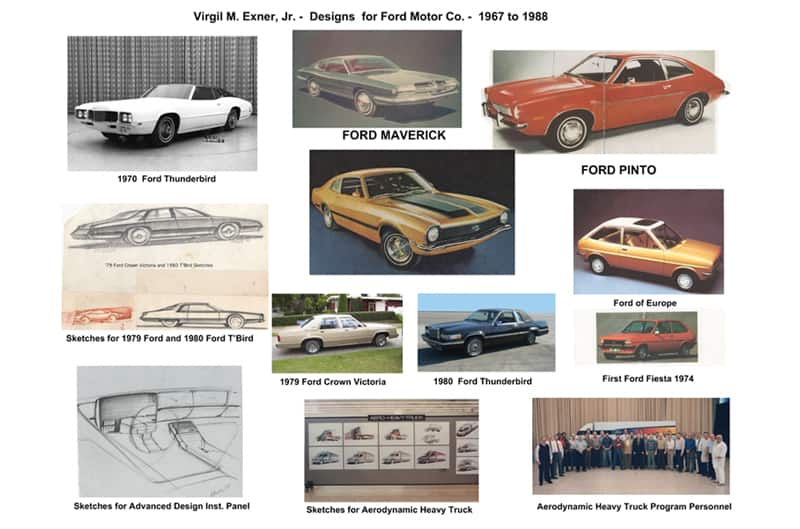 Of course Ford already had a small car, the Falcon, which had debuted as Dearborn's import-fighting champion in 1960. But Ford had spun the mid-size Fairlane off of the same mechanical platform in 1962, and then the Mustang in '64, and those products needed ever-larger and more-powerful engines to compete in their respective segments. So the second-generation Falcon and Fairlane for 1966 were beefed-up considerably to accommodate this optional horsepower; they also shared body tooling, as well as running gear, to shave production costs.

Consequently a two-door Falcon sedan, which had weighed just 2,282 pounds in 1960, now weighed 2,519; and by '69 it would plump-up to a round 2,700 -- even while its original 1960 wheelbase of 109.5 inches remained unchanged. (Perhaps this is why Oros was eager to initiate a new small car program in 1967.)

Counterintuitively, Ford tied down the Maverick with that same heavy-duty mechanical package. Engine choices were familiar as well, initially comprising two inline sixes of 170 and 200 cubic inches of displacement, producing 105 and 120 horsepower, respectively. The standard transmission was a three-speed manual, driving through an economical 2.83:1 rear gear and somewhat dinky-looking 13-inch wheels and tires. A three-speed automatic was optional, as was a 3.08:1 performance axle and 14-inch rims. Oddly missing from the option list was power steering, especially given the Maverick's rather slow-geared steering box – another heavyweight legacy of the Fairlane/Falcon family.

Still, with its all-new body shell (engineered with assistance from computers) and its short, 103-inch wheelbase (the shortest of any domestic Ford passenger car since the 1931 Model A), the Maverick weighed in at a more reasonable 2,411 pounds. A standard front anti-roll bar and a lower center of gravity improved handling relative to the Falcon as well. And while the Falcon had surrendered its original rounded flair for a bland and boxy appearance, the Maverick looked all-new -- fresh, vital and youthful. Road & Track described it as "good looking, cute, and sort of like a miniature Mustang."

Potential buyers must have agreed, because they corralled 578,914 Mavericks before the first model-year changeover in September of 1970 – a success closely comparable to the Mustang's, which had scored 680,989 sales in its first 16 months on the market. That 17th day of April had retained its magic for Ford.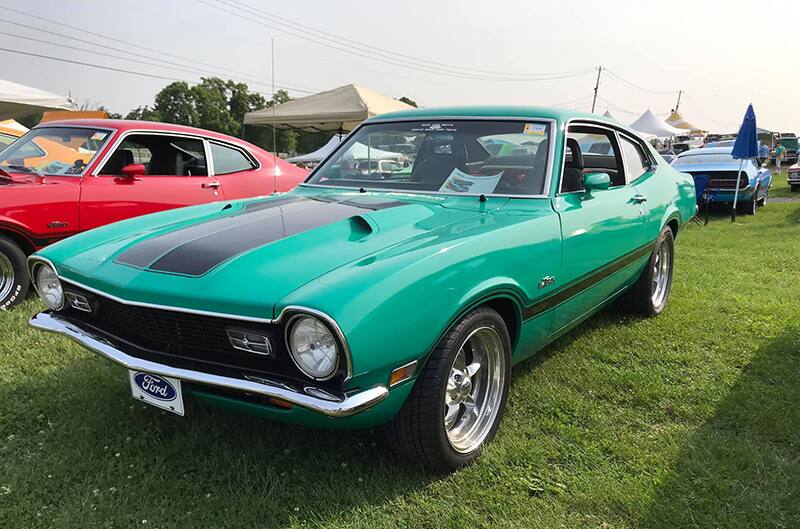 Ford expanded the Maverick's appeal for its second model-year in 1971 with a four-door variant on a longer, 110-inch wheelbase (with correspondingly more rear-seat legroom); an optional 250-cube six; and a "Grabber" package that dressed up two-door models with dual hood scoops, racy tape stripes and a blacked-out grille and tail panel. A power steering option finally arrived, reducing total wheel-winding from a cumbersome 5.2 turns to a handy 3.7. Also for '71, Mercury added a thinly disguised Maverick counterpart wearing the Comet name.

By 1972 a 302 small-block V-8 became available, rated at 143 horses and capable of stampeding even a four-door Maverick from 0 to 60 mph in less than 10 seconds, and through a standing-quarter mile in just over 17, which was decent for that era. Mid-'72 brought the "Luxury Decor Option," with greatly improved front bucket seats; premium carpeting and sound-deadening; 14-inch radial tires; and color-matching wheel covers, vinyl top and exterior trim. Even the perennially skeptical Car and Driver characterized their V-8/LDO Maverick test car as "quiet and comfortable in a way that low-priced Detroit cars have never been [with] the basic qualities that make a sedan satisfying to drive."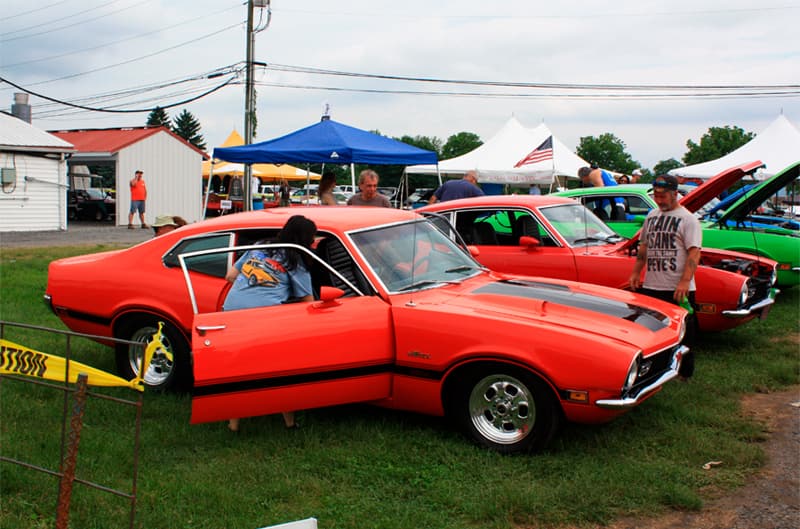 Grabbers gripped better with a Handling Package for '74, but then it disappeared for '75; just as front disc brakes became standard on the remaining Maverick models. Sadly, it almost seemed that the more Ford improved the Maverick, the fewer Mavericks Ford sold. Sales skidded in 1971 and '72, blipped back up with the industry-wide boom of 19'73-74, then slid into a decline from which the car never recovered. Nineteen seventy-seven would be the Maverick's (and Comet's) final season.

To be fair, all U.S. compacts faced increasingly fierce competition from a growing number of ever-more-sophisticated imports. But we believe other forces were afoot as well to spell the Maverick's demise. The abrupt end of the muscle-car era had shaken the very foundation of automotive fashion, and the Maverick's undulating horizontal lines, its fluid surfaces, even the wall-to-wall grin of its full-width grille were all suddenly passé. The new automotive chic was bulked-up, square-edged, faux-classic formality, often more pretentious than pretty.
The Ford Granada was introduced for 1975 as the intended Maverick successor but was sold alongside it until the Fox-platformed Fairmont was due to debut for 1978. Although the once-snazzy little compact didn't make it out of the 1970's, more than 1.8 million Mavericks were sold over the nameplate's seven model years. For Blue Oval fans, it's hardly forgotten. This past June, dozens of owners brought a wide variety of pristine Mavericks (and Comets) to celebrate the car's 50th anniversary during the annual Carlisle (PA) Ford Nationals show.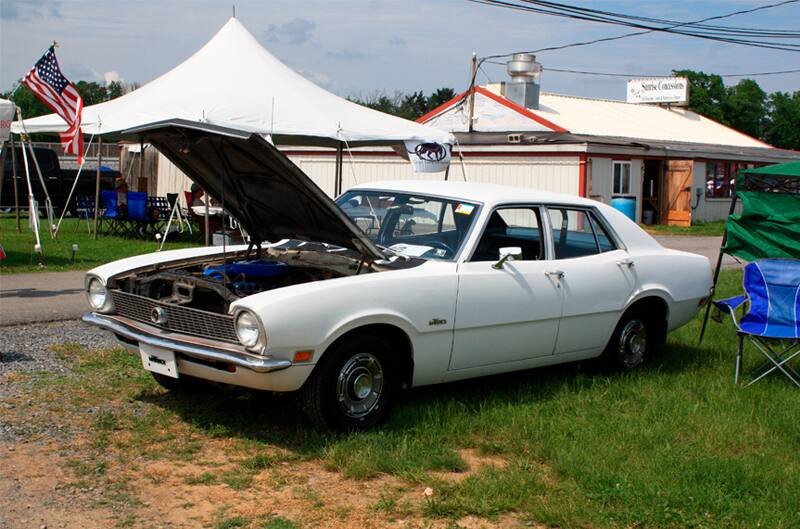 Ford may have billed the Maverick as the "First Car of The '70s," but the '70's automotive scene turned out differently than any of us expected. Instead, the Maverick gave us one last, racy, rock-and-roll romp before the disco droned and the opera-windows craze closed in. Fifty years on, that remains this little Ford's enduring charm.
Ford Maverick Sales by Model Year
| YEAR | SALES |
| --- | --- |
| 1970 (w/'69 sales) | 578,914 |
| 1971 | 271,897 |
| 1972 | 254,964 |
| 1973 | 291,975 |
| 1974 | 301,048 |
| 1975 | 162,572 |
| 1976 | 139,687 |
| 1977 | 98,506 |