PITTSBURGH, PA – Of all the engineers and designers who contributed to the Boss 302 project, it was Larry Shinoda who gave Ford's road-racing Mustang its distinctive look, and who also who gave it its name. "Boss" may have been what Shinoda called then-Ford Motor Company President Semon E "Bunkie" Knudsen, but to the 2,400-plus owners and admirers who thronged to the Summit CarFest Boss Reunion at the Pittsburgh International Race Complex this past summer, Larry Shinoda was the Boss; and the Boss was his car.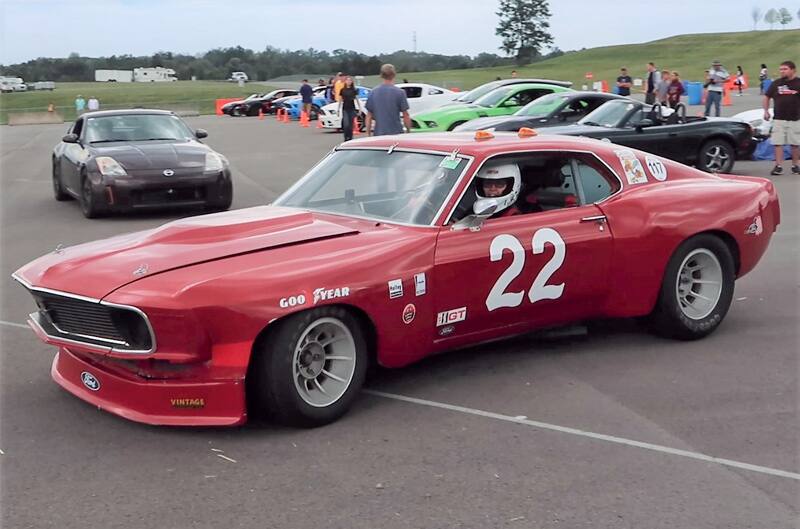 With a show field comprised of over 125 cars, the Labor Day weekend event was likely the largest gathering of Boss Mustangs (and Cougars) since the first Boss Reunion, held at the Ford Nationals in Carlisle, Pennsylvania back in 2005. That 35th-Anniversary celebration drew over 200 cars, recalled Lisa Leathery, who was then event director for Carlisle Productions. Lisa was also involved with the 2012 Boss Reunion in Dearborn; and in 2017 she contacted Randy Ream of the Boss 302 Registry to pitch a 50th Anniversary festival.

"Because of the up-front costs for a venue, insurance, and online registration, we knew we'd have to team with an existing event," she said. "And we wanted a race track that could offer a driving experience for owners of the 2012-13 models."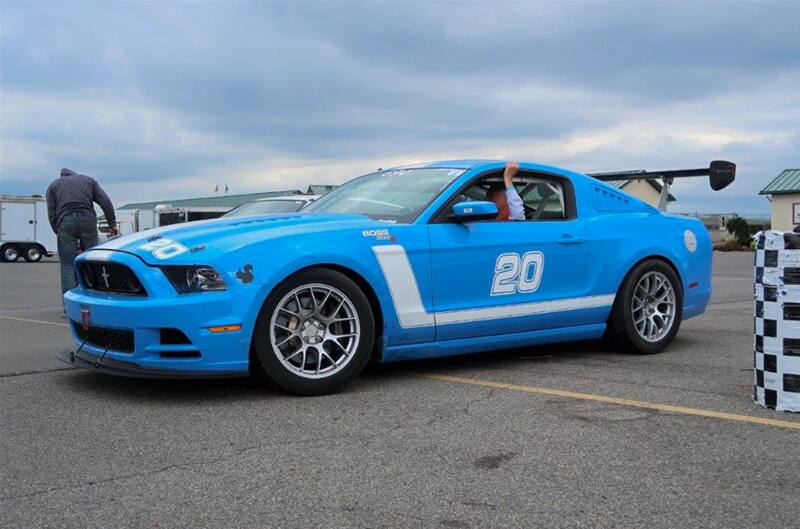 A likely contender was CarFest, the annual Labor Day Weekend bash promoted by the AutoInterests driving school. A typical CarFest includes not only road-course driving, autocross competition, a car show and on-site dyno testing, but also live music and a banquet with a guest speaker.
Lisa also realized the importance of inviting "some key cars that we would be able to promote," including a limited number of Concours restorations and original-condition Survivors, for a Special Display to be judged by Boss Registry rules.
Lisa snared some famous race cars as well, starting with Randy Saba's "Pony Tail," the '69 Boss 302 briefly drag raced by Bob Justice, then stored for 38 years after Justice's untimely death. In the hands of collectors since 2008, the car has fewer than 200 miles on the clock. Tim Olive brought the '69 Mustang racer built by Bud Moore for Mexico's Moises Solana. In April 1969, Solana won the VII Cicuito Los Fuertes, and with Freddy Van Buren continued to campaign the car for the next 10 years.

The 1969 "wide-body" Mustang presented by Mark Corich began life as an R-Code Cobra Jet, and served as a styling and color prototype for the Boss program before it was sold to a Ford engineer who raced it in local SCCA events. By 1973 it has been sold again to IMSA racers David and Richard Mroz, who had it rebuilt as a blister-fendered Trans Am car and drove it to a 20th-place finish in the 24 Hours of Daytona in 1975.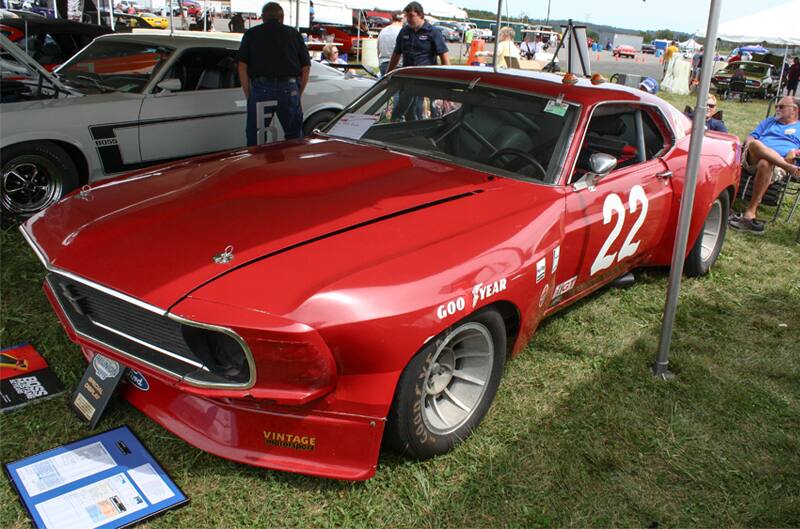 Ed Meyer brought "Dyno Don" Nicholson's '69 Cougar 429, along with a priceless display of documentation, including the original window sticker, an invoice from Kar Kraft for engine modifications, and a letter from the Ford Motor Company agreeing to sell the car to Nicholson for one dollar in exchange for (among other things) the promotional rights to his (anticipated) drag racing success.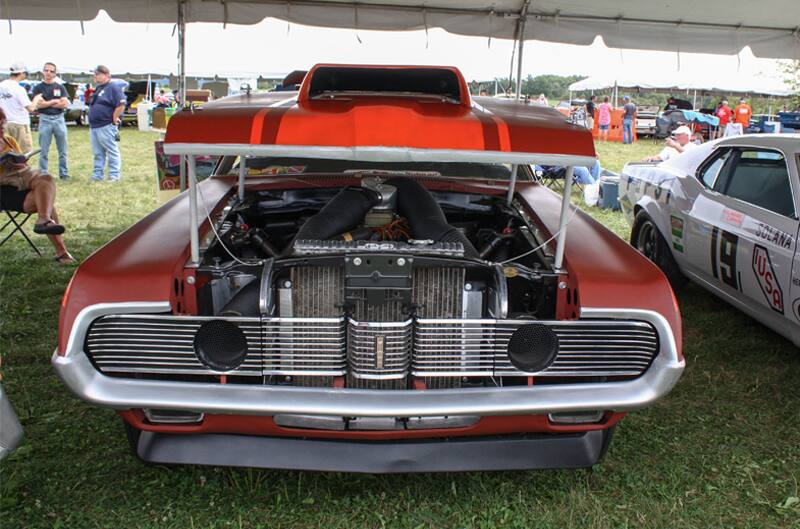 Meyer has long served as the Boss Registry's chief judge, and back under the Special Display tent, his team evaluated the Concours and Survivor cars on 900-point scale. Jim Zappala's Wimbledon White '69 Boss 429 rated 892 points, the highest score of the meet. Zappala's 1970 Grabber Blue 429 also scored Gold, as did Mike & Steve Salsman's Bright Yellow '70 Mustang 302, and Eric Petosa's lime-green '69 Boss Cougar. Three out of the seven Survivor cars scored Gold as well.
"We were thrilled to have the Survivor cars," Lisa commented. "People get excited about them because if they are working on their own cars, they can see what is authentic and correct."
Bob Daily bought his Calypso Coral '69 302 in 1991, with just 29,000 miles on the odometer. "It's all original except for the tires, battery, and radiator hoses," he told us. "Even the paint, interior and trunk are original." The judges agreed and scored it Gold, along with Fred Kemmerer's '71 Boss 351, and Dave Wyras' 1970 Cougar.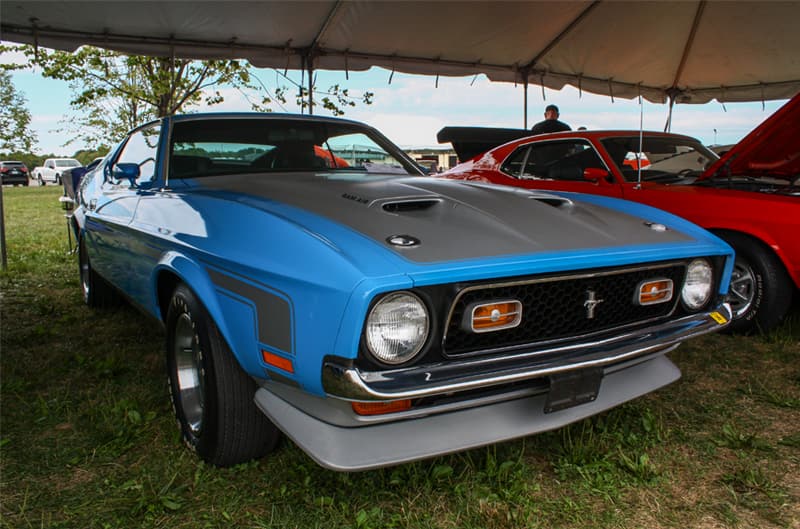 Trey Capps purchased his '70 Boss 302 Mustang in 1976, the year his son, Lee, was born. It's painted the highly desirable Calypso Coral, with an unusual Vermillion interior. "And it sat for 42 years," said Lee. "Then in the last six months we put it back together." They earned Silver at the Reunion.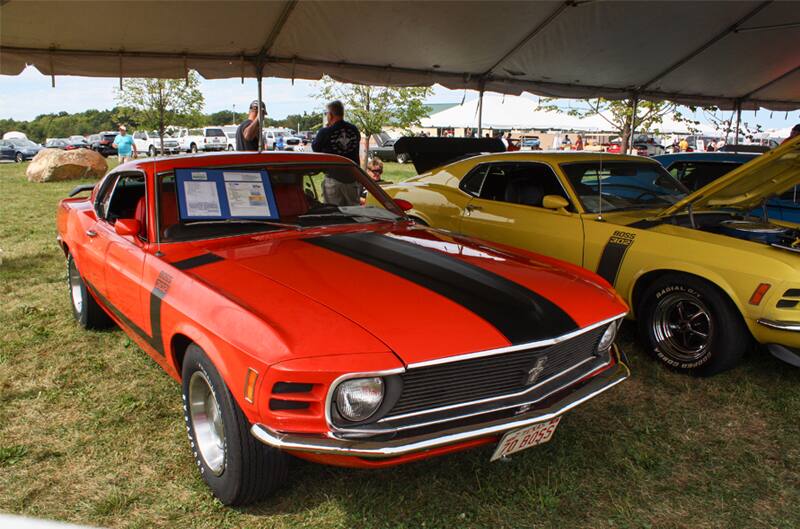 Canadian Jacques Patenaude bought his Bright Yellow '70 302 three years ago in San Diego. "All the numbers match," he noted, "although a few things are missing. We want to upgrade it to what it was when it was born." Meanwhile, it rated the show's only Bronze.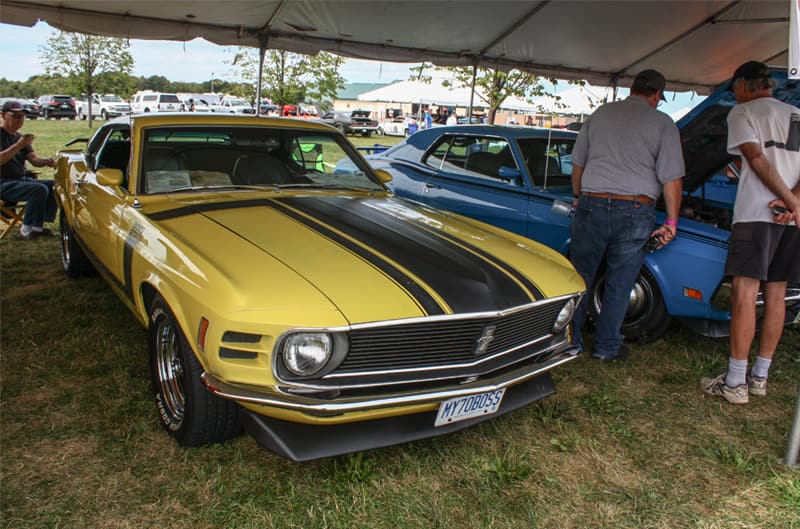 Then there was Joe Flowers' Wimbledon White Boss 429, which was featured in the December 2008 issue of Muscle Car Review. According to the article, the original owner wrote to Ford complaining that the car's performance was not up to its billing. Somehow the letter found its way to Bunkie Knudsen, who invited the man to Dearborn for a meeting, and then arranged to have the car blueprinted, tuned and modified according to internal Ford specifications to optimize its performance on the drag strip. With all of its mods intact, Flowers' car scored a Silver.
Also invited was Pittsburgh-area collector Dan Medice, who brought his five Boss Mustangs as well as a rare '69 Fairlane, one of 17 built with a 428 CJ and a four-speed. "It's an 8000-mile survivor," said Medice. "It was bought new by a Ford dealer who drag-raced it and blew it up about 20 times. My brother bought it in 1976, but he passed away from cancer before he put a new motor in it. He never drove it. So I put it together and now show it as a tribute to him."

Dan's Calypso Coral '69 Boss 302 was also a drag-race car, whose original motor has been stroked to 347 cubic inches. His '70 302, in Grabber Orange, has been modified with 12.5:1 compression and a Richmond six-speed. "I've owned that one for 30 years," he added. "It's just a ball to drive." He's owned his '71 Boss 351 for 20 years, and it remains mostly original.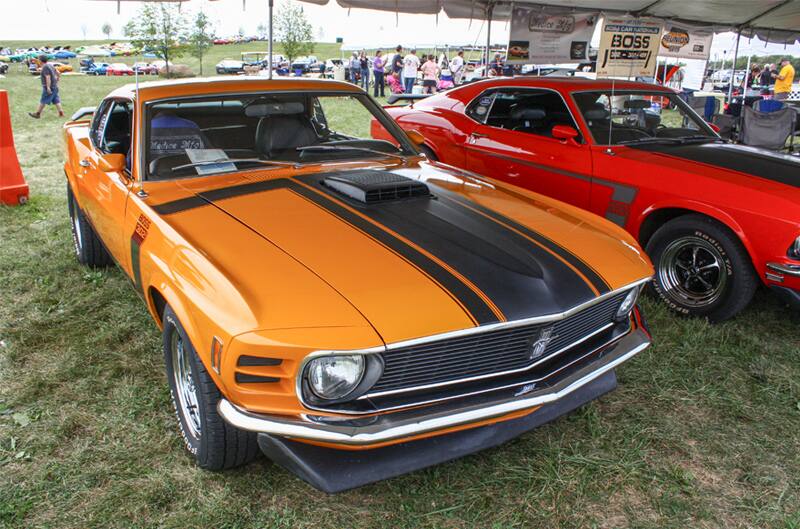 Then Dan showed us his Dark Ivy Green '69 Boss 429, which he bought when he was 19, in 1975, "At the very first Ford Nationals in Carlisle, in 1995," he recalled, "Lisa put me in the tent with Larry Shinoda. Larry had his stuff set up and was signing build sheets. And I asked him to sign my car." And Larry did, in white ink, on driver's-side sun visor.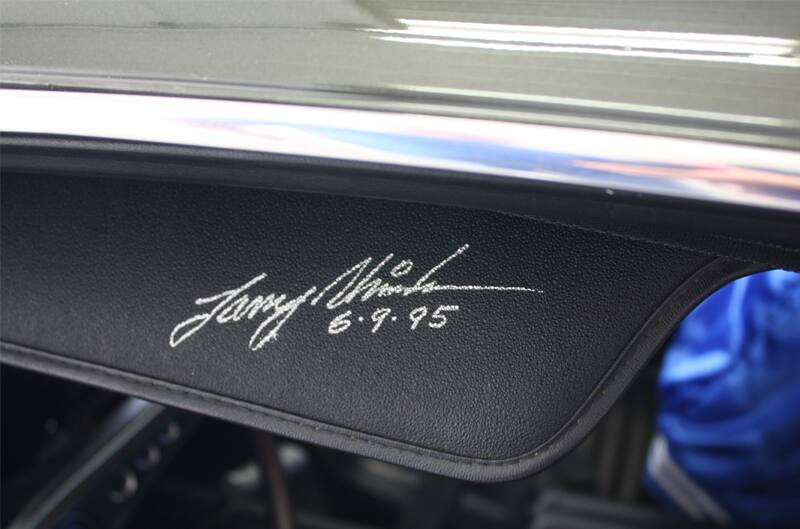 But surely the best story – and possibly the most desirable car here -- belonged to John Grafelman of Hanna City, Illinois. In 1977, John saw a white '69 Mustang listed for sale in the local paper. "But when I looked at it, I knew it wasn't a production model," he said. It could have been a '69 Mach 1 modified to look like a Boss 302 – despite the Boss style stripes, it was powered by a 428 driving through a C6 automatic – but even the "Boss" parts on the car weren't right. "The rear deck spoiler was too wide, and the rear-window slats were different," John noted. "It had a huge rear sway bar, and it had been lowered. But I purchased it anyway and drove it for two years," and Grafelman then stored it for another 30, all the while researching its provenance.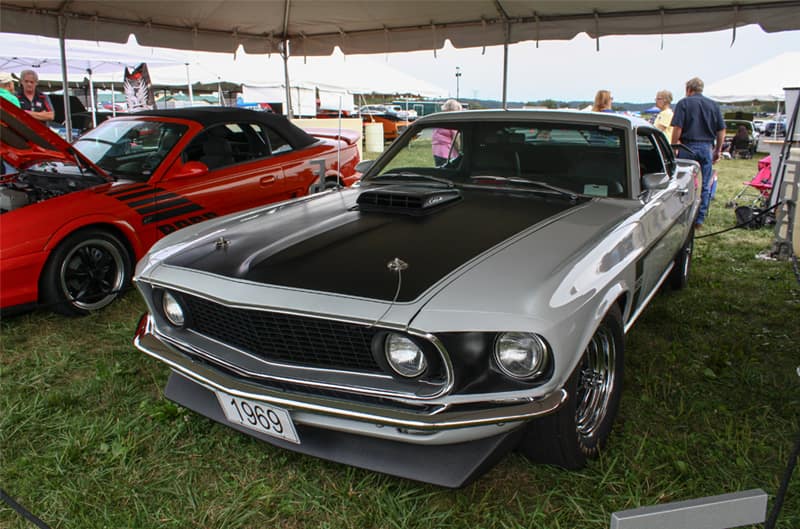 Around 2004, John's son, Jason, approached several Mustang restorers in California and found a photo of what appeared to be his family Mustang in Larry Shinoda's driveway. Further investigation strongly suggested that the Grafelman Mustang was, in fact, a pre-production Mach 1 used for both engineering development of the Boss 302, and most notably as a styling prototype by Shinoda himself. Ultimately, the Grafelmans confirmed that Shinoda had leased the car from the Ford Design Center when the design project was finished.

It takes more than a glance or two at Shinoda's prototype to notice that while the graphics say "Boss," nowhere on the car is the number "302." The initials "LB" in the hub of the leather-wrapped Momo steering wheel presumably refer to "Larry's Boss." Look closer and you can see the number "1" etched at the base of the wheel's downward-pointing spoke.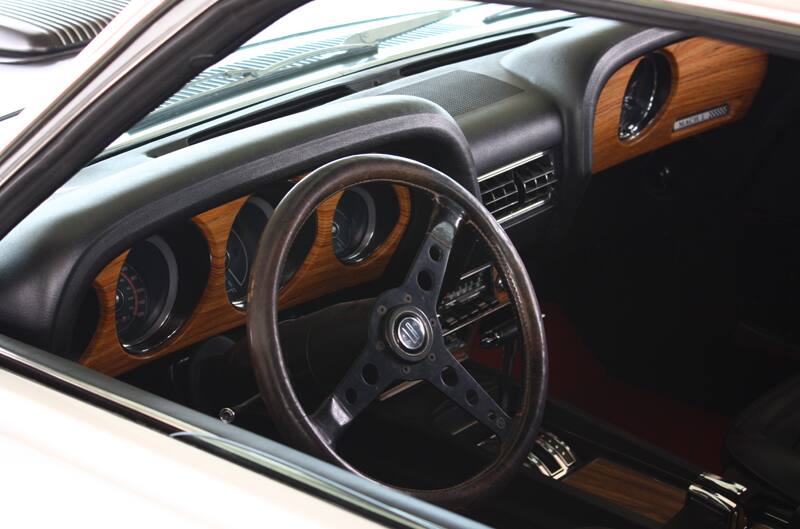 Close by at the Reunion were Shinoda's wife, Joyce, and daughter, Karen; Karen had shared memories of riding in that car as a child.

Grafelman, Saba, Olive, and Medice spoke to the more than 200 dinner guests at Friday night's banquet; also on the program were Ken Dowd of the Shinoda Boss design team, former Kar Kraft engineer Don Eichstaedt, and current Ford engineer Adam Christian, who helped develop the revived 2012 Boss Mustang.

For those who somehow don't know already, Ford developed the Boss 302 to compete against Chevy's Z/28 Camaro, both on the track and in the showroom. Carroll Shelby's Mustangs had won the first SCCA Trans-American Sedan Championship in 1966, and they won again in '67 (albeit incognito as "Terlingua Mustangs," while Ford focused its overt factory effort on the new Mercury Cougar). But the Z/28 won the last two races of '67 -- and scored not only the championship in '68, but over 7,000 civilian sales as well. Released in mid-1969, the Boss Mustang arrived too late to stop Chevy from dominating a second Trans Am season; but in 1970, the Boss 302 brought the championship back to Dearborn.

The styling of the '69 Mustang Sportsroof was already finalized when Knudsen hired Shinoda as Special Projects Design Director in late 1968. Aiming for a cleaner look for the Boss, Larry stripped the horse emblems off the rear roof pillars, closed off the rear-fender air intakes, and removed the rocker moldings. Then he blacked- out the taillight panel and the outer headlight nacelles and added tape stripes reminiscent of Ford's LeMans-winning GT-40 Mk 2. Functional front and rear spoilers (also black) and black venetian-blind like louvres shading the large backlight completed the Boss 302 look.

Shinoda also designed a similar but more subtle graphics-and-spoiler package for the Mercury Cougar's new high-performance sub-series called Eliminator, which could be ordered with the Boss 302 engine and suspension. And he created the graphics package for the Mustang Boss 429 -- although in every other respect, the Boss 302 and Boss 429 could not have been more different.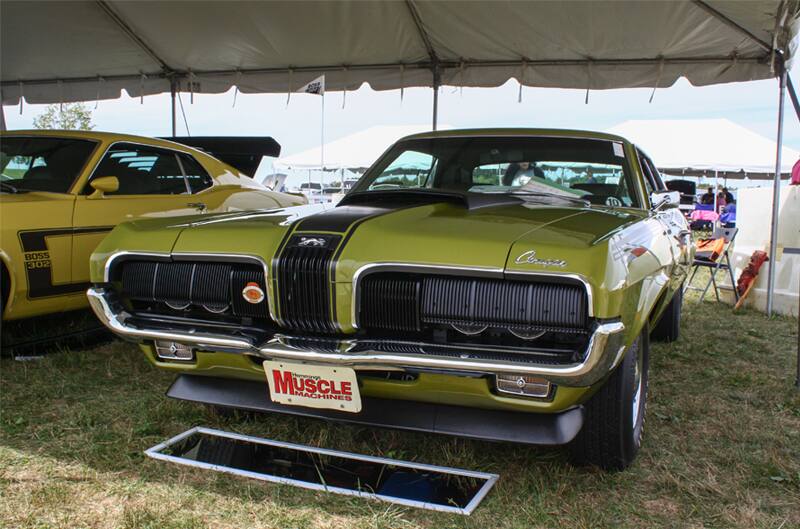 With its out-sized, semi-hemispherical cylinder heads, what became the Boss 429 engine was developed to battle Chrysler's legendary Hemi in NASCAR. At the time, NASCAR required a production run of 500 engines for homologation, and Knudsen thought that 500 429-cubic-inch Mustangs would solidify the pony car's performance image. And he wanted them called Boss 429, so buyers would associate them with the racing Boss 302. The fact that the 30-inch-wide Boss 429 engine wouldn't fit in the Mustang's 28-inch engine bay didn't seem to bother him. Ford subcontractor Kar Kraft was awarded the job of modifying engineless Mach 1's to accept the monster motor.
The Ford and Mercury Boss programs continued into 1970, albeit without Knudsen or Shinoda; Henry Ford II fired Bunkie in August of 1969, and Larry in September. Then Ford pulled out of Trans Am racing, and NASCAR changed its rules to discourage limited-production engines. The extensively restyled 1971 Mustang included a Boss 351 model, which by some accounts was the best Boss yet. But it stumbled in the showroom, with just 4,124 sales, and did not reappear for '72.
In all, Ford had built and sold 1,934 Boss 302 Mustangs in 1969, and 6,319 in 1970. Boss 429 production for the same two years totaled 852 and 498, respectively. Additionally, Mercury sold 169 Boss 302 Cougars in '69, and 469 in '70. A Boss 429 Cougar was theoretically available, but only two were sold, both '69 models, and both to professional drag racers (the Nicholson car, and another to "Fast Eddie" Schartman). It is generally accepted that none ever reached the general public.

But even that wasn't the end of the Boss Mustang story.

In 1994 Shinoda, now head of his own design firm, created a "Boss" graphics package for the then-current SN95 fourth-generation Mustang. Eventually Shinoda Performance Vehicles would offer aftermarket upgrades, from spoilers to twin-turbo kits. In 2012, Ford itself revived the Boss 302 moniker for a Mustang model faster than a Mustang GT but more polished than a Shelby GT500. Like the originals, it saw only two years of production.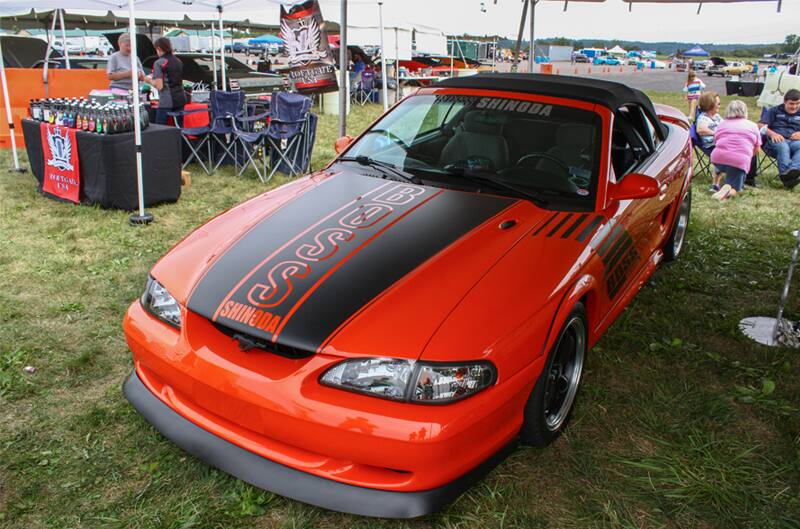 Most of the Boss cars registered for the High Performance Driving Experience in Pittsburgh were these later models, although Terry Bookheimer and Dave Walmer both turned laps in Boss 302 Mustangs of 1969 vintage. Lisa took to the track in her own 2013 Boss. Retired Marine pilot Dennis Dilucente drove his 2012 Boss all the way from California and saw 135 mph on the road course. And Randy Ream explored the limits of his own 2012. Similarly, 10 of the 11 Boss Mustangs competing in Sunday's AutoCross were 2012-13 models. Michael VanDerMeid scored the best time, 45.044 seconds, in his 2013. But Mark Corich clocked a 49.23 in his '69 wide-body.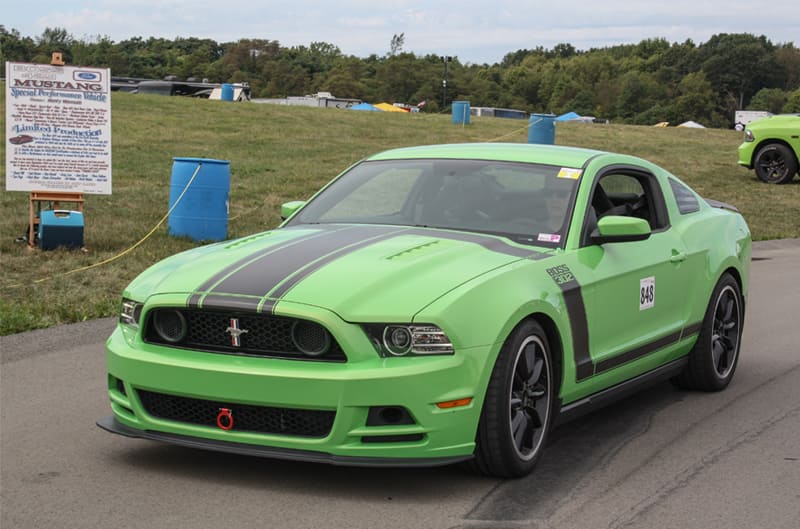 Climaxing the event was a parade lap of 45 Boss Mustang and Cougars. "A little bit of rain fell on the cars," Lisa admitted, "but that certainly didn't dampen the spirits of those who had participated in this event."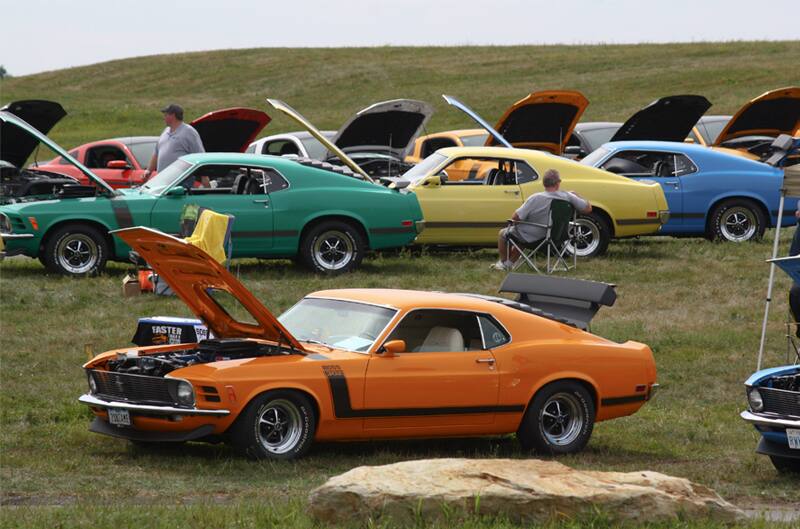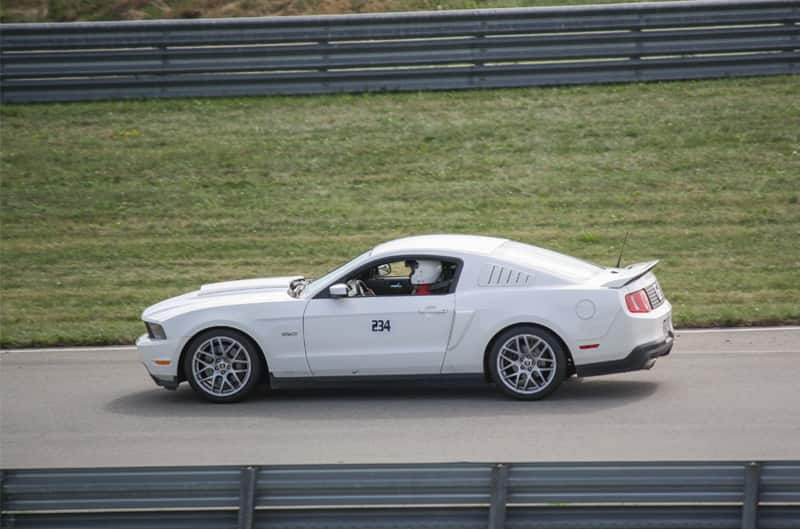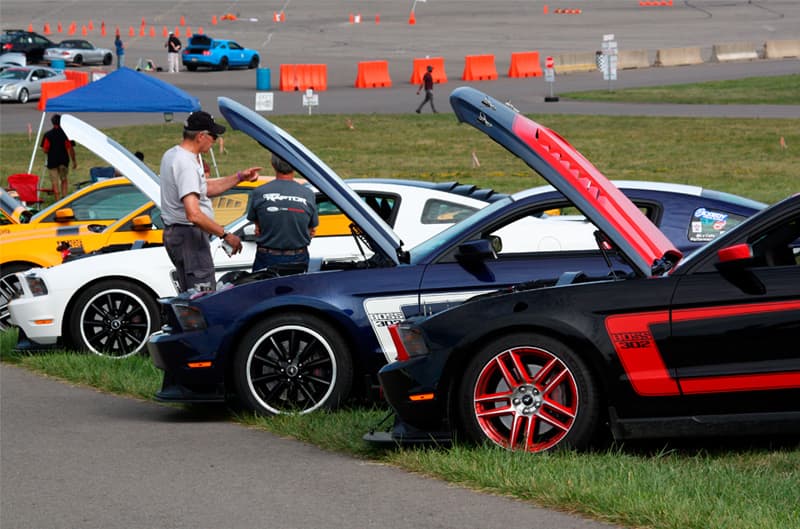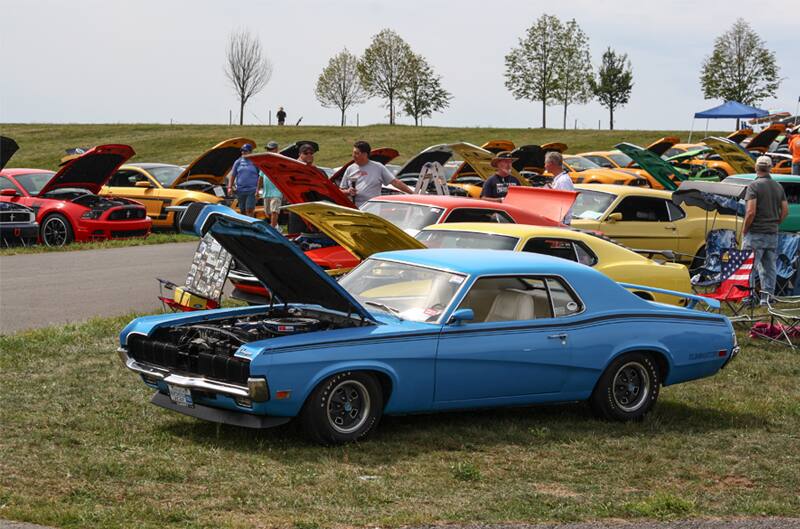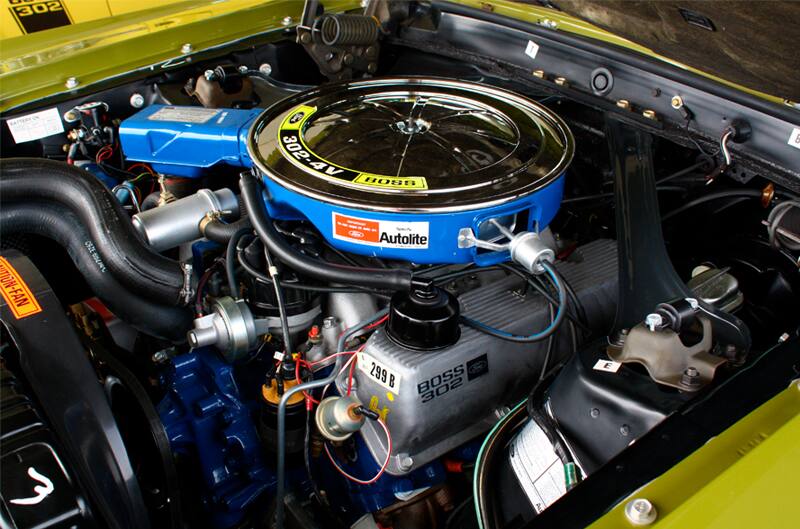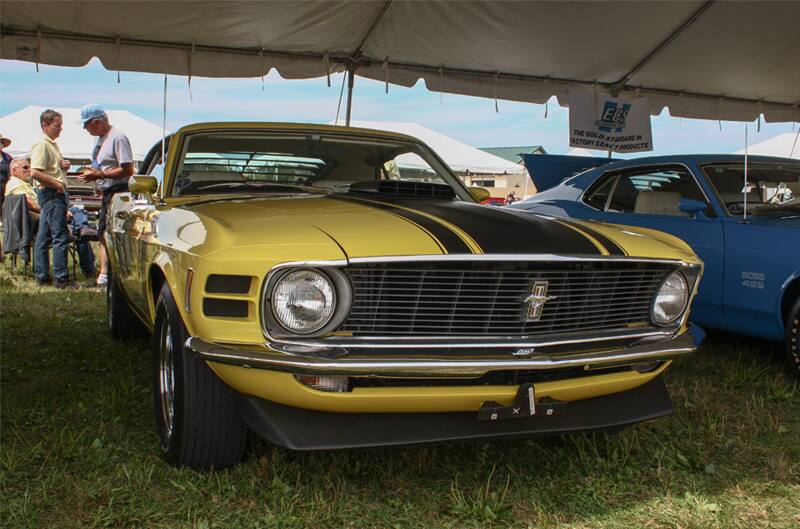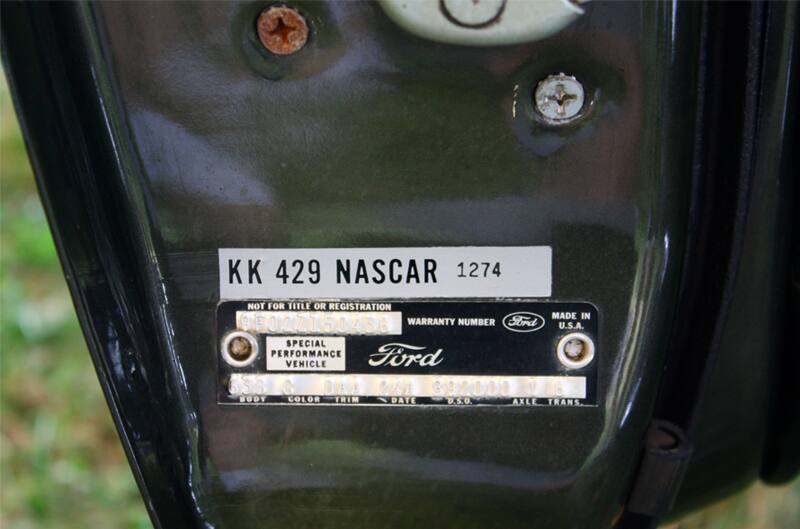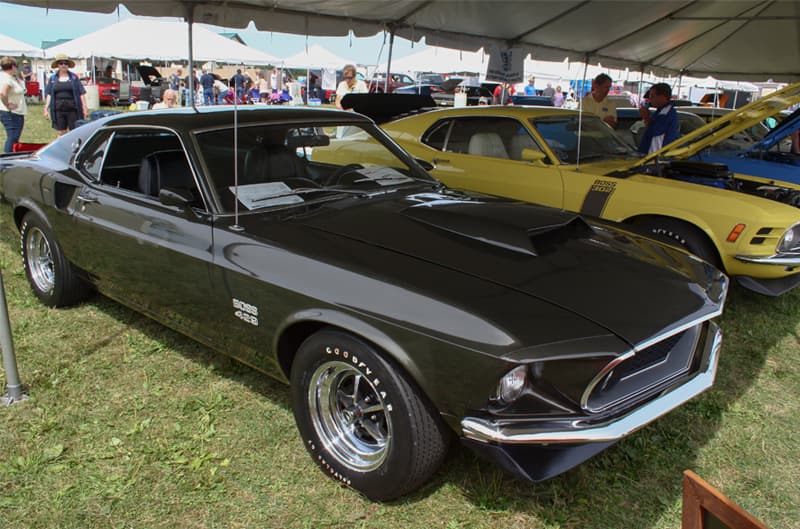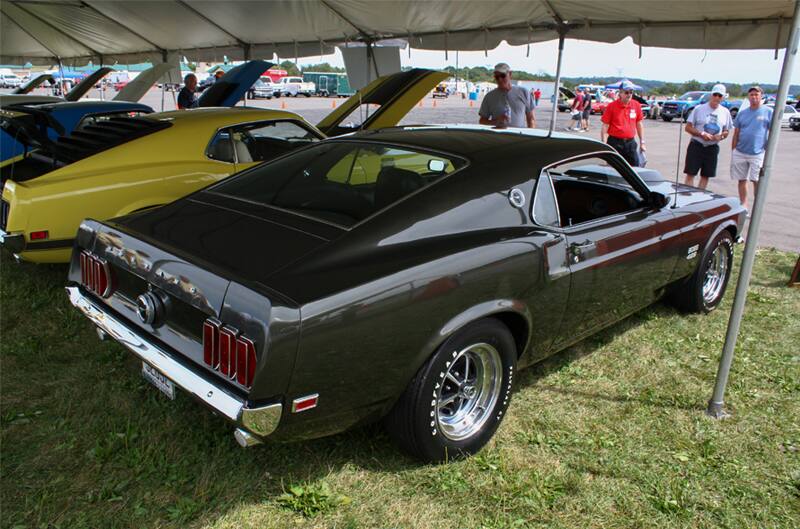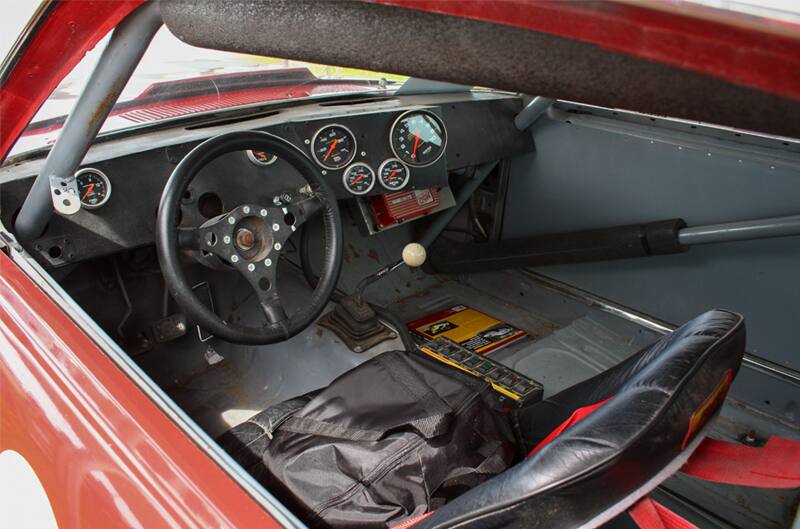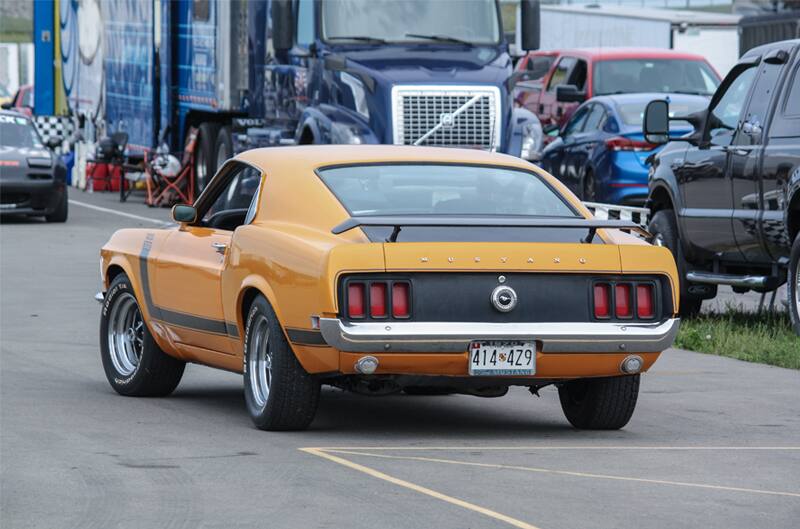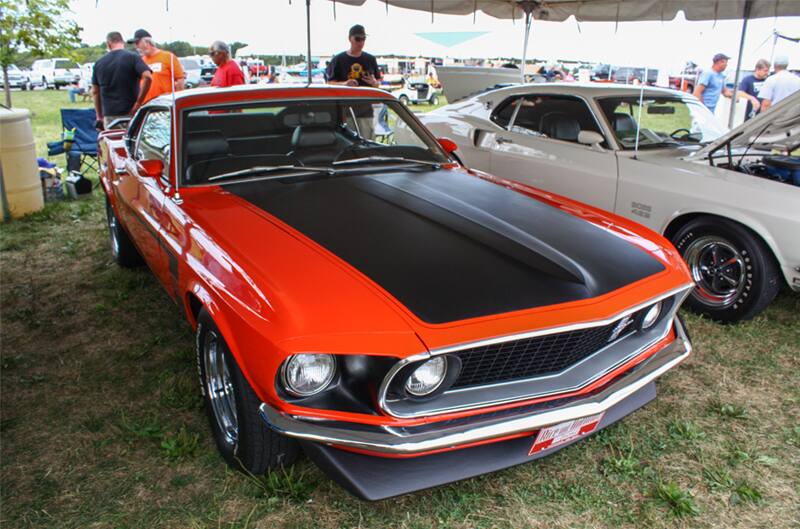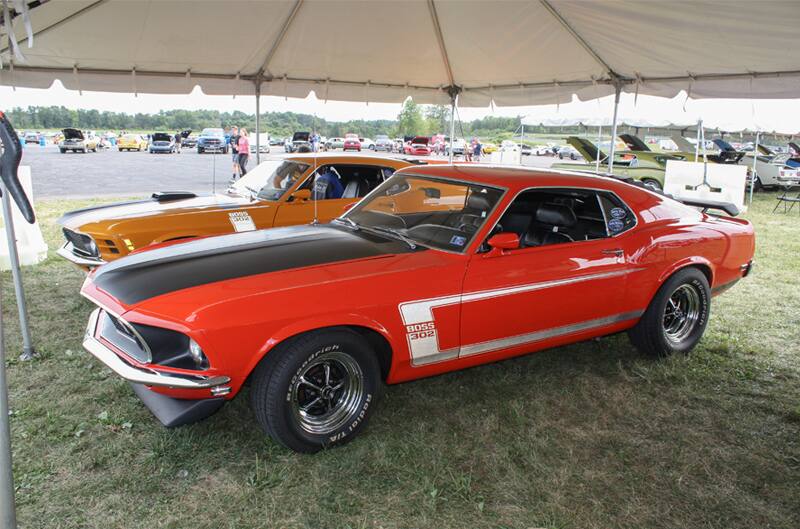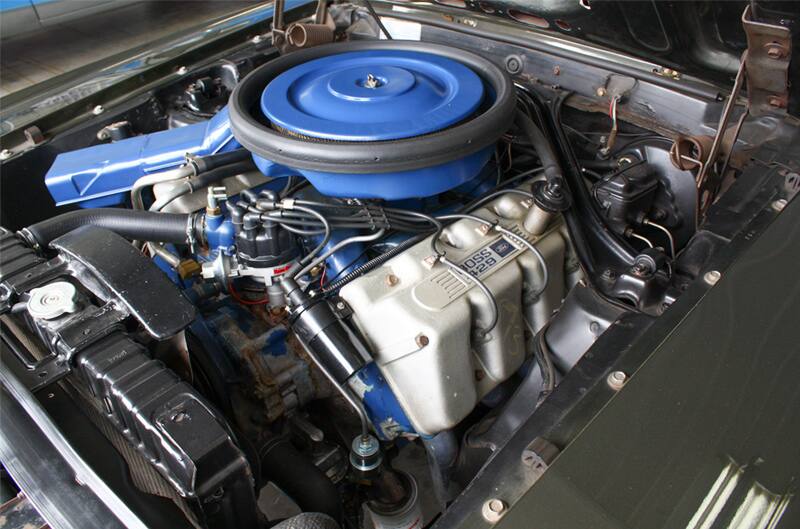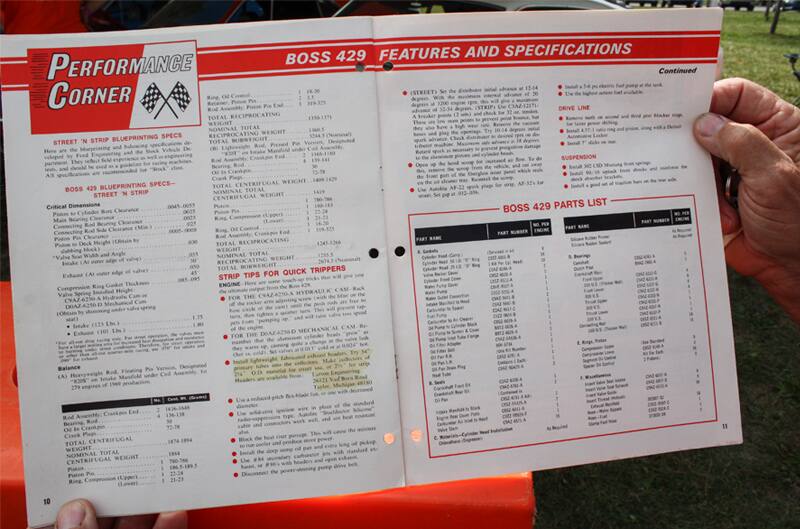 FORD PERFORMANCE PHOTOS / COURTESY JOHN F. KATZ
FORD PERFORMANCE PHOTOS / COURTESY BILL COOK
FORD PERFORMANCE PHOTOS / COURTESY AUTOINTERESTS, LLC