DEARBORN, Mich. - As in any endeavor, one's network of people is invaluable. This story of the finding, vetting, researching and revitalizing of a historic car proves that case once again – and that VIN 9F03Q1022336 is a Shelby Automotive pre-production (prototype) engineering and marketing development car. It is one of just four Shelbys that were used to develop what would be offered to the public on production models. The cars were the first built at the Dearborn Assembly Plant for conversion into Shelby Mustangs. This prototype was also the first 428CJ Mustang built at Dearborn, as well as the first convertible Mustang built there. Its Raven Black color is also significant, as it is the only 1969-1970 Shelby that was finished in this color.
An Elegant Discovery
Where, when and how was such a gem found? During October 2014, the French Lick Concours d' Elegance in Indiana had included the Shelby marque in its show field. This white-glove and sport-jacket event drew the top Shelby entries, and many restorers, owners, enthusiasts and business people. George Huisman of Michigan and Ed Meyer of Indiana were discussing a car that had surfaced near Detroit, a 1969 Shelby GT500 convertible. Tony King of Montana overheard that conversation and expressed some interest in it. Jason Billups from Oklahoma was also attending to help judge. As with similar shows, many of the people involved knew each other. Jason and his brother, Scott, own Billups Classic Cars in Colcord, Oklahoma. Tony King is one of their longtime customers, plus Jason and Ed have collaborated on numerous restorations over the years.
A few months went by and people kept in touch regarding the Detroit-area Shelby convertible discovery. While traveling during March of 2015, Tony received word that this car was available. He immediately changed his plans and re-routed his course to pick up Jason and Ed, and they went to Detroit. By now, enough was known about this car that Ed would be willing to miss his 60th birthday party just to be part of the acquisition effort. The trio conducted an inspection, which turned up some factory paperwork plus a few very noteworthy features, and were satisfied with the car. After the transaction was concluded with an evening of celebration, they loaded the car into Tony's horse trailer (no kidding). He dropped off Ed (now a year older) and delivered his new project car to Jason's shop for a full-blown, historically correct restoration.
#2336 - The Car
When first inspected, 9F03Q102336 was a complete, running-and-driving black Shelby GT500 convertible, and the odometer showed only 7,579 miles. Aspects of the car's condition supported the possibility of it actually having such low mileage, including the good condition of the black convertible top with rear glass, as well as the original dash pad and interior components. On the other hand, the car had been repainted, and mechanical work had obviously been done. They later learned that #2336 had been under a tarp in a storage building from around 1977 through 2014. (Yes, it had been stowed away for decades!) It had recently been revived, but there was evidence of problems due to its long-term storage.
Additionally, research revealed how the few prototype, pre-production, engineering development cars were driven, and some were driven very hard. Not only that, they were also taken apart and put back together multiple times to help determine what mechanical equipment and cosmetic features would be included in the 1969 Shelby production models that would be offered to the public. When found, #2336 had functional front and rear power windows. There was also clear evidence that it had both white and black interiors in the past.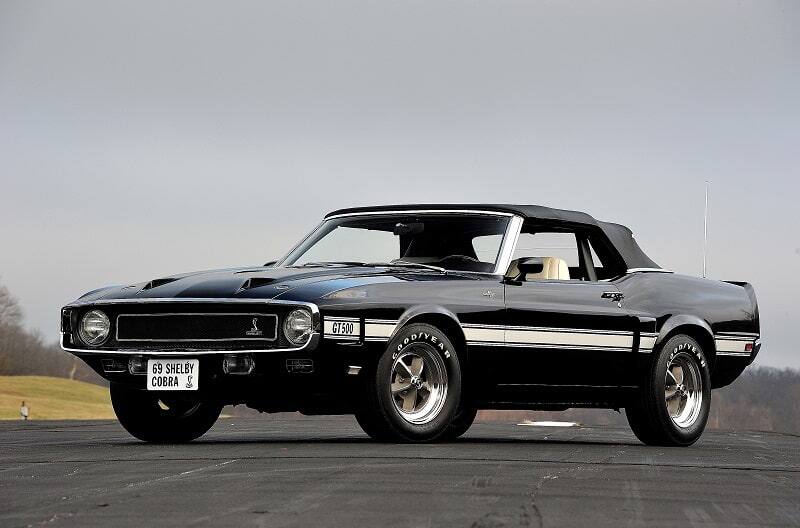 Numerous unique, pre-production prototype features became evident as they studied the car and took #2336 apart.
Working left-quarter side scoop; non-working right.
Square-base style radio antenna.
120mph speedometer dated August 2, 1968.
Unique tubular roll-bar shape dated September 23, 1968.
1968-style Stewart Warner console gauges.
Power windows with Mercury Cougar-sourced components.
Front brake rotors dated June 14, 1968; rears dated July 27th, 1968.
Unique rear interior vinyl-wrapped quarter trim fiberglass panels.
Front carpet with driver toe pad.
Seatbelts from a mix of suppliers with varied characteristics.
Mustang-origin leaf springs, pre-Shelby production version.
1968-Midland power brake booster and master cylinder.
Early, flat-top style solenoid.
Pre-production sequential tail lamp wiring.
The Documentation Process
Research through SAAC Registrar Vincent Liska, backed by a Marti Report, "reveals 8F03Q102336 to be a Shelby Automotive Pre-Production (prototype) Engineering and Marketing Development car. It was one of four used to develop the actual production models. SAAC records show this car in the "1987 Shelby American World Registry" on page 568, and again (more accurately), in the 1997 edition on pages 1,124 and 1,221.
Car #2336 is listed in the "1997 SAAC World Registry" as the first Mustang built at Dearborn Assembly Plant to be converted to a Shelby." It was also the first 428 CJ Mustang and the first convertible Mustang built at Dearborn. Number 2336 is also listed as Raven Black-Black – which is the only 1969-1970 Shelby painted that color.
Jason and Tony grasped this car's historical significance as soon as they saw the research, so each committed to giving it a "World Class" historically correct restoration. Jason and his brother, Scott, began planning, and Jason recruited enthusiast Don Bell in nearby Arkansas to help with further research and documentation.
Although no build sheet was found during the initial inspection or teardown, Ed found two assembly inspection sheets under the carpet. Immediately after arriving back in Oklahoma, Jason had publicly announced the car's purchase on the SAAC online forum. Pete Disher, who thrives on Shelby historical documentation, jumped into the discussion and provided a look at a "Shelby Automotive Engineering Vehicle" listing dated January 24, 1969, that showed 9F03Q102336. This document added confirmation about the special history of this car, but also brought some questions.
Vincent "Vinny" Liska, SCCA Registrar, actively joined the pursuit of information regarding this car. He pulled a second SA internal document, "Company Vehicles in Service," dated September 30, 1969, from archives. It listed #102336 as a "Prototype assigned to Ray Geddes" for use as a "Dearborn Pool" car. Vinny also provided a period photocopy of the Ford invoice.
It became obvious reading the 1969 Shelby Program project minutes that the planning target dates for all parties involved meant they had to finish within very short timespans. What was also apparent was that just-in-time delivery seemed to be the norm back then. Jason met with Tom McIntyre, the founder of ASCO Products (an original Shelby supplier), who recalled that part revisions would be shipped via commercial passenger jet back and forth to achieve same- or next-day build progress. Further, the vehicle manufacturing plants appear to have been running practically 24/7 at that time. For example, the right-hand door shell is dated "8 04 W3," which was a Sunday; power-windows motors show Saturday dates: July 27, 1968.
Shelby Automotive archives, dated January 24, 1969, indicate that #2336 was used to test the 351 four-barrel engine at one time. The document also shows the car had a black interior for a period of time. Interestingly, #2336 was used to test power windows as a potential option.
Kevin Marti confirmed the "Marti Report" and the Ford invoice data (thank you, Lois Eminger!). Additional research had produced "Marti Reports" for the three other 1969 Shelby prototypes.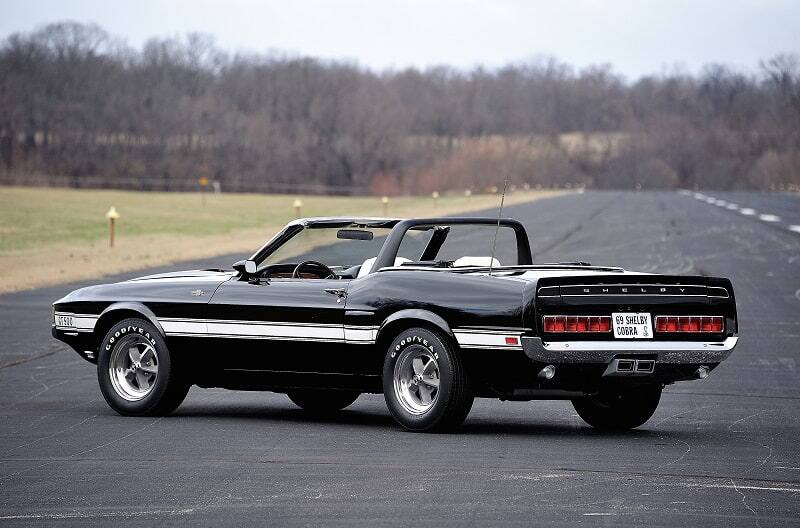 The 1969 Shelby Prototypes
According to Marti's record searches, four Mustangs were ordered from the Dearborn plant by Shelby Automotive (SA) on July 21, 1968 (Sunday): two convertibles, delivered as GT models, and two SportsRoofs, delivered as Mach 1 models.
These GT convertibles included a Raven Black with white Deluxe Interior, and a Gulfstream Aqua with black Deluxe Interior. Both were equipped with Q-Code 428 Cobra Jet engines, C6 automatic transmissions, Traction-Lok differentials, and tilt-wheel steering columns. The Mach 1 SportsRoofs included one Raven Black with black interior and a Gulfstream with white interior. Both of those cars were equipped with a Q-Code 428 CJ, C6, Traction-Lok, and tilt.
Copies of actual SA "Operations Committee Minutes" were scoured to understand the 1969 Shelby pre-production scheduling and decision process during 1968. In these and other SA documents from the SAAC archives, the term "prototype" is used routinely in memos marked confidential and other notations. In the 1969 Shelby program, the increasing influence by Ford Motor Company is noticeable. The Shelby model-year planning was becoming more formalized than in prior years. The "1969" Shelby-Chronological Timing Plan" (a product planning schedule) specifies that during the week of 4/29/68 to 5/4/68, they would "Issue First Bill of Material." The corresponding "1969 Shelby Program Timing Plan" (in a graphic project chart form) shows styling should have begun in early to mid-April 1968 in the surface base model. It also targets July 1 for styling approval of the surface convertible. Further, this chart targets July 3 for the final engineering prototype and July 21 as the date to receive the first production Mustang, which coincides with the order dates of these four prototypes. Finally, they target December 1, 1968, to conclude the prototype build and testing.
Marti records show that 9F03Q102336 is DSO item #0001; and #2337 is DSO item #0002; plus #2338 is DOS item #0003; and #2339 is DSO item #0004. It is clear these four cars were specifically ordered for prototype and pre-production engineering development.
The Restoration Goal
One of the goals of this restoration project was to find out as much as possible, not only about #2336, but also about these other prototype and development cars. In the process, Jason and Don now have their hands on all four, and have made some surprising discoveries. Late in 2015, Jason and Don became aware of a SAAC Forum topic from mid-December 2012 about a 1969 barrier test and a prototype pilot car that had been found. Photographs included an image of a door data plate with VIN 9F02Q102338. That VIN wasn't published in SAAC Registries, which had raised curiosity and skepticism.

For Jason and Don, the prospect of another 1969 Shelby prototype to study for the #2336 restoration was intriguing, so Jason contacted the poster of that 2012 forum topic. (Coincidentally, #2338 had been offered for sale in 2014.) Jason spoke to the owners of #2338, and due to the #2336 convertible project, the owners agreed that Jason and Don could examine their car. On a cold Ohio day in February of 2016, the two were given unlimited access to study, photograph, and document #2338. As a result, the pair felt confident that car was genuine. Vital identification points were shared with Vinny, who along with a "Mari Report," confirmed this fact.
Before Jason and Don left that day, they struck a deal for Tony King to purchase #2338. In April of 2016, #2338 now sat beside #2336 at Billups Classic Cars. Two of the four 1969 Shelby prototype cars were not only found, but now united, thus enabling valuable and further understanding of pre-production Shelby features.
SAAC records mention car #2339, an Aqua SportsRoof. The last known owner was listed in Ohio, but efforts to locate him have led nowhere. Evidence surfaced that #2339 was in Oklahoma in the late 80's, and to Don's surprise, he knew the owner. Don was persistent in chasing these leads, and finally located the car. The owner invited Jason and Don to examine #2339 in July of 2016. The chain of ownership revealed that it had another owner in the mid-80's whom Don knew as well. There is evidence this prototype had been brought to both SAAC-15 and SAAC-24. At this pointy, all three of the likely remaining 1969 Shelby pre-production development prototypes had been studied! Following this photo shoot of #2336, contact continued with #2339's owners. In late March of 2017, Tony King also purchased #2339. SA documents from SAAC archives show #2339 to be a rear-disc-brake development vehicle. Now, all three of these prototypes are together again after almost 50 years.
An archive or period photograph of the #2336 black convertible has so far proved elusive. Some people thought the Shelby convertible used in the February 1970 Car & Driver magazine article (a-black-and-white photo) was #2336. However, after some research, that car has been determined to be the maroon production convertible, 9F03M480001.
Jason asks anyone who has any information or photographs of #2336, #2338, or #2339 to please contact him. The research team continues to explore solid leads in their search for #2337 and its location.
The #2336 Restoration
Don photographed and documented every step of the disassembly of #2336. Any variation from production characteristics was scrutinized and recorded. Component dates, engineering numbers, fasteners, body panels, interior parts, paint coatings and more -- everything was given attention. The fiberglass components on these pre-production cars are particularly unique because each piece was hand-laid. Production fiberglass reinforced plastic (FRP) was a more sophisticated process to produce. It was remarkable to be able to see that actual hand-laid versions had survived to show their nuances. Chris Engemann, a former A.O. Smith designer, suggests that probably no more than 10 sets – a typical batch-of the early hand-laid fiberglass days – were ever made. Chris loaned his original engineering blueprint of the 1969 Shelby hood for study and documentation. This drawing is a marvel at 42 inches wide and 17 feet long.
While studying #2336's decklid, they noticed unique characteristics on the corners of the weatherstripping. They were quite surprised to discover aqua paint under the edge of that section of weatherstrip. Don took pictures, plus a full view of the bottom of the #2336 deck lid, which clearly showed the hand-laid-fiberglass.
Around the same time during early 2015, Jason learned of Ford Archives photos online, and most of the 1969 Shelby photos showed a convertible with black interior. Pete Disher lent his keen eye and believed, along with Don, that these pictures were 9F03Q102337, the Gulfstream Aqua prototype convertible. Jason had told Pete about the aqua paint discovery on the #2336 black deck lid, and Pete asked for a #2336 picture identical to the rear view of the Archives convertible image, which had its decklid open. By magnifying both photos, Pete concluded it was the very same decklid!

The weatherstrip characteristics were the same, which is not really a surprise. However, Pete pointed out that the distinct slope pattern on the laid fiberglass was identical, which is much like a fingerprint. Since each decklid was individually made, it is highly likely that any two would have the same slop pattern. Jason and Don agreed with Pete. Upon carefully removing two layers of black paint, the original base color was indeed Gulfstream Aqua. According to Ford evidence, #2336 had the trunk lid from #2337. This raised big questions: What would have happened for #2337 to give up its trunk lid? There were only two prototype convertibles; does this mean #2337 was parted out, and if so, why? The other question is, what happened to the #2336 original decklid?

The FordImages.com archive photographs of #2337 helped immensely to produce an accurate #2336 restoration. Take the engine bay. When magnified, the dates of the spark plug wires were visible, the decals were legible, and the 1968-style Midland brake booster was obvious. The air-breather assembly had unique traits. Close examination revealed the early snake valve covers and various engine compartment components. It had a unique fender, grille and hood design, and an unexpected dummy non-functional exhaust port. You could see a 1968 KR spare tire and wheel, and on and on. Numerous unique, pre-production features in those pictures confirmed what was found on #2336.
Surprisingly, the factory convertible vinyl top and SD (dated August 1968) folding window glass were still on 32336. One of the toughest decisions for Jason to make was to replace that top. It likely wouldn't survive removal and re-installation, and it certainly wouldn't compliment fresh paint. Don carefully removed it from the top frame, documenting it. Jason had an exact new top custom made using the original as a pattern, incorporating the original folding rear glass.
The interior is original: door panels, carpet, upholstery, dash pad, instrument cluster and dash trim. The steering wheel is restored. All of the glass is original, with 8E and 8E dates. The tires are vintage Goodyear Rally GTs. Don determined from archive photos and promotional brochures that the wheel center caps were unique, not production style. They are the same caps used on the 1968 Mercury Cougar XR-7-G, which A.O. Smith also made, except with an early-style Cobra emblem.
Recognition is Deserved
Jason's brother, Scott, with assistance from Jerry Boone, did the necessary metal and fiberglass work, plus body fitment. Jason Skeeter White and Tommy Guyll did the painting. Casey Kelly handled much of the mechanical, wiring and detailing work. Jason's father, Gerald, built the 428CJ. As you can see in the photos, most of the work was done in-house by the Billups Classic Cars restoration team.
With that said, many others contributed to this project: Don Bell, Vincent Liska, Pete Disher, Kevin Marti and Lowell Otter contributed to documentation. Ed Meyer was instrumental throughout the entire project. Suppliers Steve Duke, Stewart Nolan, and Bob Nowicki, again, proved their expertise. Scott Fuller made the unusual dummy exhaust port happen. Various original parts were outsourced and provided by Todd Hollar, Tim Lea, Kerry McMahon, Dave Riley, and Randy Sizemore. Keith Schadoff is a walking history book regarding A.O. Smith-Inland, Inc.
Ironically on March 3, 1969, the Society of the Plastics Industry (SPI) had awarded its annual Grand Design award to Shelby Automotive and A.O. Smith for the 1969 Shelby Mustang for their superlative design using fiberglass-reinforced plastics (FRP). In November of 2016, Keith gave the actual award trophy to Tony King, so it could be with the very cars on which the design was developed.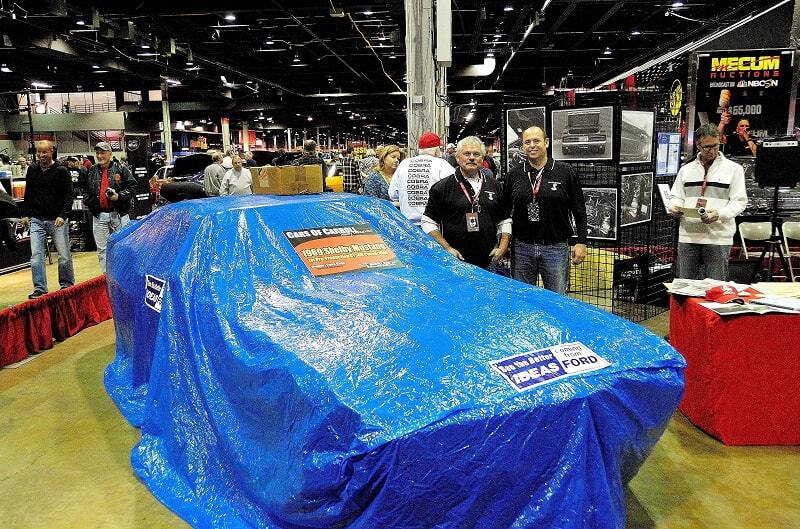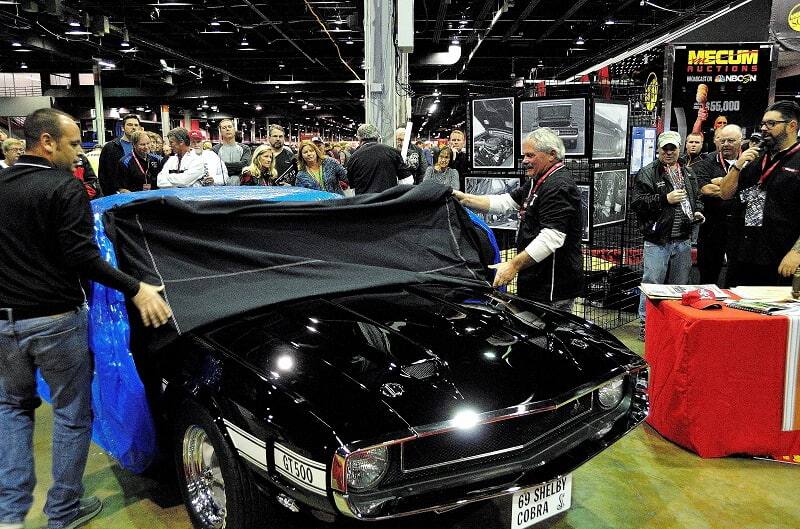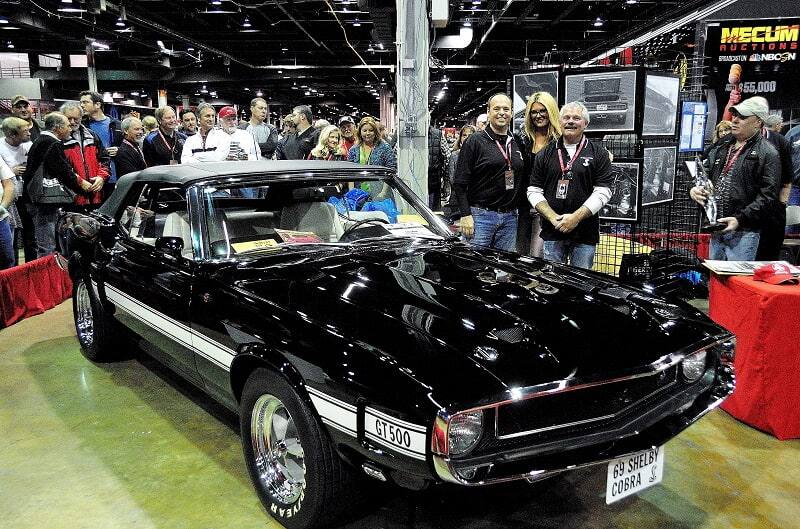 FORD PEFORMANCE PHOTOS COURTESY AL ROGERS / FREEZE FRAME IMAGE