DEARBORN, Mich. - It was a typical Sunday afternoon at the weekly car show in Milford, Michigan, Chris Baker of the "Bakers of Milford" restaurant greeted each and every car owner as they made their way into his backyard for the car show that draws nearly 1,000 automobiles to his property each week.
It was there, out of the corner of my eye, that I spotted a Calypso Coral 1970 Ford Torino Cobra making its way down the causeway. As it idled, the throaty 429 Cobra Jet engine made the shaker hood dance from side to side in the hood opening. Like me, spectators lining the show entrance wore both curious and approving expressions. My first thought was, is it real? I had to get a closer look.
I found the Torino Cobra parked perched on a hill, and although this "snake in the grass" was surrounded by some nice muscle cars, it stood out from the rest. It's said a cobra will seduce or tease before it strikes. Onlookers came out of the surroundings to get a closer look at this Torino Cobra from a safe distance. But not me – I had to risk "getting bitten" in order to introduce myself to this car and its owner.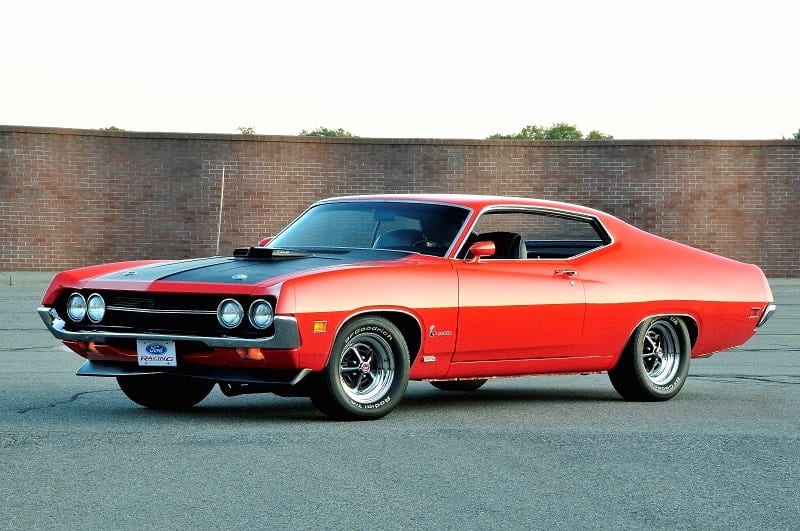 I discovered that owner Al Stuck had driven the 1970 Torino Cobra from his home in Gibraltar, Michigan. The material handler at the Ford Motor Company's Wayne Assembly plant and his wife, Gwen, had purchased the Cobra Jet-powered Torino back in March of 2009 from a private owner in North Carolina. To make room for the Torino, Stuck parted ways with his Grabber Blue 1970 Mustang Mach 1. His reason for selling the Pony? "It needed more work than I could handle," Stuck said.

Although he sold his Mustang, Stuck – a longtime Ford employee – remained a die-hard "Blue Oval' man. He still recalls his field trip at the age of nine to the old Dearborn Assembly Plant where Mustangs were built at the time. Not only did the trip feed his interest in cars, it began his fascination with the assembly line, the line process and how small parts are joined together to become a finished automobile. Some 13 years later, at the age of 22, Stuck joined the Ford Motor Company.
Stuck's search for a replacement for his Mustang Mach 1 started online. While searching for Mustangs for sale, he came across the Torino locator, and more childhood memories began flooding back. At age 11, Stuck and his buddies had gazed at a green Torino GT as it roamed the streets of Gibraltar, a small, so called "downriver" community along the Detroit River in southeastern Michigan. To their delight, the Torino owner would "light it up" to entertain the boys, and perhaps to show off a bit. The impression left on those boys followed them through to their teens and into adulthood. Stuck, in particular, dreamt that one day he'd "own a Torino and light it up" whenever he had the inkling.

Now, nearly 30 years later, Stuck was bitten by the car of his dreams. Listed on eBay was a numbers-matching 1970 Torino Cobra SportsRoof (two-door fastback) that had been freshly restored. Its original black Turin knit-vinyl bucket seats, full console and factory AM radio survived the test of time.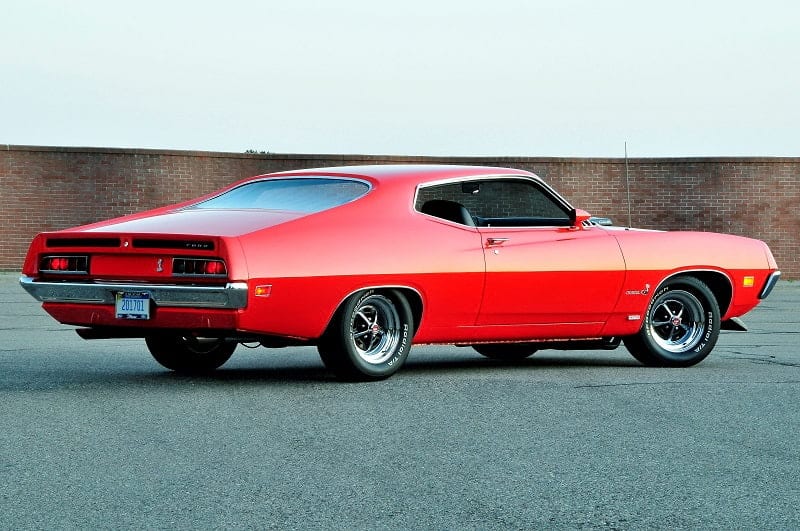 The numbers-matching four-venturi 429 Cobra Jet engine with its 370-factory-rated horsepower went through a professional race-quality rebuild. Nothing was overlooked, and a great deal of time and expense went into the engine alone. With the original close-ratio four-speed manual transmission and 3:50 rear axle gear ratio intact, this Torino Cobra remains much like the way it was originally built at the factory, right down to the four-wheel drum brakes. The original F70x14 belted tires with raised white letters have been replaced with a set of BFGoodrich Performance Radials. However, Stuck stores a set of original style bias-ply tires in a temperature-controlled building for safe keeping.

The Torino Cobra is endorsed with a Marti Report from Marti Auto Works. According to the report, only 502 Torino Cobras were produced with the same Calypso Coral paint and trim combination as Stuck's example. His car was built at the Atlanta Assembly plant on Nov. 4, 1969, four days behind schedule. The car was delivered to Hoyle Motor Co. in Lincolnton, N.C.
Documents indicate the car spent its entire life in a southern climate, helping to explain how its sheetmetal remained intact. It's no secret how susceptible to corrosion these Torinos were when exposed to northern winters and road salt. The unique design with long body lines created pockets and cavities that were a haven for moisture and debris to eventually eat the metal.
After purchasing the Torino Cobra, Stuck installed a 570-lift Crane Cam and Hooker Headers to improve performance. Like the bias-ply tires, he stowed the original parts for safe keeping. Even to this day, Stuck struggles with re-installing the original exhaust system on his "Snake."
The 1970 Torino was named Motor Trend "Car of the Year." Despite this accolade, Torinos are rarely seen today. They often take a back seat in popularity to the likes of Mustang, Chevelle, GTO, Camaro, 'Cuda, Challenger and Charger, just to name several of the more-abundant American muscle cars of the late 1960's and early 1970's.
The Calypso Coral paint of Stuck's Torino Cobra makes it an instant eye catcher, even in the company of LS-6 Chevelles and Hemi Chargers. Those who get a close look at this car often comment on the Torino's long body lines and dramatic styling, which was all-new in 1970. Many remember the days when the Torino roamed the streets of Motown (Woodward, Telegraph and Gratiot Ave., specifically) with more popularity.
Of the 407,502 cars built in the Torino series for 1970, which now included the Fairlane 500 line, the Torino Cobra SportsRoof was the least seen. This was partly because of the Torino Cobra's base price of $3,270 – more than $50 above the price of a Torino GT convertible – and partly because not everyone could handle the Torino Cobra base engine, the 429 Cobra Jet of 370 horses. Just 7,675 Torino Cobras were built, all with the standard top-loader four-speed manual transmission, a competitive suspension with staggered rear shocks, 7-inch-wide wheels, a blacked-out hood with locking hood pins, black-out trim and Cobra badging.
Stuck and his family help keep the Torino Cobra legacy alive by regularly driving their car to car events like the Bakers of Milford Cruise-Ins. Stuck's daughter, Breana, has been his biggest cruising buddy. Father and daughter can't get it out of the driveway without Breana saying, "Daddy, burn some rubber!" With a little wink in his eye, Dad states, "Of course, I never do it."
FORD PEFORMANCE PHOTOS / COURTESY FREEZE FRAME IMAGE