DEARBORN - Back in 1963, Sid Munda stared out the living room window as his father drove the family's new Ford Galaxie up their gravel driveway. As it got within eyesight, he took notice of the gold 427 script and cross-flags fender badging. Borrowing a quote oft-used by his father, he nodded his head with approval, and remarked, "What about that!"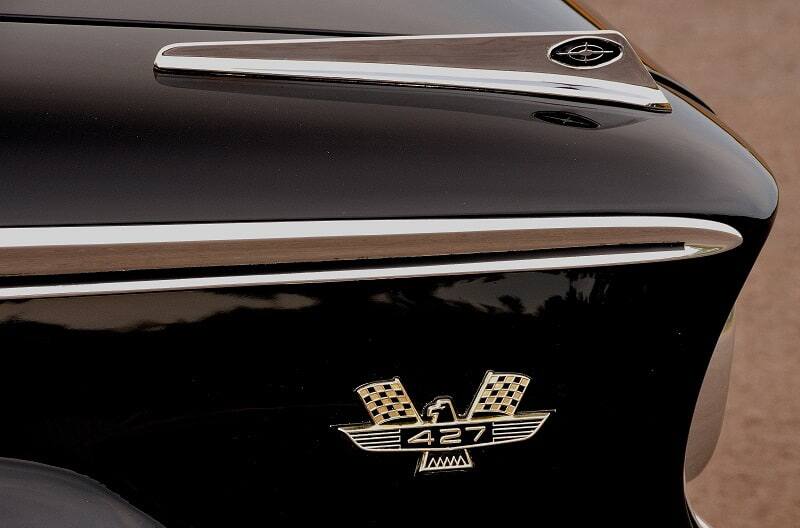 Sid was just 8 years old when his father, Beeler Munda, purchased a 1963½ Ford Galaxie 500 convertible from Otwell Ford in Cumming, Georgia. More than 50 years later, he recalls being star struck when his father drove up the gravel driveway in his new Maroon Galaxie convertible with the top down, and smiling from ear to ear.
Soon after the purchase, his father started schooling him about the engine, horsepower, and reason for picking the convertible model with its heavier frame instead of a hardtop. With the power and torque produced from the 427 R-Code engine, and its 425 horsepower rating, he was told that a heavier frame could minimize body twist when driven hard.
Earlier in his career Beeler worked for the Gober Sosebee Cherokee Garage in Atlanta, Georgia. He was part of the team who built, and maintained race cars, including the 1939 Ford coupe driven by Sosebee at the Flying Mile on Daytona Beach. Munda spent many hours behind the wheel of the race cars during test-and-tuning sessions while setting up the cars for race day.
In 1956 he left the team to start his own auto repair garage near Atlanta. A few years later he closed shop, and opened the first of three successful automotive parts stores in the Atlanta metropolitan area.
The 1963½ R-Code convertible would draw a crowd no matter where it went. People would just gravitate to it for a closer look. When they caught sight of the 427 fender emblems, it was as if a magnet would pull them closer. They'd get excited when Munda opened the hood to reveal the engine bay with the massive 427 cubic-inch V-8 engine, and its two four-barrel Holly carburetors tucked away under the big, oval air cleaner.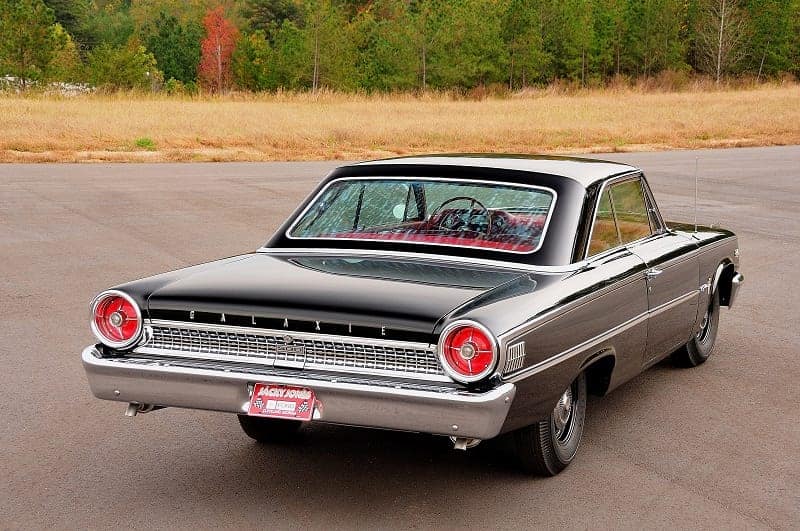 Munda had a friend who worked for the State of Georgia. Not long after taking ownership of the R-Code Galaxie, the friend stopped by the house wanting to see the new big-block Ford. Munda asked his friend if he wanted to drive it, and offered up the keys. Munda and his friend headed toward the car as his young son looked on, and his father asked, "You coming?" Without hesitation, Sid ran to the driver's door, and his father pulled up the seatback for him to get in the back seat.
The friend drove the Galaxie for a few miles on a local deserted highway, then Munda asked him to pull over while under his breath muttering, "you don't know how to drive this car!" Beeler got behind the wheel and headed back to the same highway. As they built up speed the youngster looked at his father's friend in the passenger seat, who now appeared to get fidgety while preparing to hold on for dear life as if he knew some serious driving was about to take place. Obviously he'd been through this routine with Beeler a time or two over the years.
The experience for Sid was surreal, as neither adult spoke a word – letting the beast under the hood do all the talking. The 427 engine and its dual-exhaust filled the air with a sound unlike any other Sid had ever heard. Then it happened: His father downshifted into third-gear and stomped on the throttle. Never feeling such raw acceleration and power and not knowing what to do, Sid hit the deck and laid out across the carpeted floorboard behind the front seat. With his heart racing fast and knees shaking, the youngster settled in for the car ride of his life. How fast they went he'll never know. Now, more than 53 years later, he still wonders.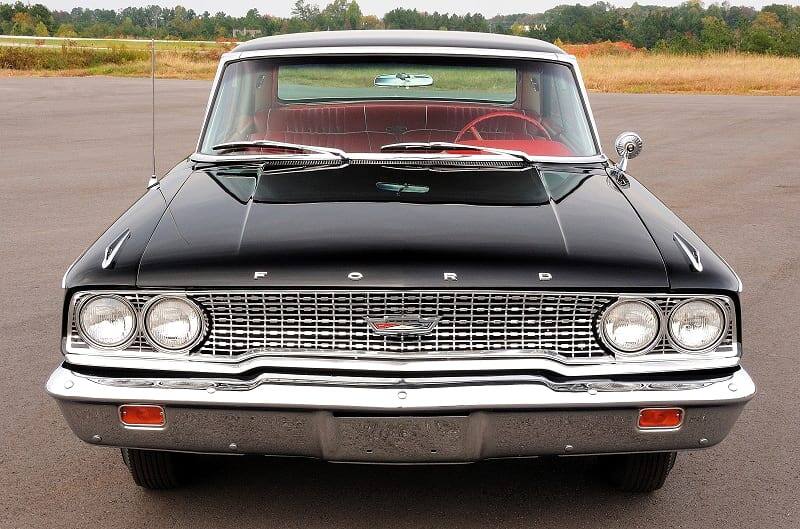 Sid still talks about his dad's car as if that ride had happened yesterday. "I've never rode in anything like it," he said. "I'm sure my father's friend had walked away from that ride with disbelief, and perhaps thinking to himself, 'What just happened?'
"By the way," Sid continued with a smile, "that friend of Dad's was a Georgia State Trooper. He knew full well that my father had a 'Need for Speed.' The pair had been longtime friends and had known each other for decades, since grade school."
When preparing for family vacations, Sid remembers that Beeler Munda used to park a bull dozier in front of the garage door to protect his Ford Galaxie convertible while he was away. The 427 R-Code engine and drivetrain was embraced and coveted by the hot-rod community. It was also a highly sought commodity for car thieves who'd go to great lengths to get their hands on a Ford 427 big-block.
For Beeler's 8-year-old son, the 1963½ Ford Galaxie 500 R-code convertible made an everlasting impression. The car fascinated Sid so much that it had turned him into a "car guy" at an early age. It taught him trust, respect and admiration for enthusiasts. It also served as an educational tool about cars, as he and his father spent many hours talking about facts, figures, and other cool car stuff.
Regrettably, his father only kept the car for five years and sold it to another friend, who blew up the 427 engine while racing it on Daytona Beach. Much more recent history has it roaming the streets in the northeast. It was spotted and written about in another publication several years back.
Five decades after his first ride in a Galaxie, Sid Munda located a Raven Black with Red interior 1963½ Ford Galaxie R-Code 427 Fastback near Indianapolis, Indiana. The car was advertised as having factory sheet metal (including quarter panels) and only 22,000 miles on the clock (The mileage is believed to be original). The car is equipped with the following items:
· R-Code 427 cubic inch V-8 engine
· Four-speed manual transmission
· AM Radio
· 5.5-inch Kelsey Hays Wheels with center hubcaps
· Factory Raven Black Paint with Red Crushed Velvet Vinyl Seat Trim
Soon after Sid purchased the car, he turned the car over to over to "Mr. Galaxie," Donald Allen, for a nut-and-bolt, frame-off restoration by his team at Allen Restorations in Clarkesville, Georgia. Allen is known for his expertise and award-winning "World Class" restorations with all of the Ford Galaxie models, including R-Code and Lightweights. He's been known to look through an entire part inventory before settling on one meeting his quality standards. The restoration was done completely in-house at Allen Restoration, and took less than one year to complete. Sid's Galaxie was an award winner at the Ford Galaxie Nationals in May of 2015.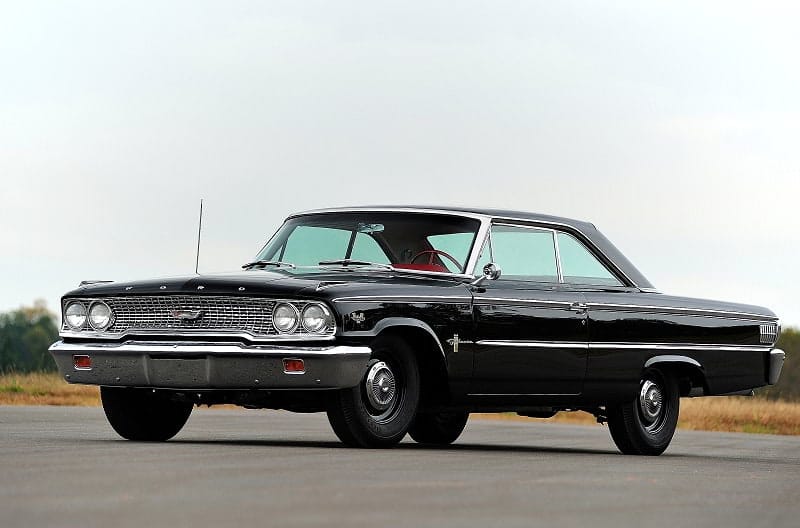 For Sid Munda, the 1963½ Ford Galaxie R-Code 427 fastback purchase and restoration was a trip down memory lane. As an 8-year-old he watched from the back seat with intrigue as his father took the four-speed stick through the gears while experiencing the unmistakable power of the Ford 427 R-code engine.
He still remembers that firs ride with dad while he's driving his own R-Code Galaxie. "When I hear the 427 engine in my Galaxie under power, it reminds me so much of my father, and of my anticipation of him hitting third gear. In the back of my mind, I'm thinking, 'Time to hit the deck'!"
FORD PERFORMANCE PHOTOS COURTESY AL ROGERS / FREEZE FRAME IMAGE