VAN NUYS, Calif. -- Henrik Fisker is among the great automotive designers of our time; his extensive, global portfolio includes (among other things) the seminal BMW Z8, a bevy of Aston Martins and his own Fisker Karma, which has been since reborn as the Karma Revero hybrid electric luxury sedan. Beau Boeckmann is President and CEO of Galpin Motors and he also heads up the Galpin Auto Sports custom shop and the Galpin Collection; he's a consummate enthusiast and lifelong car guy. Boeckmann's automotive tastes run from the earliest days of motoring, to cars in pop culture, to the future of transportation.
A few years ago, Boeckmann and Fisker were meeting and inevitably the question of, "so what are you up to next?" was asked, and after some random ideation (and some concept sketches), they agreed to collaborate on Fisker's initial vision of an utterly bespoke Mustang as a flagship model for the Galpin brand. Galpin is no stranger to customization and the creation of its own breeds of vehicles. Galpin virtually invented the notion of auto dealer personalization many decades ago, which was soon nicknamed "Galpinizing." In fact, the original custom Galpin Ford Convertible was built off a stock 1952 Ford more than 60 years ago.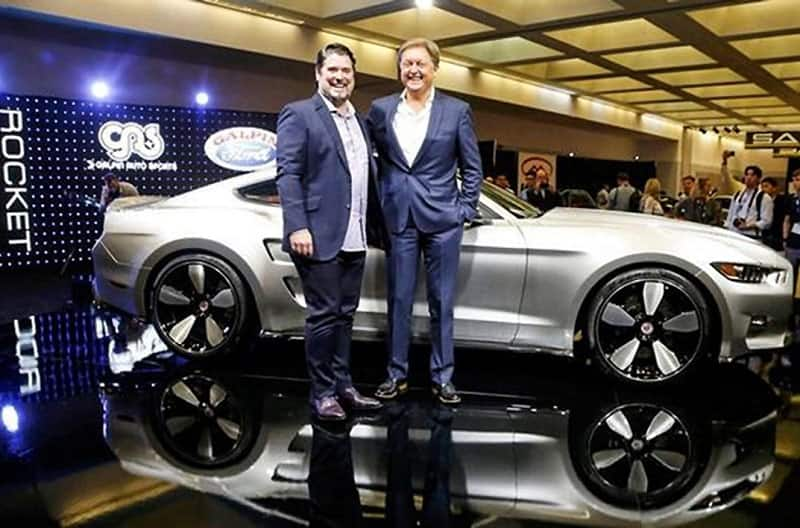 Rest assured that the tailored suit-wearing Mustang on these pages is no mere dealer-installed "body kit." Fisker made it clear that he had no interest in designing cheap, bolt-on Mustang customization parts or body armor. His insistence was that "the car be designed, developed, clay modeled, digitized and prototyped like a real OEM project."

Boeckmann was enthusiastic about it to say the least, and said he was "all in." So Fisker went to work designing all-new, composite and carbon-fiber bodywork for the 2015-2017 Ford Mustang GT. Other than the glass, doorskins and the taillight fascia, every panel and trim bit is new.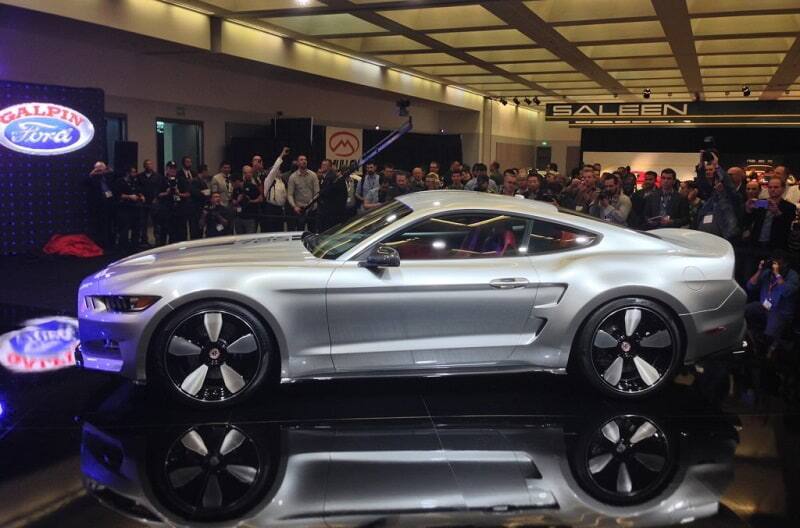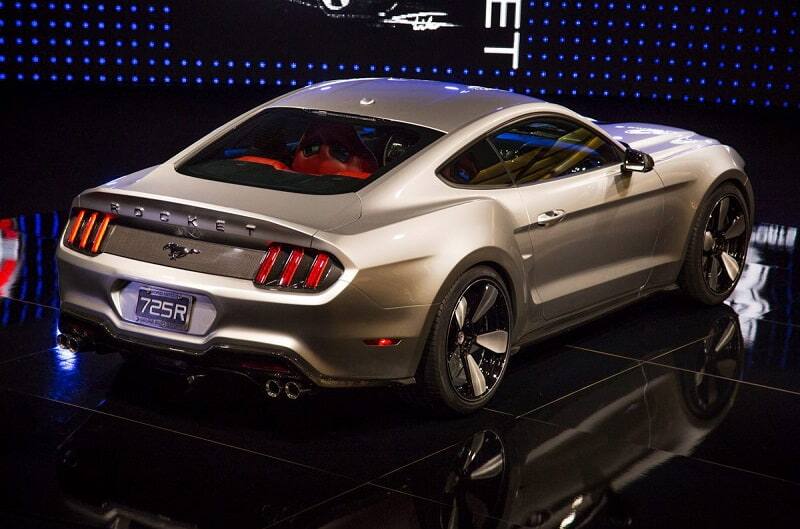 The concept was to approach the car comprehensively, including not only the exterior redesign, but offering interior, performance and a whole palette of tailor-made option upgrades to match. The project was given the name "Rocket," and while still identifiable as a modern Ford Mustang, it screams American style and performance in an utterly muscular, exotic and custom-tailored fashion.
Every Rocket includes the rebody offered in a variety of colors, and a Galpin Auto Sports (GAS) Performance Package spec'd just for this project, including Brembo 6-piston front brake calipers, larger front brake rotors, an increased-capacity radiator and oil cooler, performance chassis tuning (including a ride height- and damping-adjustable coil-over shock system), ancillary instrumentation, and reprogrammed stability control. The EPAS and ABS systems are also recalibrated to allow a bit more performance and driver control, plus the rear diff gets a 3.73:1 Torsen rear gear.
The Rocket takes on a decidedly more aggressive – yet still sophisticated – rumble, thanks to a purpose-built stainless-steel Bassani Cat-Back exhaust system with polished quad tips. And the whole thing rides on monster rolling stock; in the case of our tester, massively wide 21-inch alloy ADV wheels designed by Fisker with maximum-performance Pirelli P-Zero rubber: impressive 275/35R21's up front, with steamrollerish 325/30R21's aft.
The standard Rocket interior steps it up a notch with carbon-fiber dashboard trim and brushed-aluminum sill panel inserts that carry the name, signature and logo of designer Fisker. The balance of the interior remains stock Mustang (certainly no bad thing), but there are several options to substantially upgrade the cabin if you wish. The first is Recaro "Rocket" sport seats up front. If you really want to go max crazy on the inside, you can pop for the "Full Rocket Interior Package," hand-stitched in all Italian leather and trimmed in Alcantara, with the leather and stitching in your exact choice of colors. Our Ingot Silver test car carried both of these upgrades.

You'll note the curvaceous, feline-inspired rear fender flares housing those huge rear meats, neatly incorporating dual side-intake scoops. Another particularly cool design touch is that the hood stripes aren't painted on; they are simply unpainted areas of the hood, showing off the carbon fiber weave material pattern of the hood panel below. Trick.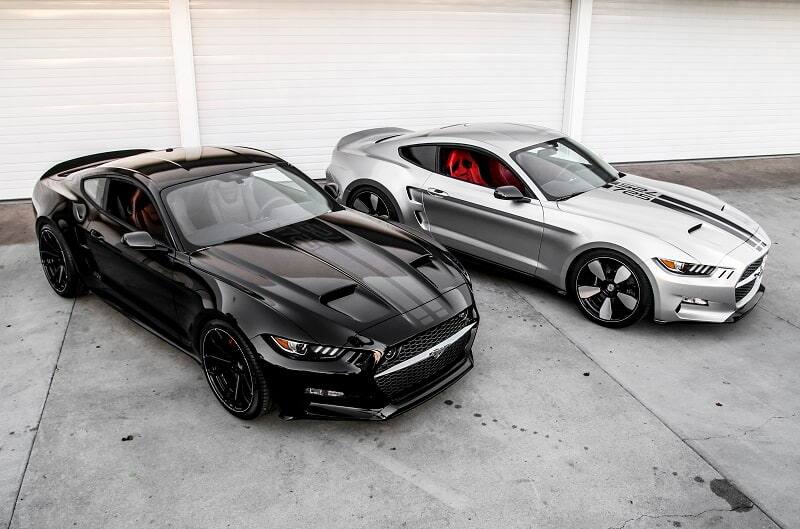 There are two primary powertrain options: You can stick with the stock 435-horse Ford DOHC 5.0-liter V-8, or opt for the "725S" option, which adds a supercharger (polished or black finished) and a cold-air intake system on top of the Mustang's Coyote V-8, which spools the power up to 725 horses. It you intend to track your Rocket on a consistent basis, there's further optional Brembo braking front and rear called the "Gran Turismo" package. Owners may choose between a conventional 6-speed manual, or an optional 6-speed performance-calibrated automatic transmission. The Rocket is currently offered in only the fastback coupe bodystyle; a two-seat, tonneau-covered convertible concept model called the Speedster has been shown and may yet be produced if the market evidences demand.
This fabulous coachwork is so curvaceous, sinewy and muscularly elegant that if the Rocket wore a Ferrari or McLaren badge, you wouldn't question it. Yet it's equally all-American, retaining unquestionable Mustang character and design cues as well -- just pinched at the waist, and obviously amped-up on some major protein powder. The Rocket looks killer from every angle, and the workmanship and overall fit-and-finish are OEM quality in every way. Nothing looks tacked-on or phony in any regard. And the stance is perfect – sitting poised, locked and loaded on its haunches and meaty rolling stock.
Our test vehicle included the supercharged 725S powertrain. Thumb the red starter button, and the blown 5.0-liter V-8 lights easily with a bark and a chesty rumble. The idle settles into a bassy thrum that speaks sophisticated performance. The Recaro seats are handsome, supportive and comfy, and of course the Italian leather-lined cabin is sumptuous.
The clutch is light and progressive as it is on any new Mustang, and on the move the Bassani pipes dominate the conversation – loud and rumbly without going over-the-top to a blatty blare, as do so many lesser aftermarket exhausts. This isn't to take anything away from the wonderful Ford Performance and Borla exhaust systems we're so used to, but this system suits the Rocket's personality perfectly. It growls and howls under acceleration, quietly burbling and popping off throttle. Forget the sound system; this engine and exhaust serve up all the audio entertainment you could ask for.
As you'd expect, the acceleration is fierce. We didn't have the chance to put the car on a track or perform instrumented testing, but 0-60 comes up well below four seconds, and 100 mph also happens pretty quickly. The power delivery is huge and generally linear, save for a minor dent in the acceleration at about 3,500 rpm; we suspect it's no more than a mild calibration issue in this already much-driven and well-used prototype.

And with all that wide Pirelli rubber underneath you'd expect the Rocket to handle, and it does. The steering feels properly meaty in your hands, and turn-in is cat quick in response. Even though we weren't on-track and thus unable to max g corner this car, the curves that we could hit and the freeway on-ramps we were able to attack demonstrate the Rocket's considerable handling prowess. Yet magically, all the grip, stick and communication with the road doesn't come at the expense of an admittedly firm yet relatively supple ride quality. Normally, big rubber like this will pound, bump, thump and tramline over our typically beat SoCal freeway pavement, but not so the Rocket. Its feelsome and responsive without punishing, running string-straight no matter the road surface. And with all credit to the integrity of the body panels being engineered, tooled and produced to OEM standards, there's not a squeak or a rattle to be heard. Try that with your average bolt-together tuner toy.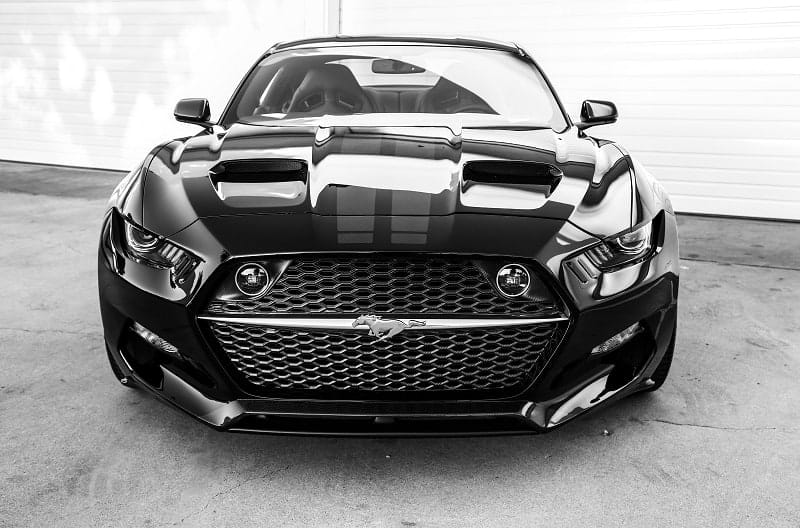 Initially, the production plan included the cars to be produced by Southern California's GFMI Metalcrafters – the Gaffoglia family-long known for their ability to produce factory commissioned prototypes, one-offs, design studies and short-run production models. But Rocket production has recently shifted to VLF Automotive in Michigan. VLF is a joint car building concern spearheaded by business venturist Gilbert Villareal, Rocket designer Henrik Fisker, and maximum-strength car company executive Bob Lutz. VLF has more production capacity than does Metalcrafters, and with Fisker as a principal, it only made sense for VLF to take over the job after GFMI completed the prototype Rockets.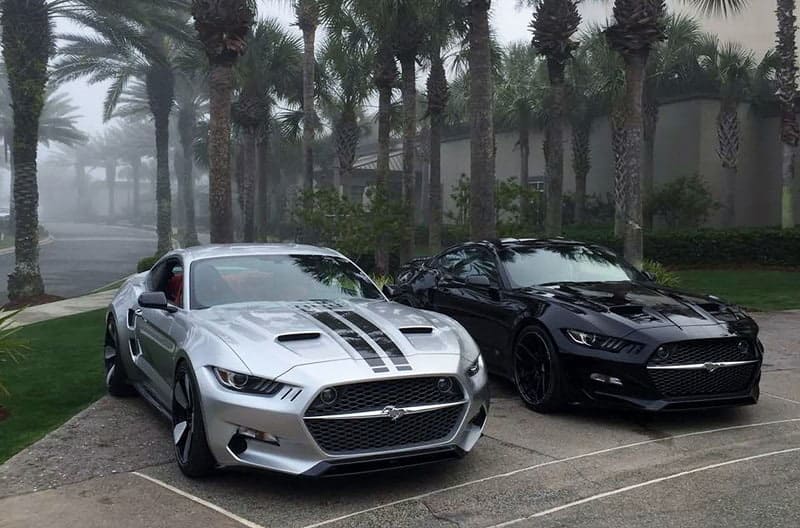 So how much does all this speed and beauty cost? Custom tailored designer threads and big-game horsepower are never as inexpensive as off-the-rack duds; exclusive of options, the naturally aspirated Rocket coupe starts at $139,900, and the supercharged 725S bases at $151,800 – and can push $200K if you check every possible option box. But for this you'll have a limited-production custom Mustang trimmed and equipped just for you, and one like no other in the world, anywhere, at any price. Learn the rest of the story at GalpinRocket.com and VLFAutomotive.com. Or get in touch with Steve McCord at Galpin Auto Sports to spec-out and order your own Rocket.
FORD PERFORMANCE PHOTOS / KIRK GERBRACHT AND COURTESY GALPIN AUTO SPORTS