Editor's Note: There is only one person who has tracked the Ford Mustang BULLITT story from the very beginning until today, and that's Brad Bowling. Longtime auto journalist and author Bowling has had more jobs with the word "Mustang" in the title than he can remember. He has written 15 auto-related books (10 of which were on Ford Mustangs) and hundreds of magazine articles. His full 8,000-word history of his time with "Car #559" and the Kiernan family (which dates back to 1989) can be found at bradbowling.com.
DETROIT, Mich. -- The last nine months have been HUGE for Steve McQueen fans, as circumstances have revealed a total of three much-rumored BULLITT Mustangs. The Bullitt snowball started rolling in March of 2016 and didn't come to rest until this past Sunday, January 18, 2018.
Let's back up, though. In case someone has accidentally wandered into FordPerformance.com who does not know about the Mustang BULLITT, we should start this tale with a quick origin story.
Steve McQueen was a top box-office draw and a much-respected actor in 1968. In terms that a younger crowd can grasp, McQueen was Tom Cruise, George Clooney, Will Smith, and Brad Pitt – all rolled into one. He was an action star, a dramatic leading man, and a racer of motorcycles and cars. He was often described in magazines as a sex symbol; film critics categorized his characters as anti-heroes.
McQueen's starring role in that year's The Thomas Crown Affair – a heist film that grossed $14 million (around $100 million in today's money) – put him in a position to call all the shots on his next project. His company, Solar Productions, worked with Warner Bros. to develop Robert L. Pike's novel Mute Witness into a San Francisco detective story. The centerpiece of the film, which was named "Bullitt" after McQueen's character, Frank Bullitt, would be a realistic car chase through the city's ridiculously hilly streets, and McQueen wanted it to impact audiences like a punch in the gut.
Max Balchowsky, an experienced Hollywood stunt-car builder and racer, modified two Highland Green Mustang GT fastbacks and a pair of black Dodge Chargers for the chase. Why two of each car? Hollywood and television productions often have multiple versions of cars on hand that are being driven in crucial scenes. In some cases, the cars are destined for stunt work, such as in "Bullitt." In other instances, having a twin to a star's car is good insurance to keep filming on schedule in case of car trouble or vehicle damage. Each Mustang received an array of suspension, bracing, and engine upgrades.
The Mustang twins wore sequential vehicle identification numbers of 8R02S125558 and 8R02S125559. Each was powered by a Ford S-code 390cid/4-barrel V-8 and 4-speed transmission. Car #559 was considered the close-up or "hero" car – this is the Mustang that McQueen can clearly be seen driving in the movie. It also did sound-capture duty and was fitted with audio recording equipment to provide realistic exhaust noise for the movie's soundtrack. McQueen insisted that his sound editor not dip into Warner's well-worn library of tire squeals and generic engines revving.

Car #558 did not have an easy life in 1968. It was pounded mercilessly during the hill jump sequence and required constant repairs as parts broke under the strain. It was also attached by a special bracket to one of the Dodge Chargers for an explosion scene where the mob hitmen are forced off the road at high speed into a gas station.

"Bullitt" debuted on October 17, 1968, made $42 million (or $300 million by today's standards), won an Academy Award for editing, and forever cemented McQueen's "King of Cool" status. The movie also created an automotive icon in the form of the brutally fast and durable Highland Green Mustang fastback.

So, what happened to #558 and #559?

The stunt car, #558, was presumed dead and buried for 49 years. It left the set in a heap and disappeared, unable to be legally driven on California roads again. Rumors came and went for five decades that it had survived the crusher, but nothing of any substance turned up until Hugo Sanchez and Ralph Garcia Jr. ran a VIN through Marti Auto Works to find out more about the white, sun-baked shell of a '68 fastback sitting in Garcia's Mexicali, Mexico, shop. They had bought it from a scrap yard near Cabo San Lucas on the Baja Peninsula with the goal of rebuilding it into a "Gone in 60 Seconds" Eleanor replica. Imagine the emotions they experienced when Mustang historian Kevin Marti took a personal interest in their request! Marti Auto Works manages a Ford-licensed database of all North American Ford vehicle production from 1967 forward. Marti Reports and original Ford invoices are as authentic as an owner can get in documenting a Mustang's heritage.
In March 2017, after a personal inspection, Marti pronounced it to be the remains of #558. The Max Balchowsky engine and transmission were long gone. The major body panels were either missing or rusted through. On the plus side, it had many identifying marks, such as shock tower welds and chassis bracing only found on the two movie cars, and those were key to proving its identity.
Sanchez and Garcia immediately received offers to buy the stripped Mustang exactly as it sat in Garcia's new Paramount, California, shop, but the owners want to restore it to original movie condition before considering what it might be worth.
In a classic story of twins being separated at birth, #559 has led a much more comfortable and well-documented life. When "Bullitt" was new, movie cars were not collectible. It's hard for us in present day to imagine a time when Steve McQueen memorabilia did not demand top dollar, but such was the case once. Today, we know that the Persol sunglasses he wore in "The Thomas Crown Affair" brought $70,200 at auction in 2006. (Yes, sunglasses!) A year later, a 1963 Ferrari 250 GT from his collection sold for $2.31 million. Even the Porsche 911S he owned and drove for a few minutes at the beginning of "Le Mans" went to a new owner in 2011 for $1.4 million.
After the movie wrapped, Warner Bros. sent #559 to Precision Auto Body on Hollywood Boulevard to undergo $920.16 worth of refurbishing. That pre-inflation amount bought quite a bit of dent removal, a partial paint job, several replacement items such as an antenna and driver-side mirror, and bumper straightening with a re-chrome. History has not revealed details of the sales process, but we know from documents that "an employee in our Film Editorial Department" named Robert M. Ross was the lucky buyer. After enjoying Bullitt #559 for nearly a year, Ross advertised it for sale.
A New Jersey police detective named Frank Marranca – that's right, a detective named Frank – heard about the car and arranged with Ross to have it shipped by rail to a New York delivery point. Marranca reports that it had fewer than 9,000 miles on the odometer when he first drove it on December 4, 1970. The detective took special care of Bullitt #559 for four years and told anyone who asked about its role in the movie. When Marranca's wife (soon to be ex-wife) wanted a new station wagon and a garage in which to park it, the Bullitt car had to go. He placed an ad in Road & Track magazine and received only a single inquiry. (Surely, this wins the award for "Worst Case of Seller's Remorse Ever.")
Bob Kiernan, who also lived in New Jersey, paid somewhere between $3,200 and $6,000 (there are conflicting reports) for #559. Kiernan and his wife drove the car almost daily for the next five or six years. "It was just like a normal car to us," he once told me.
The Kiernans had several Great Danes, which often rode in the back of the Mustang. Kiernan's wife was an elementary school teacher, and #559 – modified V-8, thunderous exhaust, and all –was her transportation to work for a while.
"The Bullitt car made her the coolest teacher ever," her son, Sean, recently shared with me.
In 1980, the clutch-pedal spring broke, causing Kiernan to park the car until he could devote some time to repairing it. Work, life, children, a new interest in horses, and a million other distractions kept Kiernan from ever driving the Mustang again before his death in 2014. He initially stored the Mustang in his father's garage in New Jersey. It then moved to a barn in Kentucky, where its air cleaner was stolen and photos were taken without the family's permission. From there, it moved to the Kiernans' Tennessee home and remained in hiding until Sean Kiernan discovered that his boss, Casey Wallace, had (purely by coincidence) written a screenplay with a friend involving the Bullitt movie car. When Kiernan revealed to Wallace that he secretly owned that car, Wallace convinced him to let his movie-business friend, Ken Horstmann, in on the secret.

So in May of 2016, Kiernan hauled the car to Horstmann's own production company studio in the suburbs of Atlanta, and invited Mustang author John Clor, the enthusiast communications manager for Ford Performance, to see the car and serve as an advisor on their plans for finally telling the world that the car indeed exists. Clor suggested including Kevin Marti, who then authenticated the car and joined Clor in suggesting that they not restore the car as the Kiernans had originally planned. Sean, Casey and Ken later coordinated a reveal date with Ford Motor Company in an agreement to show the movie car to the public during its 50th anniversary this year.

So, what about this "third" BULLITT car that also came to light this year? Were there actually three Mustangs used in the movie?

Since I began working with Bob Kiernan on my story about #559 in 1989 (with the promise that I would keep his identity a secret), I have encountered a recurring rumor that some old-timer swears he saw three identical Mustangs during the production of "Bullitt." This is absolutely not true. Kevin Marti's research backs up my documentation that only two Highland Green 1968 Mustang fastbacks were delivered to the movie district office. Recently, when the rumor fired back up – probably due to the approaching 50th anniversary of the movie – I looked into my notes to see if anything had even suggested more cars. Right there, in my chicken-scratch handwriting, was the answer: In my 1989 interview, Bob Ross told me that he made a few bucks when he rented #559 back to the studio for some last-minute film work! Remember that the Mustang looked substantially different after Precision Auto Body refurbished it. Installing its factory-spec driver mirror and antenna – not to mention all the dent removal – was enough to fool a bystander into thinking another Mustang had been introduced into the mix.
No, the third Mustang BULLITT I mentioned coming into the public eye this year in my opening paragraph refers to the much-anticipated (and much-leaked) 2019 Ford Mustang BULLITT. The "effortlessly cool" Highland Green fastback recalls the 1968 originals with engine, suspension, and brake upgrades, but there are many components not dreamed of 50 years ago, such as satellite navigation, driver memory seats and mirrors, and a MagneRide semi-active suspension system. Appropriately, this third-generation Mustang BULLITT special edition model (it follows limited runs from 2001 and 2008-09) was introduced during Detroit's North American International Auto Show by Steve McQueen's granddaughter, Molly.
It has taken a half-century, but now there is finally closure for McQueen fans who did not have enough "Bullitt" in their lives!
Photo Courtesy / Brad Bowling / Mike Magda / Frank Marranca / Kiernan Family
BULLITT and all related characters and elements © & ™ Warner Bros. Entertainment Inc. (s18)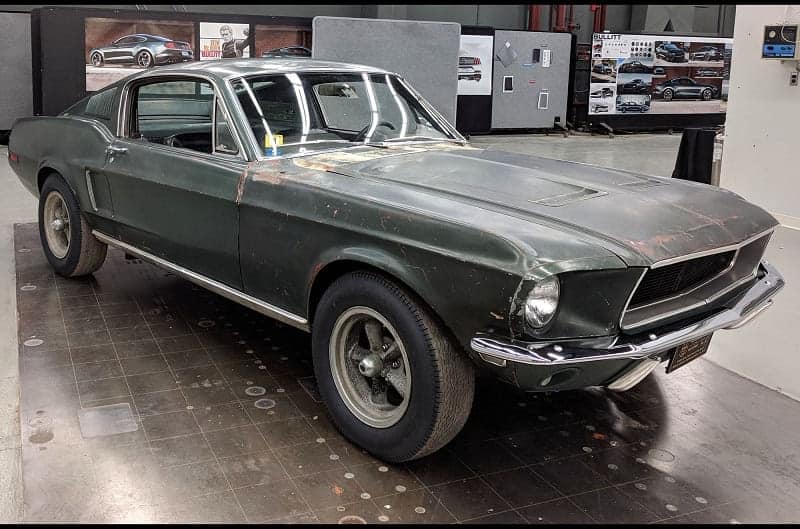 Here sits Mustang BULLITT #559, deep in Ford's Product Development Center, where this writer was allowed to see it ahead of the North American International Auto Show. It is in remarkably good shape for a car whose last major refresh was nearly 50 years ago.
These three pages from a Dec. 4, 1967, version of the 'Bullitt' script show an entirely different chase scene than what appeared on screen. Notice that the Mustang and Charger were originally a Buick and a Mercury.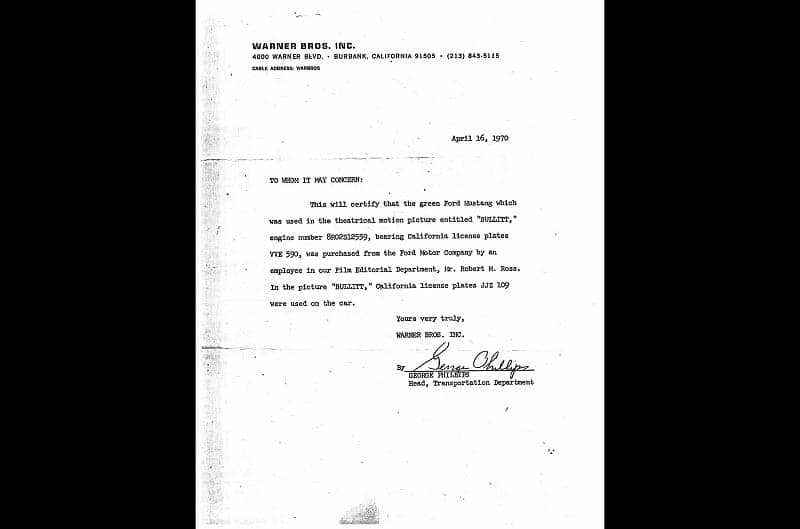 This letter from April 16, 1970, confirmed that the car Robert Ross was selling was the same 1968 Mustang driven in the movie 'Bullitt.' Notice the VIN is one "5" short of being correct.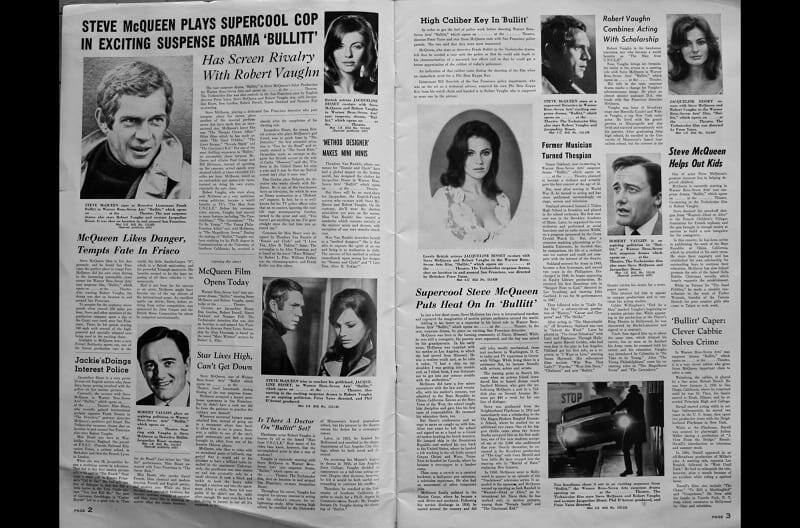 The Warner Bros. Seven Arts Pressbook for 'Bullitt' was full of anecdotes and material that local movie theaters could use to promote the movie.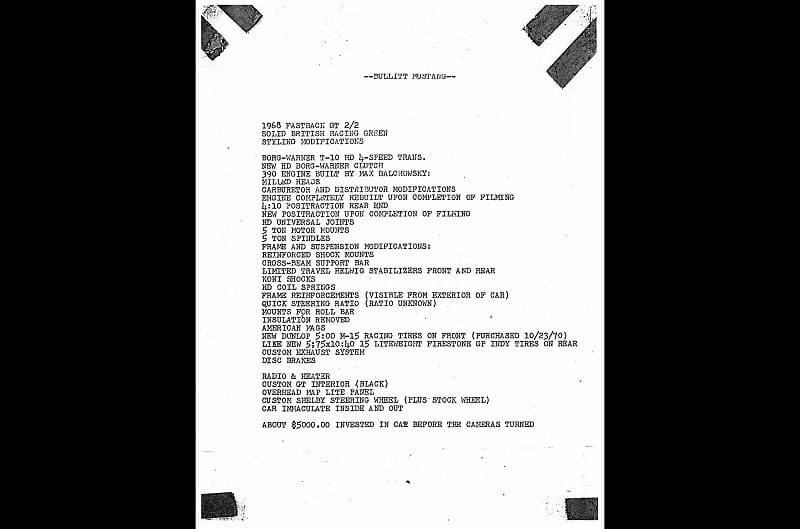 Robert Ross sent Frank Marranca this list of specifications for BULLITT #559 in advance of selling it to him. Notice the incorrect reference to the paint color being a "British Racing Green."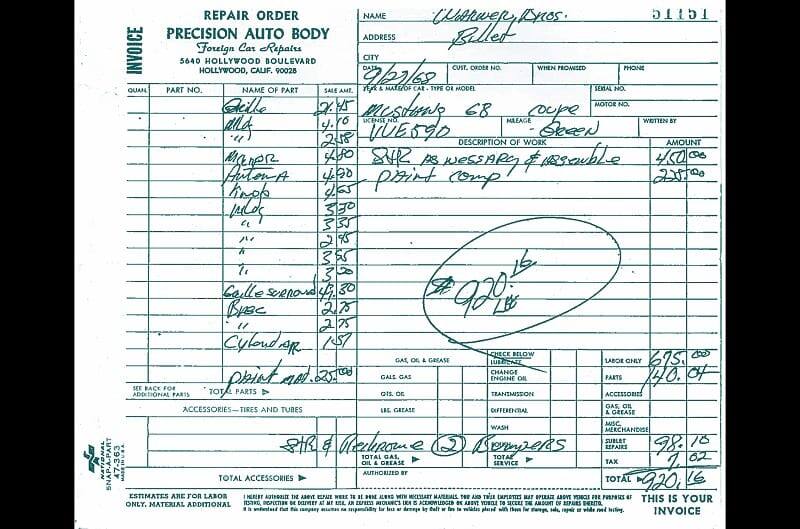 BULLITT #559 was in relatively good shape after its film work. It only took $920.16 of repairs to make it ready to sell in September 1968.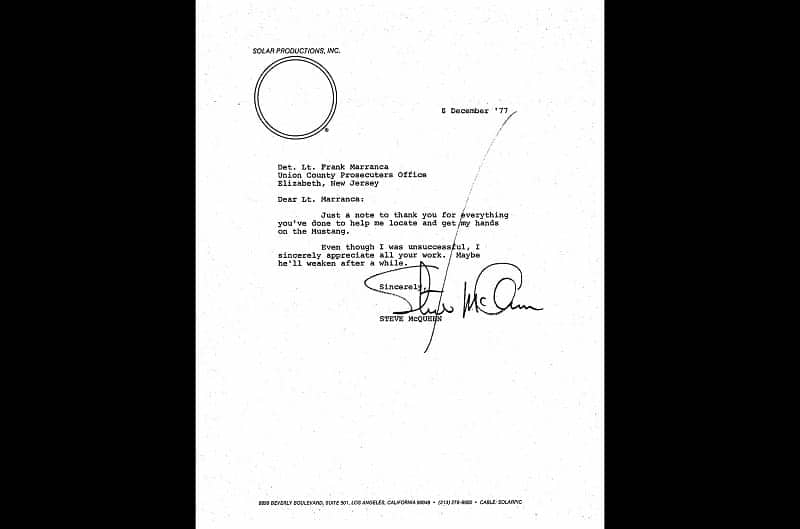 Steve McQueen attempted to buy #559 from Frank Marranca in 1977, but Marranca had already sold it to Bob Kiernan.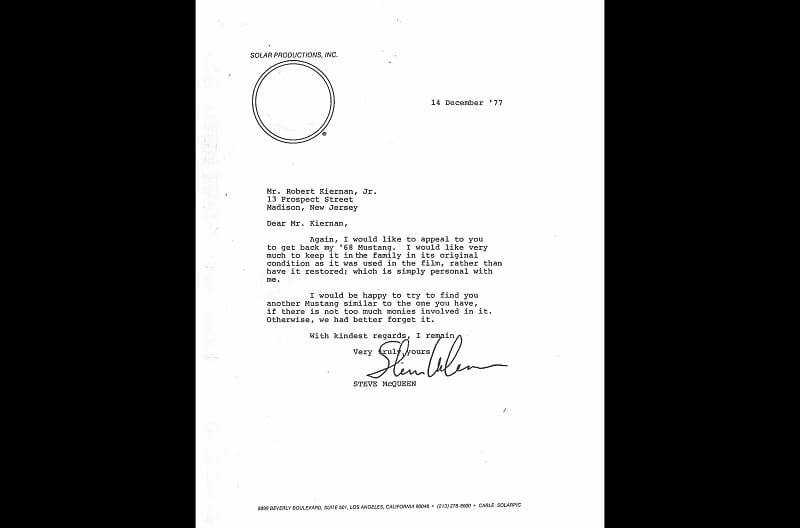 Steve McQueen made a couple of attempts to buy #559 back from Bob Kiernan in 1977. This letter was his final try.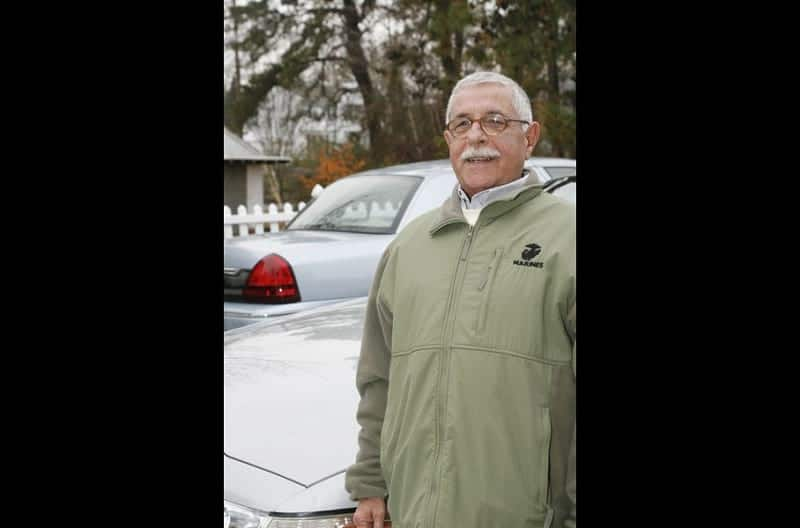 Here is Frank Marranca, #559's second owner, when I interviewed him in 2009.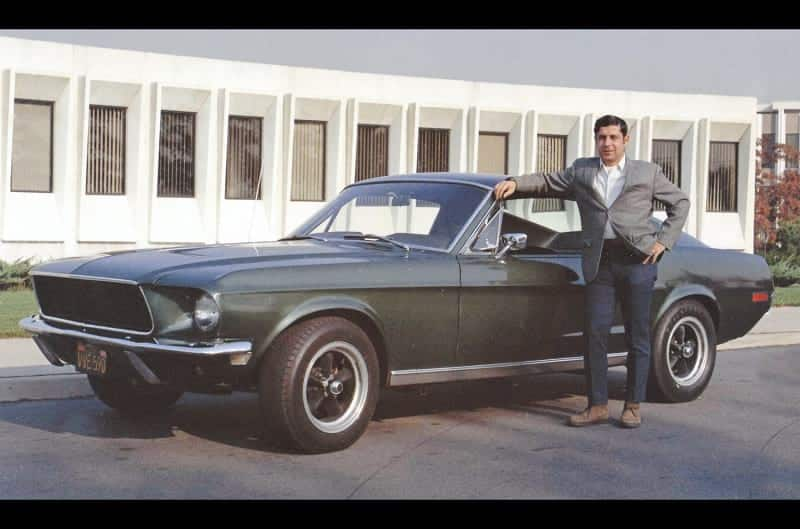 Here is BULLITT #559, with second owner Frank Marranca, circa 1973. Marranca's photo session provides the only known photos of #559 between leaving the movie lot in 1968 and its debut in Detroit in 2018.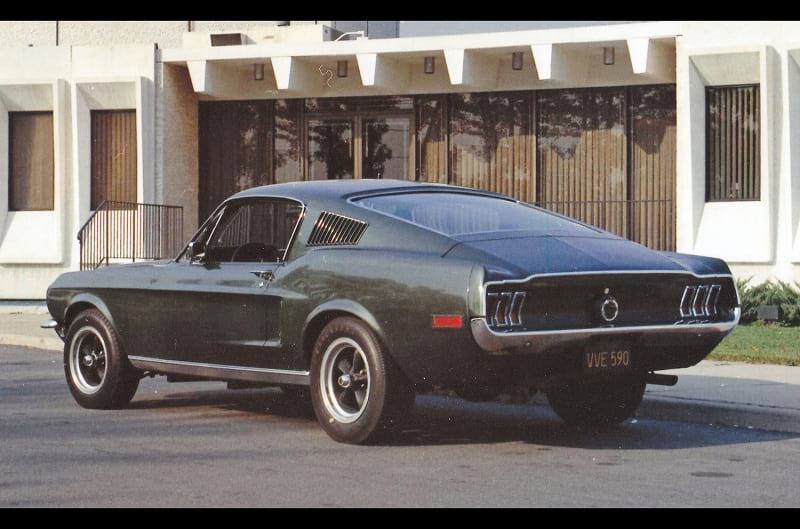 This is how #559 looked 45 years ago, in the possession of its second owner. The three square tubes for camera mounts under the rocker panels are clearly visible.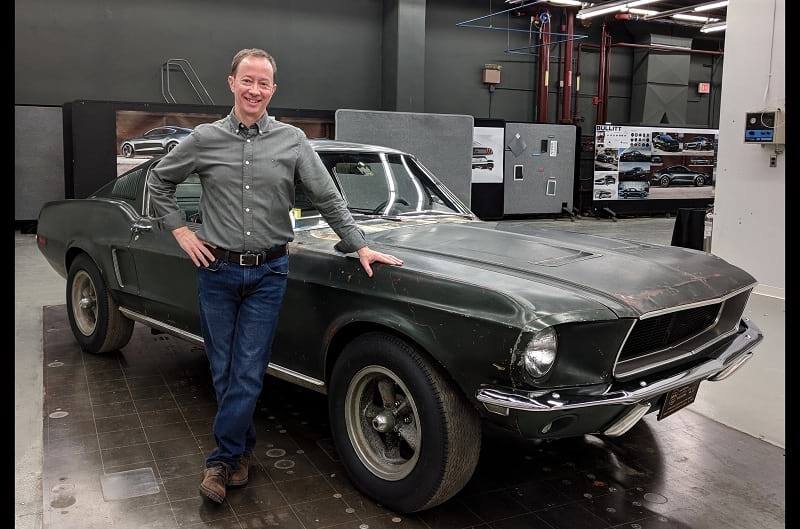 On Jan. 11, 2018, I was invited to view #559 in person. It was a top-secret occasion that took place many feet underground.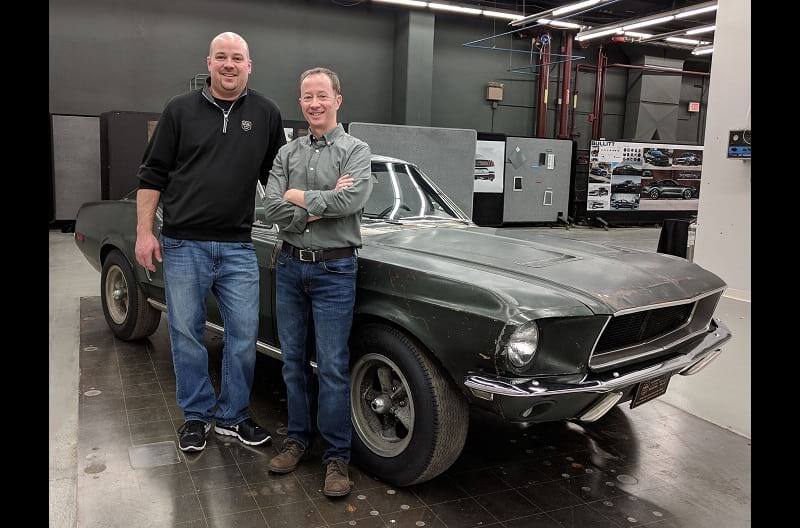 In the 28 years I had been writing #559's story, third owner Bob Kiernan had passed away. Ownership of the car went to his son, Sean.
Mustang BULLITT #559 was heavily disguised for its transport into Detroit's Cobo Center, where it would be prepped for its big entrance to the press on January 14, 2018.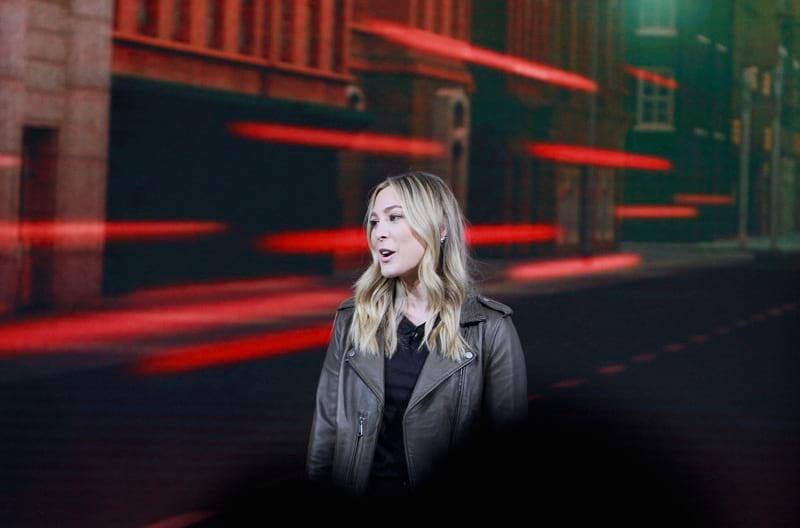 Molly McQueen, Steve's granddaughter, did a great job announcing the 2019 Mustang BULLITT just before #559 fired up and drove across the stage. She took the occasion to talk about her grandfather's passion for cars and driving.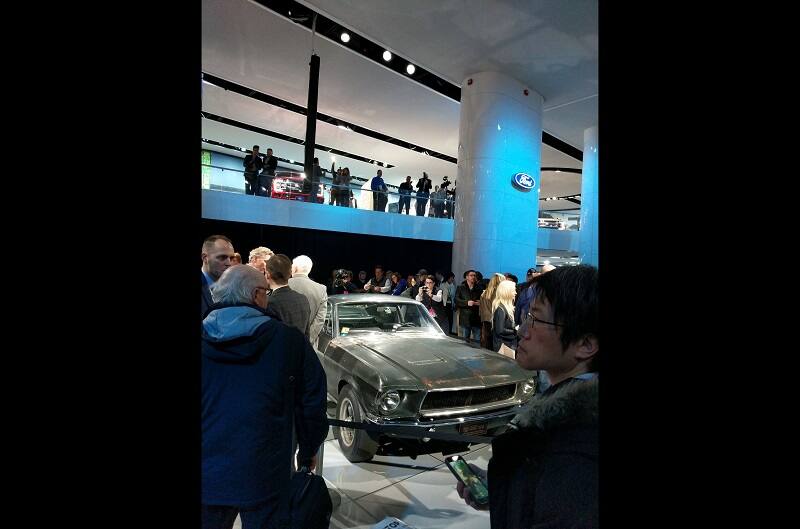 I had waited 28 years to see #559 displayed in a public forum. It was everything I always thought it would be. There was never a shortage of media members surrounding it.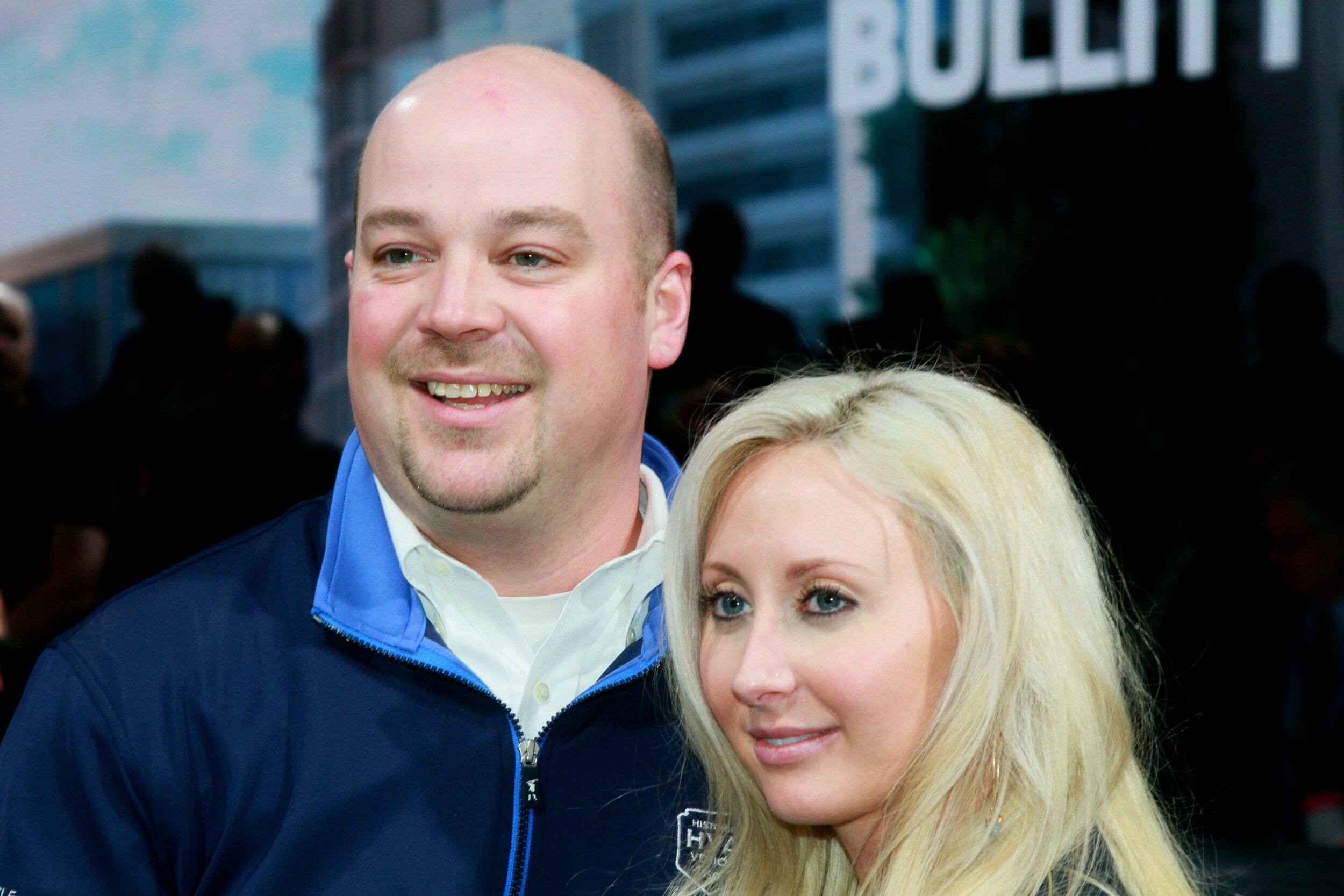 The Kiernan family seemed relieved to finally lift the curtain of secrecy about #559.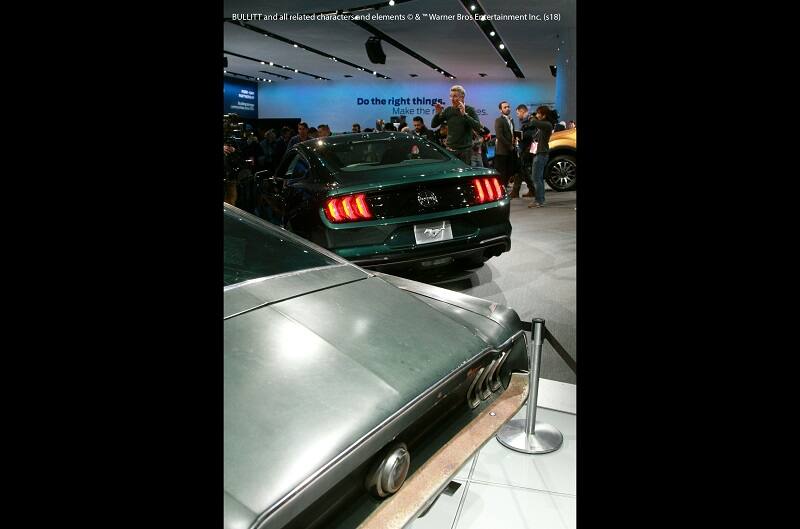 I have seen a ton of '1968 BULLITT' replicas with new Mustang' photographs during the last few decades, but standing with the real #559 and one of the few 2019 Mustang BULLITT prototypes was a real treat!