Editor's Note: Recognized as that "Bullitthead with the Red Mohawk" hairdo, Paul Roca is a co-owner of the HoonDog Performance Group, a non-profit organization dedicated to inform, support and provide charity driving events for owners and fans of the Ford Mustang BULLITT. Below is Paul's story of his efforts to save from the crusher Ford's engineering prototype used to develop the 2008 Mustang BULLITT. Known as "The Red BULLITT Prototype," the car is now officially in the care of the club, who displays it at events for BULLITT enthusiasts to appreciate for years to come as key part of Mustang BULLITT history.
DEARBORN, Mich. – We received some special information from our friends within Ford back in the spring of 2012: The prototype used by Team Mustang engineers to develop the 2008 Ford Mustang Bullitt still existed and was tucked away in a storage building on the Ford campus in Dearborn. But it wouldn't be there much longer as it had a date with the crusher in the not-too-distant future.
This news prompted a call to one of our friends in Mustang Vehicle Engineering at Ford, Shawn Carney. Shawn is not only a great supporter of our HoonDog Performance Group non-profit, but he is also a true enthusiast and owner of a very nice Mustang himself. After a brief discussion with our club's board, we all agreed that we needed to do anything and everything possible to ensure that this piece of Mustang Bullitt history did not wind up as scrap, as most no-longer-needed Ford prototypes do.
Our first task at HoonDog was to prepare a proposal to submit to Ford to allow our club to take possession of the "Red Bullitt Prototype" as an historical artifact. (I know what you're thinking: As the engineering prototype for the S-197 based Mustang Bullitt, why would it be Red instead of Dark Highland Green? Because if was spotted testing on public roads, a red Mustang GT would be less likely to be identified as a new Bullitt than if it were seen in Dark Highland Green, that's why!) The job of drafting our pitch to Ford would be handled by the resident linguist for IMBOC (International Mustang Bullitt Owners Club) and HoonDog, Kurt Andersson.
In the proposal, we gave Ford all the reasons why they should NOT crush this one-of-a-kind Bullitt prototype. Beyond the fact that it was the engineering prototype for a new 2008 Bullitt, the car was also used for the 2010 Track Pack development, and at one time even had a tune that felt more like where the Boss Laguna Seca edition had ended up a few years later. In our pitch, we emphasized that by having this car, not only would we be preserving an important piece of Mustang history, but we could also show it at the events we host throughout the country in support of children's charities. Once the proposal was complete, it was delivered to Shawn who then presented it to the people in Ford who would have to sign off on releasing the car, and secure a blessing – and more importantly, a signature – from management.
After several weeks, which seemed like an eternity, we got word that our proposal was accepted, and we were awarded custodial duties of the red Bullitt Prototype. Even though the car technically remains the property of Ford and cannot be titled, licensed, sold or driven on public roads, we were elated that the HoonDogs would be entrusted to care for what is in our opinion a very significant Mustang. I had made numerous trips from my home in Toronto, Ontario, Canada, to Dearborn to meet with the people involved in this transaction as well as to establish a date for picking up the car that would work for all parties involved. May 10, 2012, was set. This date turned out to be a significant day in the Mustang community as it was the day we lost the legendary Carroll Shelby.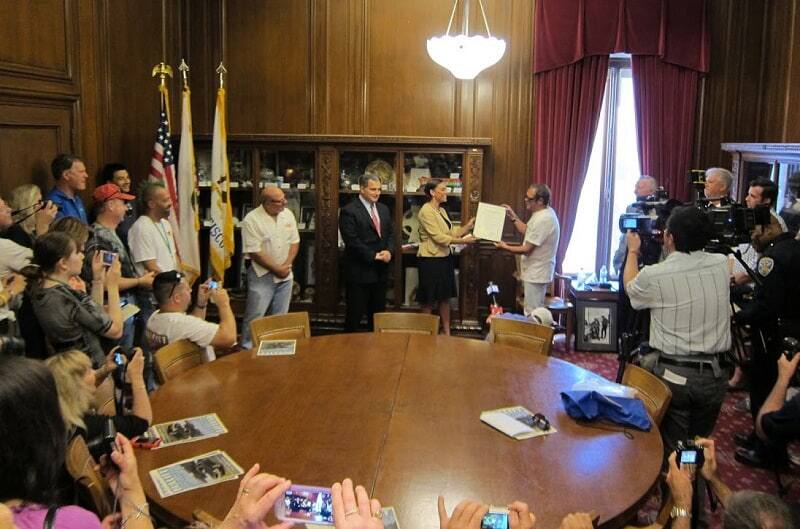 All arrangements were made, so Kurt Andersson and Greg Autry flew in from Georgia and Texas, respectively (Charles Jones of Texas was, unfortunately, unable to join us but he got his reward later on) and I made the four-hour drive with my trailer accompanied by my son, Dylan. We all met at the Dearborn Development Center just after noon, signed all the necessary paperwork to gain entry onto the Ford Dearborn proving grounds, and took turns piling into a Shelby GT500 test mule to be driven to the area where "Red" was awaiting our arrival.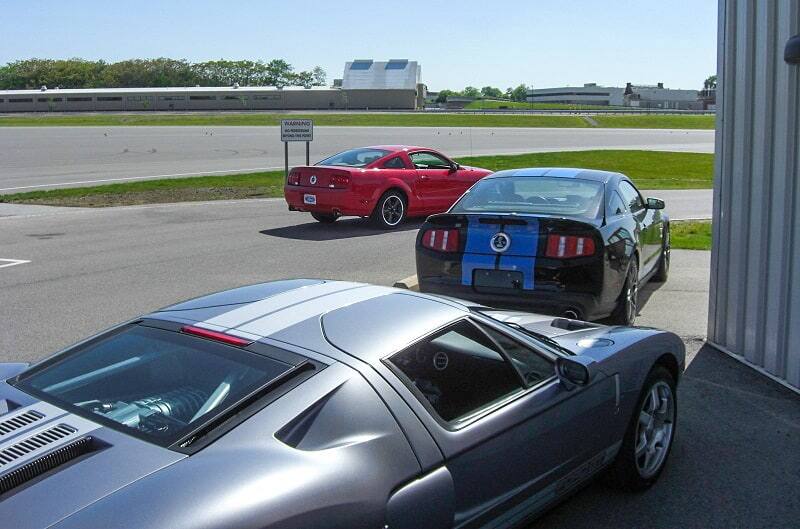 Once inside the trackside building, we were greeted by a number of the Ford engineers who had worked on the Bullitt program. It was immediately evident to all of us there that these folks not only develop and build our beloved Mustangs, but they are "Car Guys" just like us. They shared in our excitement, and enjoyed hanging out with us just talking cars, as well as about the plans we had to show and preserve this car. We were then handed a helmet, and all took a turn in the passenger seat while Red was driven out onto on the wet skidpad by Ford engineer Nick Terzes. What a BLAST! These are the types of things that might be taken for granted for the guys working at Ford, but for mere civilians like us – well, we were all shrieking like schoolgirls and the grins all around were priceless. We invited John Clor, the enthusiast communications manager for Ford Racing (now Ford Performance) to witness this notable club event.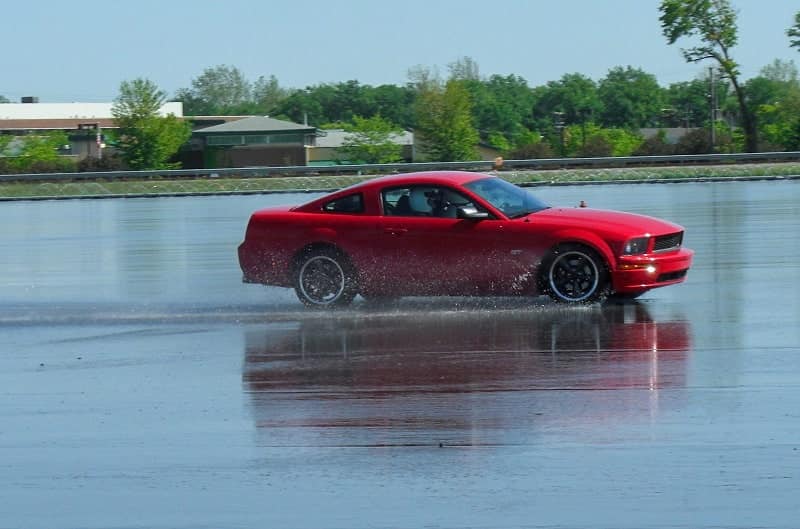 I had mentioned earlier that I had traveled four hours to get to Dearborn from Toronto, Canada. It was going home with me because I have the facilities to properly store Red for HoonDog, so that means I would have to bring it back across the border to get it home. The events that took place to accomplish that can be best described as a gong show. Importing a roadworthy car from the U.S. to Canada is actually a simple process. However, Red is not considered a roadworthy car, as it does not have a title, nor was it technically being imported. Unfortunately, these were all things I never considered before trying to cross the border back into Canada.

Once I made it through the first booth at Customs, I was instructed to enter the secondary area to declare the details of the car. I again explained how this car was a Prototype and how our non-profit group purchased this car from Ford for the sum of $1, but it did not come with a title – only a bill of sale. I think it took less than three minutes to have six Customs agents all around me. They all wanted to hear the story of how I took possession of this car . . . again . . . and again. I knew by this point that I wasn't going anywhere anytime soon, so I suggested to my son that he go back to the truck and have a nap -- given it was already 11 p.m.
The hours passed as the Customs agents tried to establish a value for Red – and a corresponding tax bill for me. At the time, the "Blue Book" stated that a 2008 Mustang Bullitt had a retail value of $28,000, therefore I was asked to pay the tax of $3,640 plus a $100 A/C Tax, for a total of $3,740. And have a nice day.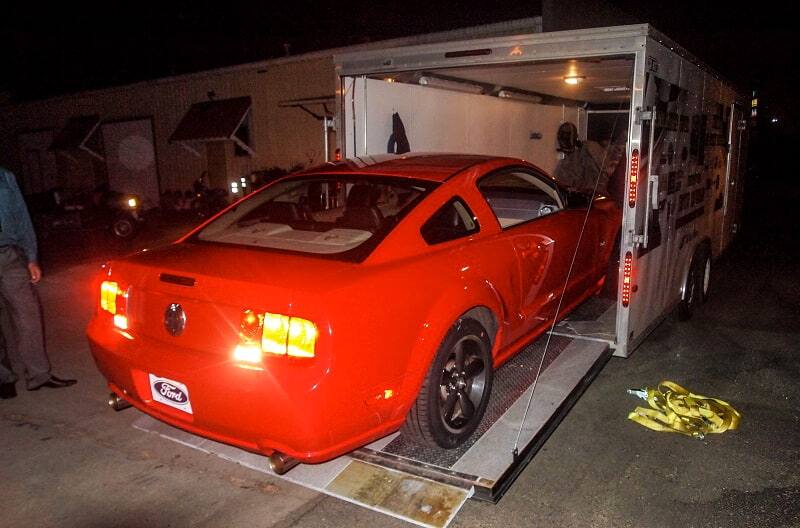 But, I protested, this is not a 2008 Bullitt – it's an engineering Prototype built from a 2007 Mustang GT. More confusion. The entire time I was being questioned, I envied my son more and more, as he was in the truck having that nap.
Finally, with the help of a late-night call to my Ford friends and some desperately needed assistance, it was determined that since the car was not to be titled in Canada, nor would it be driven on public roads, the standard import process would not, and could not, apply. Now what?
There were more debates and at times even heated discussions, but we finally agreed that since it was originally to be crushed by Ford, the car's value could be based on scrap value given that it is essentially a mixed bag of prototype parts.
Success! The car was assessed a scrap value and I had to pay tax on that amount. By now, it was after 2 a.m., and I paid the $143 in tax and the $100 A/C tax for a total of $243 and was finally allowed to leave the Customs office. I did however think to get documentation that I can present to agents on both sides of the border allowing me to cross with the car in the trailer without having to endure the same process over again each time I come to the States. (Every time I tell this story, I always end with the same quote, "I wish I could make this up.")

Our first trip after taking possession of Red was across Route 66 from Chicago, Illinois, to Chino Hills, California, where HoonDog PG attended the "Friends of Steve McQueen" show. We had the car covered in the trailer and kept secret from every member that joined us all the way across Route 66. They had no idea! It was the trip of a lifetime convoying with 50-plus Mustang Bullitts along America's historic Route 66 while stopping at many iconic landmarks along the way. We commissioned artist Michael Irvine to paint "Chasing History" which includes all of our stops along the drive. The icing on the cake was all the money we raised for Make-A-Wish Michigan and JDRF with the events.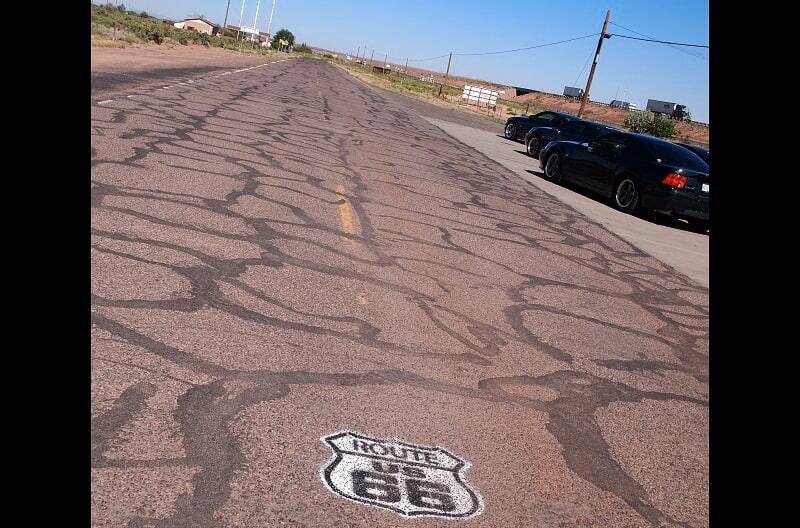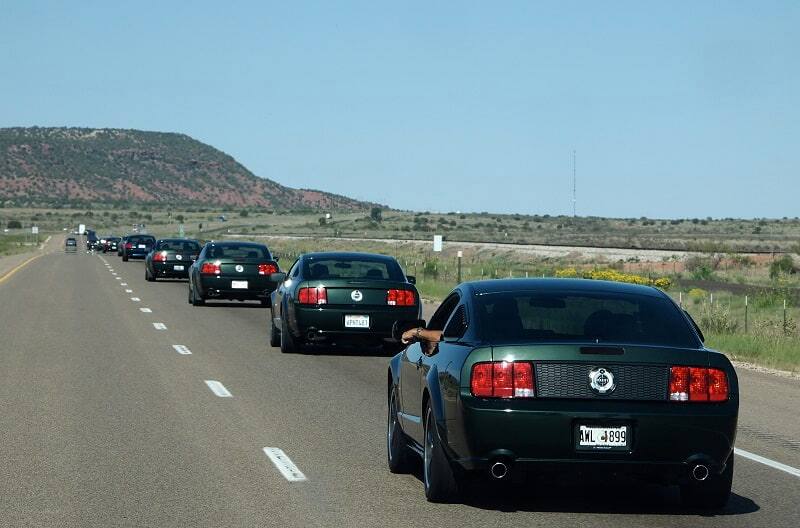 Once at Chino Hills, the grand reveal of the Red Bullitt Prototype was carried out during the mid-day announcements, and Red was driven onto the infield by Charles Jones. This was his restitution for missing the handoff from Ford earlier in the month. As you might expect, Red was a huge hit at the show. Amongst Porsche 918's and the likes, the judges recognized the significance of this car, and we won "Best of Show" for our efforts. Chad McQueen himself joined us for the celebration photos – all of which was all covered by 5.0 Mustang's Tom Wilson including the official handoff of the car key for $1.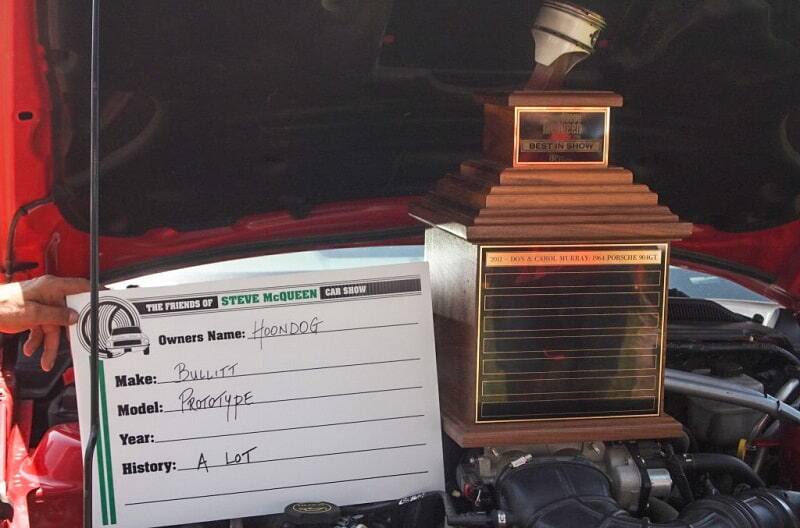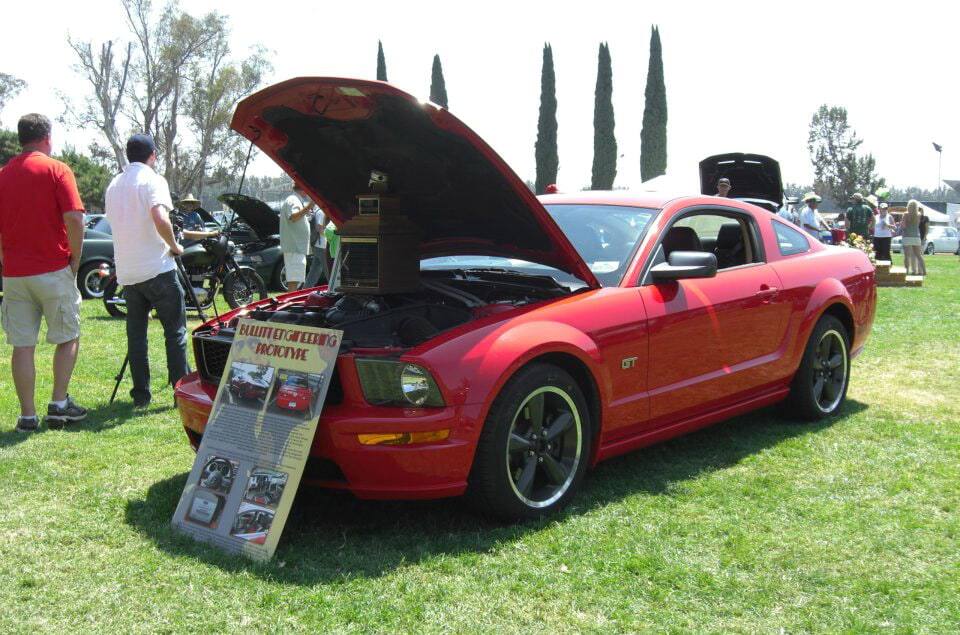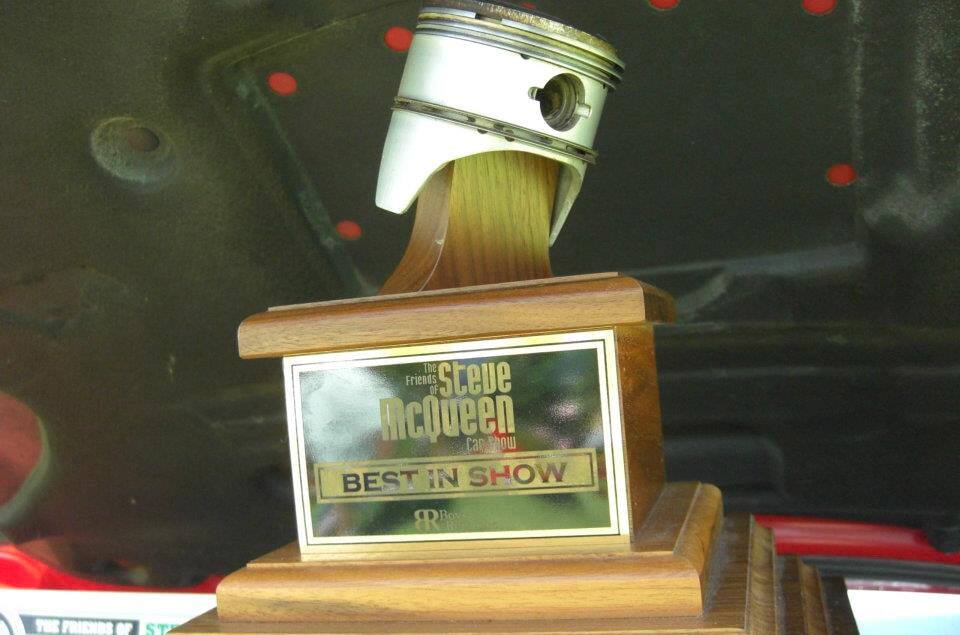 The 2012 Route 66 Bullitt drive was such a success that we will be doing it all over again in May of 2018. Only, this year we're hoping to have 100 plus Bullitts join us.

Since fist taking possession of it in 2012, Red has traveled throughout the country at HoonDog PG shows. We assured Ford that we would show this car – and that we have indeed done! It's been on the dragstrip in Texas; at the annual Texas Bullitt Shootout (where it took 3rd place); it's hung out on the beaches of Panama City Beach, Florida, during the Bullitt Nationals; was shown at the Mustang Cob of SouthEastern Michigan's (MOCSEM) big Mustang Memories show at The Glass House in Dearborn, and most recently was on display in North Carolina.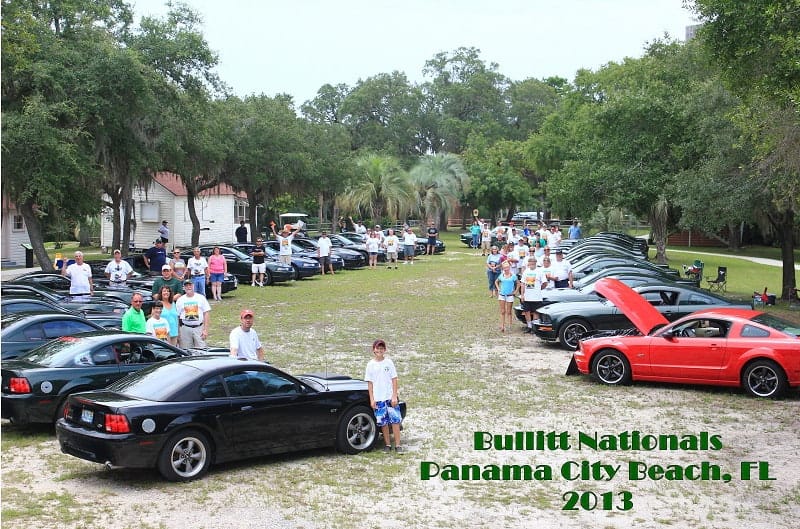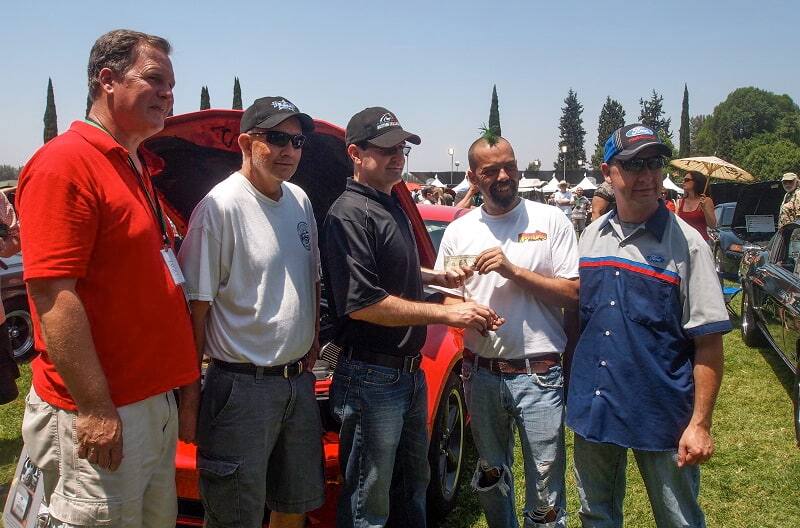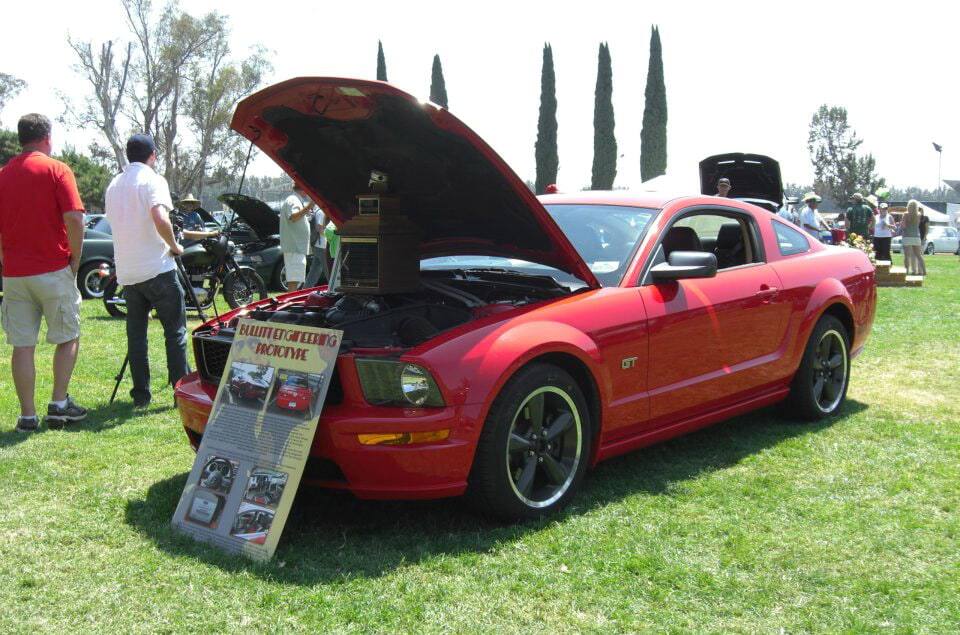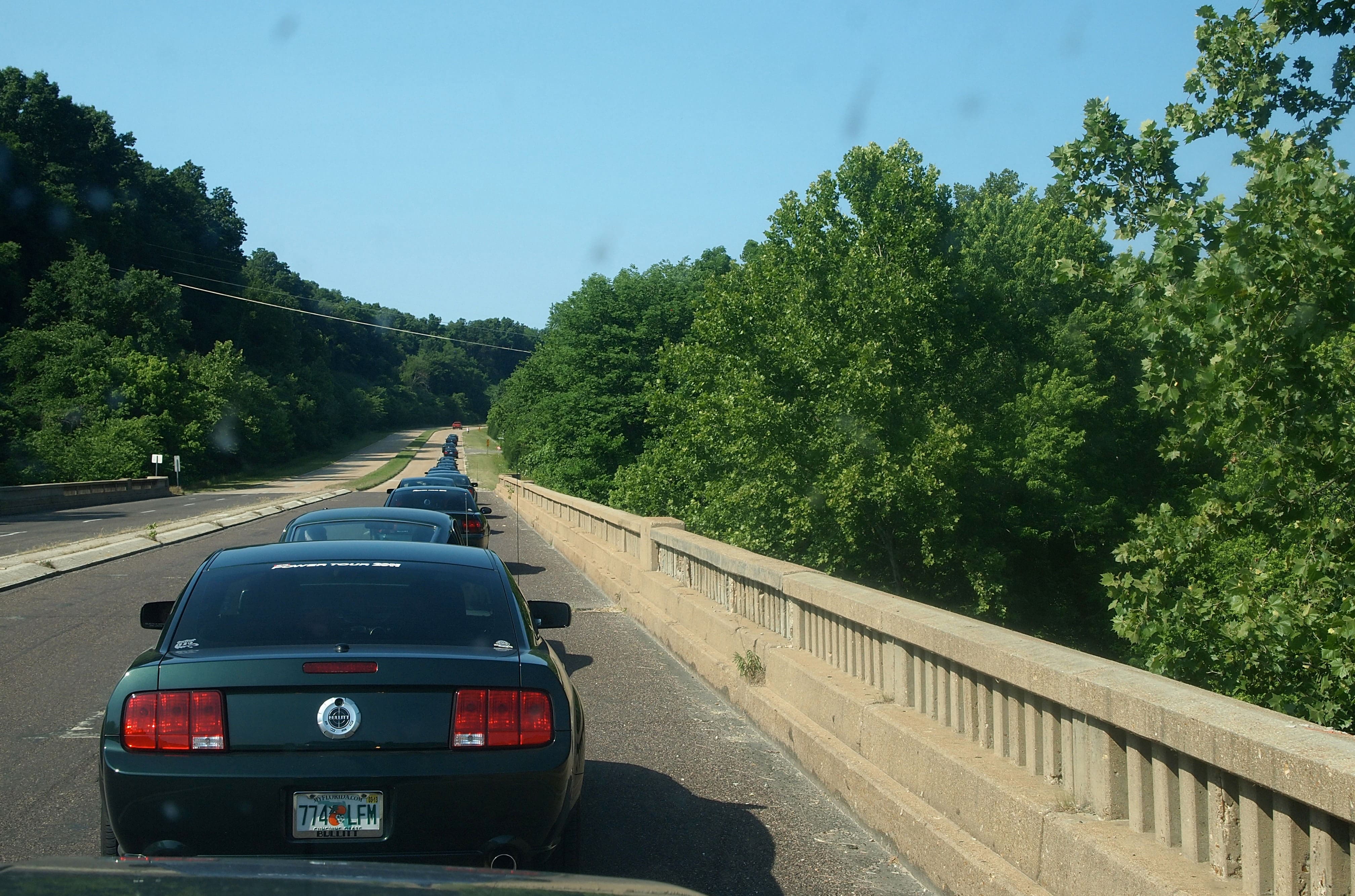 Plans are in the works for more upcoming events where the Red Bullitt Prototype will be front and center – not only for the Bullitt community, but for all Mustang enthusiasts to not only see it but to even get a chance to sit in it and take in the experience of a real Ford prototype.

FORD PERFORMANCE PHOTOS / COURTESY HOONDOG PERFORMANCE GROUP
BULLITT and all related characters and elements © & ™ Warner Bros. Entertainment Inc. (s18)