LOS ANGELES, Calif. – It's been said that you don't know what you've got 'till it's gone. When it comes to fans of late-model six-cylinder Ford Mustangs, that time has come. Beginning with the 2018 model year, Ford will no longer be offering a Mustang equipped with a V-6.
While a newly revamped "Coyote" 5.0-liter will be powering the Mustang GT for 2018, the only engine available in the base Mustang will be the economical, thoroughly punchy and newly improved 2.3-liter EcoBoost inline four. With the 2018 EcoBoost numbers now overpowering those of the 2017 V-6, Ford decided to remove the 3.7-liter six from the Mustang lineup.
Mustang purists needn't be up in arms over the move. You'll recall that back in the Fox Body days – between model years 1987 and 1993 to be exact – a Mustang could only be had with either a thrifty 2.3-liter inline-four or the venerable Windsor 5.0-liter V-8. A six-cylinder of any kind simply wasn't on the menu. When the all-new SN-95 Fourth Generation Mustang was launched for the 1994 model year, Ford's 3.8-liter V-6 replaced the 2.3-liter four as the base engine, a role it had played ever since the introduction of the Mustang II. A four didn't get back into Ford's Pony Car corral until the EcoBoost 2.3 found its way into the S550 Mustang for 2015.
It's no secret that since that time, the latest V-6 Mustangs were sold Mustang bargain hunters or were relegated to become the darlings of the rental car world, thus branding them as ho-hum. However, most experienced enthusiasts who have been around for a while will tell you that base Mustang owners and rental car customers have never had it so good with the last 3.7-liter V-6.
The 2017 Mustang V-6 makes a rather effortless 300 horsepower at 6,500 RPM, producing its 280 foot-pounds of torque at 4,000 RPM. (Not too many years ago, those were actually muscular numbers!) It carries an EPA rating of 18/27/21 MPG for its City/Highway/Combined numbers with either the automatic or manual transmissions. So what gave the EcoBoost four the nod over the V-6 for next year? Well, for one thing, the upgraded 2018 EcoBoost continues on with 310 horses coming on full gallop at 5,500 RPM, but torque has been increased to an impressive 350 foot-pounds – a gain of 30 over the 2017 version, and a whopping 70 more than that of the V-6. The additional torque coupled with the new 10-speed automatic transmission will now propel the turbo pony from 0 to 60 MPH in less than five seconds. Case closed.
But for 3.7 V-6 owners and fans, it's not all about the numbers. So we decided to rent a 2017 Mustang V-6 convertible on a recent trip out to Los Angeles, just to get a feel for what they love about their six-banger Stang experience. As an owner of an EcoBoost Mustang, I actually welcomed the opportunity to spend a week with a Mustang V-6 convertible in sunny southern California. As my only and last chance to drive a V-6 prior to its discontinuation from production, I opted to score an Oxford White tester direct from an airport rental fleet rather than look into the media test fleet, which is usually stocked with more spirited, heavily optioned Mustang GTs.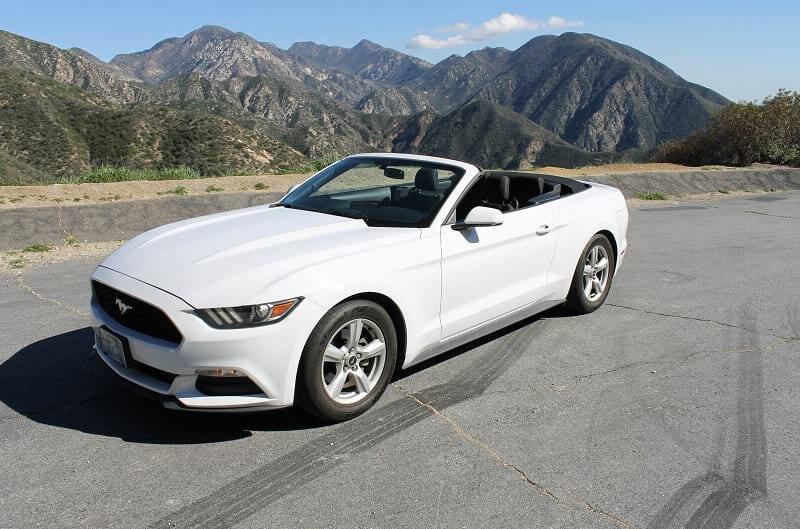 In the days leading up to my visit, southern California was receiving record rainfall, and my hopes for a top-down day or two seemed very optimistic. So it was a pleasant surprise when each day of my visit turned out to be sunny and mild. Once out on the open road and putting the pedal to the metal, what I soon discovered was that even though the EcoBoost and V-6 have similar horsepower numbers, the similarity ends there when it comes to the driving.
The V-6 paired with the 6-speed automatic delivered more satisfying low-end torque on-demand than I get with my own EcoBoost I-4. Power rolls in smoothly right up to the redline, which made driving it ideal for the cut-and-thrust of LA traffic. The EcoBoost is equally capable, but I could feel that the driving experience is slightly different. With virtually no turbo-lag the EcoBoost is surely an eager commuter, but it still doesn't give that "instant-on" throttle response the V-6 exhibits. It's not a night-and-day difference here, and many people probably couldn't even tell, but it's there just the same.

With a steady power delivery, the V-6 delivers a premium feel that is synonymous with the S550 Mustang. Downshifts are smooth and seamless, and the V-6 never hinted a shortage of usable power. It will be very interesting to see how the new 10-speed automatic transmission performs.
I was also eager to explore the limits of the V-6 as installed in the convertible chassis, both of which were new to me. I'd read about the Angeles Crest Highway and had seen breathtaking photography of that road, so I set out on a sunny morning to experience it firsthand. Neither the highway nor the car served to disappoint. Never at any time did the 3.7 feel overtaxed during the ascent, nor did the chassis seem overwhelmed.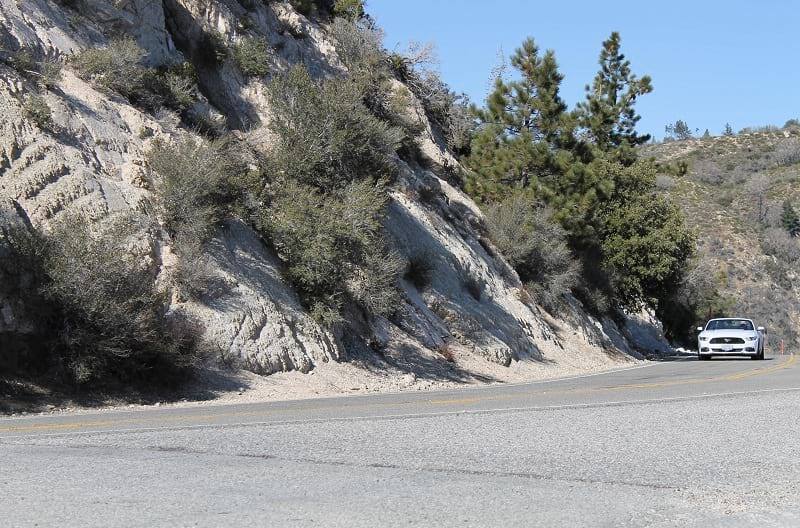 First, let's talk about the engine: As the altitude rose, the thin air didn't seem to noticeably impair the power delivery. The transmission made the most of its gearing by holding on longer during downshifts. The drivetrain sounded a bit busier – but all shifts, up and down, were smooth. During the climb, passing power always remained sufficient, even with an economy-minded 3.15 limited-slip rear gear.
Driving responsibly but rather spirited during the decent, the Mustang V-6 Convertible really came into its own. With the top down, the chassis remained composed without noticeable cowl shake. And despite having base-model 17'' wheels and all-season tires, grip in constant- and decreasing radius turns was quite good.
There's no amount of praise that I can heap upon this car or powertrain that would make it more capable than a Mustang GT 5.0. The V-6 Convertible is a very pleasant canyon cruiser that's more than able to deliver a comfortable and fun experience. A Mustang GT is a canyon-carver that makes the ascent and decent of any mountain road a thrill ride; it's as simple as that.
Another area that the V-6 and the EcoBoost differ is with regard to fuel economy. In mixed driving, I recorded an average of 23.2 miles per gallon on 87 unleaded regular fuel. In my EcoBoost – which was I had coincidently also clocked once over the same 1,200 miles of driving – my recorded city/highway average was 27.5 MPG. However, that was on 93 octane premium unleaded fuel and over far less demanding roads. It will be interesting to see how rental fleets adapt to the turbocharged four. I've had no durability issues with my EcoBoost despite my spirited and enthusiastic driving style, so rental customers may more readily sense the car's inherent fun-factor.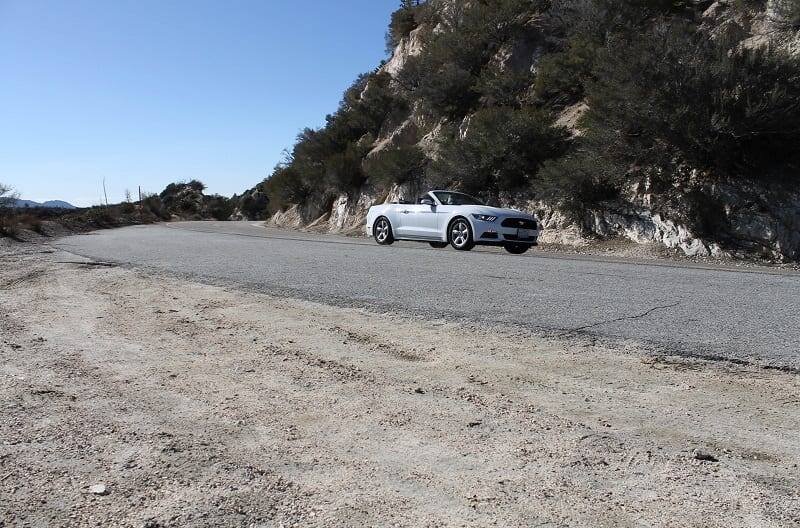 While the 3.7-liter V-6 has served the Mustang well as an economical, fun and practical coupe, there little doubt that the new 2.3-liter EcoBoost will satisfy most non-GT Mustang shoppers. But for those who wish to continue to celebrate V-6 ownership, the enthusiast community has stepped in to fill the void with the introduction of a new club called the "Mustang 3.7 Connection," founded by V-6 aficionado Rick Mitchell. While Rick admits Ford's announcement that 2018 Mustangs will discontinue the Duratec 3.7L V6 engine in favor of the 2.3L EcoBoost I-four marks the end of his beloved six-cylinder Mustangs for the foreseeable future, he formed the Mustang 3.7 Connection in an effort to promote V-6 Mustangs for as long as possible. The group is dedicated to the history and preservation of the Duratec 3.7L V-6-powered Mustangs produced from 2011 to 2017. Mitchell also serves as editor of a monthly Mustang 3.7 Connection newsletter featuring Duratec 3.7L-powered Mustangs, and though he does not charge dues, he does ask that owners and fans submit digital pictures, stories, interviews and other information about these Mustangs to help contribute toward their legacy.
Mustang V-6 fans can visit the group's website at www.mustang37.vpweb.com to sign up, and you don't even have to own a 3.7L Mustang to be a member. And if you happen to have or be a fan of a six-cylinder Mustang other than a 3.7, there's still an enthusiast club for you. It's called the "Mustang 6 Association," and has been active supporting the fan following for all six-banger Mustangs from the inlines to the V's.So yes, even though the V-6 Mustang is now gone – it's certainly not forgotten!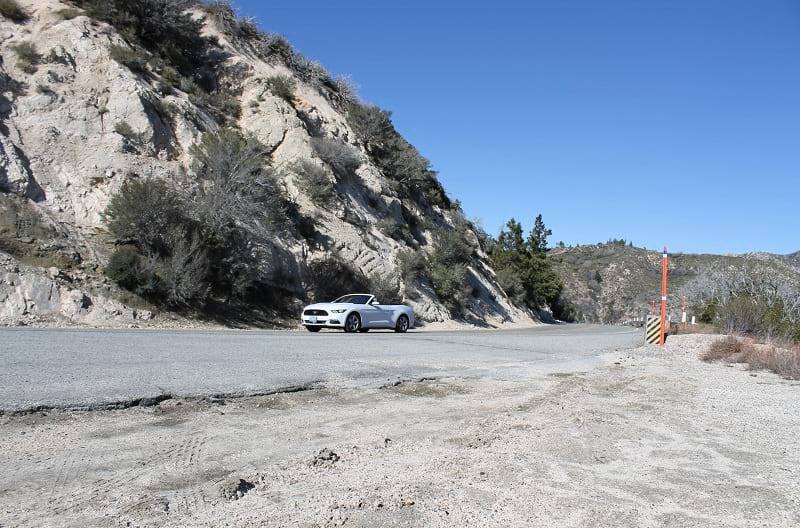 FORD PERFORMANCE PHOTOS / COURTESY ARTISAN RICH MEDIA