A match made in mechanical heaven.
Pacific Northwest natives Jeff Lane and Pat McCue have come full circle in their relationship to Ford Motor Company, with the former off-roading an F-100 in high school and the latter working on his brother's '69 Mustang Fastback as a teen. As it turns out, the pair were destined to find each other and join "electric" forces with Ford Performance, making history in creating the all-electric Mustang Cobra Jet 1400 and F-100 Eluminator, among work on other projects. But what path brought them to where they are today?
Lane's interest in the industry sparked at a young age. A friend of his lived down the street from Jerry Hancock's garage. Hancock was a mechanic and drag racer who would put vehicles together with his brother and head to the races. Lane's ears perked when he heard the sounds emanating from the tools and equipment and once he got his first look, he couldn't stay away from the garage. Hancock quickly realized Lane wasn't going anywhere and eventually took him to his first race in 1976.
"I didn't realize it then, but I was around a lot of drag racing leaders," Lane said. "Since I was just a kid, I needed a helmet. It barely fit and they used a belt as a seat belt. After taking off, my head went back and I was hooked."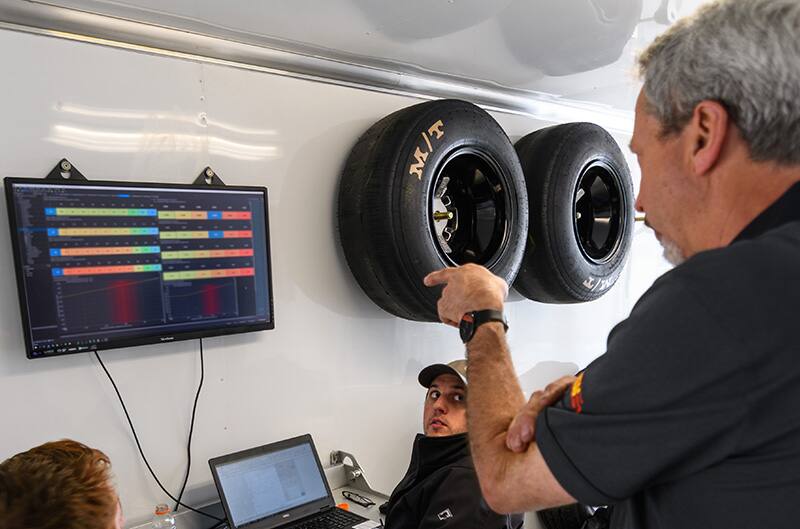 Fast forward a decade and Lane became co-owner of Hancock & Lane Racing. He became the winningest series driver during his time behind the wheel, and now gets to watch his son, Cody, follow in his tracks. These days, Lane prefers to be behind the scenes tuning the cars and getting his son down the track – but he still takes to the driver's seat from time to time.
Similar to Lane, McCue was brought up around the industry. He refers to it as his "Cinderella Story." Out of high school, McCue worked as a lot attendant at a Ford dealership. The owner saw his potential and suggested he become a mechanic through Ford's ASSET program. With nothing to lose, McCue went for it and became part of the first graduating class in Washington State. He enjoyed everything about being a Ford Master Technician, especially his Drivability & Electrification specialization.
"I loved being on the cutting edge of technology back then and now," McCue said.
While working as a Ford Master Technician, he transitioned into teaching. His brother, who had been teaching for 9 years, encouraged him to apply at his son's high school. McCue saw it as a good opportunity, and it became the perfect fit.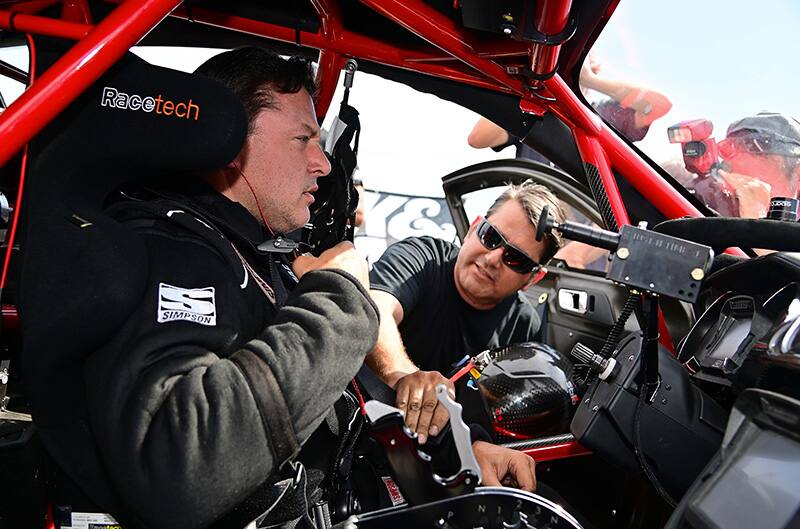 During his 19 years of teaching, his most notable project was in 2012, when he and his students converted a family sedan into an electric vehicle. McCue was looking for a way to expand the circle of alternative fuels and originally wanted to use biodiesel. Turns out, the fire department wasn't sold on that, so McCue brought up the idea of electric instead. From there, he and his students produced the street conversion to bring to events. Afterwards, McCue wanted to continue exploring and experimenting with electric vehicles.
Lane and McCue have been family friends since the '70s, and when McCue approached Lane to help with one of his projects involving vehicle electrification, what blossomed was McCue and Lane Racing (MLe Racing) which now employs a team of about 15 people, the same team that worked alongside Ford Performance to eventually bring the Mustang Cobra Jet 1400 and F-100 Eluminator to life. The next step in the electric vehicle world is bringing these advancements to competition via the National Hot Rod Association (NHRA).
"We've been climbing an uphill battle for almost 10 years now and we're right at the point where adoption is happening," McCue said.
Enter the Summit EV class. The NHRA added the exploratory electric vehicle class in 2022, which will have its final round during the sanctioning body's Las Vegas weekend. Ford Performance, Lane and McCue have been working out the rules and regulations with the NHRA Safety Safari to bring the program to life.
"At first when we brought the original electric vehicles around, it was something different and a 'shock' to people, now we're just another racecar," Lane explained.
The progression to normalcy is what Ford Performance and MLe have been aiming for. To further demonstrate Ford's capability in the space, Lane and McCue have been racing bone stock Mustang Mach-E GTs in the NHRA Summit EV class to much success, winning several rounds over the course of the limited series.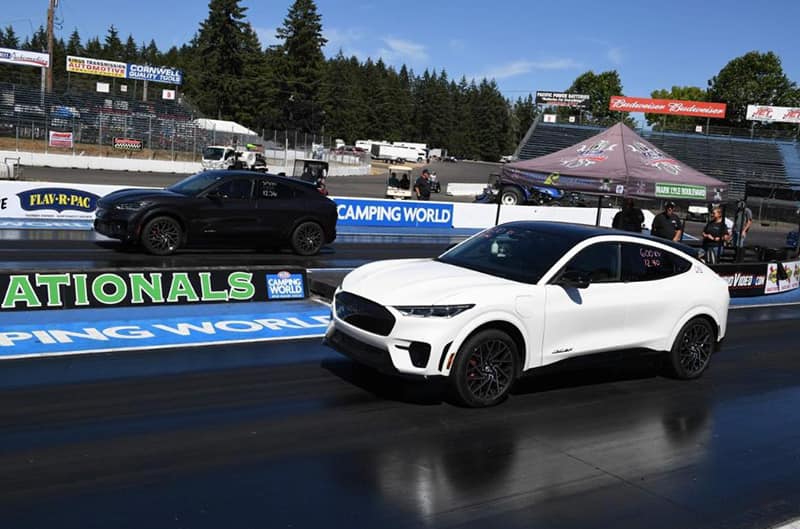 "They're a tad faster than the base Mustang Mach-E, the motor has a similar feel when going down the track," McCue said. "It has quite the punch off the line."
McCue had a similar, albeit scaled up reaction after driving the Mustang Cobra Jet 1400 for the first time.
"It launched at a 45-degree vertical angle, all I could see was the sky," he said. "It was both unnerving and exciting."
It's been quite the experience for the two to be making history with a manufacturer they've had a connection to since before the start of their careers. From driving his own F-100 back in the 70s, to working with Ford Performance developing the one-of-a-kind F-100 Eluminator, Lane describes it as "surreal" and an honor.
"Ford Performance always puts its best foot forward and leaves room for both creativity and freedom to innovate," Lane said.
"We're perfectionists in everything we do, no matter what," McCue added. "Ford Performance has a great program and we love watching it make history."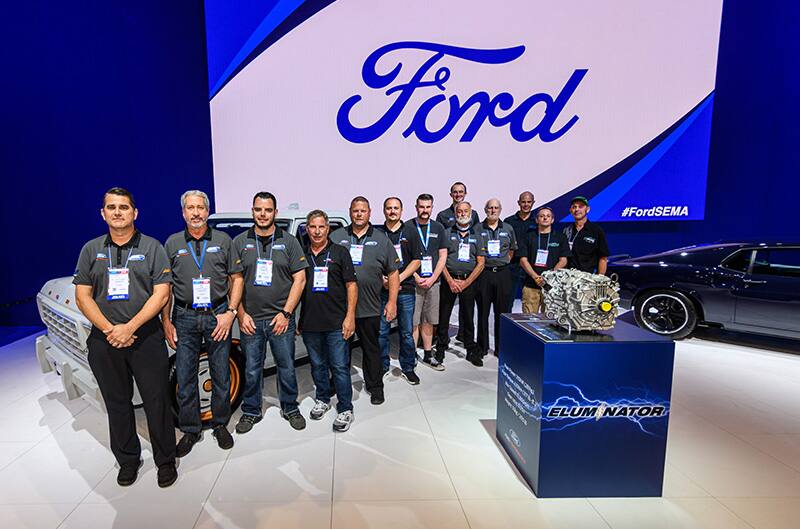 While innovation and change is good, it also invites criticism. Not many people like change, and automotive enthusiasts, especially the Mustang enthusiasts are no exception. Getting them on board the EV train has been a battle, but Lane and McCue believe eventually everyone in the community will come around.
"I understand it's not possible for everyone just yet, but I bet if any racing enthusiast were to drive one [electric vehicle], they would have a new appreciation for how fast they can be and how nicely they handle and drive," Lane said.
"The electrification of drag racing is widely accepted by the younger generation, kids at the track come up to the cars and think they're the coolest," McCue said. "There used to be a time when fuel injectors and turbo chargers were not accepted and they proved themselves, so as we prove these cars and show people what they can do, electric vehicles will be more accepted. The NHRA Summit EV class is a great example of that, and we'll see what else may follow..."
Whatever the future brings, it's been a fun & exciting road for both the Ford Performance & MLe teams, and they're excited for whatever is next.