PARK CITY, UT - Announcing the world premiere of Ken Block's newest concept of another batsh*t crazy, all-wheel-drive Ford Mustang: the Hoonifox! The Hoonifox is a Fox Body Mustang design that Ken Block has developed with Ash Thorp (designer of the forthcoming Batmobile, and whom Ken has worked with to design his current Ford Escort RS Cossie V2) to create the wildest Fox Body ever! Paying homage to 80's motorsport styling - and taking design cues from Ken's '65 Hoonicorn Mustang - this new Fox Body concept reimagines the best of the era and puts a modern-day spin on a Ford classic.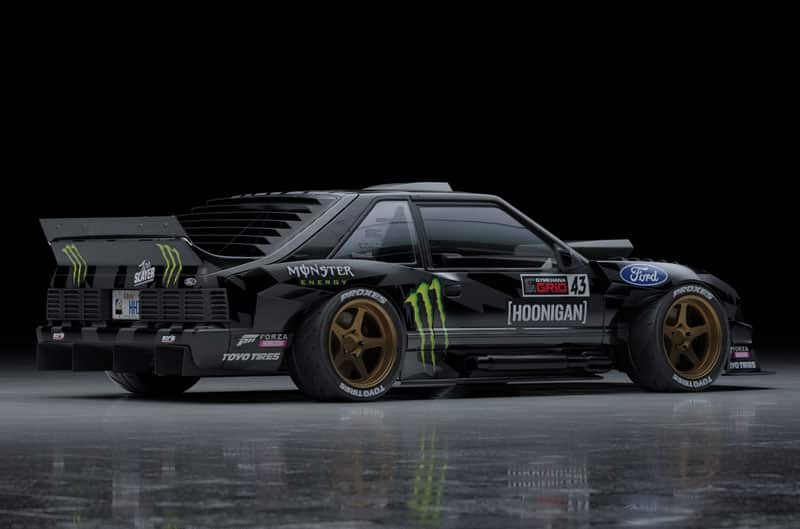 In a video released on the Ken Block YouTube channel this morning, Block, Thorp, and Hoonigan Industries CCO Brian Scotto give an unprecedented behind-the-scenes look into the creative process of developing project vehicles for Hoonigan Racing Division. The announcement of the Hoonifox concept is a first for the team, in that it allows fans and auto enthusiasts alike a rare, early peek into the development process of an all-new Gymkhana racecar.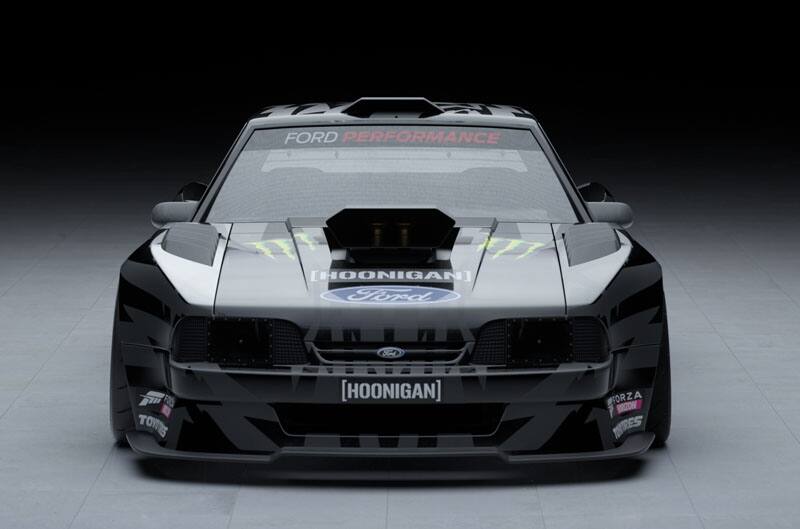 Realizing the successful "render-to-reality" path of Block and Thorp's Cossie V2 racecar project, Block could bring to life a Gymkhana car concept that has been in his head since the game-changing Hoonicorn V1 was built. The idea: to modernize an 80's Fox body Mustang, making it raw and simple like the Hoonicorn V1, while leveraging the new possibilities of Ash's 3D design skills.
Taking cues from 80's motorsport, not to mention Miami Vice era levels of street car excess, they got to work. Aggressive, boxy, modern WRC car-inspired over fenders were a must. While the combo of classic Mustang GT louvered tail lights AND window louvers are a nod to car styling of the era.
What has resulted are amazingly detailed and life-like renderings of the Hoonifox. With Ash's expertise in the 3D world, he and Ken have the blueprint for a worthy follow-up to the Hoonicorn.
The Hoonifox will similarly be equipped with a rally-spec AWD system, and will include possible power plants like the powerful and very capable Ford Ecoboost V6, or the naturally aspirated Roush Yates V8 found in Hoonicorn V1 - which block touted for its rawness and driveability. Yet another option would be the Mach E drivetrain; especially after the debut of the Ford Performance 1,400hp electric Mustang drag car!
This week's Hoonifox episode highlights Ash's prolific designs from the Batmobile to major motion pictures. Ken Block, Ash Thorp, and Brian Scotto talk about the history of the Fox Body, go into detail on how it came about, and walk through the design process, finishing up with some amazing beauty shots, and concept liveries.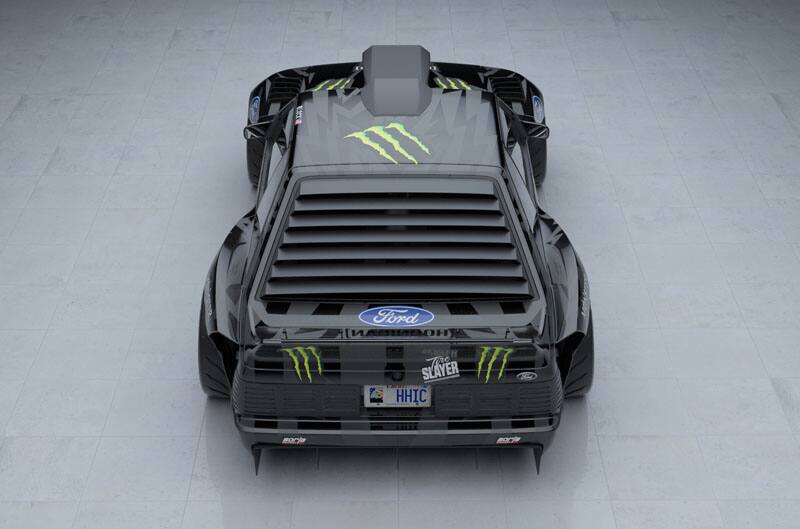 With the beautiful renderings of the Hoonifox concept now coming to light, there is much to be done before seeing this thing obliterating tires at all four corners. Starting the physical build, further development, inclusion of new tech, and testing is needed. Despite still being in the concept phase, however, Block says "I absolutely want to build the Hoonifox. And do a Gymkhana Video with it, of course. AND, do it in an 80's Miami Vice-style version if it. Down in Miami. There you have it - my current wish list!"