Ford enthusiasts broke free of the cold and flocked to Florida for the 24th NMRA Annual Spring Break Shootout held this past weekend at Bradenton Motorsports Park. The season-opening NMRA event hosted of a wide range of great activities and enthusiasts experienced a full weekend of Blue Oval bliss in the Sunshine State.
NMRA offers a variety of championship Index and Heads-up drag racing categories along with True Street, brackets and specialty classes such as the GT500 vs Terminator shootout, Cobra Jet Showdown, Tremec Stick Shift Shootout and many more. NMRA events also feature a huge manufacturer's midway, giant car show and big swap meet, and in addition, Weldon Fuel Pumps and Tremec Transmissions hosted racer participation parties so everyone had a chance to unwind after the action concluded.
Racing kicked off Thursday with a full day of test and tune, followed on Friday with qualifying and eliminations. And with four days of perfect weather, there was an endless flow of quick, loud and fast racing action.
Blue Oval performance is the theme and for many the ultimate example is the new Ford Performance Cobra Jet. NMRA is the home of Ford Performance Cobra Jet Challenge and for the second time in three years, Rod Heltzel outlasted the tough field. Heltzel qualified 3rd with his orange 2016 CJ that runs 8.60s in near-as-delivered condition. Heltzel took out Gary Richard and Robby Mazza before getting a bye into the final. Meanwhile, Ken Miele wheeled his Micro Strategies and Classracer.com-backed 2008 CJ into the final by defeating Carl Tasca, Paul Roderick and Gardner Stone. Miele got the jump at the tree with a .060 light and he was off and running. When Heltzel nailed the gas his car struggled to launch so it looked like an easy win for Miele. Miele appeared to have it locked up, but he failed to recognize Heltzel's trouble and he broke out, handing the win to Heltzel who idled down track.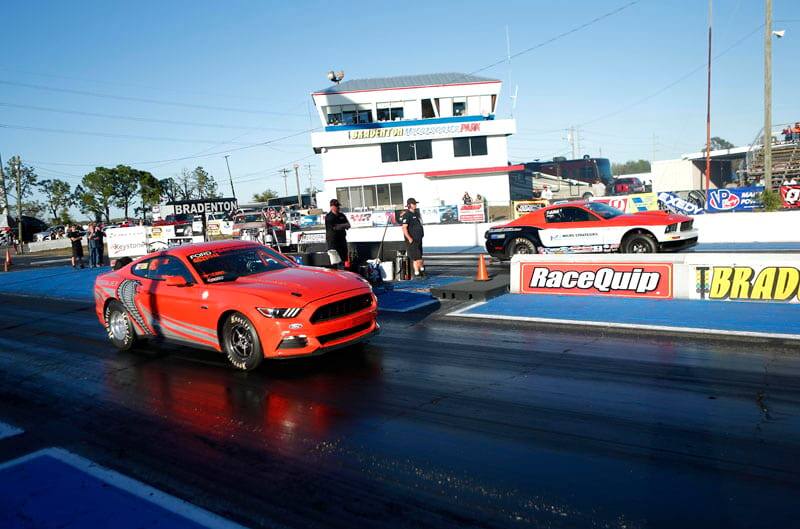 NMRA also offered the Watson Racing Cobra Challenge, which was won by Gardner Stone, when Robby Mazza redlighted. If there was a quick elapted time award, it would have gone to Chuck Watson Sr., who ran a blistering 8.08 at 164 mph, the quickest time ever for a NHRA-legal Cobra Jet.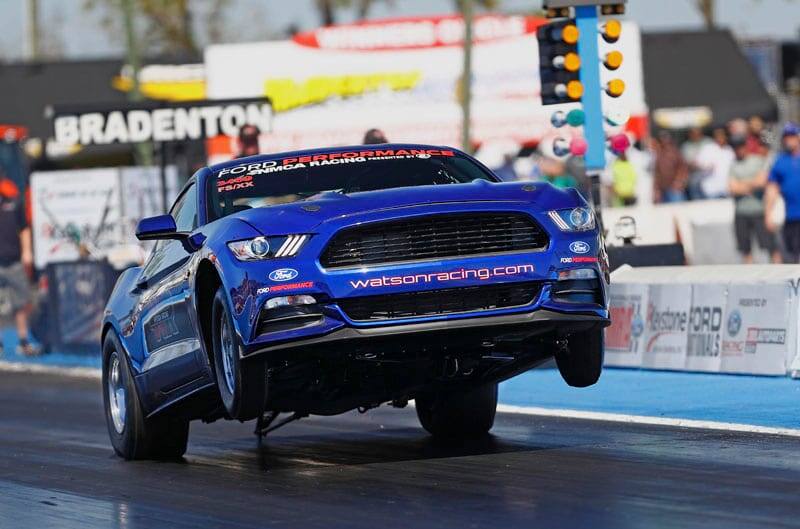 More than just Cobra Jets, the NMRA roster is filled with classes designed for everyone from beginners to seasoned pros. And one of the most popular is QA-1 True Street, a class where anyone can literally drive in off the street and be competitive. After passing inspection, enthusiasts drive their street-legal Fords on a 30-mile cruise then they hit the track and make three consecutive quarter-mile runs. The winner is simply the driver with the lowest overall average, however, awards are given to racers who come closest to 15.0, 14.0, 13.0, 12.0, 11.0 10.0 and 9.0. Reaction time doesn't matter, and you can let your friends and family join in by riding along on the road tour, so everyone can get in on the fun.
True Street was packed with over 120 participants and when the scores were averaged, it was multi-time champion Randy Seward in his trusty 1991 Mustang LX at the top. Seward ran 8.23; 8.42; and 8.45 to arrive at his winning 8.37 average. Seward runs a small-block turbo combination with an automatic transmission. Jeff Bloem claimed the Runner-up spot with an 8.57 average. Other winners were Julio Don (9-second winner, 9.02 average); Carl Diblasi (10-second winner, 10.01 average); Connie Greiner (11-second winner, 11.04); Robin Whiteford-Quinton (12-second winner, 12.04); David Berry (13-second winner, 13.00); Aaron Donton (14-second winner, 14.00); Rodney Ward (15-second winner, 15.10).
Like the name implies, G-Force Racing Transmissions Coyote Stock racers rely on an untouched production Mustang GT 5.0 Coyote engine. The engine is sealed from the factory by Ford Performance so every racer hits the line with the same horsepower as the next guy (or gal). The challenge lies in tuning the suspension, clutch and of course cutting good lights and hitting the shift points on time. Amazingly, Coyote Stockers run in the low 10s, which is impressive considering the Coyote produces between 411 and 435 horsepower, depending on which year engine a racer has under the hood.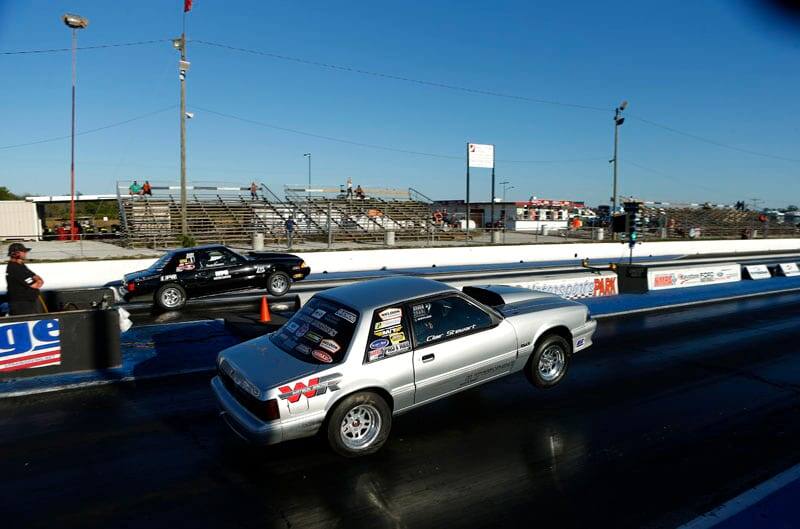 Darin Hendricks set the pace in qualifying with a 10.14 at 132 mph, and he was followed closely by Carlos Sobrina (10.16) and Andrew Johnson (10.18). Tyler Eichhorn, however, stole the show. Eichorn came from the number 6 slot to beat Tim Matherly in the opening frame, then low qualifier Hendricks on a holeshot (10.37 to 10.29) in the quarter-finals and reigning world champ Jacob Lamb in the semis. Clair Stewart II was on the opposite side of the ladder doing work, first beating Walter Basanowski, the Sobrino who broke, and he earned a bye to face Eichorn in the final. Stewart II left with a fantastic .014 light and the blasted to a 10.32 at 129 mph, but it wasn't enough to hold off the (.068 light) and 10.23/129.87 mph charge of Tyler Eichorn who took the Coyote Stock crown in Bradenton.
The quickest Fords run in VP Racing Fuels Street Outlaw, and Andy Manson, Charlie Cooper, and 2017 class champion Manny Buginga laid rotated the Earth with their boosted Ford Mustangs. Manson won the pole and ultimately faced Buginga in the final where he ran 4.31 to win against Buginga's off-pace 4.78.
In Edelbrock Renegade competition, it was Bart Tobener who took the trip to the Aerospace Components Winner's Circle after Frank Varela redlighted in the final round. Tobener qualified his Coyote-powered S550 Mustang at the top of the list with a 7.33 elapsed time and sealed the deal to go home with the points lead.
Haley James made the cross-country trip from New Mexico worthwhile. She led ProCharger Coyote Modified qualifying with an ultra-quick 7.59, lasted through the rounds to face 2017 class champion Tommy Annunziata and his Cobra Jet Mustang in the final. Annunziata left first, but James edged him out for the win, 7.62 to 7.65.
A new NMRA class for 2018 is Steeda Limited Street. Kelly Shotwell unleashed enough power to take the top qualifying spot with an 8.61. He then faced Kent Nine in the final round, and it was Shotwell winning with a lifting 8.83 to Nine's 11.39.
In Richmond Gear Factory Stock Mike Bowen nabbed the pole, but he was eliminated early. In the final round, Dan Ryntz ran 10.45 to defeat John Leslie Jr., who ran a tad slower at 10.71.
Race Star Wheels Ford Muscle saw Avon, Indiana's Kevin McKenna come from the last qualifying spot to dismantle the competition. McKenna drove his VMP Performance-boosted 2014 GT all the way from Indy and got it prepped for eliminations. He was keen on the tree and at the strip as he worked his way to the final where he faced Krystie Wagoner and her 2013 Mustang GT. McKenna had the better light, and edged out the Frisco, Texas runner at the stripe for the class win and trip to the Aerospace Components Winner's Circle.
In Exedy Racing Clutches Modular Muscle, long-time Ford racer Charlie McCullough went to battle with veteran racer Gary Parker. Parker had the slightly better light, but he broke out, running 11.06 on an 11.07 index, giving McCullough the win.
ARP Open Comp is was packed full of heavy hitters in the 30-car field, but it was 2017 champion Dennis Corn who was victorious over Tim Hamilton in the tight final.
Bob Cochran was victorious in Detroit Locker Truck and Lightning action. He drove a great race in his boosted Lightning to beat James Steamer in the final round of eliminations after Steamer jumped early and went -.008 red.
Marvin Knack is a man on a mission. He's won the Roush Performance Super Stang championship two years running, and was unstoppable in Bradenton. This weekend he made it to the final in his Stifflers-backed Mustang where he defeated John Golliday to claim the title.
In Saturday bracket action, Jay Adams bested Gage Burch in the B1 final round, and Charles Johnson wheeled his '86 Mustang to the win over Robert Jones in B2. On Sunday, Darwin Garcia was the B1 winner over Jay Adams, while Gage Burch found the winner's circle after defeating Ron Williams in B2.
And if you didn't get your fill with all the great drag racing action, the car show was sure peg the fun meter. Saturday's show was at capacity with over 200 Ford, Mercury and Lincoln cars and trucks of all shapes and sizes. There was a slew of Foxes, Torinos F150s, Broncos and big- and small-block Stangs everywhere. We also cruised the swap meet and the midway where we found great deals on new and used parts. We saw everything from GT-40 heads and Cobra intakes, to interior parts and of course many of your favorite manufacturers are represented, too.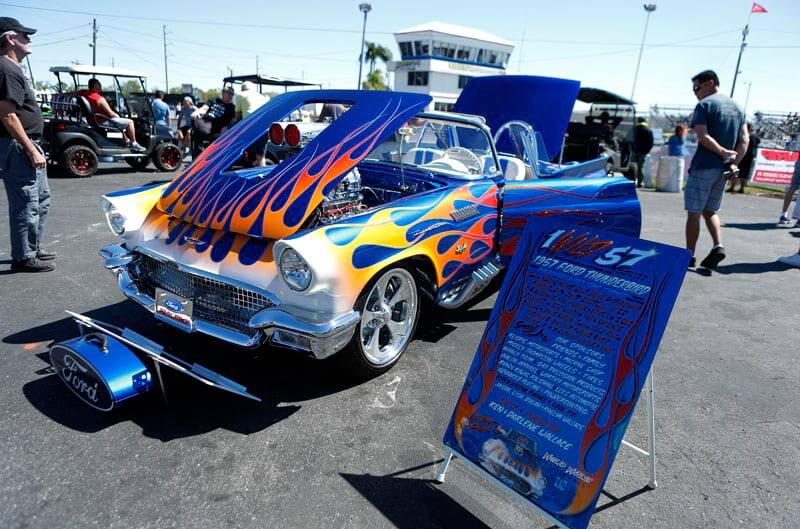 The next stop on the NMRA tour is Atlanta Dragway (Commerce, GA) for the NMRA/NMCA All-Star Nationals presented by MAHLE, April 5-8, 2018.