LOS ANGELES, CA – The tranquil air of the early Sunday morning was disrupted with the glorious blare of Ford V-8's as some 20 Shelby Cobras and Mustangs thundered through the peaceful sleepy neighborhood streets surrounding the Petersen Automobile Museum. The Los Angeles Shelby American Automobile Club (LASAAC) members assembled at dawn on January 15, 2017, to caravan to the Carroll Shelby Tribute Car Show and celebrate Carroll's birthday; he would have been 94 years old.
Shelby's operations from 1962 to 1967 were centered in the Los Angeles area so, naturally, fans of Shelby's iconic muscle cars turn out here in force. From the early Cobras and GT350s to the latest Ford and Shelby Mustangs, GT350s and other Ford Performance vehicles, the parking area was full of high-quality and historic rides.
LASAAC and the Cobra Owners Club of America (COCOA), Orange County members showed up in force to honor Carroll Shelby's legacy in an event which was sponsored by Hillbank/Superformance and the Petersen Automobile Museum. Carroll's grandson, Aaron Shelby, traveled from Texas to attend the show. Aaron's involvement in Carroll Shelby American International, Inc., has increased as he has taken on the responsibility as a Director, and he is also now a Director for the Shelby Automobile Museum and the Co-President/Director of the Carroll Shelby Foundation. What's more, Aaron has taken an active role as liaison with Ford Motor Company's Henry Ford III, who is Global Marketing Manager for Ford Performance. With such a natural pairing of Ford Performance and Carroll Shelby International, Inc., once again, it's a good bet that we can expect some exciting product news coming in the near future.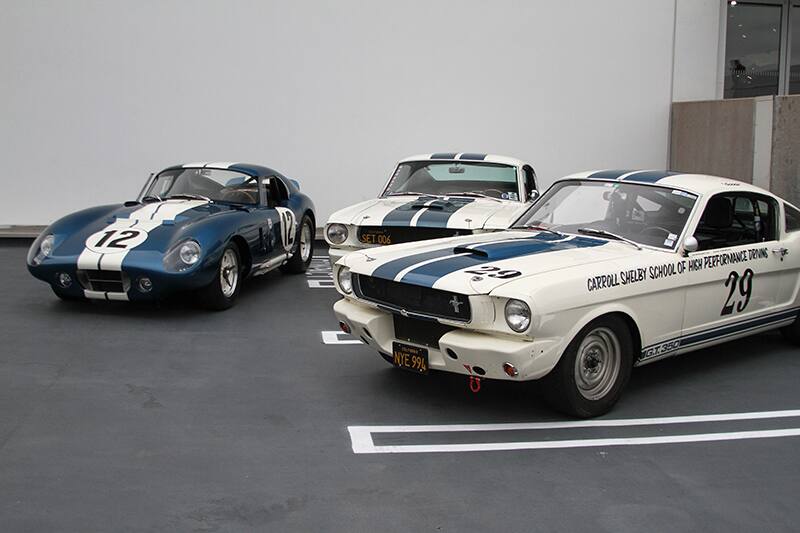 A large group of Southern California hot rodders brought a variety of great and rare cars to honor Carroll Shelby in an appropriate manner at this gathering. Bruce Kawaguchi's 1965 GT350 (5029), one of three original Carroll Shelby School of High Performance Driving cars, was parked next to Steve Beck's 1965 GT350 (5S258), and alongside of Paul Martin's beautiful re-creation of Pete Brock's-designed Cobra Daytona Coupe. Paul's Daytona was built by Nick Acton (Acton Custom Enterprises), who painstakingly duplicated all the car's parts as it was originally constructed. Paul's Daytona is truly an exceptional re-creation of the 1965 FIA World Sportscar Championship Cobra Daytona Coupes.
LASAAC member Len Schusterman brought his 1966 GT350H (SFM6S1830), which Len purchased directly from Hertz in 1966 for $3,100 and then drove his Shelby to work and school for 30 years. After completing a restoration, Len is now enjoying his Shelby all over again after owning his favorite Mustang for 51 years. Richard & Myra Kaneshiro purchased a very special Mustang a year ago, built by Bob Hoshiko in the early 90's. This Mustang was converted into a station wagon that was designed by Pete Brock in 1966. It is equipped with Shelby Cragar wheels, Shelby valve covers and air cleaner, a fiberglass Shelby hood and Shelby brake side-air scoops. Painted in Wimbledon White with Guardsman Blue over-the-top Le Mans stripes, the Kaneshiro's Mustang stood out amid a sea of Shelby fastbacks.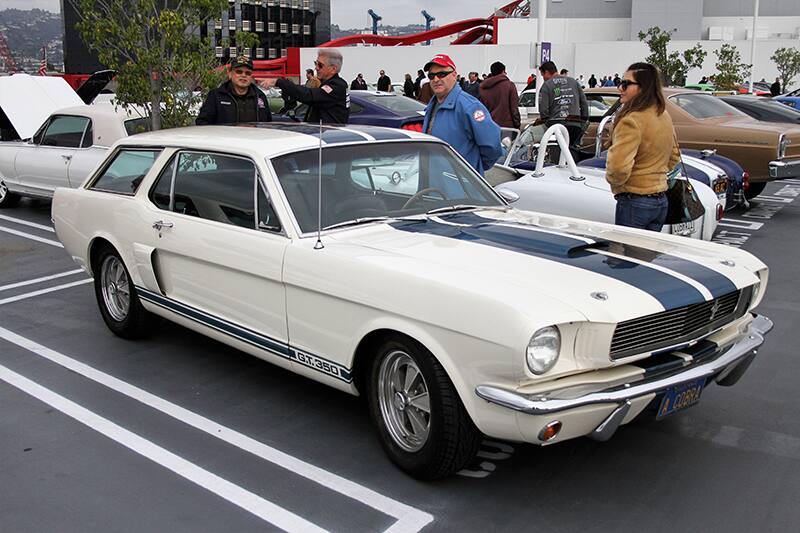 Tom Hooker's all-aluminum Kirkham Cobra was exceptional in its rare British Racing Green paint color, in broad contrast to Anthony Boosalis' original 1966 427 Competition Cobra (CSX3047) with several different colors exposed. At one point, Boosalis owned three 427 Competition Cobras, one Blue, one Red, and the CSX3047 with the layers of paint exposing the original Cobra's Gold paint. Boosalis sold one of his Cobras and now has two of the 26 original 427 Full Competition Cobras built by Shelby American. Another outstanding car at the Cruise-In at The Petersen was Seiji Kishi's 1966 GT350 (SFM6S100), a transition Shelby carried over from the 1965 model year; Seiji meticulously restored his Shelby to near-perfect condition.
Interestingly, most attendees felt that the star of the show was a very special Cobra owned by Lynn "Mr. Cobra" Park. Lynn has been a Cobra collector extraordinaire, having possibly owned more Cobras in total than anyone and most likely has owned more Cobras at any given time than anyone. Lynn's latest Cobra, branded "The Son of Dirt Bag," has the appearance of a barn-find Cobra hidden away for decades, but looks can be deceiving.
It's called "The Son of Dirt Bag" after Lynn's original "Dirt Bag," an original Shelby Cobra (CSX2307) which was left in a backyard covered with a tarp by Charles Offenhauser for 30 years. Lynn has maintained "Dirt Bag" as original as possible. However, a closer look reveals that "Son of Dirt Bag" is actually a Kirkham slab-sided Cobra with paint that has the proper patina, well-worn carpet and seats, weathered trim and windshield, rusted and pitted bumpers and corroded wire wheels. The attention to staining and discoloration is truly a work of art, and is accurately deceptive. The attention to every detail on his Cobra had everyone questioning how Lynn could find yet another Cobra in a barn.

It's all part of the Shelby legacy. And it's all a way for So-Cal area Shelby owners and fans to continue to celebrate the birthday of a true performance legend.
FORD PERFORMANCE PHOTOS / COURTESY RANDALL RICHARDSON