DEARBORN, Mich. - Stavros Melabiotis has never felt like Vincent Van Gogh or Leonardo da Vinci, but when he was presented with a blank canvas to help design Ford's NASCAR Next Gen Mustang, he couldn't help but channel some of his design skills.
As senior exterior designer for Ford Motor Company, Melabiotis worked in tandem with Ford Performance engineers to create a Mustang body that they feel more intimately resembles what is being driven on the streets today.
"Right now, what we're dealing with is the freedom to design something that's a little bit more like our production vehicle," said Melabiotis, whose design responsibilities for NEXT Gen was expanded after serving in a supporting role on the Gen 6 model four years ago. "The most obvious difference with Next Gen compared to what is being raced now is that it's more of a production car in its overall presence, it's symmetric rather than a machine that was purely built and designed to go one direction around the racetrack."
That change is particularly apparent when seen from an overhead view, where the convex curve to the tail is a marked change from the flatness of today's model. Having that angle to play with enabled the Ford team to more accurately depict the taillight location, which makes it look more like its production Mustang counterpart.
In fact, the Next Gen Mustang so closely resembles the Mustang that it even fooled Ford Performance aerodynamics supervisor Tommy Joseph.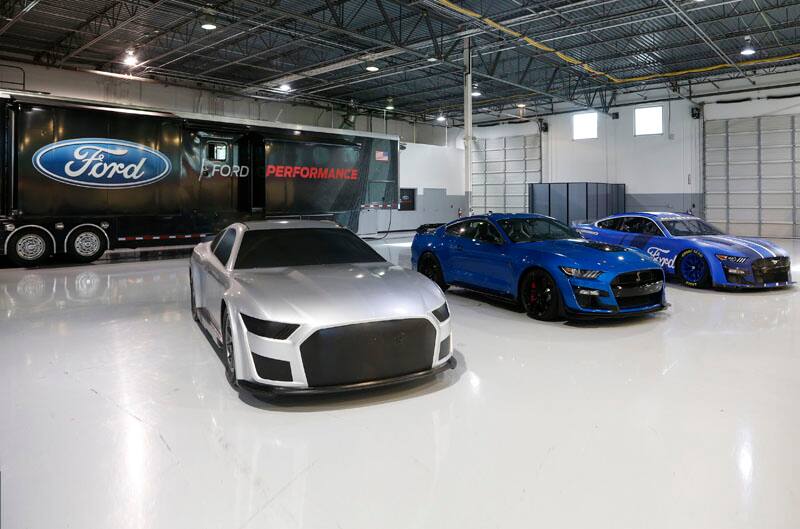 "When they sent me the tail for the new race car, I thought they sent me the production image by mistake," recalled Joseph. "It's just more curved. On pure looks, I think it's a 10. It's so much more like a race car than the Gen 6. The Gen 6 has a lot of legacy with the sedan greenhouse and the big fat tires with small wheels. This is not exactly a GTM car, it's still its own thing. This is still a stock car, but it's a modern stock car."
Getting to that point, not only with the rear end but the entire body, was a give-and-take process that began with Melabiotis providing a 3D digital model that included performance characteristics he knew the aerodynamics team liked from the current race car. In turn, the aero team would take that model, test it, and then provide their feedback in another 3D model. That process, which included regular conference calls to discuss their respective findings, enabled the team to combine certain elements and land on something they both liked.
"The bottom line is if we only focused on design and left the performance aspect aside, then it won't be a benefit for our company," said Melabiotis. "We want to race to win. It's within the Ford blood. We want to make the brand proud and, again, this is happening in front of the fans and the enthusiasts that not only love Mustang, but love Ford."
Those NASCAR race fans will no doubt be quick to notice the new coupe-like greenhouse that is replacing the sedan-looking shape of previous models, along with bigger wheels and smaller profile tires.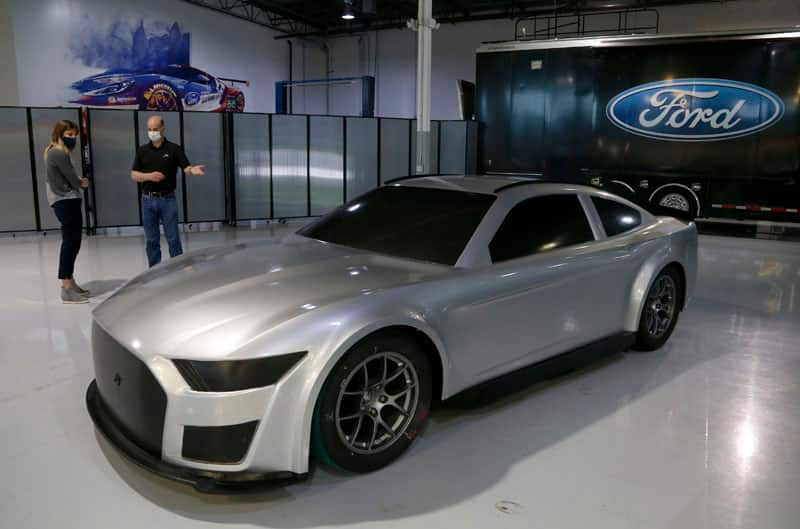 "It's much more modern and I think you make that connection between the race car and the road car much easier in this architecture, and that's because of a lot of little tweaks," said Joseph. "Any one of them by itself isn't a game-changer, but when you put them all together and you look at the two cars side-by-side it's a lot different."
Melabiotis agreed, "All OEMs are dealing with an overall common shell, but it's a better-looking one with improved proportions and a wide stance, which helps the DNA for our race vehicle."
But does he consider it a work of art?
"There are some people that will look at a piece of art and they'll like it and some that won't. It's completely subjective," Melabiotis said. "Next Gen is an evolution of the current racing model. It has provided us with a better canvas to work with, but that canvas doesn't mean it's boundless. There are still borders, so we still had to have a level of creativity that would stick within those borders of that canvas."
Now that the Next Gen Mustang body has been approved by NASCAR for competition, it's up to the teams to begin building their cars and testing them on track. That is scheduled to take place later this summer and fall before the car officially debuts at Daytona International Speedway in February.