DEARBORN - Brad Keselowski remembers it well.
"My dad had a really old Ford pickup truck and he had that forever. We would ride to work in that," recalls Brad of the times he and his father, Bob, shared while growing up just outside of Detroit in Rochester Hills, MI. "In fact, that was the first vehicle I ever drove. He let me sit on his lap and drive it, and I couldn't have been more than eight or nine years old. I'll never forget that."
Since then, the Keselowski family has achieved a number of milestones in motorsports.
Bob won an ARCA championship in 1989 and was a longtime driver and owner in the Gander RV and Outdoors Truck Series through the 1990's and early 2000's while Brad has gone on to become a NASCAR star, winning 70 races in NASCAR's top three touring divisions combined and capturing championships in the Xfinity (2010) and Cup Series (2012).
But maybe the most endearing moment came in 2011 when Brad and his older brother, Brian, who was driving their father's family-owned car, both qualified for the 2011 Daytona 500.
So, it wasn't all that surprising a couple of weeks ago to go on Brad's Twitter page and see a video of his oldest daughter, Scarlett, sitting behind the wheel of her dad's racing simulator – headsets firmly in place – trying to manage a few laps around the virtual Dover International Speedway.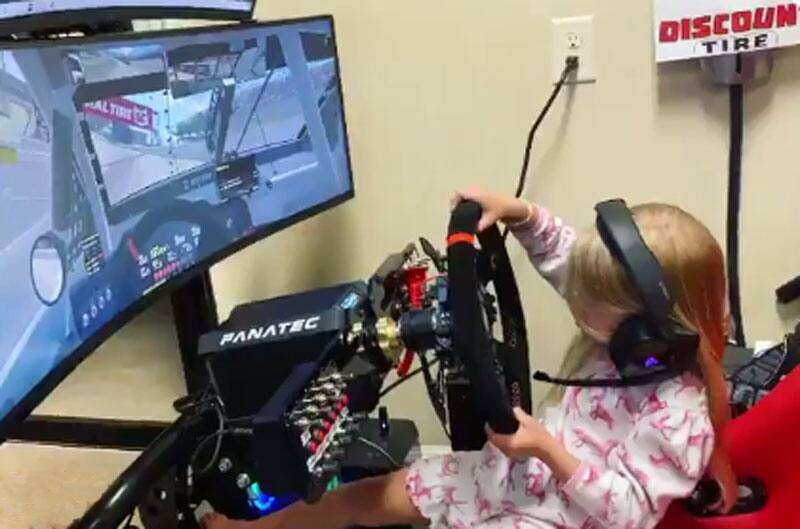 And with driving being an obvious Keselowski family trait, it's only natural that Brad would try out a little bit of everything.
Currently, he and his wife, Paige, have a Lincoln Navigator that serves as the primary family vehicle.
"When they came out with the redesign of the Lincoln Navigator it was like, 'Whoa. It's a whole new world.' It's so comfortable and rides so well and drives so well, and it looks pretty sharp too, which is never a bad thing," said Keselowski. "With two young kids, having that room is real important to us because of car seats and all that good stuff. That car is really well made for those types of things, so that's probably my favorite Ford vehicle as a parent and as a dad."
Practicality also follows him on the road in the way of an Explorer, which serves as his vehicle of choice on a weekly basis at the race track.
"Ford has got this really unique blue that just pops," said Keselowski. "We like using the same vehicle all the time, which cuts down on our rental cars dramatically, and allows us to have things like car seats and so forth ready when we go to the race tracks, so that's been great for us."
It hasn't always been about SUV's, however, as Keselowski counts "a handful of Mustangs" among previous models he's had fun driving. But, unlike his teammate, Joey Logano, who has an impressive vintage car collection, Keselowski never kept any of them. Instead, he's enjoying something else that takes up his personal storage space.
"I do have my Ford GT as well," said Keselowski. "At this point in time I really use it just to show to people, but it's a beautiful, beautiful car and really a testament to the engineering team at Ford."
Sounds like a vehicle he'll never forget.