CHARLOTTE, N.C. - The Monster Energy NASCAR Cup Series Ford Mustang will make its gaming debut this fall as 704Games, NASCAR Team Properties' exclusive console simulation-style video game licensee, announced that NASCAR Heat 4 will release in North America this September on PlayStation®4 computer entertainment system, the Xbox One family of devices including the Xbox One X and Windows PC. NASCAR Heat 4 is now available for pre-order at NASCARHeat.com.
The NASCAR Heat 4 cover was unveiled this past weekend at Daytona International Speedway ahead of the Coke Zero Sugar 400, and features the Ford Mustang, Ford Performance driver Kevin Harvick and team owner Tony Stewart, giving the game a very Ford-centric feel.
"Ford Performance is excited to have NASCAR driver Kevin Harvick and the No. 4 Ford Mustang on the cover of NASCAR Heat 4," said Rob Johnston, Global Marketing Manager, Ford Performance. "The Ford Mustang was born to race and provides plenty of winning excitement on the track and now gaming enthusiasts will be able to enjoy that same excitement playing NASCAR Heat 4!"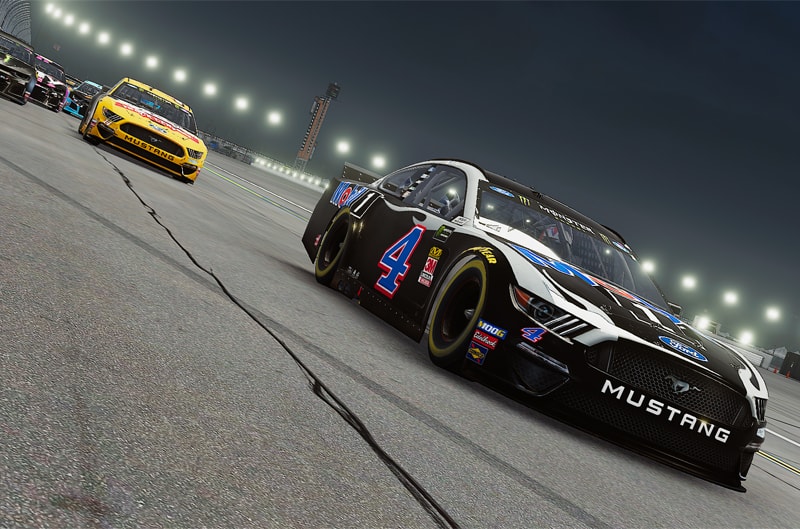 The fourth installment of the NASCAR Heat franchise boasts a deeper career mode where players can operate and manage their own team and, for the first time, start in any of the four series included in the game. The career mode will again include the Xtreme Dirt Tour, which debuted in NASCAR Heat 3, and dirt racing enthusiast and cover star Tony Stewart will be the highest rated driver in the series, with his own team, Smoke Racing. Players will have the chance to join his team and race in his No. 14 custom Late Model paint scheme as they progress.
"It's an incredible honor to represent Ford and the Stewart-Haas racing team on the NASCAR Heat 4," said Harvick. "It has been a big year for Ford in NASCAR with the debut of Mustang, so it seems fitting to be on the cover of the game, alongside Mustang, giving the Ford fans another way to enjoy that iconic car."
"My passion for dirt racing is well documented, so to play such a big part in that experience in NASCAR Heat 4 is exciting," said Stewart. "The whole Stewart-Haas team is appreciative of the opportunity to be on the cover, and I can't wait for fans to get a hold of the game and join my team."
NASCAR Heat 4 is available to pre-order today for $49.99 at NASCARHeat.com and other retail websites. You can also follow NASCAR Heat 4 on Instagram, Twitter, and Facebook for the latest updates.