DEARBORN -- It's easy to look at the statistics Glen Wood achieved during his remarkable career and talk about how those numbers factor into the fabric of NASCAR history, but that would only be telling a small part of the story.
That's because Wood, who passed away early this morning at the age of 93 after a brief illness, created a legacy that goes well beyond seeing his race team win the Daytona 500 five times or hire a roster of drivers that reads like a Who's Who of motorsports greatness.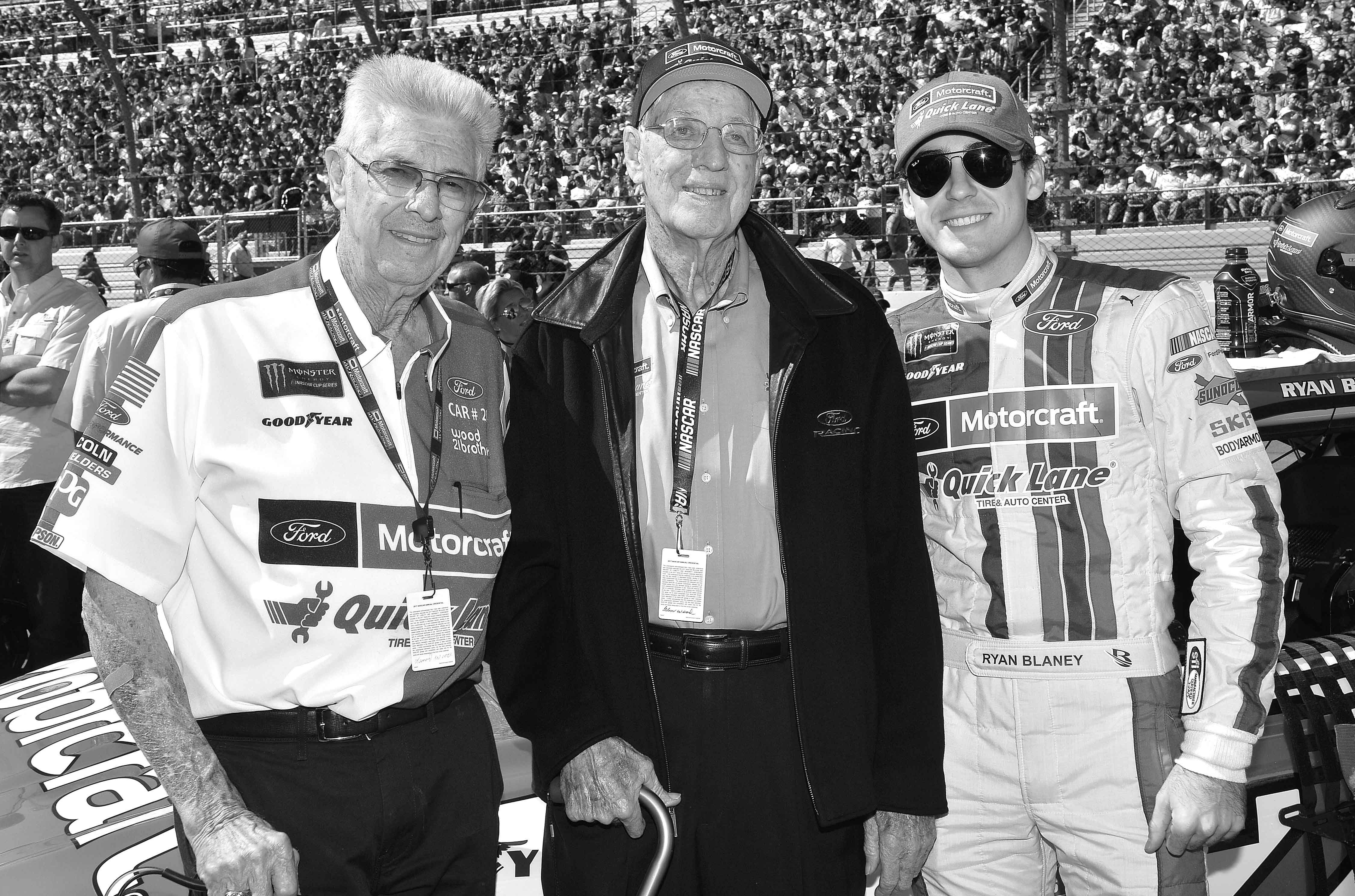 Glen Wood turned racing into the family business at a time when NASCAR was still trying to find its way, and while there have been many ups-and-downs through the years, the team still thrives today because of the groundwork he initially laid.
The family home and a sturdy beech tree served as the operation's epicenter in its formative years, but steadily grew to the point where Stuart, Va., became firmly planted on the NASCAR map.
"Glen Wood was the founding patriarch of the oldest continuously operating NASCAR Cup Series team and we consider Wood Brothers Racing a part of our family, the Ford Family," said Edsel B. Ford II, member of the Board of Directors, Ford Motor Co. "The Wood Brothers race team, by any measure, has been one of the most successful racing operations in the history of NASCAR.
"Glen was an innovator who, along with his family, changed the sport itself. But, more importantly, he was a true Southern gentleman who was quick with a smile and a handshake and he was a man of his word," continued Ford. "I will cherish the memories of our chats in the NASCAR garage, at their race shop in Mooresville or the racing museum in Stuart."
It started in 1950 when he formed Wood Brothers Racing and enlisted his four brothers, Leonard, Ray Lee, Delano and Clay to serve in a variety of roles. And even though Wood's driving career got off to an inauspicious start that included his race car getting burned to a crisp on the drive home from Morris Speedway, he persevered.
The 1960s proved to be the launching point for Wood's success as Speedy Thompson won the team's first race in 1960 and Tiny Lund won their first Daytona 500 in 1963, a season which also resulted in winning the owners' championship. That success led to a number of marquee drivers like Dan Gurney, A.J. Foyt, Parnelli Jones, Curtis Turner, and Cale Yarborough getting behind the wheel of the famed No. 21.
"He has been an inspiration to a lot of people, including me, not only because of his longevity in the sport, but the fact he's done it in such a gentlemanly respected way," said two-time Cup champion and NASCAR Hall of Famer Ned Jarrett. "Glen Wood was straightforward and honest, and you could certainly take his word to the bank. He set the tone for the whole family, and it sort of fell on his shoulders as far as the public image that was being built and, in my opinion, he was flawless.
"I don't remember any type of controversial situations. There might be a question of the rules every once in a while, but that's always a matter of opinion," continued Jarrett, who served as a fill-in driver for the team one night at Concord Speedway when Marvin Panch became ill. "They've just gone with the flow and worked within it and succeeded, not only when he drove, but with all of the other drivers who have driven for him through the years."
Along the way, Wood made sure one thing never changed and that was to compete in nothing but Ford products. Even when the manufacturer took a 10-year hiatus from motorsports in the 1970s, Wood maintained his loyalty to the company and soldiered on with David Pearson and Neil Bonnett becoming regular fixtures in victory lane.
"It's a sad day for all of us involved in the Ford racing program," said Mark Rushbrook, global director, Ford Performance Motorsports. "Glen Wood isn't just a pioneer in the sport of NASCAR because of his team's winning legacy. His vision and determination to help take Wood Brothers Racing from a small, family effort out of Virginia to one of the most storied teams in the sport's history is an American success story."
The team currently ranks eighth on the all-time NASCAR win list with 99 and all of those have come in either a Ford or Mercury, including Glen's four wins as a driver at Bowman Gray Stadium in Winston-Salem, NC.
But Wood didn't just make his mark by winning races, he was also a key part of revolutionizing the modern-day pit stop. His team became so efficient at changing tires and refueling that Ford enlisted Wood and his NASCAR crew to do the same for Jim Clark and the Lotus team in the 1965 Indianapolis 500. The move worked and resulted in the duo capturing Ford's first victory in the marquee event.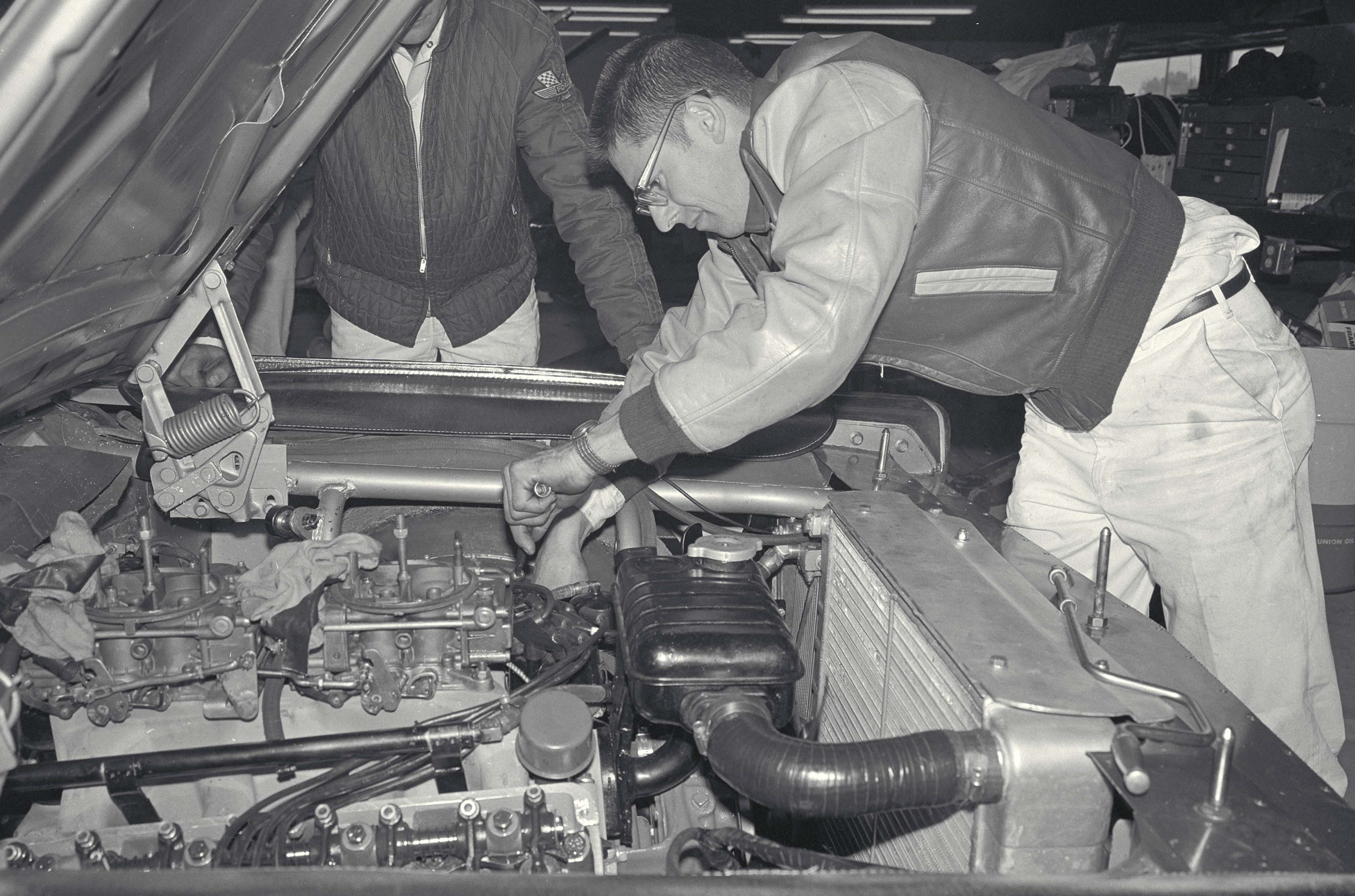 Wood's foresight wasn't just limited to competition, but to business as well. He ensured the team would remain a family entity by immersing his two sons, Eddie and Len, along with daughter Kim, into all aspects of the operation during their youth. When the time came for him to step away from NASCAR in the late 1980s, he left the team in good hands and seamlessly handed them control.
Wood's love for the sport never wavered and can best be illustrated by the fact that he drove from Virginia and attended every Daytona Speedweeks as either a spectator, participant or owner from 1947-2017.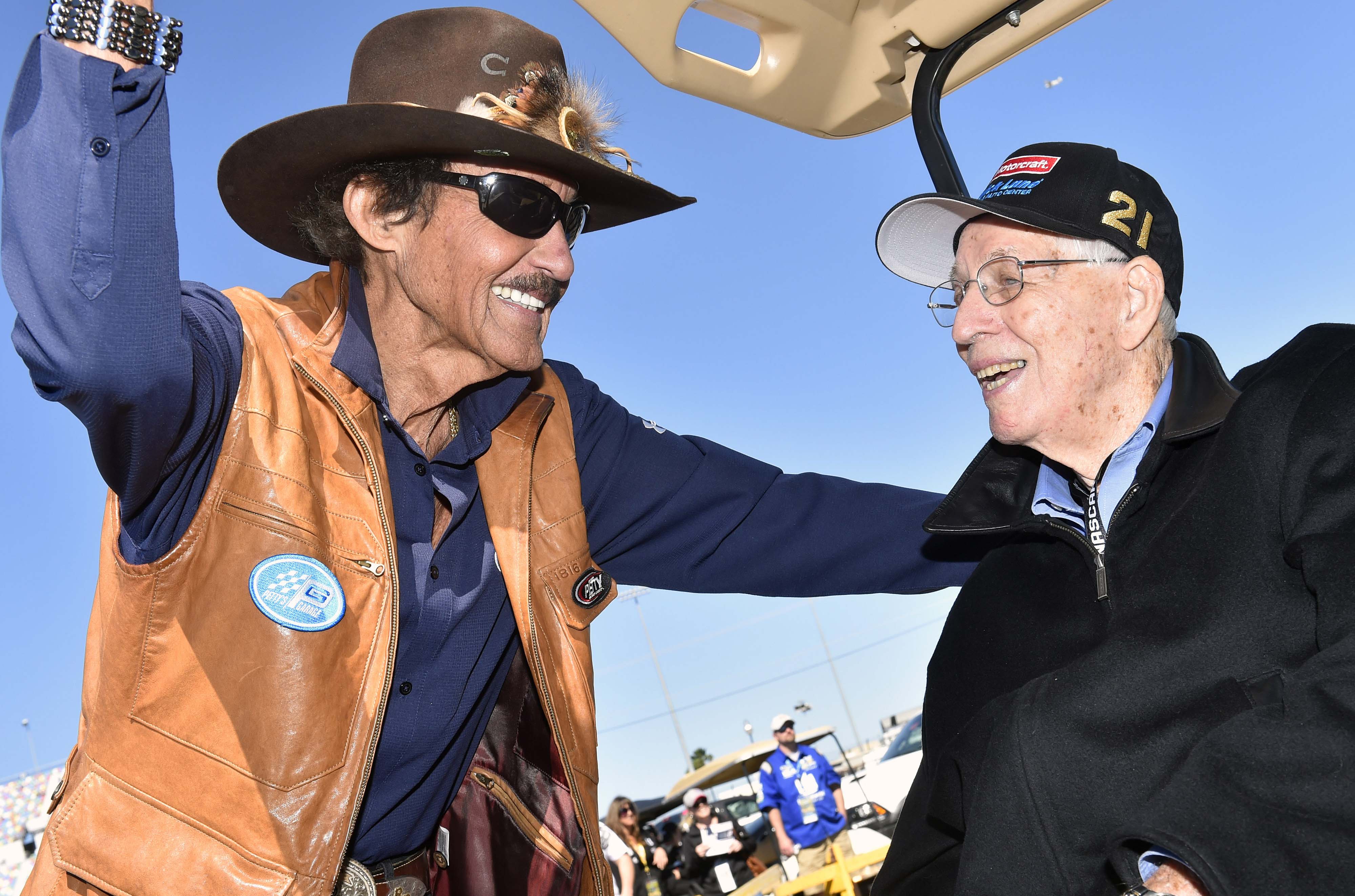 Some feel that dedication was rewarded in 2011 when Trevor Bayne, making only his second start at NASCAR's highest level, won the Daytona 500 in dramatic fashion. And while the crew was celebrating on pit road, one of the most endearing sights in the aftermath was seeing Richard Petty escort Wood to victory lane.
Wood, who received the Spirit of Ford Award in 1999 for his contributions to motorsports, has a place in many Halls of Fame, including the Virginia Sports Hall of Fame (1996), International Motorsport Hall of Fame (2002) and NASCAR Hall of Fame (2012).
But more importantly than that, he has a place in the hearts of all motorsports fans who appreciated his gentle nature and overwhelming kindness.