CLICK HERE TO READ ABOUT FORD'S MANUFACTURER CHAMPIONSHIP
HOMESTEAD, Fla. - Nov. 18, 2018 – Ford Championship Weekend lived up to its name today as Ford claimed both major titles in the Monster Energy NASCAR Cup Series at Homestead-Miami Speedway.
Joey Logano's victory in the Ford EcoBoost 400 gave him his first career championship and capped a season that saw him win three times. Logano, who claimed the title in his third appearance as one of NASCAR's Championship Four participants, became the eighth Ford driver to win the title and the first since Kurt Busch did it in 2004.
In addition, Ford won the manufacturers' championship for the first time since 2002 after leading the series with 19 victories. The win total is the most for Ford since 1997 when it also won 19 times and marks the first time Ford has won both championships in the same season since 1999.
"We did it! We won the championship! I can't believe it," Logano said after emerging from his car. "I don't know what to say. This team, Roger Penske, Todd Gordon, the pit crew. Oh my God. They gave me the car I needed at the end to do my job. Put me in position to do my job. I couldn't be more proud of them."
Logano led a race-high 80 laps, then powered ahead of Martin Truex Jr. following a late restart with 14 laps remaining to pull away for the win. Truex Jr. finished (2nd), Kevin Harvick (3rd) and Kyle Busch (4th).

Logano becomes the 33rd driver to be honored as the champion in NASCAR's top division.
"A lot of hard work has gone into our NASCAR program these last four years and today is a fitting reward," said Mark Rushbrook, global director, Ford Performance Motorsports. "We have a loyal group of Ford employees and fans who cheer for us all year and I'm most happy for them because it's obviously been a long time since we've been in this position."
The drivers' championship is Ford's ninth overall and sixth in the modern era (1972-present). Ned Jarrett won Ford's first title in 1965 while David Pearson is the manufacturer's only multiple champion having won in 1968 and 1969.
Nine drivers contributed points to the 16th manufacturers' championship by being Ford's highest finisher in at least one race. Harvick topped all drivers by being Ford's top performer 14 times while Brad Keselowski was next with six.
MONSTER ENERGY CUP RACE TOP-10 FINISHERS
1st -- Joey Logano
2nd Martin Truex Jr.
3rd -- Kevin Harvick
4th Kyle Busch
5th -- Brad Keselowski
6th Matt Kenseth
7th Chase Elliott
8th -- Clint Bowyer
9th -- Aric Almirola
10th -- Kurt Busch
REMAINING FORD FINISHERS
16th -- Ricky Stenhouse Jr.
17th -- Ryan Blaney
20th -- David Ragan
25th -- Paul Menard
26th -- Matt DiBenedetto
28th -- Michael McDowell
32nd -- JJ Yeley
35th -- BJ McLeod
FINAL DRIVER CHAMPIONSHIP STANDINGS
1 -- Joey Logano
2 -- Martin Truex Jr.
3 -- Kevin Harvick
4 -- Kyle Busch
5 -- Aric Almirola
6 -- Chase Elliott
7 -- Kurt Busch
8 -- Brad Keselowski
9 -- Kyle Larson
10 -- Ryan Blaney
11 -- Denny Hamlin
12 -- Clint Bowyer
13 -- Austin Dillon
14 -- Jimmie Johnson
15 -- Erik Jones
16 -- Alex Bowman
MANUFACTURER STANDINGS
1 -- Ford
2 -- Toyota (-23)
3 -- Chevrolet (-117)
VICTORY LANE INTERVIEW
JOEY LOGANO, No. 22 Shell/Pennzoil Ford Fusion
YOU ARE THE 2018 NASCAR CHAMPION. HOW MUCH OF THIS NIGHT WAS ABOUT PROVING YOU COULD DO IT? "We did it! We won the championship! I can't believe it. I don't know what to say. This team, Roger Penske, Todd Gordon, the pit crew. Oh my God. They gave me the car I needed at the end to do my job. Put me in position to do my job. I couldn't be more proud of them. We won the championship Marty! Oh my God!"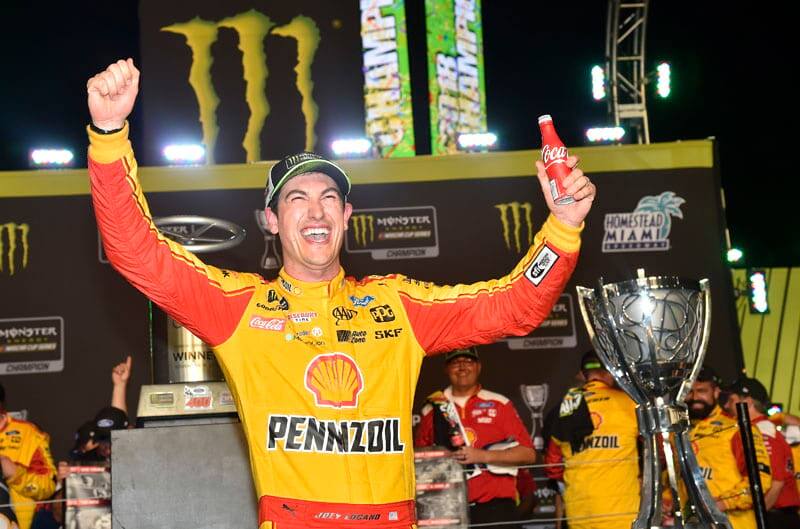 DID YOU FEEL LIKE YOU WERE THE UNDERDOG? "No, I told you we weren't and showed you why were not. We were the favorite like I told you before the race started. I am so proud of everybody for rising to the occasion. We executed down the stretch like nobody's business. I have to thank everyone that supports us. Shell and Pennzoil, SKF, Ford. We got Ford not only the drivers championship but the manufacturers' championship. I can't wait to break that Mustang out."
WHEN YOU CAME TO THE CHECKERED FLAG, WHAT WAS GOING THROUGH YOUR MIND? Just a lot of screaming. I think I pulled a muscle. Man, I worked my whole life to get here. To win a championship. We have been so close. It has been 10 seasons of fighting for this. I wasn't sure we were going to get it but Todd made a good adjustment at the end and we had that no quit attitude."
THAT MOVE INTO ONE, HOW DID YOU MAKE IT STICK? "My car was really good on entry all day."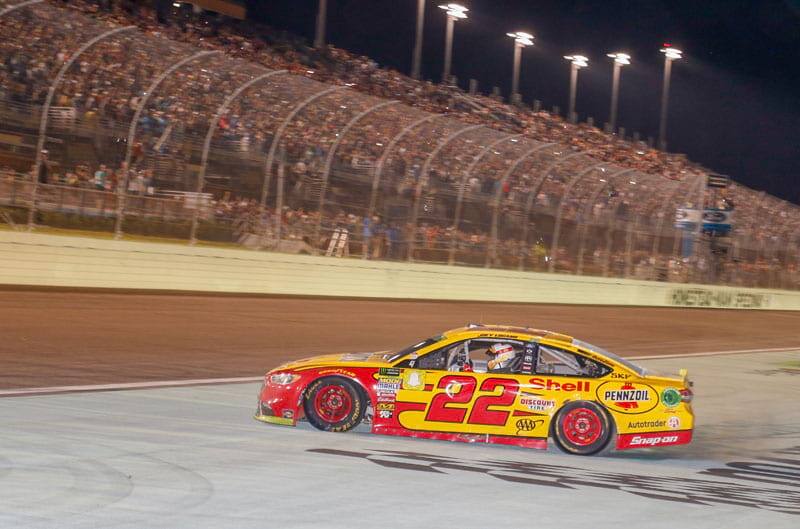 YOUR PIT CREW DELIVERED TODAY TOO: "They are the best. They did it today. Every one of them. Every individual on that team is the best in their position and they really showed it today. At points we were really good and points we were down for the count. I knew we had a short-run car. I said it before the race started that if it was anything longer than 25 laps we were going to be in trouble. That showed all day. It came down to the short run and we are champions. NASCAR champions!"
POST-RACE QUOTES
DOUG YATES, Roush Yates Engines
"This is incredible. It is so hard to win these championships. I am so proud of everyone at Team Penske, Joey Logano, Todd Gordon, Ford Performance, Edsel Ford and Joe Hinrichs are here. We put so much effort into this thing and to see it all come together is a super proud moment. That was an intense race and I am just glad we got it done."
EDSEL B. FORD II - Ford Motor Company
"It means a lot to me personally to have both the drivers' and manufacturers' championship. It has been since 1999 and I was there with Robert Yates and Dale Jarrett. Doing it again, 19 years later, it is absolutely indescribable to me."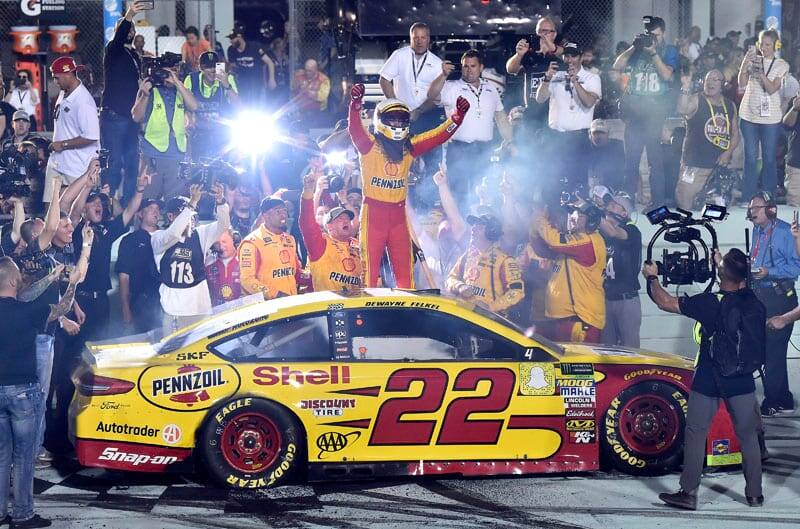 MARK RUSHBROOK, Global Director, Ford Performance
"This means so much for Ford Motor Company and all of our employees that work so hard. I just can't believe this right now. We have worked so hard for the last three years to build up the program and to have this 2018 season and have 19 wins, the manufacturers' championship and the drivers championship. It is incredible to have the company achieve this with the help of our partners, Team Penske and Roush Yates Engines. It is incredible."
HOW WILL THIS HELP THE MOMENTUM ROLLING INTO NEXT YEAR WITH THE MUSTANG? "We just plan to keep going. We have been working hard on the new car already through this year and we will be digging into it tomorrow and get ready for Daytona in February."
KEVIN HARVICK, No. 4 Jimmy John's Ford Fusion
SO FAST EARLY. DID THE HANDLE GO AWAY? "Obviously, we got loose as the night went on. Really, it was a great pit call there in position to win the race if the caution doesn't come out and we came down to a pit stop and a restart and we didn't do either good. I just hate it for all our guys on our Jimmy John's Ford. I've just got to thank Busch and Ford. Congratulations to Ford for winning the manufacturers' championship and a championship. I know they put a lot of effort into that. Mobil 1, Outback, Hunt Brothers, Morton Buildings, Textron, Liftmaster, everybody who helps us at Stewart-Haas Racing."
EIGHT WINS ON THE SEASON, BUT IS THIS THE SEASON THAT GOT AWAY? "I don't think so."
EIGHT WINS IS GOOD ENOUGH? "Don't you think? You would be happy with it, wouldn't you? It's been a great year and we just got beat tonight."
CAN YOU DESCRIBE YOUR RACE? "Good in the day and not good enough at night."
WHAT WERE THE ELEMENTS OF IT FOR YOU? "We came out last of the four on the pit stop there and then the restart was not our strongsuit all night, and just got beat there on a short run. We didn't have track position and they just drove off."
ARIC ALMIROLA, No. 10 Smithfield Ford Fusion
"It was a great year for us, our first year working together. That was quite an accomplishment for us to battle the way we battled and to come out of here with a top-five in points, I'm just really proud of everybody on this Smithfield team. Ford had an amazing year. We won 19 races, so just an incredible year and I'm really excited about getting ready for 2019."
WHAT ABOUT YOUR RACE TODAY. YOU WERE IN THE TOP 5-10 ALL NIGHT? "We were. We had a great season, so it was nice to cap it off with a good run here. We had a really good long run car. That short run there at the end kind of hurt us a little bit, but I'm just really proud of Johnny Klausmeier, everybody at Stewart-Haas Racing, this entire 10 team. We accomplished a lot in one year and I'm just really proud of that. I feel like we have so much potential and we just continue to grow and get better and better and next year is gonna be a lot of fun."